Update for June 2019 – I have updated review counts, scores and pricing. More information below. 
While mattresses may not be strictly a technology topic, I do cover a lot of fitness and health topics, and one of the most important aspects of health is your sleep. There is also a lot of consumer interest in the new bed in a box style of mattress that has become very popular in recent years.
All these mattresses are based around some form of memory foam which they often brand with their own unique names to differentiate themselves from other companies.
Some of these mattresses are hybrid, they combine the memory foam with pockets springs, but in reality, the pocket springs are so small I am not sure how much of a difference they make in comparison.
I recently reviewed the Simba Sleep Hybrid mattress which is a hybrid mattress with 20mm conical pocket springs enclosed in a 100% polyester pocket.
I came away from the review very impressed and think it is worthy of all the glowing reviews it receives.
Similarly, I have previously reviewed the Rem Fit 400 which I was also impressed with but over a period of time, I found it to be quite hot to sleep in.
Similar to my Mesh Router guide I wanted to see how all these mattresses compared to each other based on consumer opinion.
I have put a simple table together comparing most of the major names in the bed in a box industry, this includes the price of a king and a double which I have taken before any discounts that may exist. With a lot of these companies, they offer regular discounts so it is worth checking which one has the best discount at the time of buying.
During my research, there were some a few stand out points.
Nectar is one of the fastest growing ecommerce companies in the world selling more than 50,000 beds and generating $55 million in revenue in the first year of business. They have recently landed in the UK and they stand out in my list due to the 365 day trial period. The none discounted price is a little more than others but I would be tempted to pay the extra for that crazy trial period. They also offer a lifetime warranty which is far longer than other brands.
I have reviewed the Nectar Memory Foam Mattress back in January and have continued to use the mattress since. While not the cheapest memory foam mattress on the market, it is cheaper than Simba and includes two free pillows. Considering I have used this for three months and still love it, this would be my personal preference. So far both me and my partner have found it very comfortable, it isn't too warm and we have had no issues with backaches or other joint pains.
While the RRP is £799 for a King, it has been £699 + two free pillows since the start of the year.
Simba is comfortably the most reviewed product on the market with nearly 8k TrustPilot reviews and a score of 9.4. It is also well reviewed on many other sites, so as far as this style of beds goes, I would say it should be high up on your list of choices.
I reviewed the Simba at the end of last year, and the reviews do it justice, it is excellent. Recently Simba increased the price of their King to £749, it is still a great mattress and I think most people will be happy with the purchase, but based on price, trial and warranty, I think the Nectar is the better option.
Eve has the overall best score with 9.5 plus it has the second highest number of reviews at nearly 3K so again it should be worth your consideration. Unlike Simba, they have multiple mattress options as well as toppers and bed frames.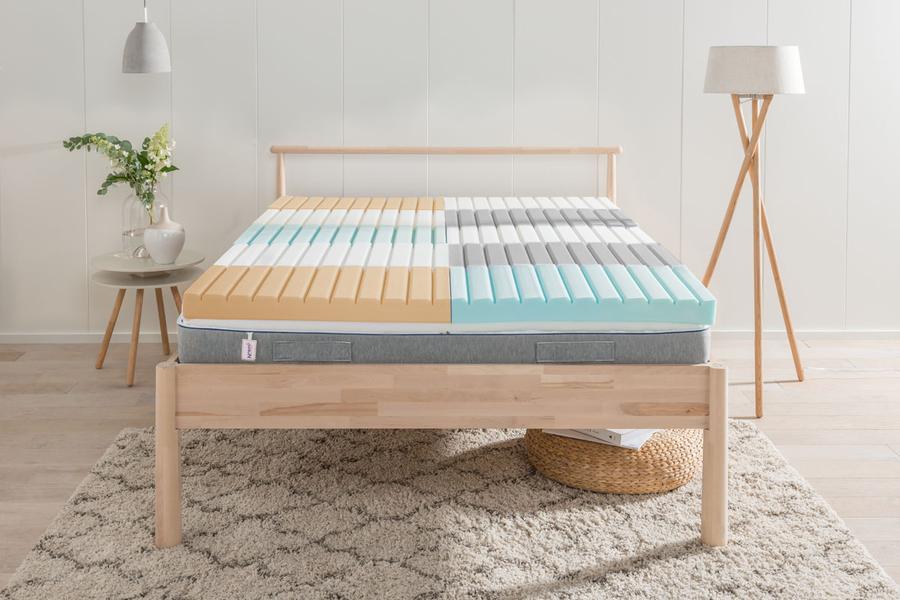 The most expensive option on the list and it doesn't have the best reviews, but they are worth mentioning for the unusual concept. With this company they have two choices the Nrem is modular with interchangeable foam inserts. Choose from super soft, soft, medium and firm for each of the 5 body zones.
The Duo has split comfort for partners, allowing one partner to have a soft mattress and the other firm. This is a good option if both people are very different in size and shape.
This is the third most reviewed option on the list and apparently topped the Which independent reviews as well as receiving favourable reviews from other critics. However, based on the TrustPilot user reviews, it is bottom of the list, though with a score of 8.5 it is hardly bad. Looking at the reviews the primary issue appears to be with the delivery service with many people suffering from delays.
June Update
As part of my regular updates, I have updated all the prices and scores below. As you would expect, review counts have gone up. Most companies have dropped in score slightly with the exception being Otty and Casper which have gone up slightly.
I have also now added warranty information. Memory foam bed in the box mattresses are nearly always 10-years vs 5 years or less of pocket spring mattresses. However, there are two stand out companies, Nectar with their lifetime warranty, and Rem Fit with 15 years. The caveat here is that while a company may offer 10-year warranty there is no guarantee you will get good customer service, most companies send out an inspector to check the mattress and if it doesn't fall in their remit for replacement they won't replace it.
The biggest change in the list is Otty which nearly doubled the number of reviews while increasing their rating. They have however increased their pricing by around £50 (before any discount offers are applied.)
Similarly, Casper saw a large growth in reviews while increasing their rating, though they are still only on 546 reviews overall.
It is also worth looking at Amazon for listings, as you may get a better buy than directly from the company.
Last updated on 18th November 2019 4:45 pm
Memory foam bed in a box review comparison:
| | King Size | Double | Trustpilet Reviews | Rating | Warranty | Trial Period |
| --- | --- | --- | --- | --- | --- | --- |
| Eve | 699 | 599 | 3737 | 9.3 | 10-years | 100 |
| Simba | 749 | 599 | 9050 | 9.3 | 10-years | 100 |
| Nectar | 799 | 699 | 1236 | 9 | Life time | 365 |
| Otty | 649 | 549 | 4042 | 9.3 | 10-years | 100 |
| Rem Fit | 699 | 649 | 361 | 9.1 | 15-years | 100 |
| Tweak Slumber | 995 | 895 | 332 | 8.6 | 10-years | 100 |
| Leesa | 750 | 650 | 1296 | 8.7 | 10-years | 100 |
| Emma | 699 | 649 | 4570 | 8.2 | 10-years | 100 |
| Casper | 700 | 600 | 546 | 8.3 | 10-years | 100 |
| Janda | 629 | 599 | N/A | N/A | 10-years | 100 |
| Ministry of Sleep | 599 | 499 | N/A | N/A | 10-years | 100 |
Last Updated on