While not the most glamorous or exciting of technology, at Mighty Gadget we love a good NAS. In an era where optical media is becoming increasingly rare, having vast amounts of data storage accessible  on your network is becoming increasingly important, and devices like the Synology DiskStation DS411j provide that and a whole lot more.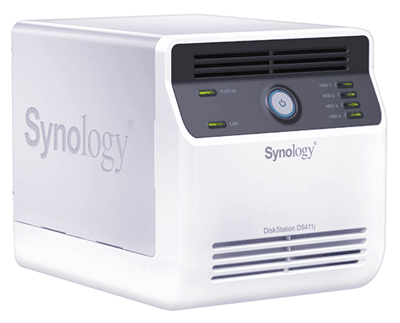 Because a NAS is essentially a computer it can offer significantly more functionality that things like external hard drives, and Synology offer some of the most feature packed NAS devices on the market.
The Diskstation series includes:
Download Station

functions as a 24×7 BitTorrent, FTP, HTTP, eMule, and NZB download centre without a PC. The eMule download engine allows search-n-download capability with a web-browser without installing additional desktop applications.

Audio Station

supports music, Internet radio stations, and iPod playback with the optional speakers. An optional direction-free Synology Remote allows you to freely enjoy your music. Streaming mode allows your music to be shared with multiple users over the Intranet or Internet.

DLNA/UPnP Compliant Media Sever

allows you to stream multimedia files with an UPnP Digital Media Adapter (DMA) to a stereo system or a TV-set. Sony PS3 and Microsoft Xbox360 are also supported.

iTunes® Serve

r is an easy way to share music with other iTunes clients over the network. Password protection prevents unauthorized sharing.

DiskStation Manager

offers comprehensive solutions for you to back up data stored on DiskStation or your desktop computer to the DiskStation.

Server backup

includes two alternatives: Network Backup and Local Backup. Both allow you to back up data in the shared folders and databases. Incremental backup option and flexible schedules are available. All can be easily configured with a step-by-step wizard.

Desktop backup

provides your Windows PC with Synology Data Replicator for backing up desktop data, Outlook, and Outlook Express emails to your DiskStation by choosing one of the three backup modes: Immediate, Sync, and Scheduled backup, while Mac OS X users can use Apple Time Machine backup application to back up their critical data to DiskStation.

Photo Station

simplifies photo, video, and blog sharing over the Internet. The flexibility of photo theme customization, blog layout arrangement, visitor's privilege setting, RSS feed, and the dazzling 3-dimensional photo browsing with Cooliris make Photo Station your state-of-the-art lifestyle sharing centre on the Internet.

Web Station

with built-in PHP+MySQL allows you to publish your own websites or install numerous popular open source programs.
Synology have also released Apps for Android, Windows Mobile® 6.0, iPhone OS 2.2.1 onward, and Symbian OS 9.1. Where you can view files, browse photos, stream music and start downloads. This can be done locally, or if you have a static IP and have set up your router you can do it remotely!
The DS411j is on the higher end of the home/small office range and includes a 1.2GHz GHz CPU coupled with 128MB of RAM and the chance to fit up to 4 hard drives, which will allow you to set up the system in Raid 0, 1 or 5 as well as JBOD. If you are fitting 4 drives our preference is RAID5 which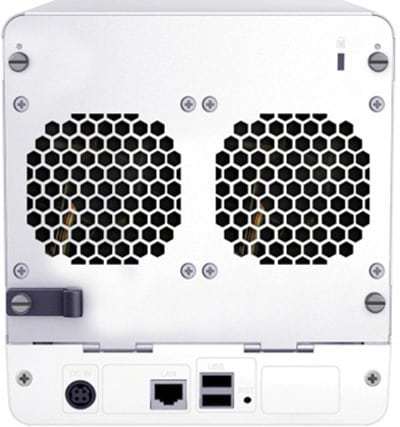 The initial set up is a breeze, the included software detects the DiskStation,installs the OS and  allows you to log into the DiskStation Manager (DSM) which will then allow you to start setting up your disks. At this point you kind of need to know what you are doing but I suspect if you have spent £250+ on a NAS you probably know roughly what it is and what you need to do.
Unfortunately setting up the hard drives takes FOREVER! I left it running over the weekend so I am unsure of exact times, but I would suspect it is over 24 hours for 4 drives. As far as I am aware this is not a flaw of the Diskstation but it is just the way  it is, even a purpose built NAS takes a long time.
The DSM software is a treat to behold, it works just like a normal operating system, you can have multiple windows open running multiple applications at once and everything runs perfectly smoothly.
Once everything is setup you can access the storage via multiple methods, you can navigate your network, map a drive, FTP, via a web browser and via phone apps. For media videos, images and music can be served to any DLNA-compatible device on a local network, and an iTunes server lets you keep all your music in a central repository if using Apple's media player.
Read/write speed we did witness varying times but typically we saw write times in excess of 30MB/s and read speeds in excess of 60MB/s for larger files, this performance did drop quite a bit for smaller files with a read.write time of about 20MB/s for both. However this is still more than good enough for most home and small business users, transferring HD content to and from the device took hardly any time at all.
Conclusion
After using the Synology DiskStation DS411j we think it is one of the best, if not the best NAS available for the home or small office market. It has every possible feature you could want, a great user interface, good transfer speeds, and is a reasonable price. The only alternative worth considering is building your own NAS and installing FreeNas or using another Linux distribution. The self built solution will provide a more powerful and versatile NAS but will require significantly more skill to set up, and while you maybe able to build it cheaply it will not likely be as small or as power efficient as the DiskStation.
| | |
| --- | --- |
| Features | 10/10 |
| Performance | 9/10 |
| Price | 8/10 |
| Simplicity | 10/10 |
| Overall | 9/10 |