On first looks the Arena looks like a smaller, slightly fatter iPhone. The screen takes up most of the phone with three buttons at the bottom of the screen and a small camera at the top. On the back of the phone, the camera lens is very small as to is the flash. The brushed metal finish is attractive  but the plastic back seems to get dirty quick. Being a touchscreen phone thats very iPhone looking, this is obviously LG's attempt to draw in those customers that Apple has attracted. However a smartphone this is not but this doesn't stop it being a good all round phone.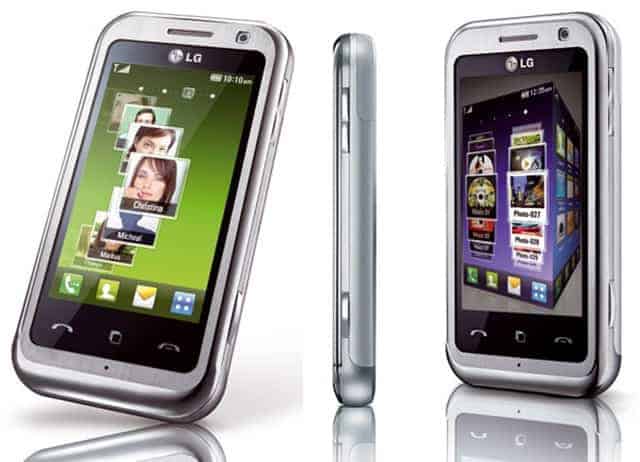 Phone Specs :-
5 megapixel camera with 4x digital zoom, autofocus & LED flash
Video recording (DivX playback)
3G video calling
Touch sensitive screen: TFT LCD, 262k colours, 480 x 800 pixels (3 inches)
Music player (MP3/AAC/AAC+/AAC++/WMA formats) with Dolby Mobile
FM radio
FM transmitter
Assisted GPS with geo-tagging of photos
Speakerphone
Voice recording
Messaging: SMS, EMS, MMS, Email
T9 predictive text
Document viewer (TXT, PDF, DOC, PPT, XLS)
Ringtones: 72 voice polyphonic ringtones / MP3 ringtones
Wallpaper
Java 2.0 games
Phonebook (1000 names)
Memory: 8 GB plus microSD memory card (expandable to 32 GB)
Connectivity: USB 2.0, Bluetooth 1.2, WiFi, 3.5mm headphone socket
Internet: WAP 2.0, GPRS Class 12, EDGE, 3G HSDPA (7.2 Mb/s)
Vibration alert
Triband (GSM 900/1800/1900) plus 3G HSDPA
Size: 106 x 55 x 12 mm
Weight: 105g
Talktime: 3.8 hours
Battery standby: 300 hours
The main thing that the Arena has is its features. It has everything you could possibly need, a total of 87 (question is, do you really need them all). However the only major problem with having all these features is that they don't necessarily operate as quickly as they should.
The Arena is LG's first phone to have its S-Class Interface which works like its a cube. The display looks great and the homescreens are responsive and can be customized to whatever shortcuts you like. The dialling screen is responsive and relatively easy to use. The only downside to the touchscreen is when texting or emailing. The landscape QWERTY keyboard looks easy to use but unfortunately is unresponsive if you're a fast texter. I have small fingers and was still pressing wrong keys frequently and sometimes you'll press the buttons and it'll take a couple of seconds to appear in your message. The portrait keyboard with predicitve text was a little easier to use unless you're typing out words that aren't in its dictionary. This often left me frustrated and with text messages that were full of spelling mistakes and new words that I'd made up. The only way to make it work is to type really slow.
Other problems with the touch screen is needing to click onto certain points on the screen when web browsing or cutting and pasting in messages. Having used iPhone's Safari software and how it makes web pages look, it appears all other web software on phones don't compare. Unfortunately its the same with the LG Arena. I found the browser difficult to use at times and again unresponsive when clicking page links and the address bar. However with most phones and software with prolonged use, you get better at these things.
The camera despite having a small lens, takes pretty decent pictures but you have to be a little patient. Once you hear the shutter sound the picture isn't actually taken till a couple of seconds after which if the phone was moved in this time could lead to blurred pictures. Despite not having a Xenon flash, the LED flash is still relatively bright and the camera also has a high ISO setting for low-light conditions. The video setting on the camera is also pretty nifty. 720×480, 30fps video is good in anyone's books. It's responsive to light changes and the colour stays quite well in the video. It also doesn't blur much when moving.The playback on the phone also looks quite tasty with a sharp, smooth picture. The only downside to the video is the 3GP format, MP4 or AVI would've been better.
To be fair I only gave the music player a quick spin because its pretty hard to get wrong. Obviously compared to dedicated mp3 players the LG Arena isn't quite as good, but it still gives a good enough sound quality for you to use it. It uses Dolby Mobile digital audio-processing, which is said to improve the quality of sound so it doesn't sound like a bee buzzing round a tin can. Sometimes it seemed a little quiet when the phone was ringing but the sound quality of the internal speaker was good enough.
Overall I found the LG Arena ok. It delivered in some areas but not in others, unfortunately as I use my phone to mostly message, email and web use, it didn't suit me entirely. However if you're looking for a good all round phone with plenty of applications and decent media use, the LG is definitely a good, cheaper alternative to the iPhone or the new touchscreen smartphones like the N97.