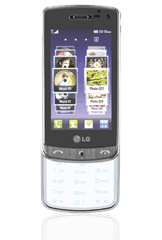 At the end of last year we blogged about LG planning on releasing 125 handsets globally and roughly 1 handset every 2 weeks in the UK. While I am not sure that figure is totally accurate today I would not be surprised if it was close, LG have certainly been pumping out the phones recently including the LG BL40, LG Arena, LG watch phone, LG Viewty II and the LG GD900 Crystal that we will be reviewing today.
LG certainly appear to be trying to increase their market share by releasing a phone for every possible niche and in today's review it is the LG GD900 Crystal which is the first transparent phone to hit the market.
The GD900 is available from free on a £30-per-month contract, or for around £500 on a pay-as-you-go deal. You can also buy it SIM-free for around £350.
The specifications of the phone are:
Camera: 8 MP, 3264×2448 pixels, autofocus, LED flash, Videocall camera
TFT capacitive touchscreen, 16M colours – 480 x 800 pixels, 3.0 inches
S-Class Touch UI
Transparent touch-sensitive keypad
Gesture Shortcut
Multi-touch input method
Handwriting recognition
Accelerometer sensor for UI auto-rotate
Card slot: microSD (TransFlash), up to 16GB
Java MIDP 2.0
TV-out
MP3/AAC/AAC+/WMA player
DivX/XviD/MPEG4 player
Organizer
Document viewer (DOC, XLS, PPT, PDF)
Voice memo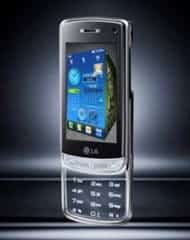 From first impressions the LG GD900 is a great looking phone, the main part of the phone is metallic looking and is not vastly different from the LG Arena but it then has this extremely impressive slide out keypad which is made of tempered glass and lights up around the edges. The transparent keyboard certainly makes a good talking point about the phone, though it does add quite a feminine element to the phone so it may not have a very wide appeal to males.
It is also quite impressive how sturdy the slider, I think this was largely due to the use of glass over plastic. If the slider had been poorly implemented I think it would of been disastrous.
Interestingly the keypad is also a touch-sensitive controller which allows you to flick through items or use multi touch with either the keypad or screen. It may not be a huge feature but these little things do count.
Like the LG Arena the GD900 uses the S-Class Touch UI which we previously had mixed feelings about however one of the main issues we had with the LG Arena was with text input and to some extent this is solved with the inclusion of the keypad which allows for T9 input. Granted this is not ideal but there are not many phones out their with a dedicated keyboard or a well implemented touchscreen keyboard.
The S-Class Touch UI has clearly taken a lot of ideas from the iPhone while implementing their own features such as the 3D Cube that is used when flicking through screens (though this reminds me of Compiz). I find it difficult to make an objective opinion about the S-Class Touch UI as I can't help but compare it to the superior iPod. The problem here is that it is not really a fair comparison. The iPhone is a Smartphone running an operating system so it can be customised as much as you want (well in theory). The GD900 is essentially a dumb phone that can not be modified to the extent of the iPhone or Android phones.
Looking at in comparison with other dumb phones then it is a perfectly good phone, it does have issues with it including sluggishness but most of these problems are found on other phones that don't use a smart OS.
Things start to improve when you move onto some of the functionality of the phone. I found the camera to be quite good, not amazing. It suffers from serious input lag, though this is very common in phones and the LED flash is far from ideal but again a common problem with phones. In general though it is a good camera for a phone.
The phone also has a video recorder, video editor, music player and FM radio. It also has a decent amount of room with 1.5GB, though I would of liked to see more space. The phone does need an adapter for the earphones but the supplied earphones are actually very good, I would say they are the best earphones I have used that have been supplied with a phone.
The adaptor for the phone earphones uses a micro USB and this is also used for charging. I can not stress how happy I am to see this implemented, I have a huge issue with proprietary connectors and while I realise a lot of companies are planning to use a universal standard for phone charging it is nice to see a company finally implement it.
Finally we have the GD900's browser, I found it did a reasonably good job at displaying complex pages and it managed to load them quite fast thanks to the HSPDA connection.
Overall
The LG GD900 is by no means the best phone out there, I found it to be let down by its interface slightly, but it is still a very good phone with great looks.
If the iPone is too expensive for you (and common), and other smartphones are too ugly or you just want something a little different then I would say the LG GD900 is definitely worth a look.