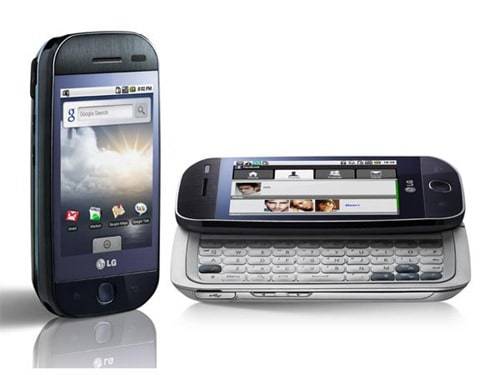 The GW620 InTouch Max is LG's first Android handset and is generally aimed at the lower end of the spectrum when it comes to smartphones, obviously dominated by the likes of iPhone or other Android's like the Nexus One. However just because of this don't let that put you off, this phone still packs a lot of goods for the price. Not only this, it's the first time I've got fully to grips with the Android OS and I like what I'm seeing but more about that later. Click on for the rest of the review.
THE BODY
In comparison to most of the new smartphones out there the GW620 is a hell of a lot smaller than an iPhone, Nexus One or Milestone and was a lot nicer in my pocket than my current brick like N97. The phone feels light but despite its plastic shell and rubber back seems sturdy and doesn't feel like it'll explode on impact with the floor after dropping it.
The power/lock button sits at the top and the headphone jack sits next to it, slightly raised from the body making it sit nice and flush. Now I'm indifferent really to where headphone sockets are placed but in theory this is probably the best if your phone is in your pocket with the lead coming out the top.
Now to the body sides, on one side you have a dedicated microSD slot/gate. It's one of those rubber swinging gates once opened the card sits inside and click/pushes in and out. Now from what I know most newer Android phones place the SD card under the battery which is obviously hassle if you want to switch them over so brownie points to LG here for putting it on the side.
Just below the gate you have a music button which when pressed brings up your Music gallery options and a below that a camera button to use to shoot your pics in camera mode.
On the other side again a rubber, swinging gate only this time its your charge/usb port. Now as its micro USB a lot of new phones(ie my N97) now use micro USB as their charge/data transfer and so if you have any spare cables or chargers they should be compatible with the GW620, however it's always recommended you use the ones supplied with the phone. Then to finish it off we have your volume controls tucked underneath the port. Although the buttons on both sides stick out slightly i never found myself accidently pressing them when removing the phone from my pocket.
The keyboard next, oh what a wonderful keyboard!!!! Extremely simple to slide out, with a nice click to let you know its extended to the max. Now this keyboard is brilliant, probably the best full QWERTY I've ever come across on a phone. Unlike other phones that require you to press a shift or function button for numbers and symbols, this is a five line keyboard with its own dedicated numbers buttons and cursor keys. It's a dream to use the keys are a decent size and spaced out perfectly. Unless your fingers are massive there's no trouble firing out a fast typed message without fingers sticking to the keys or pressing multiple digits. Truly LG have got this right on the phone and hopefully other designs like this will follow from other phone brands. I'm personally not a huge fan of on screen software keyboards like the iPhone's or whatever as i continually press the wrong buttons. This was like typing out on my keyboard at home.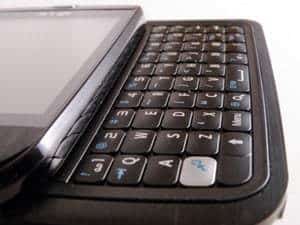 USER INTERFACE
Now as I said before this is the first time I've got to fully get to play with Android and obviously from blogging frequently about phones and gadgets etc I've noticed plenty of companies are turning to it to use in their phones, netbooks and PMPs. From what I can tell Android itself is pretty standard on whatever phone it be used on from the T-Mobile G1 to the HTC Hero, with just the obvious "skinning" differences. Now I also know that Android has been upgraded several times since its release and yet the GW620 is still using an older version, Android 1.5, which disappointed me slightly on reading it but I had nothing to compare it to in the first place.
So you fire it up. Boot up seemed to take quite a while for me, around a minute and a half, which when you're impatient and need to quickly get on your phone can feel like a lifetime. Once it has booted up however the phone starts to get a little clever for its user. LG have incorporated it to boot in 2 modes, solely for the users preference. If you're coming to this phone from another Android phone and you're used to its UI, you could opt for the Android boot where everything is laid out in the plain Android way with 3 home screens which can be customised by you with your favourite quick starts/contacts or your favourite widgets etc. There's also the drag out screen whereby all your apps and phone options are all listed and available at a click much like the iPhone screens.. The other choice option is the LG S-Class style UI over the Android one. Now if you're familiar with LG phones, the Koreans have been using this style UI on its past few phones. Firstly the homescreens can be continuously shifted through unlike the Android 3 of left, middle and right. With the icons, instead of everything being grouped in one table, your apps and options are sorted and listed in their uses ie Multimedia, Communication etc. Now I'd witnessed the S-Class style before with the LG Arena and to be honest I wasn't overly keen on it so I gave it a quick few plays and opted to try the Android version which was great and very easy to use.
Now its all well and good describing he initial use of the phone but what about the actual control, the resistive touchscreen, yeah I sighed too at resistive. It isn't as bad as you might think but as always isn't a capacitive one and therefore could be better. Occasionally you may press an icon only for the  phone not to respond, you press it again, nothing, press it again and damn, the phones going mental opening things you don't want, freezing up etc. Although not happening often its one problem I had a few times with the phone. The touch sensitive buttons at the bottom of the screen are a little sensitive too. if you're playing about on the screen with a game or app, a slight touch of the return or home button can instantly close what you're doing and get quite infuriating at times especially if you're in the middle of something important. Another problem with the screen is that it can unlock your phone. There are three ways to unlock the phone keys. A double tap of the top power button, a double tap of the menu button, or a tap of the screen and hold the on screen key. I found that all three of these methods can easily lead to the keys opening in your pocket , leading to the phone obviously doing what it or the inside of your pocket feels like, like making phone calls that you're unaware of.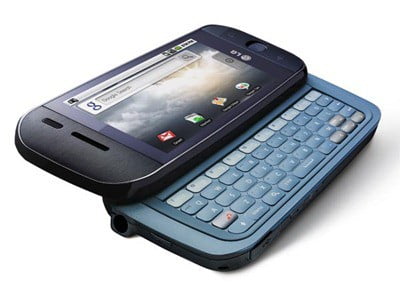 MAKING CALLS AND MESSAGING
Making calls on the GW620 is pretty simple, the dialler is quick and easy to use(as it is with nearly every phone). When making calls, the phone volume is adequate although could occasionally do with being a little louder. The clarity was also good, i mean it wasn't crystal clear but a lot of the time its also down to the person who you are talking to's phone aswell.
Signal wise the GW620 picked up signal in places my N97 can't but the GPRS/EDGE signal will usually stay in place even when you're in a 3G "hotspot". However as said it was very rare the phone didn't seem to get a signal, a problem i face a lot when I'm at work.
The contact system in place with the GW620 works very well and depite the phone not being a top-end smartphone I was impressed with it, even though it was still quite reminiscent of the Arena's S-Class interface style. Obviously LG are marketing the phone to a "social networker" and the contact list works hand in hand with your friends Facebook, Twitter and Bebo accounts. You can also seperate your friends into groups and even your favourite contacts get their own quick-list.
Your contact list is well laid out and has ample space for even the stubbiest of fingers to select, tweak and scan through and then another quick click to call or message them.Where the social networking comes in is the ability to link your contacts with their accounts. Facebook for example will throw your contacts profile picture as their calling picture. I'm not a "Tweeter" however so I don't know quite how well the Twitter thing works, but if the Facebook one is anything to go by it should be good.
Messaging, an absolute dream on this phone. I honestly haven't come across a better phone or OS for texts. The main reason for this is the keyboard as stated before is the bee's knees and in my experience better than any other physical keyboard and much more reliable than any software keyboard. Secondly the messaging system on Android is great, it logs your conversations like an instant messenger and the same as the iPhone, great for me who forgets where his text conversations are going or what was said previous without having to scan through his "Sent Messages" folder.
The GW620 also has the Moxier suite with support for push email. Again a dream with the keyboard and quite handy for your emails on the go, although it could be a little sluggish at times and occasionally wouldn't download messages, but I'm sure this will only improved if the phone gets an Android software update. Options are also available to set up an IMAP or POP3 account and were relatively easy.
CAMERA
LG's cameraphones in the past have had pretty decent snappers on board. Android phones it seems lack a decent camera and the GW620 doesn't shine like the Sony Ericsson phones or Carl Zeiss lensed Nokias. However it still takes good quality pictures and has plenty of options for you to tweak ISO settings etc. The flash was quite bright considering its just a small LED flash but in low-lit areas it provided enough light for a decent shot although i wouldn't expect any decent night shots. When in well-lit conditions the picture quality was excellent however the one big downside to this phone and like the Arena is the age it takes between you pushing the button and it actually taking the picture. The shutter sound goes but its several seconds before the picture is actually taken which at first i was moving the phone before the picture was actually taken causing blurred images. It also means shots cant be taken in quick succession. Another downfall is the phone trying to be a little too clever. LG have tried to incorporate an "Auto-Detect" feature to the camera, suggesting that the phone can detect who the people are in your photos and then give you the opportunity to upload them to Facebook or whatever. However although the idea is fantastic it doesn't quite work as well as you'd hope and would occasionally get the person wrong, nevertheless this could be improved.
Videos although at a fairly low res (320×240) playback at a smooth 30fps and again the option to share your videos is there like the photos.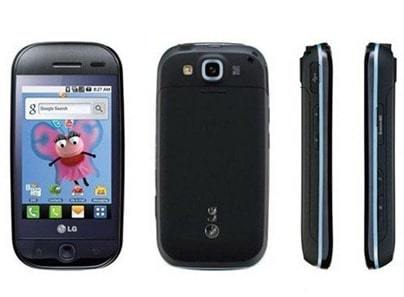 INTERNET AND MEDIA
Internet on Android phones works great and the GW620 is one of those phones bundles with a WebKit enabled browser. The biggest hinderence to the GW620 is the resistive touchscreen which at times is unresponsive and could be hard to select links/buttons  in the browser. The interface to the browser was strange though, a hidden tab at the side that worked well but occasionally got in the way when trying to read text on web pages or would annoyingly pop up when you didn't want it to.
The browser itself though was usable in portrait but much better to use in landscape. One nice touch is the auto-fit ability it had. Double tap on a certain area, the window zoomed in and the text automatically sized to fit the screen. Despite it's basic nature, no Flash playback etc the browser was good enough for simple web browsing and was quick and easy to use. I encountered very few problems with it to be honest.
The media gallery next. Quite confusing to look at, quite confusing to use but once you get the hang of it the GW620 is certainly decent enough to supply the needs of a basic user for photos the odd video and music listener. If you're a bit of a techphile(if the word exists) you might be a little disappointed, but it certainly has its uses. LG has packed it with most of the worlds favourite codecs so you got decent playback of DivX, MP4 and H.264 video files and despite the smaller than average screen they still looked good and certainly watchable. The Music player is very basic, but does the job nevertherless. Lovely big icons to press and the user interface is simple and user friendly. However it just plays the songs in your gallery. Nothing more. No extra fancy tweaks, EQ or Artwork changing ability, but i guess if you wanted that you'd have got an iPhone or a Nokia MusicExpress.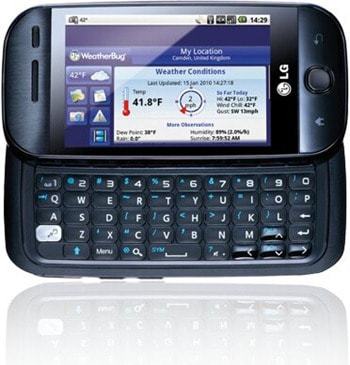 FINAL THOUGHTS AND CONCLUSION
At first battery life seemed quite good for the phone, a full charge lasting a couple of days with a bit of talktime and plenty of messaging. However once i got to grips with Android and i dabbled on the market, started surfing with the Wi-Fi enabled,  downloaded some apps, installed and then bam, the battery life started to drop to just over a day's worth. You see most of the apps require either constant connection or the odd bit of online info and i struggled to turn them off completely without uninstalling them. That's more of an Android problem then the phone itself though to be fair.
Being the first Android phone I'd got my mitts on it didn't bother me too much that it was only running the older 1.5 but from what i understand this is the basic. The lowest form of Android. Still I was very impressed though and hopefully the GE620 will see an OS upgrade which could possibly further improve the experience, I'd have to see this to make that decision but I can't see why it wouldn't improve the phone.
Generally I really enjoyed this phone, for a Nokia veteran I'm tired now of Symbian, to be honest its rubbish. This phone opened me up to Android even at the lowest level but what really grabbed me was the messaging and that keyboard. LG have impressed me here with this phone. For the price its brilliant and although its not up there with the big guns like iPhone or the Nexus One it certainly is a leader in its field and if i didn't budget myself to have a ridiculously overpriced contract and top end phone and i opted for a lower one I would seriously consider this phone. What it has also done has sung Android's praises to me and definitely made me consider opting for an Android phone in the future. High Five LG!!