SwitchBot Curtain Combo Review
Summary
The SwitchBot Curtain is an innovative, affordable and easy to install smart home gadget to automate your curtains. How effective it is will likely vary depending on your curtain, but I'd suggest trying this system before committing to more expensive electronic curtain rails.
Pros
Extremely easy to set up
Much cheaper and easier to install than competing options
Works well (on my simple curtain)
Cons
Long telescopic curtain rails may have difficulties
A little noisy
The SwitchBot Bot, a smart button presser, has been a hugely successful smart home device that is incredibly innovative. It is one of those things I have always meant to buy but never go round to.
SwitchBot has kindly sent me their Curtain Combo pack to try out, including the newest SwitchBot Curtain, a hub, a remote and a temperature/humidity sensor.
I have been contemplating automating my bedroom curtains or turning them into automated blinds for a while now. I wake up very early, only use the bedroom for sleeping, and have a terrible habit of leaving the curtains shut, which can extend for days at a time. So this product looks great for me and is considerably more affordable than some of the alternatives I have been looking at.
SwitchBot Curtain vs other automated curtains & blinds such as Somfy
One of these issues I have with automating curtains or blinds is that it almost certainly would have required me replacing everything with only certain types of curtains and blinds that can be retrofitted.
There are various automated blind rollers, but in the rooms that I have blinds, they are Venetian so not compatible with automated solutions. Similarily all the older automated curtain solutions required the roller style curtain to manage opening and closing.
If you want proper automated blinds or electric curtain rails from the likes of Somfy you will have to pay quite a high price. Blinds are around £240, but the Somfy Irismo 45 curtain rail is £579.
The SwitchBot Curtain is the first solution I am aware of that allows for easy retrofitting on your existing curtains.
The concept is simple and effective. It is literally a little motor with a roller than sits in between the 1st and 2nd connectors of your curtain then rolls left or right to open/close.
The unit itself is quite big and ugly, but it sits behind your curtain, so there should be no visible sign of it.
SwitchBot Curtain Cobo Features and Specification
Compatible with rod, U rail and I rail
Curtain Rod type supports Grommet, Ring Top, Back Tab and Tab Top curtains.
App-controlled
Sunlight sensor
Up to 8 months battery
Optional solar panel to extend battery
Compatible with SwitchBot button for easy remote control.
Works with Alexa, Google, IFTTT and SmartThings
Set-Up
Set up was very easy; the app guides you through everything, and I experienced no problems. The SwitchBot Curtain will technically work by itself without a hub; the hub offers some of the advanced automation features.
To pair up all the devices, it is just a case of making sure it has power then holding down the button the app tells you to. I got everything paired up within a few minutes.
The SwitchBot Curtain was also easy to set up too. I have a rod-style curtain in my bedroom, so it was just a case of clamping the SwitchBot to the curtain rail at the end of each curtain. If you have a telescopic rod with different thicknesses, you may need to follow the additional instructions to get this working.
Mine technically is telescopic, but the thickness only changes right in the middle, so it didn't seem to affect each SwitchBot.
With the SwitchBot mounted, you will need to calibrate it, it did take me a couple of goes to get this right, I found I had to clamp down the bot quite hard on the rail for it to work properly.
In Use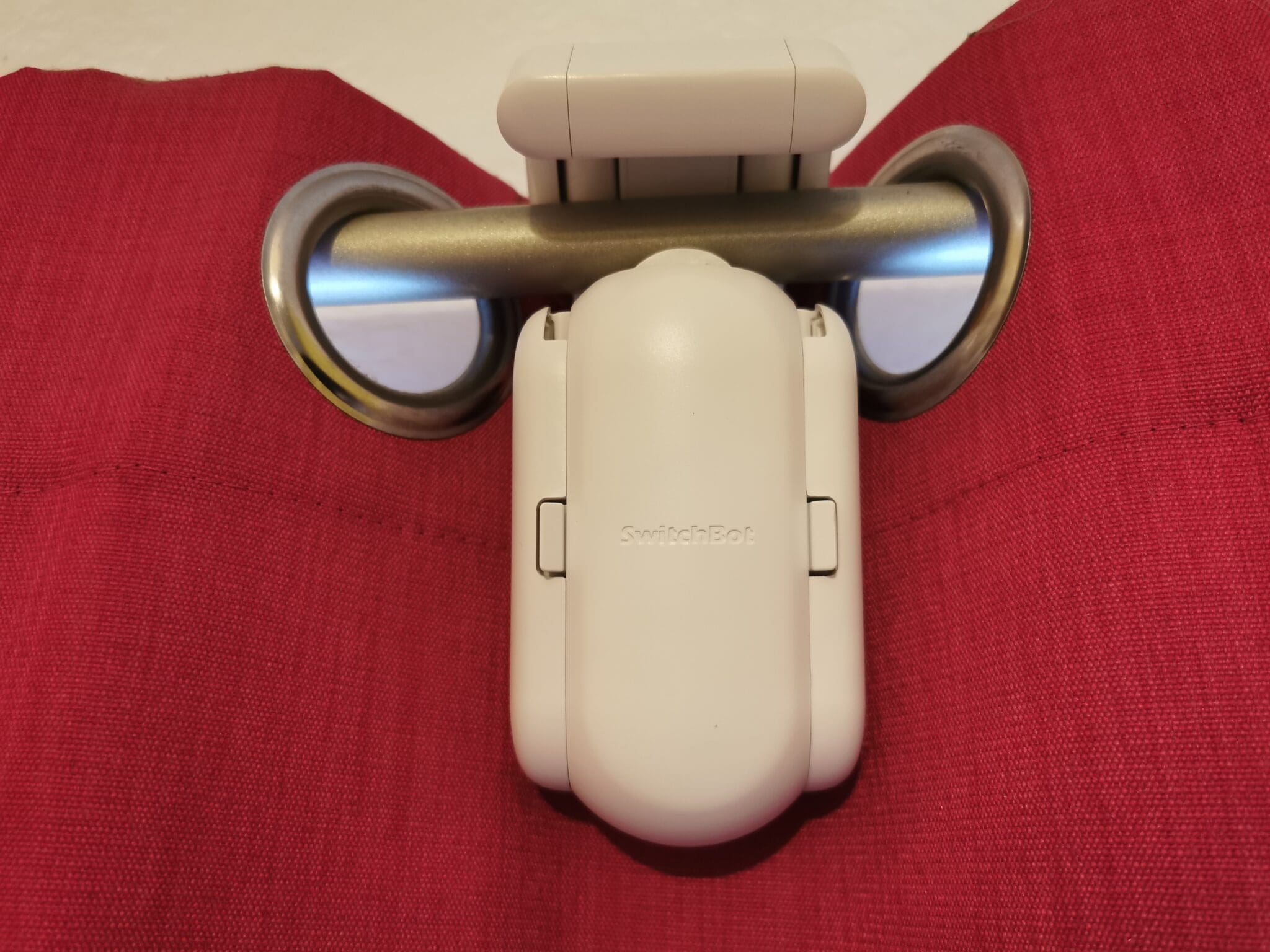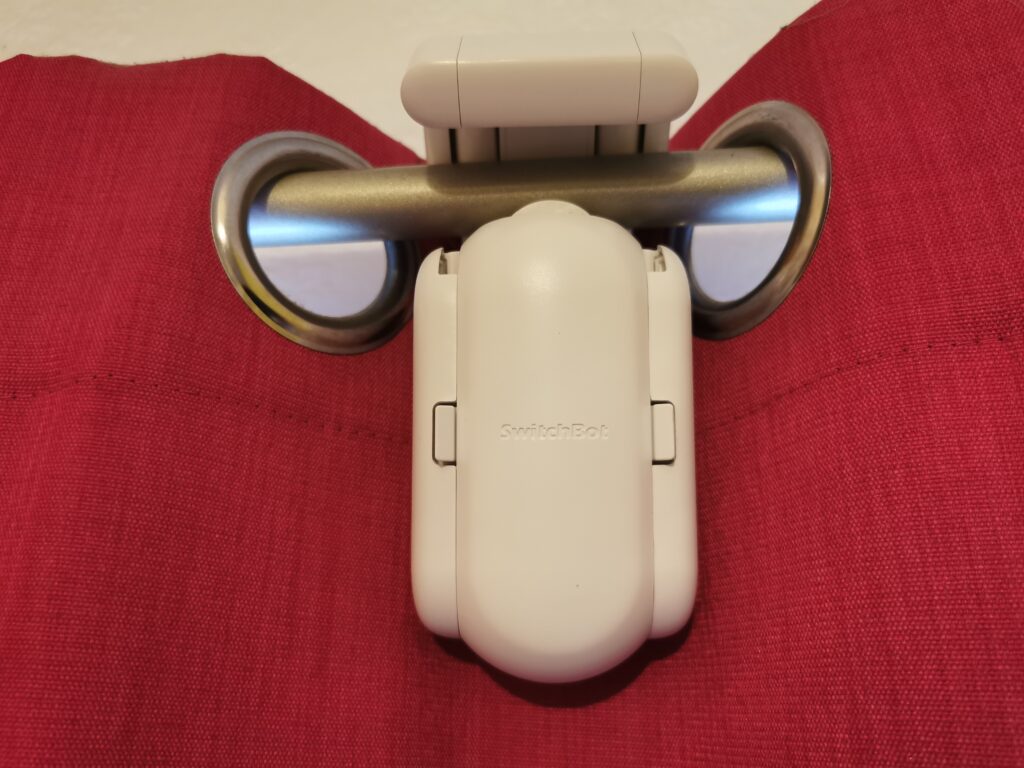 Once set up, it works as you would expect. It is worth noting that my curtains are quite lightweight, which seems to be the trend nowadays, I am not sure how well these would work on some thick heavyweight curtains my parents would have had.
It is a robot rolling along on a rail, so it is a little slow, and there is some motor noise, but it works effectively. You probably don't want to open the curtains before you wake if you are a light sleeper, there is a quiet option, but I can't deal with any noise while I sleep.
If you try and manually open or close the curtain, it will automatically start the bot (because I forgot it was mounted when opening my curtains).
You can automate the curtains based on the outside light, but I had some issues getting this to work effectively. It is not really the fault of SwitchBot though, I have very bright street lights, and the SwitchBot itself isn't exposed to the window that much. So the light levels only ever hit 3, and this seems to happen both during the day and in the middle of the night when the street lights are on.
Due to my weird sleep schedule, the more static schedule option works better for me, so I can have the curtains open after I wake up and before I go to bed.
As well as the SwitchBot Curtain, the pack came with a temperature and humidity sensor. This seems to be included for users who don't live in the north of England. Using this sensor, you can set up a scene that will automatically close your curtains if the temperature increases, reducing the strain of air conditioning.
To enable scenes, you need to make sure each device has the cloud service enables, which also requires the hub. Enabling the cloud service will also enable things like Alexa and Google.
SwitchBot also have the button presser and a humidifier,all these can work with scenes too, so the humidity sensor could trigger the humidifier, or it could make the SwitchBot Bot press the power button on a dehumidifier.
Price and Alternatives
The combo pack I was sent is currently $247.00 via Switch Bot directly, which works out at £180 and includes free shipping, I would assume there is a chance this will incur import fees.
You can then buy the individual components from Amazon. A SwitchBot Curtain is £79-£85, the remote is £15, the Hub is £29 and the Thermometer/Hygrometer £19.
In terms of alternative options, there is nothing like for like. Somfy is probably the best smart home brand offering automated blinds and curtains, but both of these are fully integrated solutions, so it would require changing your entire blind or the full curtain rail. I expect these will be superior solutions but priced very differently.
The Somfy Irismo 45 electric curtain track would set you back £609.00 for a 2m wide track or £579 for 1m. There is also a cheaper Somfy Movelite 35 which is £330 for 1m.
A 2m wide Somfy powered electric blind would be £239.
Overall
I like the SwitchBot Curtain. I like the way SwitchBot has created innovative smart home products different from the rest, rather than just releasing something dozens of other companies have done already.
During my time with the SwitchBot Curtain, it has worked very well, I have a simple set up with lightweight curtains, and it has worked flawlessly.
I have noticed some other users having issues with telescopic rods; the SwitchBot comes with a rod connector to fix this issue but some people still seem to have issues.
All the other parts of the system work well too, and there are extensive ways to get this working with 3rd party systems, so SwitchBot should work well with most DIY home automation set-ups.
Considering this is considerably cheaper than replacing your entire curtain rail, it is something I would strongly recommend trying out if you are looking to automate your curtains.
Last update on 2022-05-17 / Affiliate links / Images from Amazon Product Advertising API