The GeForce GTX 1650 will likely be the last launch of the current generation of Turing based Nvidia graphics cars. The GeForce GTX 1650 will be aimed at budget PC gamers at a sub-$200 US price point.
The GeForce GTX 1650 cards will reportedly feature a Ti and a non-Ti variant.  This would match up with the previous generation with the 1050/1050ti.
Recent news indicates the launch will be on the 22nd April with the Ti variant coming in later.
We know that the graphics card will likely feature 4 GB of GDDR5 VRAM that would operate across a 128-bit wide bus interface at speeds of 8 Gbps (2000 MHz effective clock speed).  This would result in a total bandwidth of 128 GB/s which would prove to be a good boost over the 112 GB/s bandwidth on the GeForce GTX 1050 series graphics cards.
It is believed the card operates at 1395 MHz base and 1560 MHz boost.
As usual with these things, the card has popped up on some early benchmarks, in this case, the Final Fantasy XV benchmark database and tested on 1080p resolution with High quality. The card scored a total of 3803 points against the 3728 points of the Radeon RX 570. This also was not far of the 3901 points scored by the GTX 1060 3GB.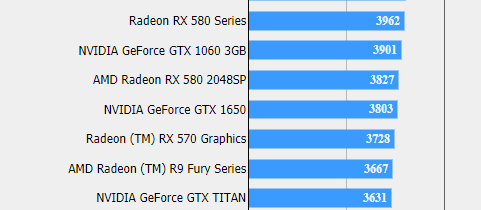 While all this does look promising for affordable gaming, price will always be the key factor. You can currently get the 8GB MSI Radeon RX 570 for as low as £147.98 on Scan or £157 on Amazon. The XFX Radeon RX 570 is just £129.
These cards should be lower powered and more power efficient compared to their counterparts which are always an advantage. For me, it would be good to see a passive Ti variant that could work well for light gaming and a silent media PC.
[content-egg module=Amazon template=list]