Back in July, the Video Electronics Standards Association (VESA) announced the newest iteration of DisplayPort technology: DisplayPort 2. This new standard will support resolutions up to 16K and use either traditional DisplayPort connectors or USB-C.
PremiumTech is now the first company to offer cables supporting the new standard which will future proof your cables for years to come.
The new DisplayPort 2.0 cable will be able to support resolutions up to 16K, a new bandwidth at 77.37 Gbps and use the same connector as USB-C allowing backwards compatibility with older standards.
With the ability to transfer so much data, these new cables will be useful for future-proofing demanding VR applications or for users wanting to daisy chain multiple monitors together.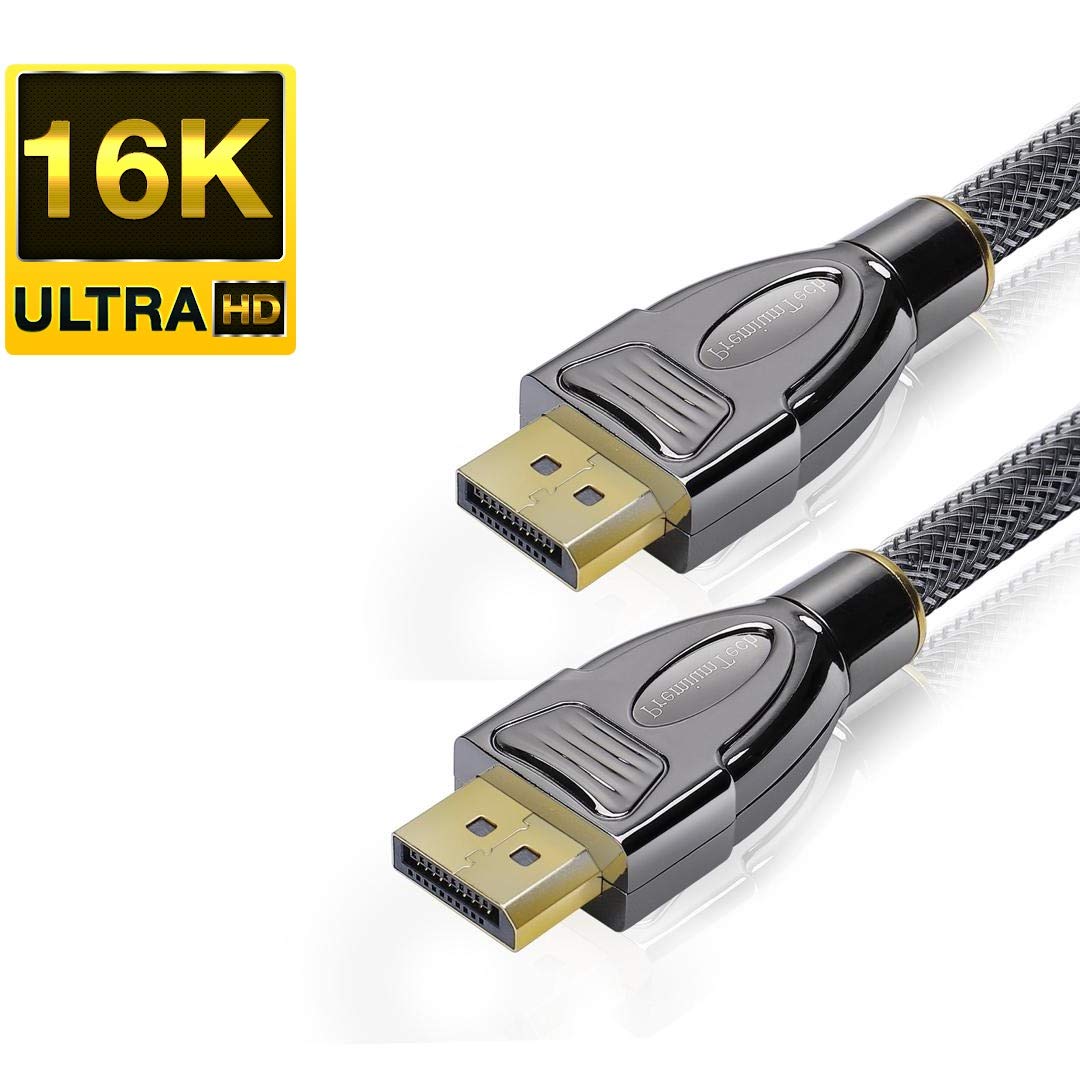 Furthermore, PremiumTech is also one of the first companies selling HDMI 2.1 cables which support up to 10K resolution at 60hz as well as all the HDR standards. TVs like the LG OLED C9 TVs already feature this new HDMI tech and these cables will ensure you get the most out of your TV.
The new cables are available to buy on Amazon now with the DisplayPort 2.0 Cable being available in three lengths, 0.5m, 1m, and 2m with the 1m being the best option in terms of pricing, costing just £29.95.
The HDMI 2.1 cable is available in 6 different lengths going from 0.5m through to 7m with prices starting at £34.95 and going up to £99.95.
What is DisplayPort?
DisplayPort is very similar to HDMI that you find on your TV. However, it offers a superior specification in almost every aspect.
DisplayPort has been widely adopting by the computing industry due to its superb spec and open standard, allowing companies to use it without paying a licence fee. Currently, no TVs feature DisplayPort and this technology is used exclusively on monitors.
DisplayPort vs HDMI
While they do the same job, they are quite different. HDMI was released before Displayport and is a standard that was developed by a collection of companies all of which are related to the AV industry. HDMI requires a licence to be used while DisplayPort does not.
The new DisplayPort 2.0 provides 72Gbps worth of bandwidth while HDMI 2.1 only has 48Gbps this then allows the new Displayport standard to support up to 10K resolution running at 60FPS running at 8bit colour for an uncompressed stream or up to 16K at 10-bit colour running at 60fps.
HDMI 2.1, on the other hand, tops out at 5K and 10K.
Due to the enormous bandwidth available to DisplayPort, one of the selling points of it is allowing you to daisy chain monitors together, rather than having each monitor run back to you PC.
HDMI does have a couple of advantages, it has the option for ethernet which aims to simplify cabling for AV equipment, allowing your TV to receive data and for this then to be passed through to connected devices such as a receiver and DVD player. Currently, this technology is not widely adopted.
HDMI also has CEC or Consumer Electronics Control which is an important feature that DP does not have. CEC allows your compatible devices to be controlled via one remote