OPPO was the first company to announce and demonstrate a 10x zoom at MWC this year. This was perhaps done because they knew the P30 Pro would pip them to the post for the first phone to be released with it.
In a few days time, on the 10th of April, OPPO will launch their new phone under the sub-brand Reno, with the cleverly named Reno 10X Zoom.
We have already reported that the new phone will apparently have a wedge style popup with a lower cost Standard model launching with the Snapdragon 710.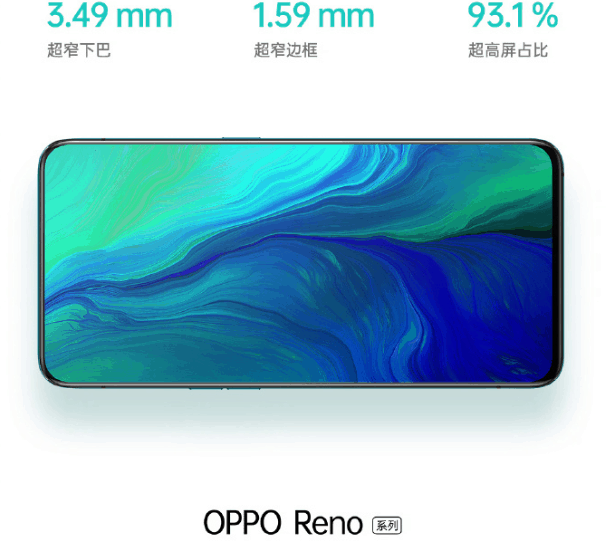 The standard variant of Reno is expected to have a dual camera setup with Sony's 48 MP camera sensor.
However the Reno 10X Zoom, will have a triple lense layout with one of them featuring an optical periscope zoom. This will almost certainly be the same 5x zoom that Huawei uses and they will achieve the 10x zoom using a hybrid mode in conjuction with the other lenses.
The phone is reported to have Qualcomm Snapdragon 855 SoC along with 8GB of RAM and 256GB of storage. The smartphone will run on Android 9 Pie based ColorOS 6.0. The tweet reveals that the device will measure 162.0 x 77.2 x 9.3mm and weigh 215 grams.
The Reno smartphone will have 93.1% screen to body ratio, 3.49mm bezel at the bottom of the display, and 1.59mm bezel at the top and both sides of the display.
There has also been another leak, according to which, the Oppo Reno 10X Zoom will cost between $602 to $645. However, this is not likely to convert to UK pricing accurately due to VAT etc.
The Huawei P30 Pro has launched to much fanfare, I have already posted sample pictures from the phone, and a review will be out soon. At the moment, nearly every tech review I know is regarding it as the best camera phone on the market, so it will be very interesting how well the OPPO Reno competes.