The Nvidia GeForce RTX 3080 didn't exactly go as smoothly as people would have liked, stock sold out almost instantaneously.
It would seem like a short supply from Nvidia combined with a significantly greater demand than usual has caused this, potentially leaving people with weeks to wait.
However, the RTX 3070 launches next month, as does the latest AMD flagship GPU so you will likely have a lot more choices in the next month.
Now it looks like even more, RTX3000 series cards are on the horizon.
It had already been speculated that a 20GB RTX 3080 would launch, and a Ti version is inevitable at some point. However new leaks indicate new cards could happen sooner rather than later.
Nvidia GeForce RTX 3080 20GB
On a Gigabyte web page which listed the SKUs eligible for the Watch Dogs Legion + GeForce NOW bundle, it included several n unannounced RTX 30-series GPUs. Among these are references to a GeForce RTX 3060 with 8 GB of memory, and more interestingly, a 20 GB variant of the RTX 3080, which could also be called the RTX 3080s.
The list also confirms the RTX 3070S with 16 GB of memory.
Gigabyte RTX Cards
The exact cards in the list are:
Gigabyte RTX 3060 (Ti/SUPER) EAGLE OC8GB
Gigabyte RTX 3070 (Ti/SUPER) GAMING OC 16GB
Gigabyte RTX 3070 (Ti/SUPER) AORUS MASTER 16GB
Gigabyte RTX 3080 GAMING OC 20GB
Gigabyte RTX 3080 AORUS MASTER 20GB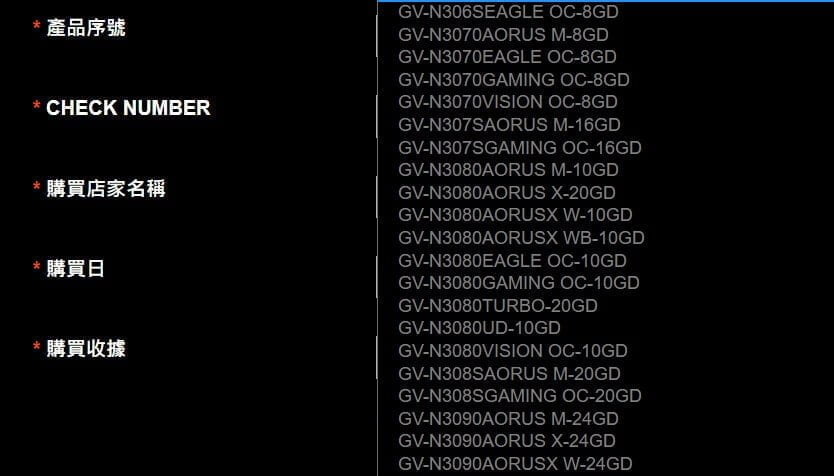 It will be interesting to find out the price/performance of both the 20GB RTX 3080 and the RTX 3070Ti.
For me, £700 was getting into uncomfortable territory for a GPU purchase, so I am happy with the RTX3080 offering superior than RTX2080 Ti for 36% less money.
In reality, it may be a little optimistic to think that Nvidia will follow up the RTX 3080 with an upgraded modal so quickly. Why bother when demand is so high as it is? The can stretch out the hype by spacing things out longer.
While it is disappointing a lot of people didn't get an RTX 3080, I wouldn't stress too much, you now have the option to find out what AMD has to offer. If they pull off something semi-competitive, I would expect Nvidia will ramp up production extremely quickly.