You may have not heard of Naim before unless you are an audiophile but they hope to change this with the release of their Mu-So all in one wireless speaker.
Priced at £895 this would be considered a high end speaker for most people, but it is actually an entry level system for Naim.
The first thing you will note when you see the Mu-So is that it is not a small or discrete wireless speaker like some of its competition such as Sonos. It is a large heavy monolithic block of brushed aluminium which gives it an ultra premium feel about it and certainly starts justifying its premium price tag. This premium build quality is also reflected in the volume and control dial which is a solid ring of bead-blasted anodised aluminium, the circular, illuminated control is inspired by the flagship Naim Statement pre/power amplifier.
If you don't mid the size of the Mu-So it is definitely one of the better looking speakers on the market.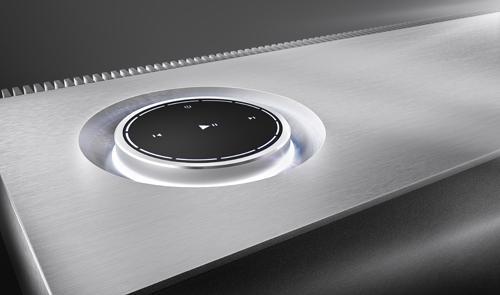 Moving onto the features of the Mu-So. You will be more than happy with the claimed 450W of power using Six custom-designed drivers (two dome tweeters, two midrange and two 'racetrack' bass drivers), all of which are hidden behind the grill.
The Mu-So has many connection options for streaming and direct connection, which include aptX Bluetooth, AirPlay, UPnP, Spotify Connect, and internet radio. Physical connections include a USB port (which charges and plays Apple devices as well as USB-stored music), an optical input (limited to 24-bit/96kHz) and a 3.5mm analogue input.
There is also ethernet and wi-fi for getting the unit connected to your network.
The Mu-So should be able to play all your files with compatibility for all the usual MP3s and 24-bit/192kHz WAV, FLAC and AIFF files. Wired ethernet will give you full high res audio and wi-fi will give you 48kHz
Setting the Mu-So up is relatively easy on iOS. You need to connect to the Mu-So directly, follow the instructions and your iOS device will then set everything up for you. You should then be able to use spotify to play music, or browse through your network collection or listen to Internet radio stations.
Unfortunately the experience was not so pleasant for Android, using a Galaxy S4 it took 2 attempts to get the device working on the network. On both occasions the Naim app just got stuck on sending the config to the Mu-So. The first time when I exited the app I could not see the Mu-So even though the unit did say it was connected to my wi-fi. The second time it was able to see the Mu-So. Unfortunately I was also unable to get Spotify to work with either the SGS4 or Nexus 2013. It loaded up a basic Spotify skin and informed me to launch Spotify, which I did, but then playing anything through Spotify just played the music on the SGS4/Nexus speakers and did not stream.
The reviews on the Play Store appear to reflect issues with the app with many 1 star reviews.
Ignoring the issues with Android, once you get the speaker to work you will be extremely happy with the sound quality and you can start to understand why it costs so much more compared to Sonos. It really fills the room with extremely impressive levels of bass that have plenty of fidelity and clarity to them
Both trebles and mids are handled extremely well that far outperforms any other wireless system we haves tested.
If you require a speaker for a large room then this is really worth considering as other systems just don't pack the same punch
Overall this is a superb speaker that looks amazing and has an ultra premium feel about it. It does require quite a bit of room compared to others and for the time being it is let down massively by its Android app. So if you use Android exclusively in your house then it may be worth considering another option.