Garmin has been at the forefront of fitness technology for many years so it comes as no surprise that they have launched into the fitness tracker market in an attempt to compete with companies like FitBit.
They have entered the market with 2 products, the Vivofit and the VivoSmart priced at £99.99 and £139.99.
The Vivofit is a more traditional fitness tracker, but it can also pair with a heart rate monitor to track proper training sessions.
The VivoSmart, which we are reviewing today, introduces smart watch functionality including text, email and calls. The closest competitor we can see for this tracker is the Fitbit Charge HR which is priced at £120 and I will be making comparisons with Fitbit throughout the review as they are arguably the company to beat when it comes to fitness trackers.
The specific functions of the VivoSmart include:
Displays steps, calories, distance and time of day
Vibration alerts for calls, texts and emails from your Smartphone
Easy operation using touch and swipe
Inactivity alert reminds you to move
Auto goal keeps you challenged
24/7 wear ability with a water rating of 5 ATM
Automatic synchronisation with Garmin Connect via Bluetooth
Personalised daily goals.
The VivoSmart itself is well built, and attractive as far as fitness trackers go. It is an all in one strap unlike the Fitbit Flex, and I think this gives it a superior build quality, however I am unsure how this would compare to the newer Fitbit devices such as the charge or surge.
During my time with it I found it quite comfortable to wear, generally not noticing it on my wrist. I am always concerned about losing these devices when they use a snap on bracelet but I never had any issues with this.
The general step counting appears to work excellently and your goals are adapted each day based on the previous days performance. It started off at 7500 steps on day 1 and by day for it had increased my goals to 10000.
Throughout the day the device randomly vibrates advising you to move, I didn't find this much use to me as I exercise quite a lot at set times, but I can imagine it will be useful for people getting into fitness.
The smart functions are interesting. It doesn't have quite the fully fledged functions of a Smartwatch but I grew to like it. The device will vibrate and show basic info from texts, calls, and messages as your receive them. Because of its limited display reading texts isn't exactly easy, you normally get the first line at best and then have to scroll down.  Personally I found it useful when walking or exercising so I could glance at the VivoSmart to find out who or what is messaging me without having to get my phone out of my coat ever time it bleeps.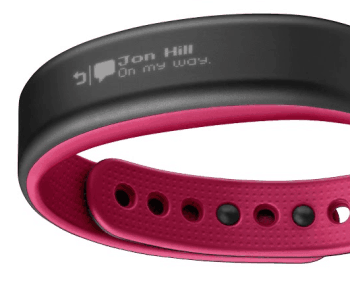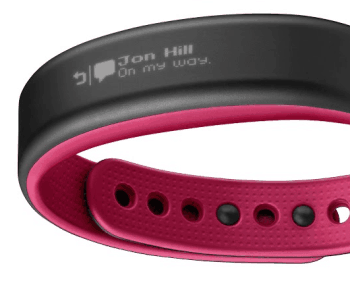 Unfortunately I was not able to use the heart rate monitor as Garmin did not provide a chest strap with the review unit. Assuming it works in the same manner as the Forerunner watches then it is a great feature to help you identify your training zones. Fitbit has opted to go with a built in optical sensor which is obviously a lot more convenient. Having not used an optical sensor I cannot comment on the accuracy compared to chest straps just yet.
I found sleep tracking to be a little odd and not ideal. I had to log into the app and confirm my sleep time before it synced the sleep data properly. If I did not do this each day it just did not show me any sleep data.
Due to its basic display I found the battery life excellent, it was around 5 days before I needed to recharge. For me this gives it a huge advantage compared to fully blown smart watches.
Overall I really enjoyed my time with the VivoSmart, but I think it is quite a niche product. It sits somewhere in the middle of smart watch and fitness tracker and because of this it charges a pretty hefty premium, even compared to Garmin's VivoFit. If you are quite into fitness I think it is worth considering over a fully fledged Smartwatch, as you will get superior fitness functions, and a much better battery life. In comparison to Fitbit, it is more expensive than the Charge HR but cheaper than the Surge. The charge has an optical HR but it appears to have less smart features, and the Surge has quite a big price hike of £60 over the VivoSmart, but it does appear to offer significantly more features including GPS. At the moment neither the Charge HR or Surge are available so our comparisons are only theoretical, and for the time being I think the Vívosmart is the best fitness tracker on the market.
At the moment you can buy the VivoSmart for £131 from Amazon or if you are looking for a more basic tracker the VivoFit is available for just £71.67 which I think is an excellent buy making it a better option that the Fitbit flex