Kodak PixPro AZ901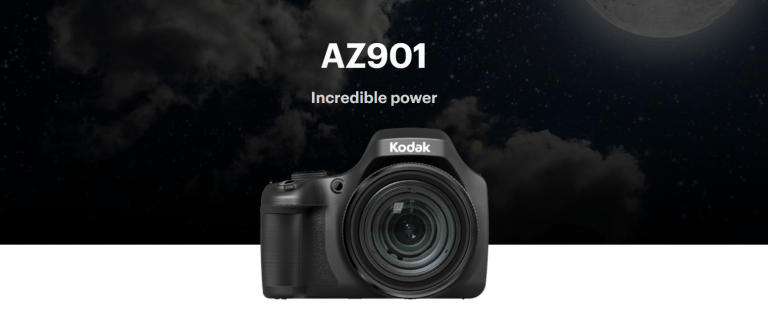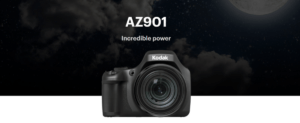 Product Name: Kodak PixPro AZ901
Offer price: 399
Currency: GBP
Availability: InStock
Price -

90%

Features -

80%

Build -

80%

Performance -

70%
In a world where smartphones have 40MP 3x optical cameras, it is becoming increasingly difficult for point and shoot cameras to stand out from the crowd. This is particularly true in the low-mid range end of cameras where the is no need to spend more money on a device offering similar results.
One area that phones will never be able to compete with is optical zoom, yes, the P20 Pro can do 3x which is excellent, but travel and animal photographers often need something much larger.
This is when the PixPro range from Kodak becomes a possible option. The Pixpro range has 5 cameras starting at an ultra-budget £95 for the AZ252 which offers 16 MP and 25x Optical Zoom. The top of the range is the AZ901 which costs an affordable £399.99 on Amazon and has a 20MP BSI CMOS sensor and an insane 90x optical zoom. Quickly looking on Google this is the largest zoom on any camera with the Nikon Coolpix P900 being the next best at 83X
[button link="https://amzn.to/2I643Jh" type="big"] Buy the Kodak PixPro AZ901 from Amazon[/button]
The full specification of the camera includes:
Imaging
Pixels Actual: 21.14 Megapixel
Effective: 20.68 Megapixel
Sensor 1/2.3″ CMOS
File Formats Still Images: JPEG, RAW
Movies: H.264, MOV
Audio: Linear PCM (Stereo)
Max Resolution 20 MP: 5184 x 3888
Aspect Ratio 3:2, 4:3, 16:9
Image Stabilization Optical
Optics
Lens 18 elements in 14 groups
EFL: 3.9-351mm (35 mm equivalent: 22-1980mm)
Aperture: f/3.1 (W) – 6.8 (T)
Zoom Optical: 90x
Digital: 4x
Focus Range Wide: 1.6405′ (50.00 cm) to Infinity
Telephoto: 16.4′ (5.00 m) to Infinity
Macro: 1.968″ (5.00 cm) to Infinity
Exposure Control
ISO Sensitivity Auto, 100-3200
Shutter 30 – 1/2000 Second
Exposure Metering Artificial Intelligence AE, Center-Weighted, Face Detection, Spot
Exposure Modes Modes: Aperture Priority, Auto, Manual, Program, Shutter Priority
Compensation: -3 EV to +3 EV (in 1/3 EV Steps)
Shooting Modes: ASCN, Face Beautifier, Fireworks, Landscape, Movie, Night Landscape, Night Portrait, Panorama, Party/Indoor, Pet Mode, Portrait, Snow, Sports, Sunset
White Balance Modes Auto, Cloudy, Color Temperature, Daylight, Fluorescent, Fluorescent CWF, Incandescent, Manual
Buffer/Continuous Shooting Up to 5 fps at 20 MP
Self-Timer 2, 10 Sec
Recording
Video Recording Yes, NTSC
Resolution 1920 x 1080p: 30 fps
1280 x 720p: 60 fps, 30 fps
640 x 480p: 120 fps, 30 fps
Now, I will admit, I am not exactly a camera expert, I mostly keep my settings on some form of auto, perhaps occasionally tweaking some settings. Though I guess I am the sort of user this camera appeals to, serious enthusiasts will often spend more for a mirrorless or DSLR.
The camera is a relatively large bridge format, which is understandable due to the zoom, the overall build quality feels good but not amazing. In particular, the LCD viewfinder feels a bit cheap and plastic, but again, at this price point, things are never going to be perfect.
There isn't a great deal to set-up with cameras like this, you charge the battery, plug in your SD card, and away you go. One thing that is worth noting is the camera uses microUSB for charging and file transfers. This is much more convenient than the random cable my ageing Panasonic Lumix uses.
Navigating all the functions is quite simple, it is laid out like most other cameras I have used, you can select the various shooting methods using the dial on the top. Navigating menus is done via the circular pad on the back, and you can choose different types of shots using a button near the central zoom/shoot button. Some of the available shots include single, HDR, WDR, continuous shooting and AE bracketing which 1 shot but with three different levels of brightness.
The zoom can be controlled with the usual toggle around the central shooting button, and you can select different types of zoom and focus options with a switch near the lenses. The possibilities being Zoom/Auto Focus, Smart, and Manual.
Overall navigating via the options and performing all the functions you want is quite a simple job.
Performance
I tested the camera on a few occasions around Blackpool and had moderately successful results. My first test was while walking down the prom in Blackpool, and while the photos themselves are nothing to rave about the zoom was as impressive as you would expect. In the first shot, I just took a photo on the walkway down to the beach, noticing a ferry in the background, that is barely visible on the first shot. The second shows clearly show the ferry with the writing on the side. I think the weather and distance made it quite a hazy looking image, but I was impressed nonetheless.
I also took some shots pointing towards the Tower, and I noticed the quality of shots was a little unreliable. The camera appeared to be particularly prone to take blurry shots which is then made considerably worse when you zoom. It seems to be a bit hit or miss, but I found the consistency to be poor compared to my Mate 10 Pro.
The issue wasn't helped with the LCD viewfinder either, it is quite small, and appears to be relatively low resolution and suffers badly in the sunlight. So, on a sunny day, it made it quite hard to work out if the shot was right or not.
My second attempt was in Stanley Park on a slightly less bright day. Again, I had issues with consistency, a lot of shots came out blurry, but it did perform much better. I think the OIS could be the issue, and which isn't helped by me not having the steadiest of hands.
I have also taken some random photos of flowers, birds and graffiti. In the end, I found that with a little bit of patience the camera was able to produce some decent shots.
Looking online I found another user loves the camera and he has achieved some very impressive shots with the camera, so it is possible some of the issues I faced were user error.
Overall
If you are a photographer on a budget and require a huge zoom then this is an obvious choice, it can produce some fantastic results and it is well priced. It will no doubt be hugely popular with nature and wildlife photographers.