HyperX Cloud II Wireless Review Rating
Summary
The HyperX Cloud II Wireless are excellent wireless gaming headphones with no latency and superb battery life.
Pros
Excellent sound quality
No perceivable latency
Superb battery
The HyperX Cloud II Wireless was launched last year, but the UK launch was announced until CES in January this year.
These new headphones are essentially the same as the existing highly regarded wired HyperX Cloud II. But now they are wireless. These use a 2.4Ghz dongle for wireless connectivity, so no Bluetooth. The benefit of this is zero-latency gaming and an impressive 30-hour battery life.
Specification
2.4GHz Wireless and up to 30 hour battery
HyperX 7.1 Surround Sound1
Signature HyperX Comfort
Durable, aluminium frame
Detachable, noise-cancelling mic and Built-in mic monitoring
Design and Fit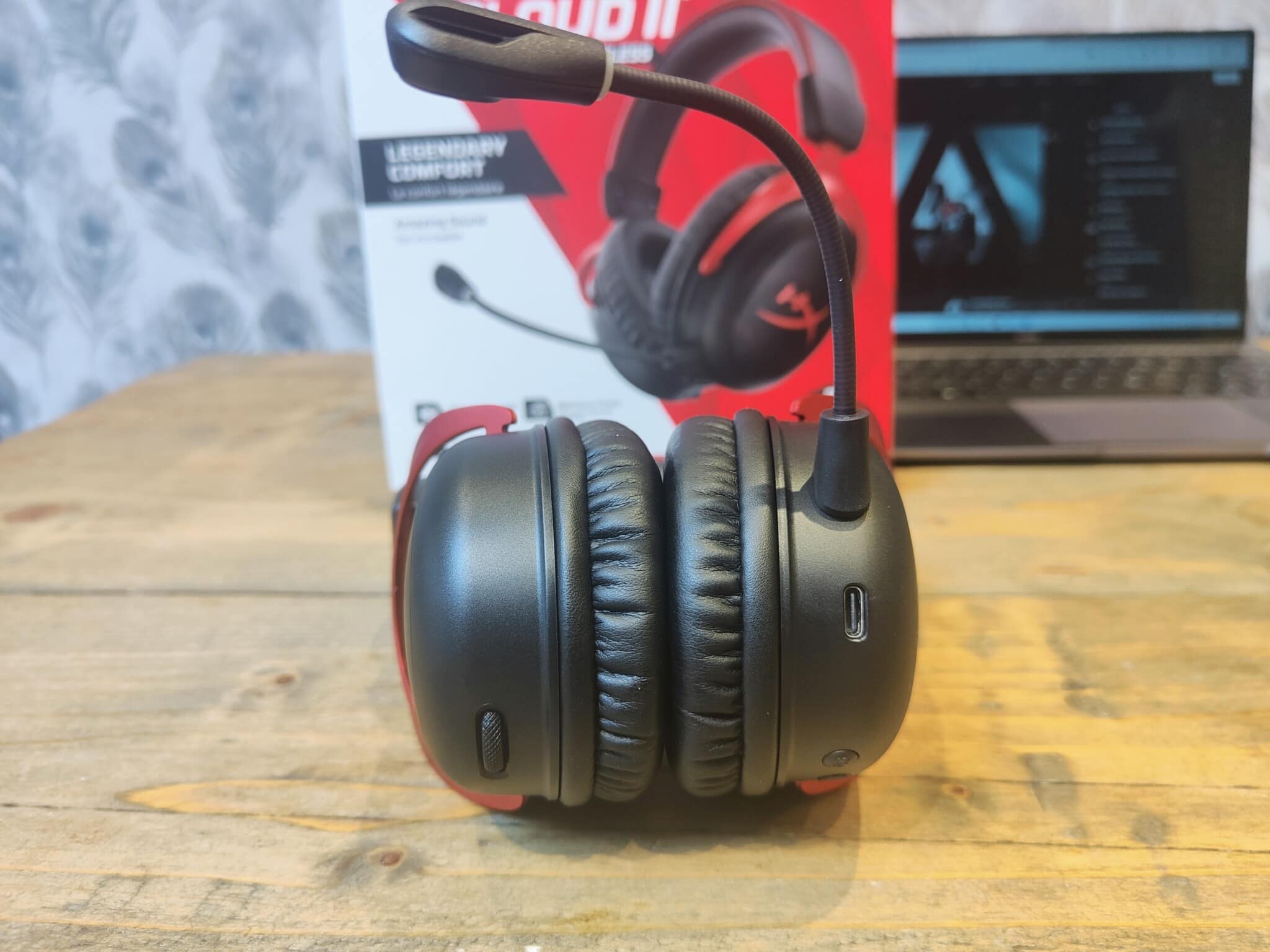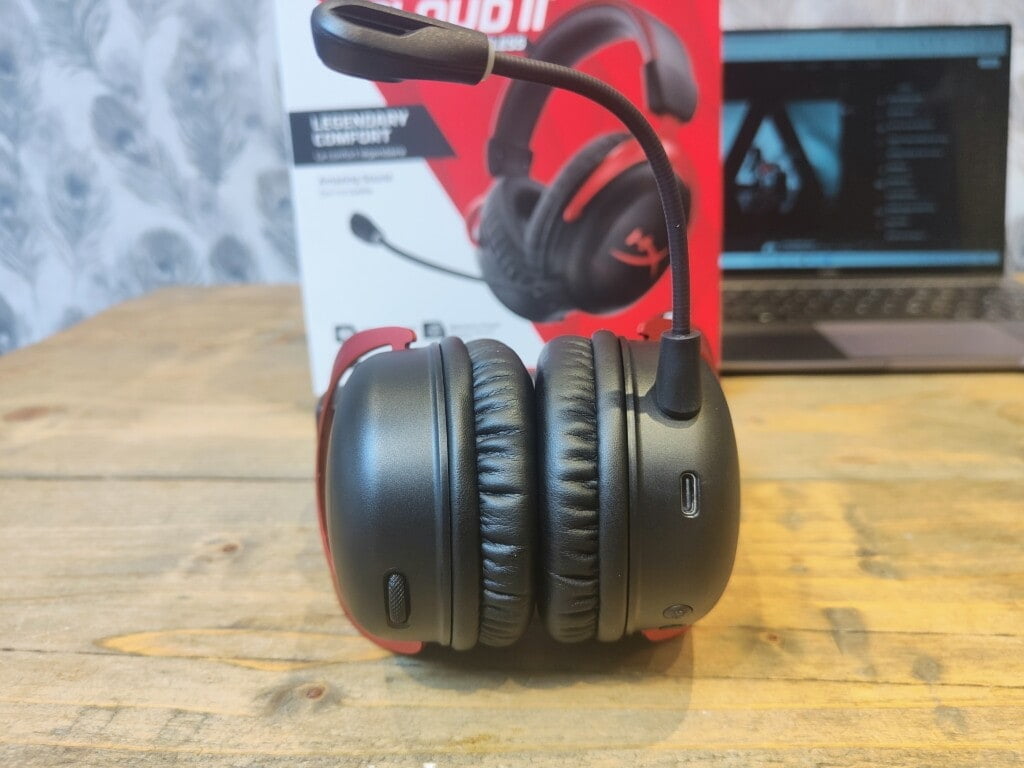 The overall design of these is quite attractive, it is gamer-y but not too gaudy. They are quite light, but the aluminium frame gives them a well-made feel. There is no RGB apart from a little LED on the mic, I prefer this, and it helps the headset achieve an impressive 30 hours battery.
These have better comfort than average for me. The earcups are not as padded as the like of the Creative SXFI AIR Gamer I reviewed recently, but they offer plenty of cushioning. The earcups are big enough to fit around my elephant-sized ears, and the head tension is quite light, so I don't end up with achy ears or head.
The ear cups are removable, so these offer a bit more long term durability than many headphones. HyperX also sells velour earcups as an alternative to the leatherette/upvc that is included.
These lack a 3.5mm headphone jack like many other wireless headphones had. My PC recognised the headphones when I plugged them into USB, but sadly this doesn't work, USB connectivity would have been a nice bonus.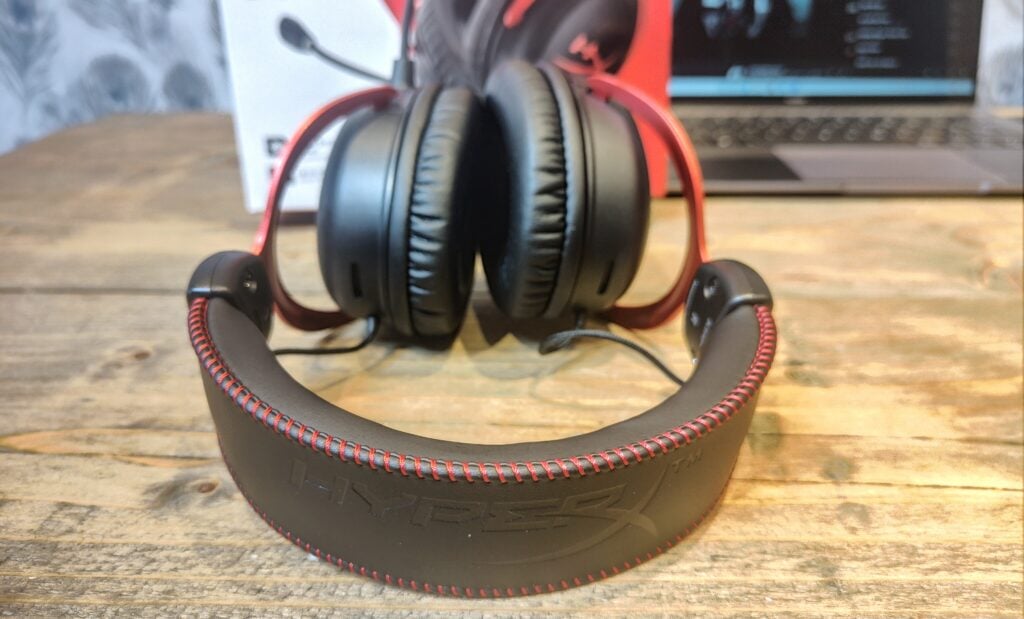 HyperX NGENUITY – Virtual 7.1 vs Windows Sonic and Dolby Atmos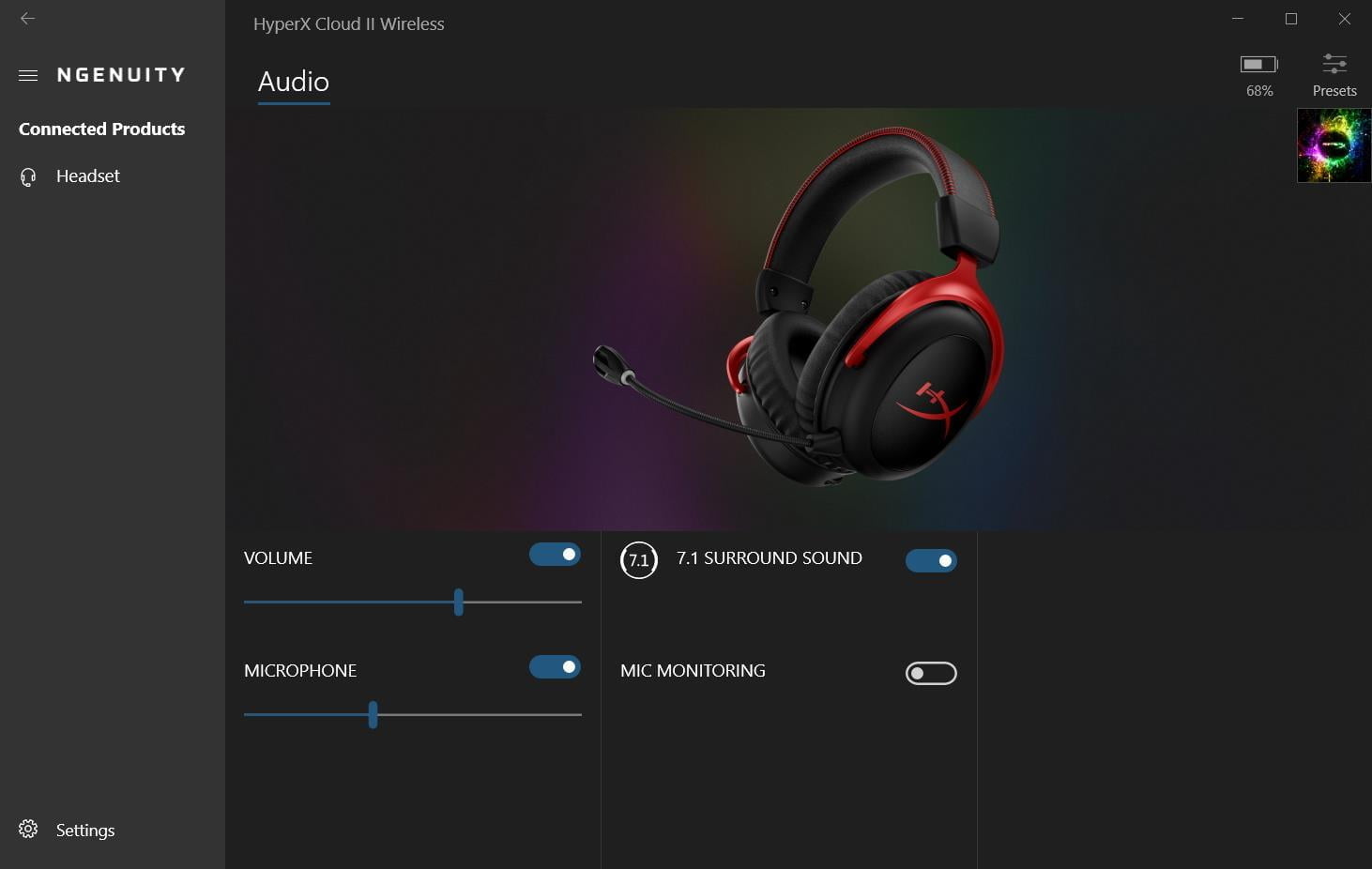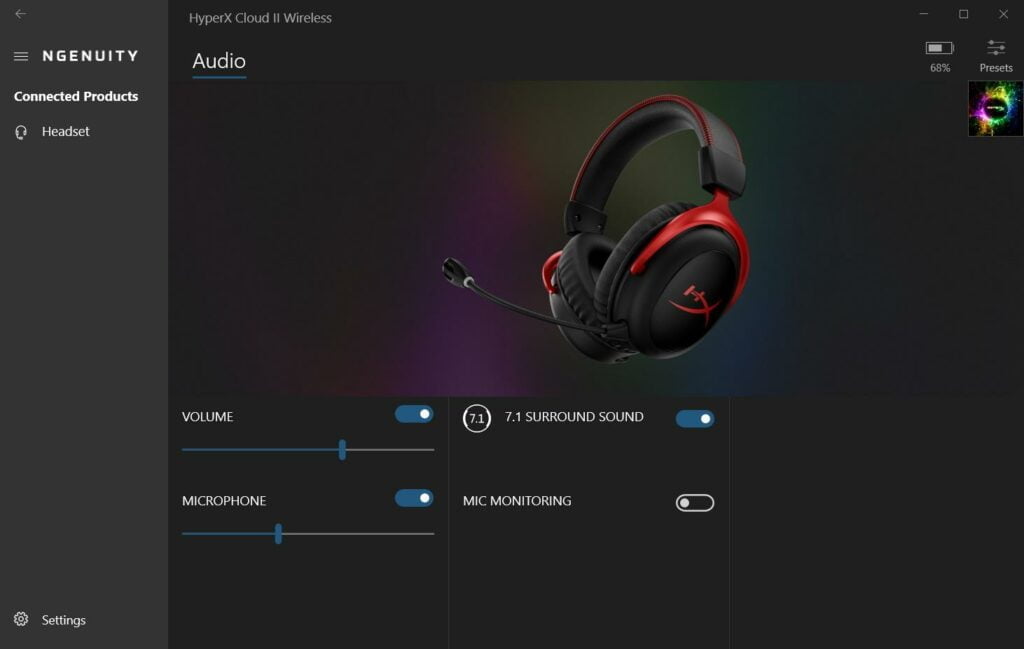 To make the most of the headset on Windows, you will want to install the NGENUITY app. There is not much going on with the app, but it allows you to enable/disable the virtual 7.1 surround sound.
It is debatable how good virtual surround is. Some would argue the Windows Sonic feature built into Windows is better. You then also have the Dolby Atmos app, which will cost you £15 and again is arguably better than Windows Sonic.
With Virtual 7.1 enable the soundstage is widened, and it does make gaming and movies feel a little more immersive.
Sound Quality
The sound is quite balanced, there is a moderate bass emphasis, so they are not too boring, but at the same time, the bass doesn't drown out the clarity of the other frequencies. This leaves quite a neutral midrange which enabled the headphones to reproduce vocals and lead instruments accurately.
The sound profile translates over well to both gaming and movies. There is enough bass for an enjoyable, immersive experience, while the mids allow you to hear dialogue and ambient noises clearly.
Gaming and Latency
These are obviously designed with gaming in mind and it is where they excel.
For me, latency is completely unperceivable. No doubt some people will claim they can tell the difference between wired, but I can't imagine this will ever be an issue for normal people.
The overall gaming experience is superb. The 7.1 does help, both with the immersive feeling, but it seems to help with sound positioning, I can't say it improved my performance much, though. If you have a Dolby Atmos game, then using the Atmos app with NGENUITY 7.1 switched off is a bit better.
The mic performs well, there are no fancy controls for it, but the overall quality is more than enough for my needs. It is also removable when not in use.
For console gaming, these work with the Playstation 5, PS4 and Nintendo Switch. You will lose the virtual 7.1, but the PS5 has built-in 3D audio, which will likely be superior. Due to the lack of 3.5mm, you won't be able to use these with the Xbox.
Price and Alternative Options
The HyperX Cloud II Wireless is priced at around £150, available direct from HyperX or Amazon.
It is worth noting that the wired model is half the price of this. By all accounts, it offers the same performance just with an annoying cable.
The SteelSeries Arctis has serval models all around the same price. The Arctis 7 is around £125, or you can get the Arctis 9 for around £175
Logitech has always been a great option for low latency wireless gaming with their Lightspeed technology. The Logitech G PRO X Wireless is priced at around £165
Overall
HyperX makes some great gaming peripherals, and this is true here. The overall performance is excellent with zero-latency from the 2.4GHz dongle combined with excellent sound quality.
It is quite a crowded marketplace with other brands also offering 2.4Ghz latency-free headsets at a similar price point. I haven't used many of the others, but I am confident that these will easily compete.
Last update on 2022-07-24 / Affiliate links / Images from Amazon Product Advertising API