I posted a few days ago about how Zodak had developed a double height double capacity memory DDR4 module. Now G.Skill has officially announced their Double Capacity DDR4 Trident Z RGB DC RAM which will be available on a limited number of ASUS motherboards.
Consumer boards have been limited to using 16GB per DIMM since the launch of DDR4, and this limitation is fine if you use a regular motherboard with four DIMM slots which covers all sizes from Micro ATX  and up. The current generation of consumer CPUs can only handle 64GB of RAM so there is no need for increased capacity modules.
However there has been a growing trend towards small form factor PCs which use the extremely small Mini ITX format, and these can only squeeze on two DIMM slots limiting the system to 32GB.
While 32GB is more than enough for most users, G.Skill and ASUS clearly think there are enough users that want 64GB. So the two companies have worked together to produce a custom PCB solution that enables them to offer a 2x increase in capacity over traditional DDR4 DIMMs, fitting 32 memory ICs onto a single PCB to deliver 32GB of DRAM on a single DIMM.
The new kits offer the same gamer orientated aesthetics as the other RAM in the G.Skill range including RGB illumination.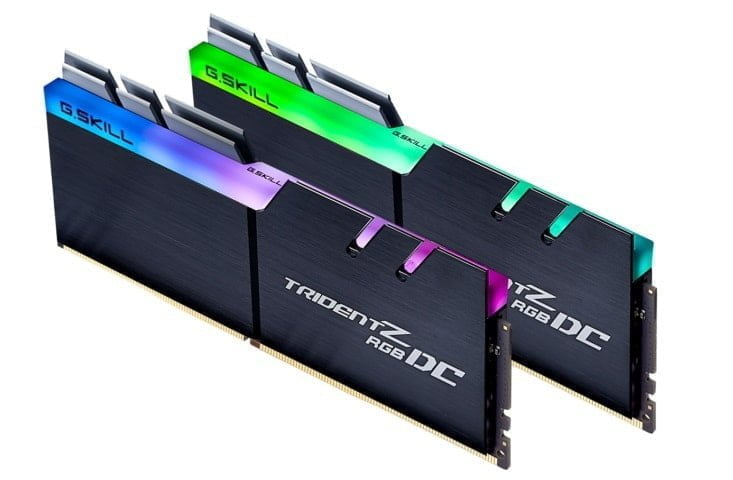 Right now, G.Skill's Trident Z RGB DC memory is only supported on three ASUS ROG series motherboards, all of which us Intel's latest Z390 chipset. These motherboards include the ROG Z390 Maximux XI APEX, the ROG Maximus XI Gene and the ROG Strix Z390-I Gaming, all of which are designed to offer two DDR4 DIMM slots. This will allow each of these motherboards to support 64GB of DRAM.
These are not the absolute best in terms of performance, but still pretty decent, they support either 3,000MHz and 3,200MHz speeds with low CL14 timings.
There is no word on pricing or availability, but I would expect due to the niche nature of these modules there will be a hefty premium to pay on already expensive DDR4.