FRITZ!Repeater 3000 Review Rating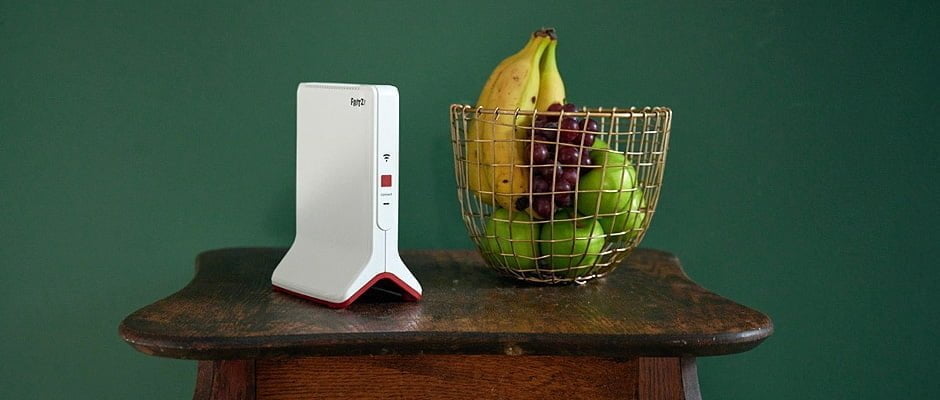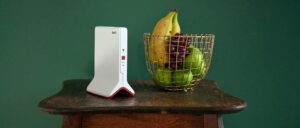 Product Name: FRITZ!Repeater 3000
Product Description: The FRITZ!Repeater 3000 is the first repeater in the FRITZ! product range to have three separate bands. Thanks to intelligent Mesh repeating, achieving top speeds is easy. Extend your home network easily and efficiently with the FRITZ!Repeater 3000
Offer price: 119.99
Currency: GBP
Availability: InStock
Summary
A well-specced repeater bring mesh functionality to AVM routers running FRITZ!OS 7 and costing less than a similarly specced separate mesh system
While AVM does not have a considerable market share in the UK, I have found their products to be superb. So much so that even though I have moved away from VDSL, and Wi-Fi from the router itself, I still choose to use the FRITZ!Box 7590 as the backbone of my network. It has been far more reliable than solutions from well-known consumer brands such as Asus and Netgear.
AVM have sold various repeaters in the EU markets for a while now, but the FRITZ!Repeater 3000 is the first to land in the UK and it brings with it proper mesh functionality.
Featuring a tri-band radio using 2 x 5 GHz and 1 x 2.4 GHz this has the same specification as most flagship mesh system using one of the 5GHz channels as the backhaul to the router.
Similarly like most mesh Wi-Fi systems, it has twin ethernet ports and optional ethernet backhaul.
You get all this for £119.99 which doesn't seem too bad when you compare it to buying a twin pack tri-band mesh system. If you use one of the VDSL/ADSL models, it also means you have fewer devices causing clutter.
Set up
Set up is reasonably easy, not quite as simple as the TP-Link Deco P9 I just reviewed, but I managed to get things up and running first try and within a few minutes.
All you need to do is boot up the router, connect to its pre-defined Wi-Fi on your laptop/phone browse to fritz.repeater and go through the setup procedure.
The repeater doesn't really have much in the way of options, it is just a repeater after all. However, if you want to use wired ethernet, you have the opportunity to switch to that.
Alternatively, this works just like a repeater too and is compatible with routers from any other brand.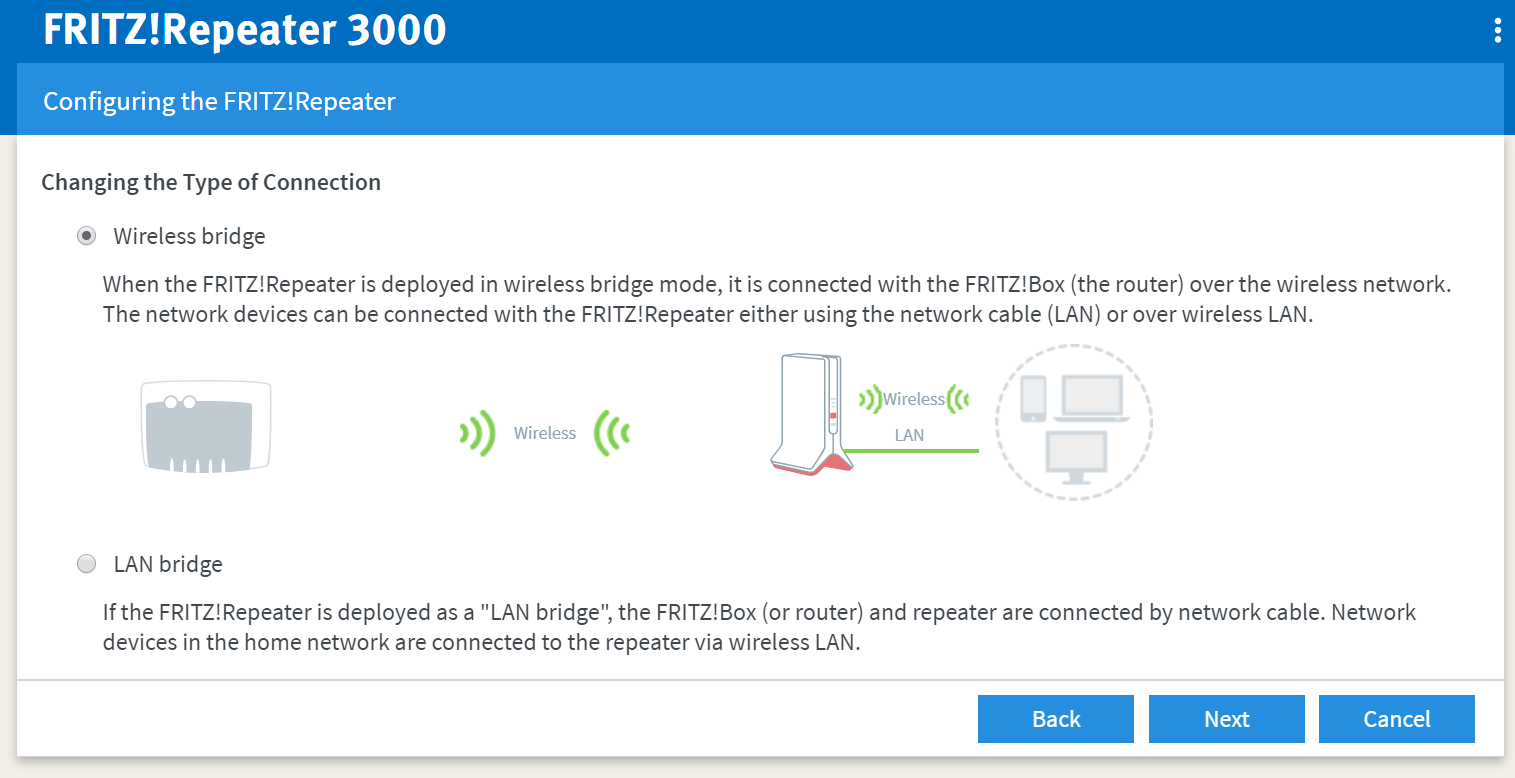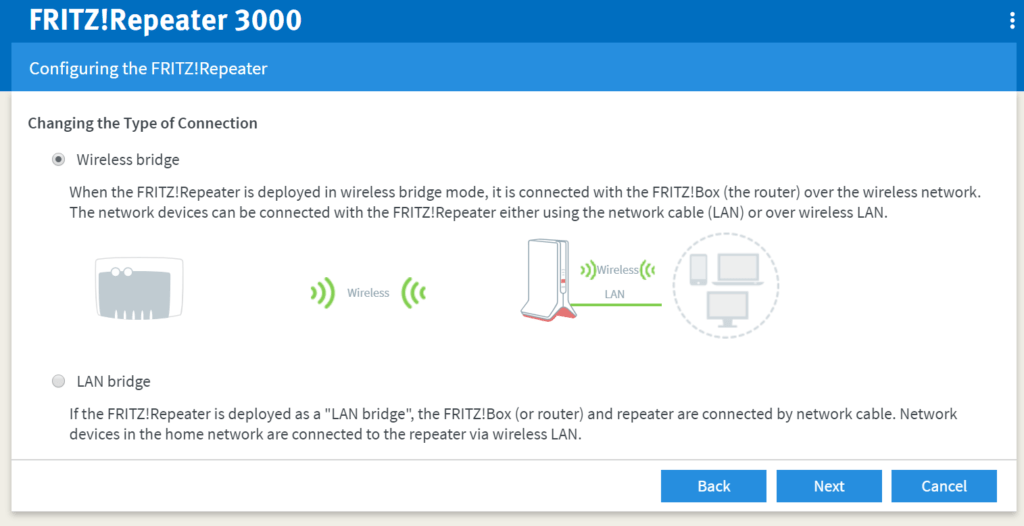 Performance
Like most wireless mesh systems, you need to try and place the repeater in an area with an OK signal allowing the backhaul channel to connect to the main router. At first, I tried this in my kitchen and it failed.
Moving it into my living room, I was able to establish a solid connection. This room is central to my home, while the router is on the far side of the house. With this configuration, I am able to get a reliable Wi-Fi signal throughout my home, which is a reasonably large four-bed semi-detached with brick internal and external walls.
The signal is also strong enough that I can get an acceptable speed in my garage, where I have some gym equipment. This is 3 solid brick walls, a garden and around 15 metres away. The TP-Link I tested at the same time was not good enough to achieve this with the satellite located in the same position.
In terms of overall speed, it did OK, my Virgin broadband peaks at around 380Mbps and in the living room this dropped by about a third to around 260Mbps. However, it provided a strong signal throughout the rest of my home, the Netgear RBK23 I used to use in the same location used to struggle to get a decent speed in the spare bedroom (up one and to the left), but this manages 120+Mbps.
Switching it over to the wired bridge mode allowed me to get the maximum speeds possible which maxed out the Virgin connection and hit over 500Mbps for local file transfers.
Overall
Overall the FRITZ!Repeater 3000 performs well, and if you have existing AVM hardware, it is definitely a more logical purchase over investing in a separate mesh wi-fi system.
I found it sits somewhere in the middle in terms of performance, recent reviews from Netgear and TP-Link were able to achieve 300Mbps from one of the satellites vs 200+Mbps here. Both of those systems cost quite a bit more though.
This comfortable outperforms the cheaper dual-band systems I have previously tested while costing around the same price (assuming you have an existing AVM router).
If you are setting up from scratch and use VDLS/ADSL then it may be worth considering using just a modem then investing in a good quality mesh system. However, in this scenario, I am yet to find a mesh system with the level of networking control FRITZ!OS offers.
Last update on 2022-06-19 / Affiliate links / Images from Amazon Product Advertising API