NETGEAR RBS50Y Orbi Outdoor Wi-Fi Mesh Extender Review
Product Name: NETGEAR RBS50Y Orbi Outdoor Wi-Fi Mesh Extender
Offer price: 250
Currency: GBP
Availability: InStock
Summary
Not cheap, but if you have a massive house this may not be a concern. Apart from that, this is the best consumer solution for getting full Wi-Fi coverage in your garden and home seamlessly.
Features -

75%

Wi-Fi Performance -

90%

Ease of use -

85%

Price -

68%
One of the great things about Netgear Orbi (and other mesh wi-fi systems too) is the ability to expand the system to broaden the range. Unlike old Wi-Fi extenders you don't suffer the same level of performance degradation with a Mesh network, so it is possible to expand the system to be as big as you want.
For some, that includes the ability to extend the signal outside the confines of your home, and this is where the Netgear Orbi Outdoor satellite comes in to play. Priced at around £250 this is perhaps more aimed towards small business than homeowners, but it will obviously be appealing to people with larger homes with a significate outdoor space.
[content-egg module=Amazon template=list]
This add-on Outdoor Satellite expands your Orbi Home or Pro Wi-Fi coverage outdoors with up to an additional 2,500 sq. ft. Usually these figures are best-case scenarios and something you will never achieve due to walls and other factors, but assuming you have a line of sight, this outdoor satellite should offer a great range.
As you would expect for something designed outdoors, this is fully weatherproof with all the power, and sync buttons are encased in rubber protection. The official rating is IP56 so it is not designed to be dropped into water, but it should be more than adequate for the British weather.
It is designed to operate in temperatures as low as negative 20-degrees C to 50-degrees C. In other words, it'll handle most weather conditions.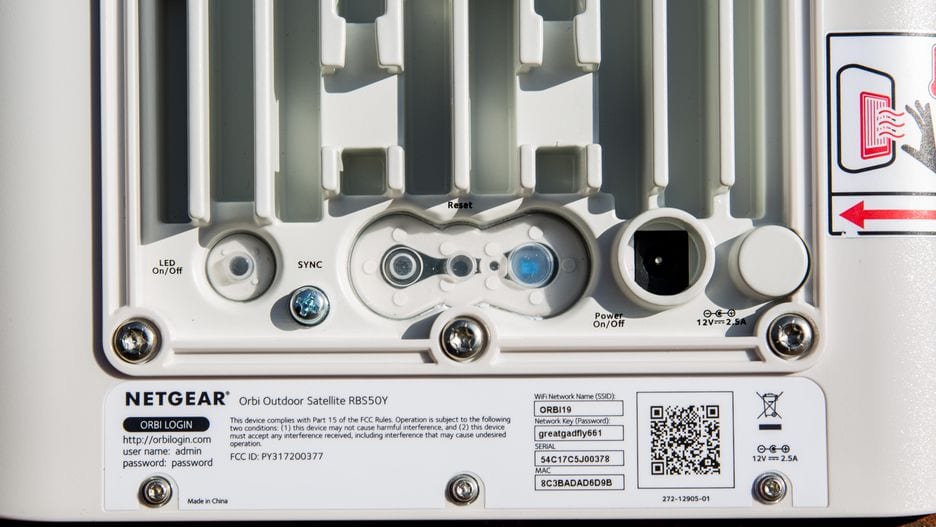 With this being an outdoor satellite, it is very different in design than all the other models. It is massive for a start, I am not sure why it needs to be so large, but the weatherproof protection will add some heft to it. There is also what appears to be a radiator on the back of it to help with heat dissipation. I suppose if it is under the direct sun, it may struggle to stay cool otherwise.
The power cable is very long, as you would expect, and you will need to plan how and where you want to mount this. You obviously need to be close enough to a plug socket, but also the cable has a 90-degree angle for the power port. So, if you plan on drilling a hole into your house, it will have to be a big one.
For mounting, you have a choice of wall mounting, or there is stand if you want to place it somewhere temporarily.
Due to the nature of this satellite, you don't get additional ethernet ports, not that you would really need them if it is mounted to the side of your house. However, I feel like they could have powered this via an ethernet port, which would make routing into your home a little easier.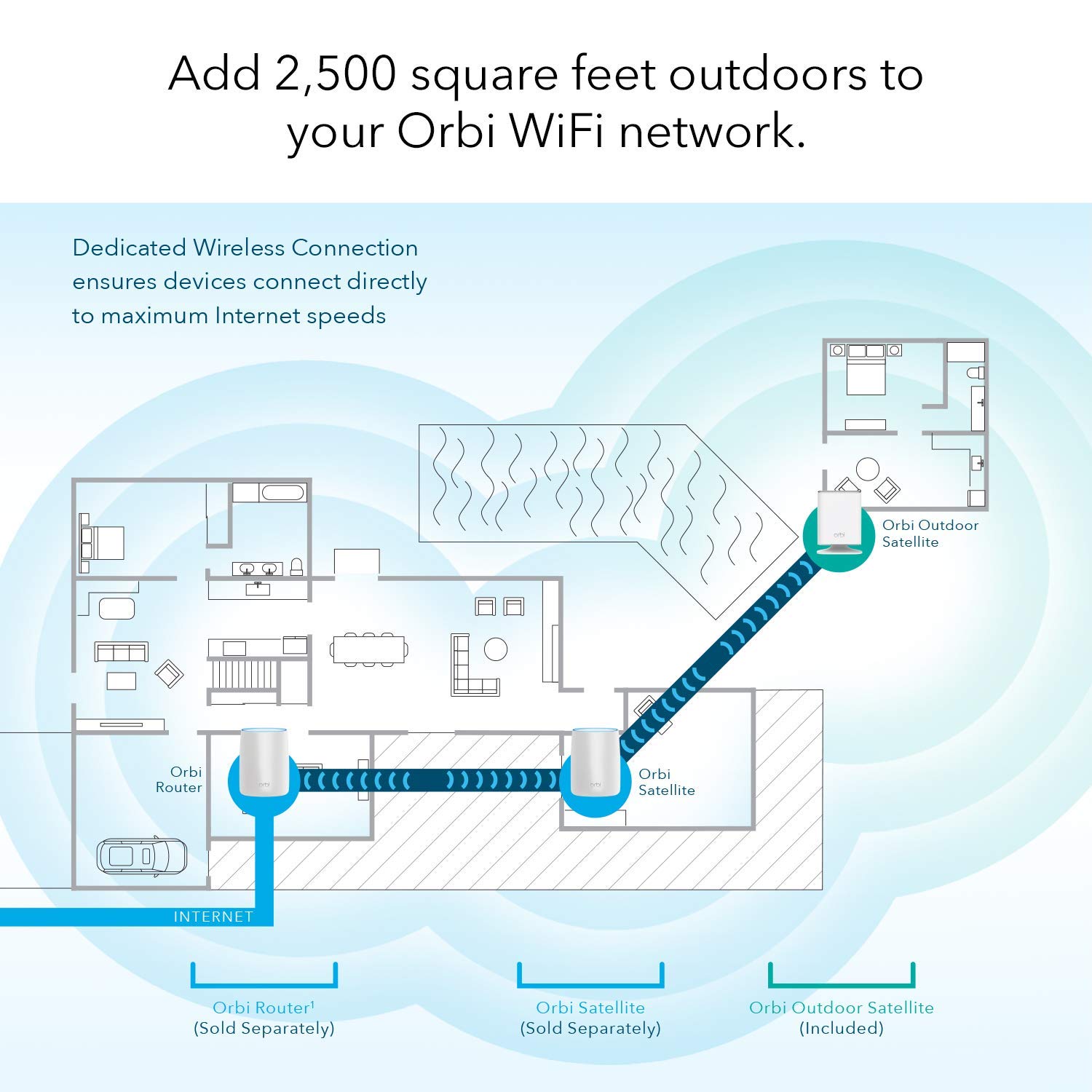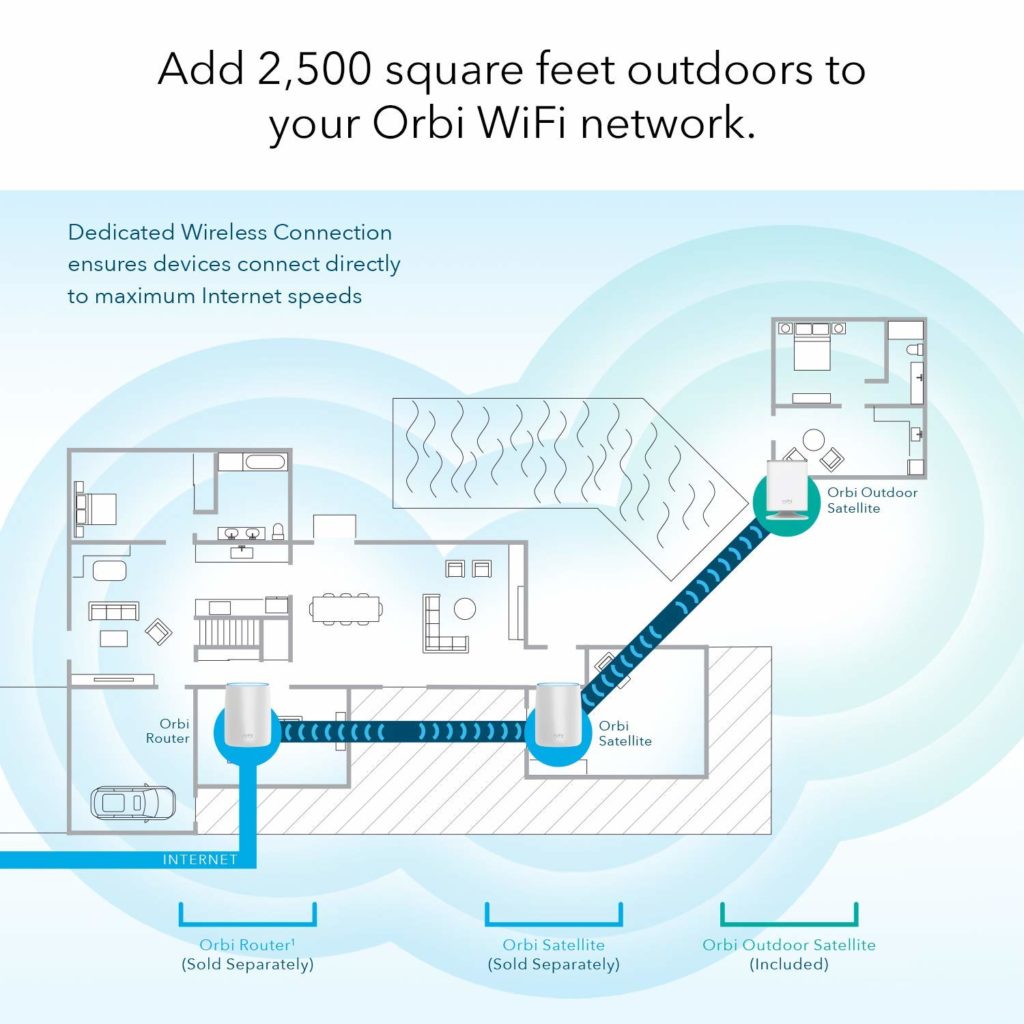 Spec-wise you get something similar to the RBK50, the flagship device from Netgear with a rating of AC3000 using Tri-band WiFi2. The three radios have the following specification:
Radio 1: 400Mbps @ 2.4GHz: Supports 256QAM
Radio 2: 866Mbps @ 5GHz: Supports 256QAM
Radio 3: 1733Mbps @ 5GHz: Supports 256QAM
And the layout of the radios is 2×2 (2.4GHz) + 2×2 (5GHz) + 4×4 (5GHz) dedicated backhaul.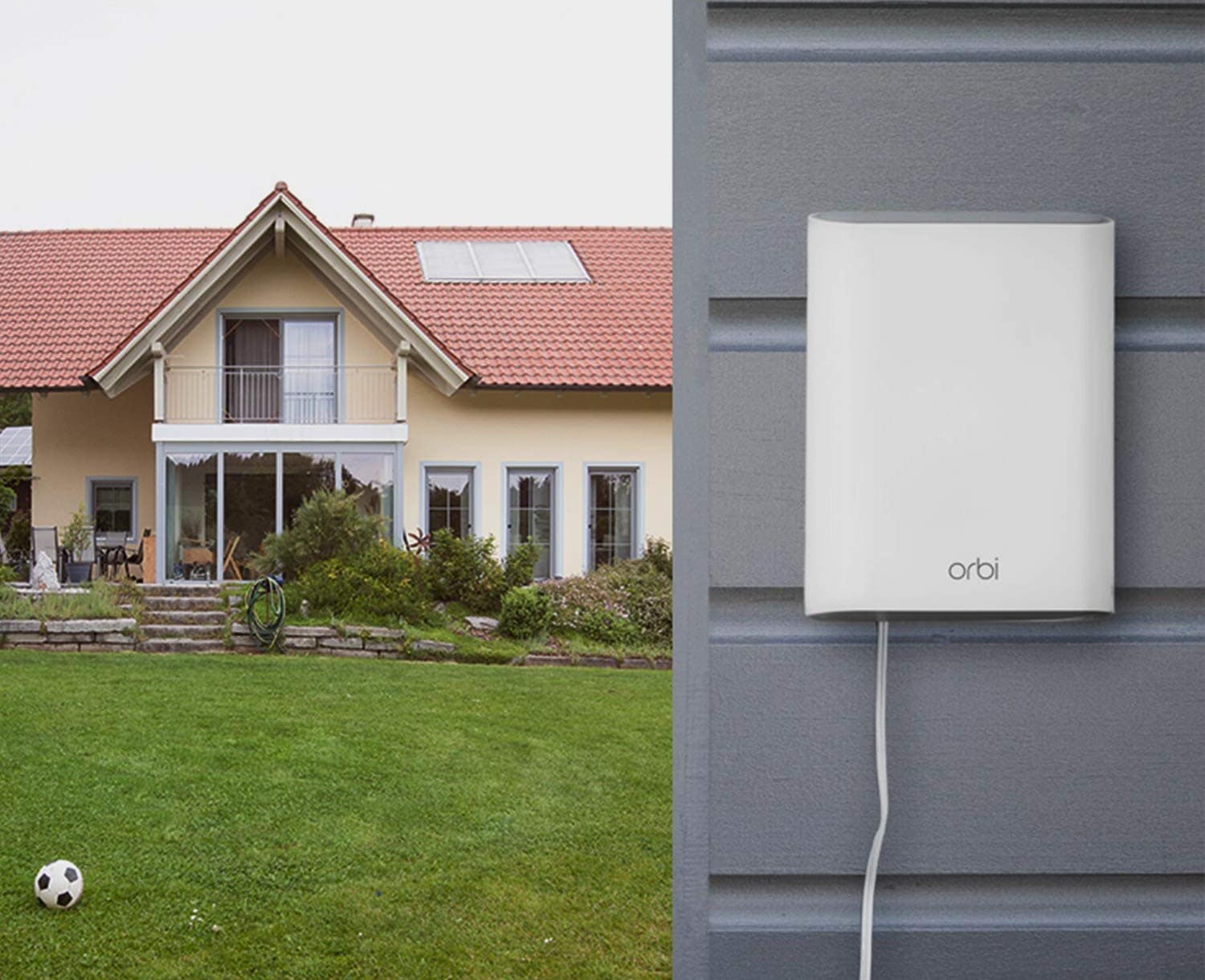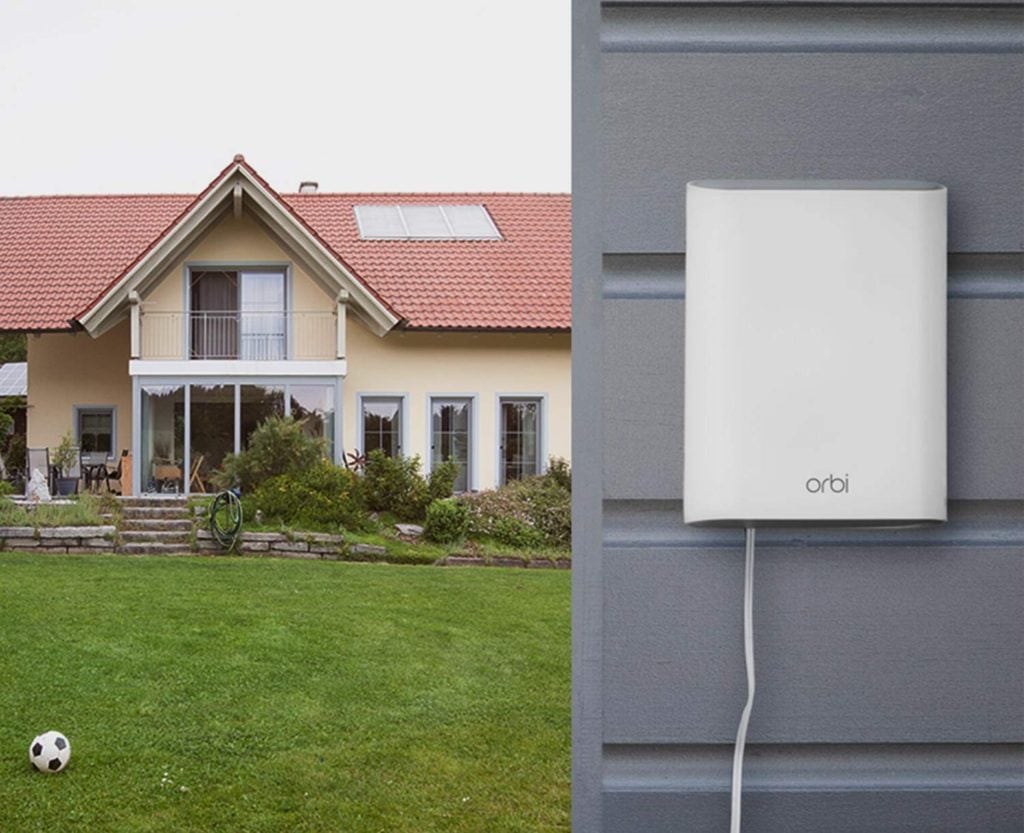 Set-up & app
As this is an add-on satellite, you should already have the Orbi app and be familiar with all the Orbi functionality. This works like every other Orbi device, the only exception is that is not paired with your system yet, unlike pre-packed systems.
You can pair via your phone, or you can just press the buttons manually on the back of the satellite, and then the router. You will be best off doing it close to the main router at first then relocating it to your desired spot.
As always, I found Orbi a little slow to do things, so I assumed it failed the first time as I got the magenta notification light. However, short on time, I rebooted the system, pressed the buttons again, then went to the gym. Upon my return, they were magically paired.
Once paired, I relocated the unit to my garage, as this was the easiest way for me to plug it in.
When you try to set this up via the app, you will be asked if you want to run it in indoor mode or outdoor. It kindly advises you that for regulatory reasons you can only have it in two-band mode outdoors or three band indoors. It is up to you if you follow that warning. Mine was indoors so I set it to its full tri-band mode.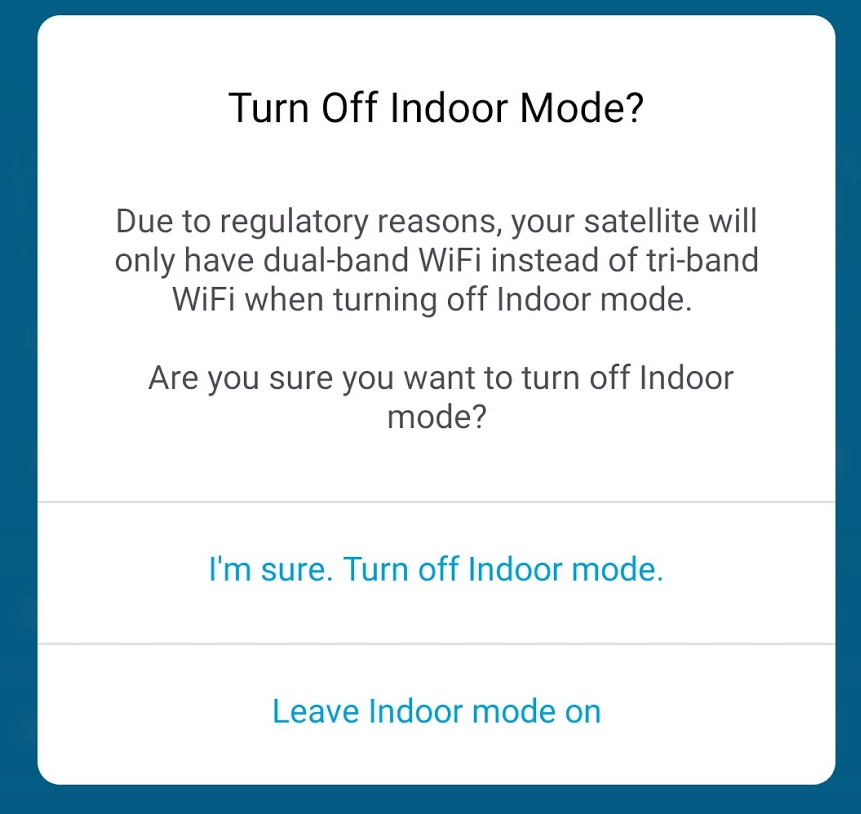 Performance
As always performance is superb with Orbi. My system was connected up as a daisy chain with the RBS50Y outdoor connecting to the RBS40V Orbi Voice Speaker. This means the RBS50Y getting its signal through the garage wall/window, across 5m of the garden, into the house, past the kitchen then into the main living room. With no outdoor satellite, my phone generally can't see the signal from my Wi-Fi or it is at the lowest bar, so I am not sure how this manages to get a connection, let alone report that it is a good connection.
In the garage, where my gym equipment is, and in the small back garden I can consistently hit 180/22Mbps with Speedtest.net on my 350Mbps Virgin package. This significantly outperforms the RBK20 satellite I normally use in there, which would achieve around 30mbps unless I use the ethernet backhaul. Using an HTML5 script on a local machine, this number jumped up to 215/199Mbps.
To test the range further, I had to jump the wall into my neighbours and from around 15m away I was still able to get 121/21mbps. With the local test, I managed to get 210/80Mbps though I am unsure what causes the drop in the upload speed.
Overall
This is a slightly niche product in the Orbi line-up. While I am sure, we would all appreciate better Wi-Fi in our gardens, at £249.99 this is nearly as expensive as the top of the range RBK50 system, so it doesn't offer a lot of value for money for the average user.
For people with smaller properties, you would be better off experimenting with the location of your indoor satellites, or if like me, you have an outdoor building, try locating one there. It is likely the unit won't be rated for the temperatures outdoors, but it will probably be OK for anything but extreme conditions.
However, if you are business with outdoor premises, such as a pub or cafe, or a homeowner with significant outdoor space, then the cost probably isn't that much of an issue for you. On the Netgear website, their example scenario is literally a farm. In larger countries, such as America, having a property with ample outdoor space is less rare, so this will undoubtedly be a product in high demand.
The only competing product that is even close to this is the Ubiquiti UniFi Mesh which tends to be more SME orientated than consumer and will have a much more complex initial set up than the Orbi as it needs a cloud controller and POE for all the satellites.
Due to the lack of direct competition, the price is somewhat irrelevant as this would be the only and best solution on the market. If you do have a large property, then as always with Orbi, this works fantastically, easily extending the range of my Wi-Fi to my garden and beyond, maintaining superb speeds with no connection drops.