FRITZ!Box 7530 AX Review Rating
Summary
The FRITZ!Box 7530 AX is an all in one home networking solution now with the added benefit of WiFi 6 speeds. You have all the usual router functionality, but then the ability to extend this into a mesh system, a VOIP/DECT base station support 6 cordless phones, and a VDSL / ADSL modem,
Pros
Massive features unrivalled by any other router brand I know of
One of the only brands still producing VDSL/ADSL WiFi routers
More affordable than the compatible ASUS DSL-AX82U
Cons
No UK plug option 
No 160Mhz channel width
3×3 5Ghz radio will likely mean a shared backhaul with mesh repeaters 
The FRITZ!Box 7530 AX is one of the first WiFi 6 routers from AVM FRITZ!Box. To make things a little confusing, they have retained the same model number as the WiFi 5 AVM FRITZ!Box 7530 but added the AX extension associated with WiFi 6.
As you might have guessed, this is therefore essentially the same as the FRITZ!Box 7530 but with significantly improved WiFi.
Most of the features of this Router are the same as the previous FRITZ!Box reviews, so I won't break down each feature again. This includes the phone functionality and which I covered in more detail in my FRITZ!Fon C6 DECT Phone Review.
Specification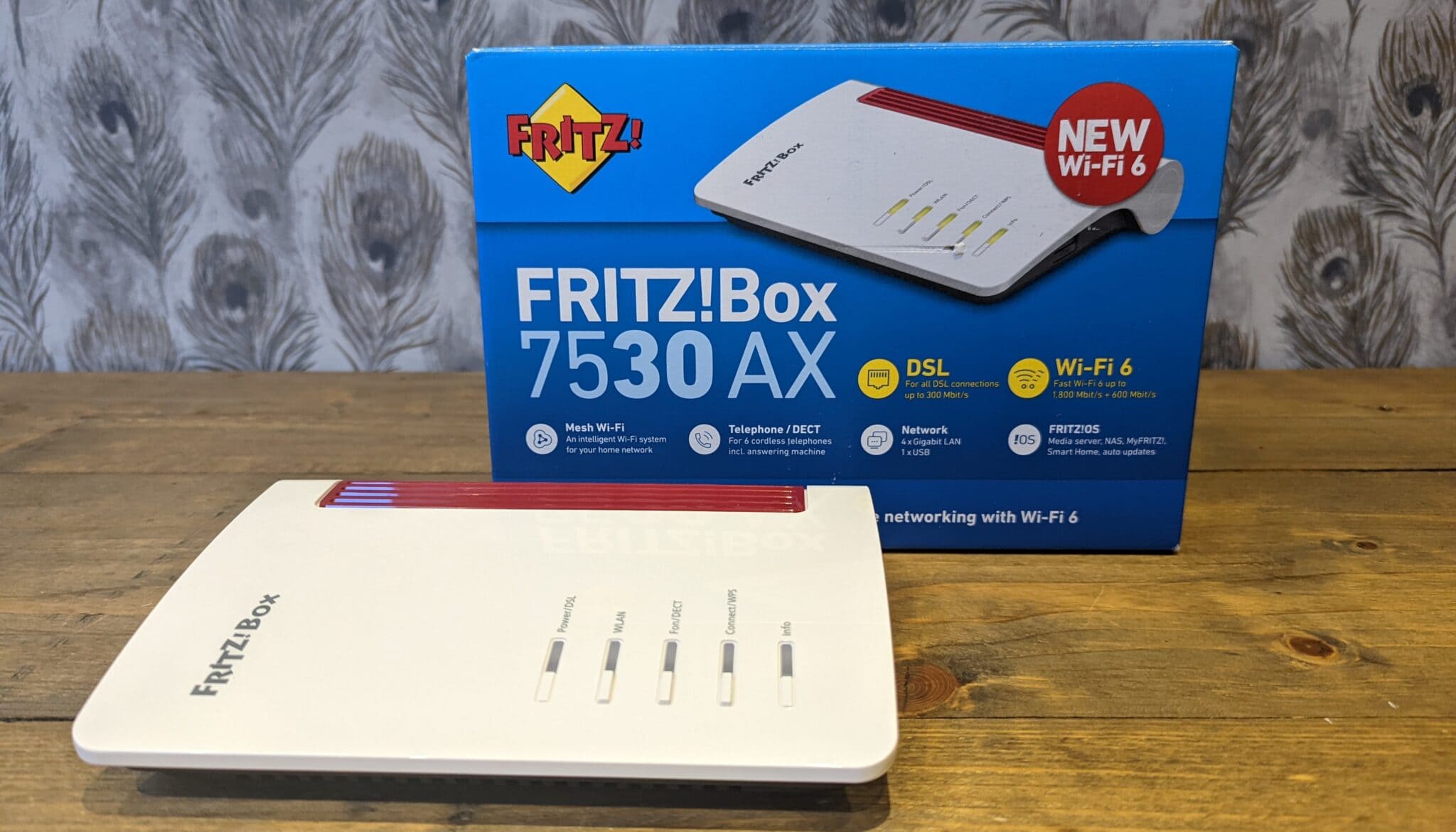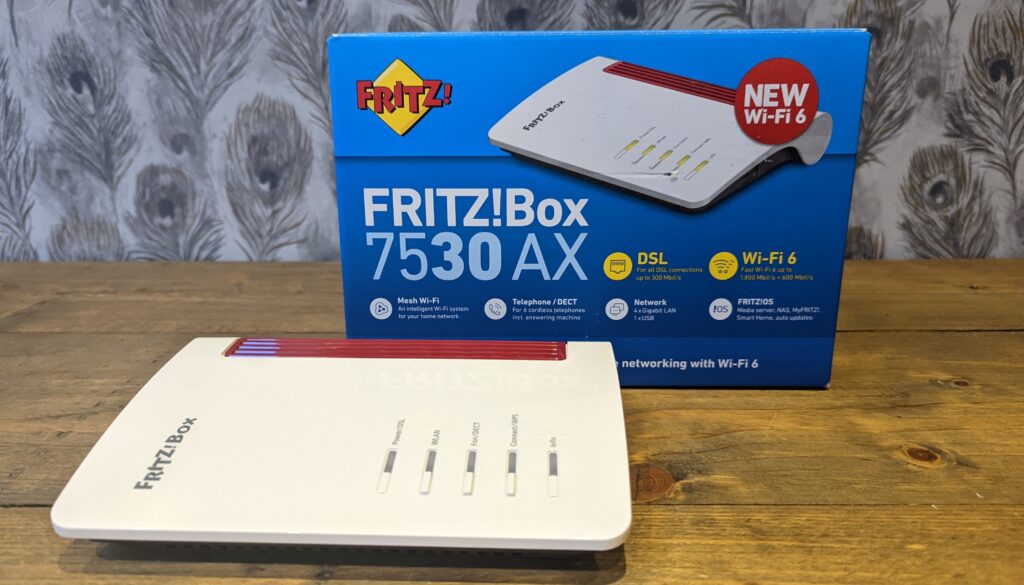 VDSL / ADSL Modem

Supports VDSL connections up to 300 Mbit/s with supervectoring (35b)

Supports VDSL lines with 100 Mbit/s with vectoring (full vectoring)

Broadcom BCM 6303 DSL Modem

Use of existing Internet connections via LAN
Integrated DECT base station for up to six cordless telephones
Analogue or SIP / IP based phone
4 x gigabit LAN, WAN via LAN 1 port
1 x USB port for printers and storage media
Firewall/NAT, DHCP server, DynDNS client, UPnP AV
Secure remote access over the internet with VPN (IPSec)
Wi-Fi 6 up to 1800 Mbit/s (5 GHz) and 600 Mbit/s (2.4 GHz)

2 x 2 (2.4 GHz), 3 x 3 (5 GHz) with MU-MIMO

Up to 80Mhz channel width

Media server makes music, pictures and movies available to devices in the home network (DLNA/UPnP AV)
FRITZ!NAS – simple, browser-based access to all files in the network ; can be shared with friends and family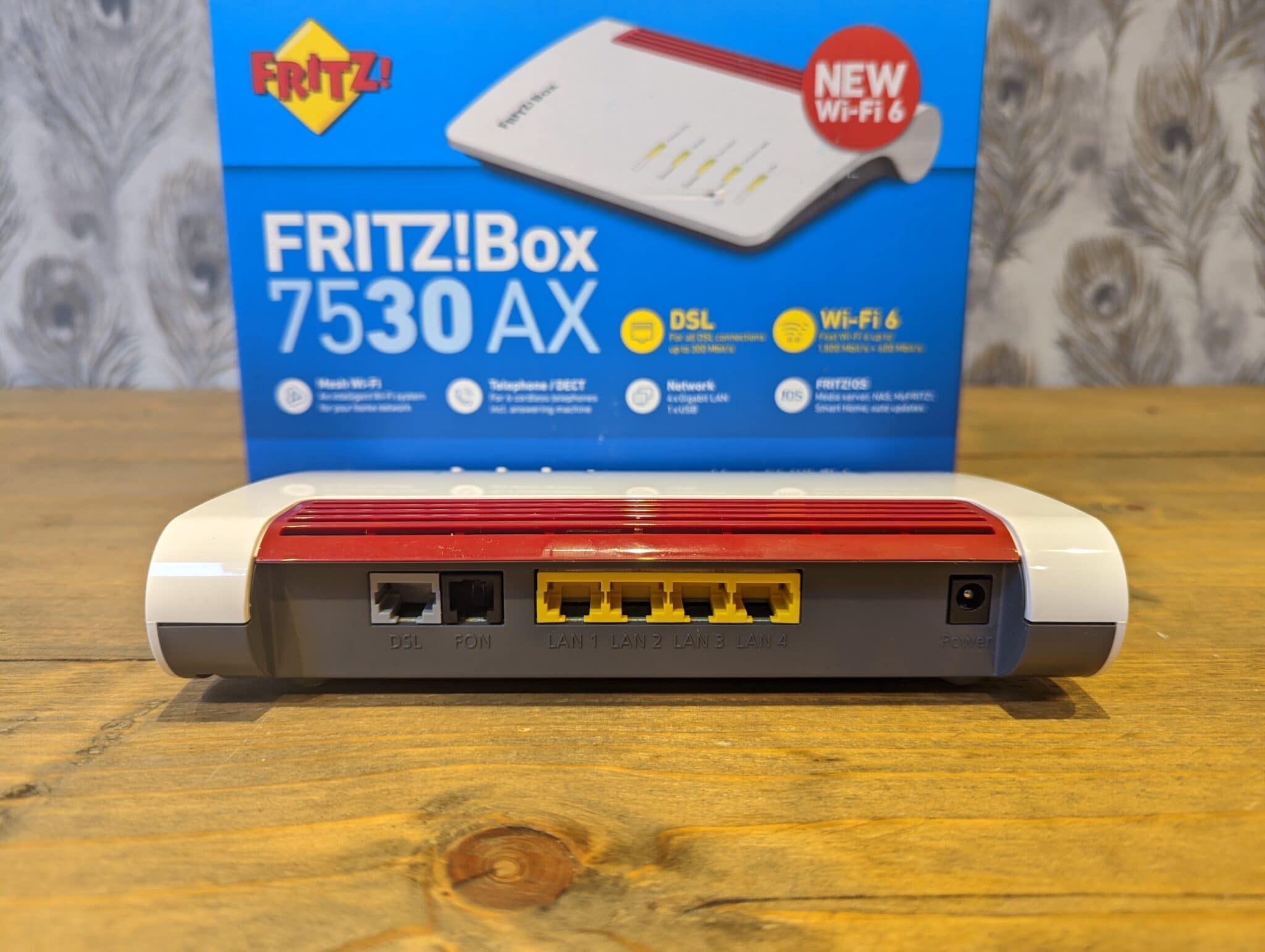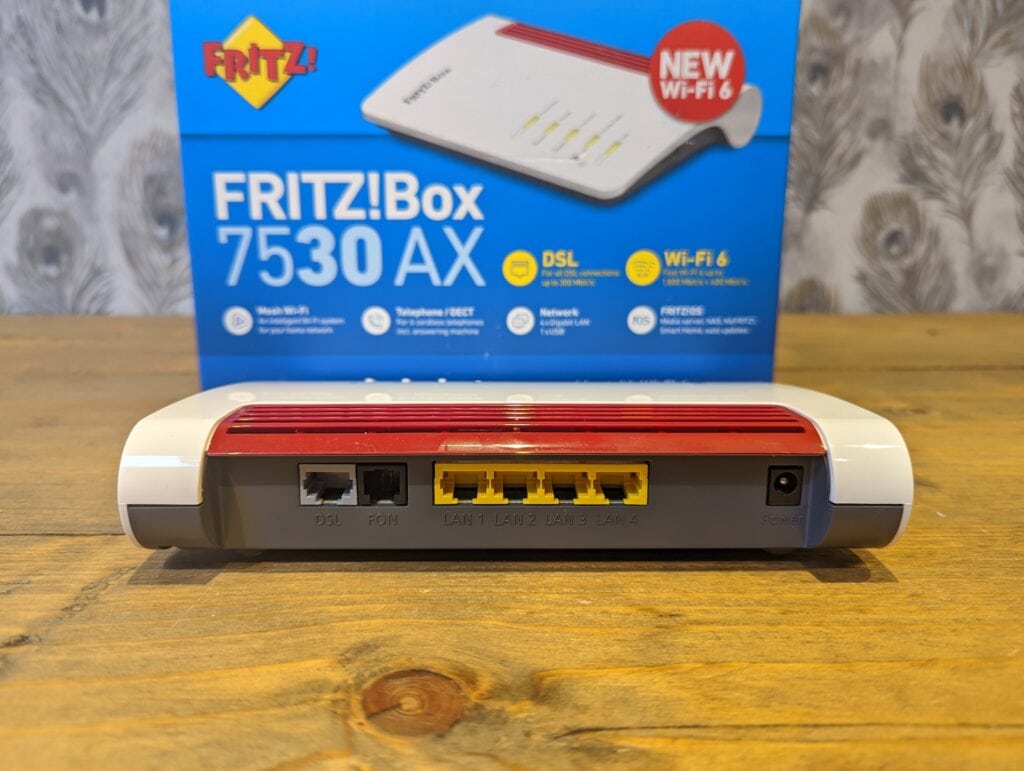 EU Only
With my being UK based, it is worth noting that my sample is an EU model, and at the moment, there are no plans to launch a UK model. Amazon does have this listed for £233, but I assume this is the EU version too.
The Router needs 12v 1.5amps, whereas the power lead I have for the AVM FRITZ!Box 7590 is 12v 2.5amps. The random plugs I have around the house that are 12v 1.5amps didn't fit this Router.
Features / Mesh
One of the big features AVM have rolled out over the past few years is the ability to pair up their routers with the new mesh equipped WiFi repeaters.
AVM currently have 5 separate repeaters but only the FRITZ!Repeater 6000 is WiFI 6 equipped. All the repeaters can work as standard old fashioned repeaters allowing you to use them with any brand. But when you pair them up with a FRITZ!Box they will make use of the mesh functionality allowing you to retain the same SSID around your home with fast roaming features.
This makes FRITZ!Box products quite unique as you have an all in one solution for:
VDSL/ADSL Modem
Mesh WiFi system
VOIP system
Even if you are not bothered about the phone features, having a VDSL capable mesh system is a bit more appealing than two separate devices.
Set Up
I get rid of ADSL years ago when Virgin became available on my street, so I had to set this up using the existing Internet option where the LAN 1 port becomes your WAN port.
This has a predefined password that is located on the bottom of the Router and like most routers I just navigated to the IP address and followed the instructions.
My supplied sample was running FRITZ!OS 07.22, and I was able to update this to 07.28
VDSL Modem
I was not able to test the VDSL functionality, but I did notice an Amazon UK review stating:
The 7530 AX is a perfect replacement for the EIR F2000/3000, the 7530 AX connects using the VDSL2 17a G.Vector (ITU G.993.5) profile via Eir FTTC service.
With the guidance of:
Set the connection as "DSL line", set account information to "NO", the only requirement is to have "Use VLAN for internet access" enabled using "VLAN-ID 10 / PBit 0", no need to modify the 1/32 DSL ATM settings.
WiFi 6 Performance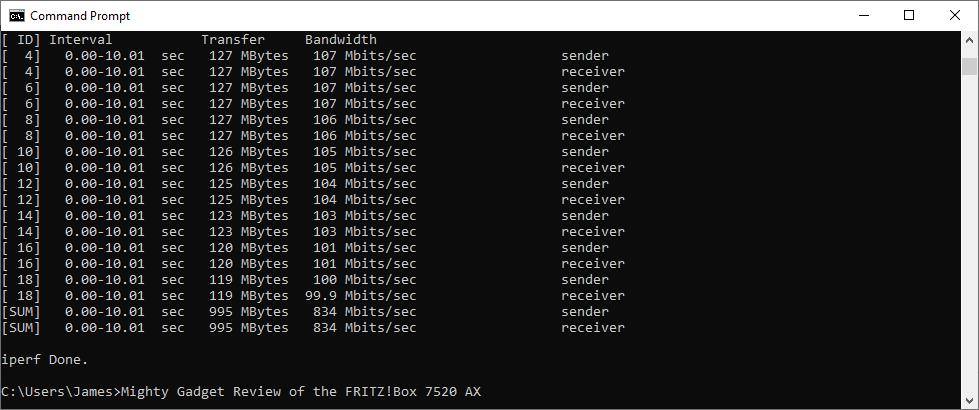 The Router has a slightly unusual 3×3 5Ghz radio, so it should be able to handle a bit more congestion than many 2×2 routers. However, with WiFi 6 clients, you can only connect at 2×2, and this is limited to the 80Mhz channel width giving you a theoretical maximum throughput of 1200Mbps.
Connecting to my desktop WiFi with the Router in the same room, I was able to achieve throughput speeds of 834Mbits/sec, which is consistent with other similarly specced WiFi 6 devices I have used, including the Unifi 6 Lite and Netgear Nighthawk MK63.
Transferring files from my wired desktop to WiFi 6 laptop, both with NVMe drives, I was able to achieve consistently over 100MB/s. Not quite maxing out the gigabit Ethernet throughput, but close enough.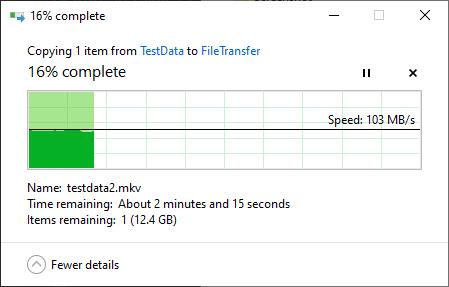 Range is good. With the Router in my office, central to my house, I can get a usable signal in every room of my 4 bed semi. Most people with moderately sized homes would benefit from a mesh system, so buying one of the FRITZ!Repeaters will be beneficial.
WiFi 5 Performance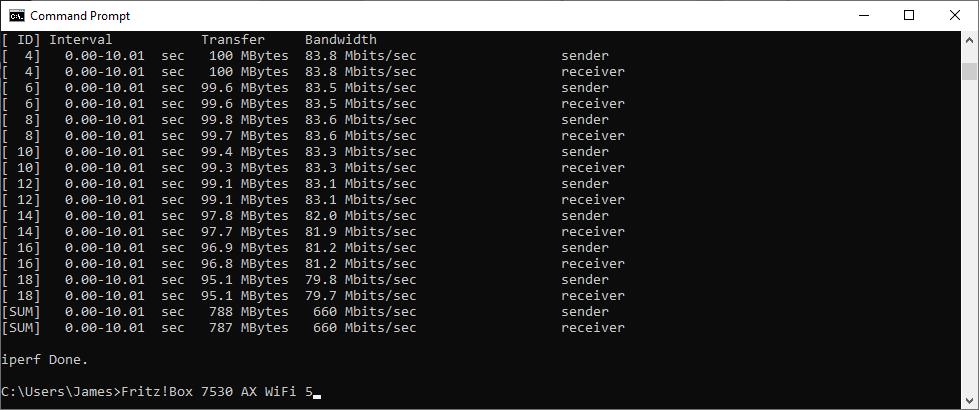 For WiFi 5 devices, I was able to achieve a throughput of 660Mbit/sec, which, again, is about standard for most WiFi 5 routers and access points.
File transfers were slightly less consistent but stayed around 80MB/s.
Price and Alternative Options
There is no official UK stock (or even a UK model) that I am aware of.
Amazon.de lists this for €179.00, and you can get it delivered to the UK with €4.71 delivery. This is significantly cheaper than any UK prices I can find. The Amazon UK listing is quite expensive and I assume just an import.
ASUS DSL-AX82U for £198 is the only competing option that has both a DSL modem and WiFi 6 support. This also has ASUS AiMesh support, so you can pair it up with other ASUS AiMesh WiFi 6 devices for a mesh system
Overall
First of all, a reminder than the FRITZ!Box 7530 AX hasn't had a UK launch, and there doesn't seem to be any immediate plans to launch it. Which limits the appeal since most of my readers are in the UK. However, it is not a huge problem dealing with two-pin plugs.
The AVM FRITZ!Box range has always been one of the best all-in-one solutions for your home networking. I like the features from the router interface enough that I still use my 7590 to handle DHCP even though I no longer need the modem or WiFi functionality.
The FRITZ!Box 7530 AX retains the same level of quality I have seen in previous FRITZ!Box routers, but it ends up being better than normal due to the limited competition.
Most brands seem to have given up on VDLS modem routers, so it is just the ASUS DSL-AX82U competing that also has WiFi 6.
The FRITZ!Box 7530 AX is favourably priced in comparison, being around 180-Euros (£156 if you import it) and having more features.
Last update on 2022-06-19 / Affiliate links / Images from Amazon Product Advertising API