While many home users put up with the dreadful supplier supplied router many people wisely opt to upgrade theirs. The router market can be a minefield too, with prices ranging from just £20 or so, up to and over £300 which includes the D-Link DIR-895L I am reviewing today. The range of options is quite mind boggling too, you have routers such as the F-Secure SENSE which focusses less on raw performance and more on security, which considering the recent Wi-Fi issues is a good thing. Then you have devices like the Fritz!Box 7590 which offers more features than most could ever need. More recently there has been a trend towards mesh networks where you have multiple devices working as one to create a large Wi-Fi network avoiding blackspots within your home.
The D-Link DIR-895L, on the other hand, is primarily about pure performance from one box. This aggressively styled router offers tri-band MU-MIMO which can provide a theoretical speed of 5.3 Gbps when using all the networks. This is done by providing 1,000 Mbps in 2.4GHz, 2,166 Mbps at 5 GHz and 2,166 Mbps on the 2nd 5GHz band. In comparison, most cheap routers offer just 300Mbps, and most mid-high end routers offer around 2.5Ghz over multiple bands and the F-Secure Sense has 1750 Mbps.
The D-Link is powered by a dual-core Broadcom BCM47094 processor running at 1.4GHz with 256 MB RAM with the Wi-Fi networks being powered by a Broadcom BCM4366 Wi-Fi chip. One of the immediately obvious features about this router is the six external antennas giving it a somewhat futuristic upside-down spider look. PC gamers will no doubt like the design but most people might want to hide it away in a cupboard, however, what these antennas do help with is the Wi-Fi range, which is important when this router needs to compete with mesh routers. The antennas screw in with a standard port, so if you do have issues with the range it is possible to upgrade some or all of the antennas at a future date.

There are only 4-gigabit ports and one WAN port, this is pretty much the standard port configuration for routers but when you are paying £300 for a router, it would be nice to have 1 or 2 extra ports. You also get USB 3.0 and USB 2.0 port for peripheral sharing network storage.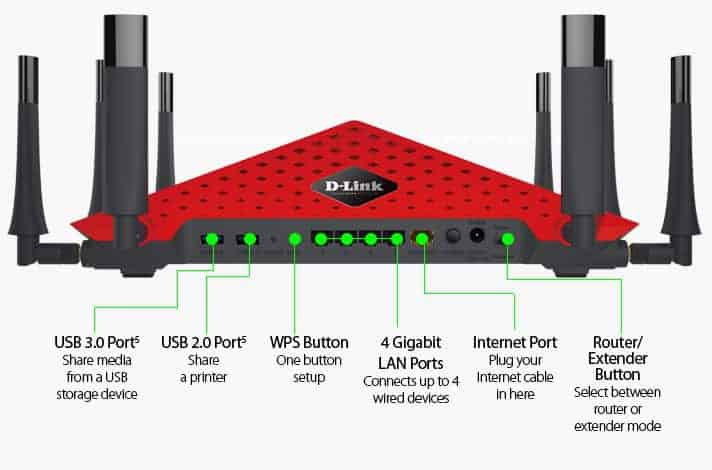 Some of the other features you will find built into this router are:
SmartConnect
Guest zone
mydlink SharePort™ web access
Multi-language web setup wizard
Advanced AC SmartBeam

Dual active firewall

Network Address Translation (NAT)
Stateful Packet Inspection (SPI)

VPN Passthrough (PPTP/L2TP/IPsec)
Advanced QoS
QuickVPN – L2TP over IPsec

Mydlink

Remote Management
View current upload/download bandwidth
View currently connected clients
View web browsing history per client
Block/unblock client network access
Manage wireless network details
Accessible through a web browser or iOS or Android mobile app
A quick search on Google reveals that this router is compatible with OpenWrt so if the above features are not good enough for you, or you would prefer less proprietary software then you can install it at your own risk.
Setup
As with most routers nowadays, set up is quite easy, just plug your modem into the WAN port, switch it on, and connect to the Wi-Fi or hardwire to one of the ports. It uses 192.168.0.1 as default and from here you will be guided through the basic setup procedure which also included firmware updates if they are available.
I am not sure if it was a one-off glitch for myself, but when I first set it up I changed the SSID of the network to MightyGadget, but then when the router did a firmware update, it reset it back to default. Hopefully, this isn't something that happens for all updates, or it will become very annoying changing you Wi-Fi each time.
Once you have done the basic setup you can go through all the menus and customise the settings as you wish. While there are a plethora of options to choose from, it is less than I am used to. Though I am coming from the Fritz!Box so it may not be a fair comparison. The interface of the D-Link is quite easy to navigate, and anyone with a basic knowledge of networking should be able to manage this quite easily without getting lost in dozens of menus.
If you already have an existing router handling all the DHCP and network functions, you can toggle the switch on the back of the D-Link and switch it to repeater mode. In this mode, the ethernet cable still goes into the WAN port, but then the router will be visible from your normal network. You will obviously lose all the networking features of this device, but the Shareport functionality is still enabled. I actually used it in this mode when testing network speeds, so I didn't have to break my existing wired network, and it works perfectly fine.