Back in March when it became blatantly obvious a lockdown was approaching even though the government refused to issue the order, I committed to stop going to the gym and start working out from home.
I already have a Tacx Flux S Smart turbo trainer, but the prospect of using my bike every day of the week was not appealing. I love to run, but persistent injuries mean I don't like to run outdoors too often. So I had been looking at treadmills for quite a while (since before my treadmills for Zwift post)
I find treadmill are a bit of a minefield and when you look for reviews online, they all look suspiciously fake with websites clearly just promoting whatever treadmill they want for the benefit of affiliate sales. User reviews can be hard to gauge too, apart from the high prevalence of fake reviews, you rarely know the user's weight, fitness level or usage style.
Admittedly, my links to products will also be affiliate links, but in this case, I actually bought the treadmill myself and have used it for the past couple of months.
With the questionable reviews online, it made it difficult to work out what was good and at what price point did I need to go to to get something that will keep up with my fitness.
I am fitter than average, an ex obese drunk that turned his life around, I am not at competitive levels though with my half marathon time 88 mins and my full marathon time 3h27m.
I am also 6ft1 and 13st/182lbs or 186cm and 82kg.
I was eager to use a treadmill for Zwift, but in my previous buying guide, it became apparent a treadmill with this functionality built-in is incredibly expensive. One of the best options appears to be the Bowflex Results Series BXT226 which will set you back about £2k. I did flirt with the idea of buying it, but it was just a bit too much.
I eventually settled on the Branx Fitness Foldable Elite Runner Treadmill which at the time of writing, was probably the best-reviewed treadmill available on Amazon. So I had some confidence in it being good.
The above price keeps jumping up and down, I wouldnt not recommend buying this for much over £1000.
Home Treadmill vs Commercial / Gym Treadmill
The treadmill you use at the gym probably costs several thousand, so it is inevitable you won't get anything quite as good and expectations need to be managed.
There are a few key differences; I have compared the Branx Elite that I bought with a £6K Matrix Fitness T50U, which is similar to the one I use in the gym.
Motor

Home treadmill – 3.5CHP (6.5HP) fan cooled

Matrix Fitness Commercial – 4.2 HP AC Dynamic Response Drive System

Width

Branx Home treadmill – 48cm

Matrix Fitness Commercial – 51cm

Length

Matrix Fitness Commercial – 152 cm

Speed

Home treadmill – 21km/h (13mph)

Matrix Fitness Commercial – 0.8 – 20km/h

Incline

Home treadmill – 0-22 Levels

Matrix Fitness Commercial – 0-15%
The stats make the Branx look pretty good in comparison; it is less 84% cheaper while only being a little worse in many of the specs.
It is not quite a simple as that, while I like the Branx, there is a massive difference with the big ones for me being:
The 3cm width difference is huge, the Branx feels very narrow when you first set it up. Once I got used to it, its fine, but I was worried when I first built it.
The 0-22 Level incline is NOTHING close to 0-15% a commercial treadmill can do. I can comfortably run on the max incline, and I would say it represents about 7% incline on a gym treadmill. This was the most disappointing aspect of it, as I do a lot of incline walks and slow incline jogs.
While the treadmill weights 80kg and feels incredibly heavy when you move it, running on it is far less sturdy than a gym treadmill. But it is not that bad.
Things that I have had no issue with is the length or speed. I tend not to run fast, rather run on an incline and this can comfortably handle me running 12kmph at 15+ incline.
Price & Competition – Specifications to consider when buying a treadmill.
With me being sceptical of many online reviews it and not really understanding what would suit my needs the prices ranged from £400-£1000+
Both NordicTrack and Proform options were serious contenders as they have iFit built-in which offers a virtual training experience similar to Zwift. I ruled them out because I have bought NordicTrack when I first got fit and was not happy with their customer service via Icon Health & Fitness. You also have to register your product before you get the full warranty which I find an underhanded tactic to reduce warranty claims. However, my experience was 5+ years ago, and it could be very different now.
HP vs CHP
One of the confusing aspects of treadmill choice is the horsepower of the motor. Some people sue just horsepower, while others use a more accurate continuous horsepower. While lower powered treadmills may be able to offer high speeds, there is a good chance the motor will burn out prematurely compared to more powerful designs.
How much you weight will also play into account, lighter people can get away with lower-powered motors.
The general consensus seems to be 2.5CHP for jogging and 3CHP for fast running. If you are heavy then going up, another 0.5 CHP will help.
Some companies only state the HP, often the CHP will be half of this, but after digging around for the stats of the 7HP Sportstech F37 it actually only offers 1.5CHP.
Because I like to think I am fitter than average, this, therefore, ruled a lot of the sub-£1000 treadmills out for me.
The reason why I chose the Branx was equal parts the good amazon reviews and the fact it has one of the highest-rated continuous HP motors in its price bracket.
Also, one more thing, just because a treadmill offers a high continuous HP doesn't necessarily mean the motor is good quality. Conversely, a lower HP motor may not be bad quality.
Price and Specification Comparison
Out of that list, if you want something ASAP the Sportstech F37 Professional Treadmill is your best bet with an in stock date of 19th of June.
Price Rise
Unfortunately, the demand for fitness equipment has meant most companies have inflated their prices. This includes Branx. I paid £805 for my treadmill with some extra treadmill lubricant, including delivery. It is now listed on Amazon for £1000 plus £30 delivery. Not much you can do about this, and I would expect prices to remain high until gyms open, and demand reduces.
Delivery & Customer Service
Currently, Branx is only offering pre-order, and Amazon states June 18, 2020 for stock (though as I post this, it is back out of stock)
I ordered direct from Branx, worryingly it took them a few days to phone me or even confirm my order, but after 5-days I got a call to arrive delivery, which itself was another 8 days away. So around two weeks.
Delivery went smoothly, and I have had no majors issues with it yet.
Smart Features – There are none.
As stated earlier, I wanted to use this on Zwift, the treadmill does have Bluetooth for the speakers, and if you look at the Amazon reviews, there is at least one user who goes on about the BitGym comparing it to NordicTrack or Peloton.
However, it looks like Branx has taken this functionality out of the treadmill, claiming it reduces costs. It is not the end of the world, but just be aware when you buy it.
NPE Runn Smart Treadmill Sensor – Zwift
If you want some form of smart functionality, I strongly recommend the NPE Runn Smart Treadmill Sensor that you can buy from Zwift. It is £77 so not exactly cheap, but this works well, passing speed and elevation data back to Zwift. The elevation data seems to be off compared to smart turbo trainers for a bike, but it is the only device offering this functionality.
I have had some issues with the running area and this though, when I do hill walks my stride is very long, and my foot has clipped the Runn knocking it out of the cradle a couple of times. I have had no issues when running.
You can also use many Garmin watches such as the Fenix 6 to broadcast the data to Zwift via a virtual run, however, this does not factor in incline so the pace is completely off for me.
For heart rate monitoring I wouldn't bother with the hand sensors. Investing in a chest strap of optical heart rate monitor is a far better solution.
Set up
I have had some experience setting up a Nordictrack once before, and it was not particularly easy, apart from the fact treadmills are massive, heavy and just awkwardly shaped, I then had to assemble the console and lots of other bits.
This was completely different. Getting it out of the box into my garage/gym was the hardest part (I did it by myself). The treadmill itself is almost fully assembled, you just have to lift up the console and bolt it into place. That's about it, it took me maybe 15 mins.
Also, the treadmill seems to have been well thought out in general. The lift-up mechanism is hydraulic, so you lift it up, and it stays in place firmly, when you lower it back down you can't accidentally drop it on something, it gradually declines.
There are also wheels on the base which makes moving it around easier. This has been very useful for me as I have had to take it in and out of my garage by myself quite a lot as I am in the middle of getting it converted to a gym.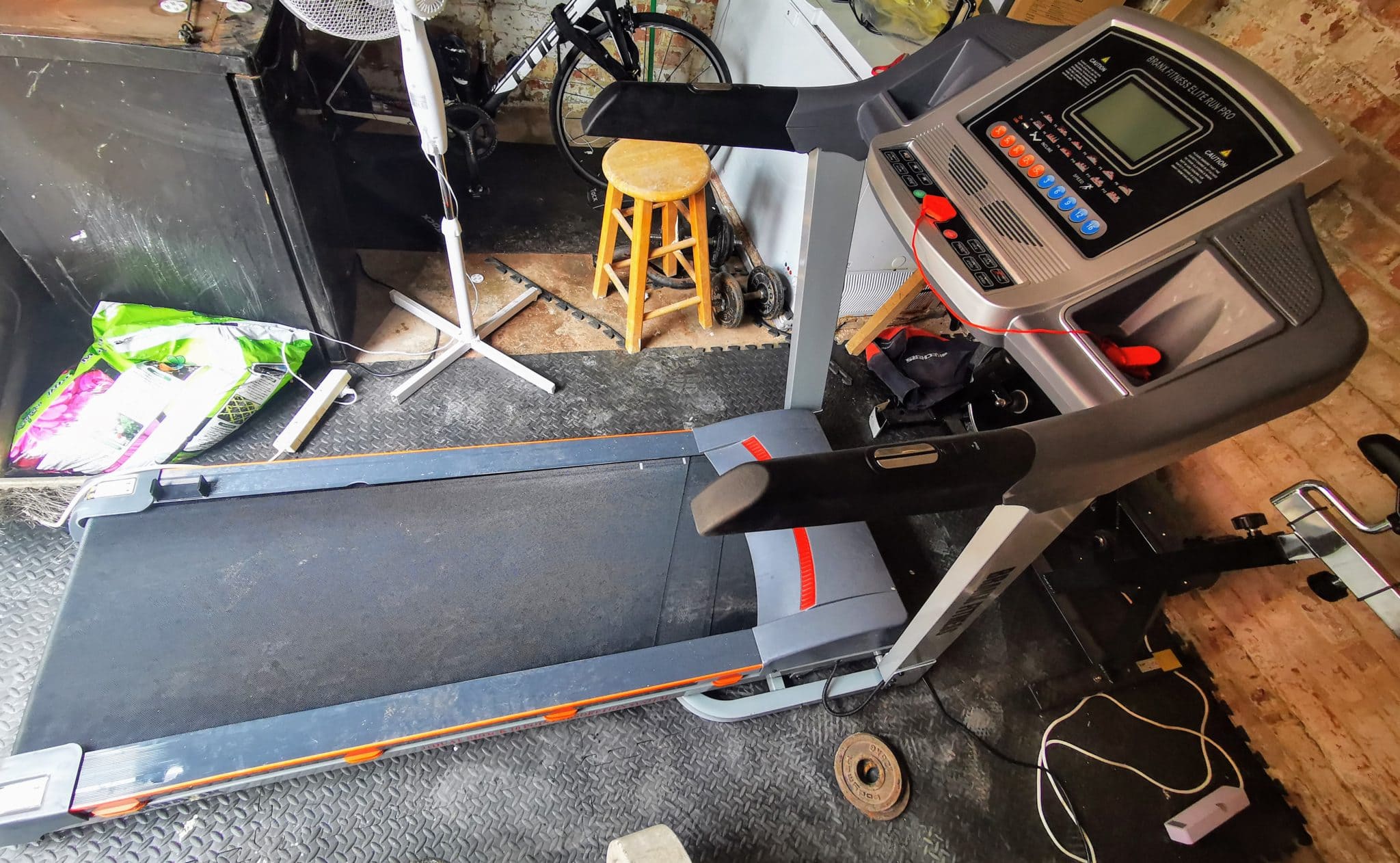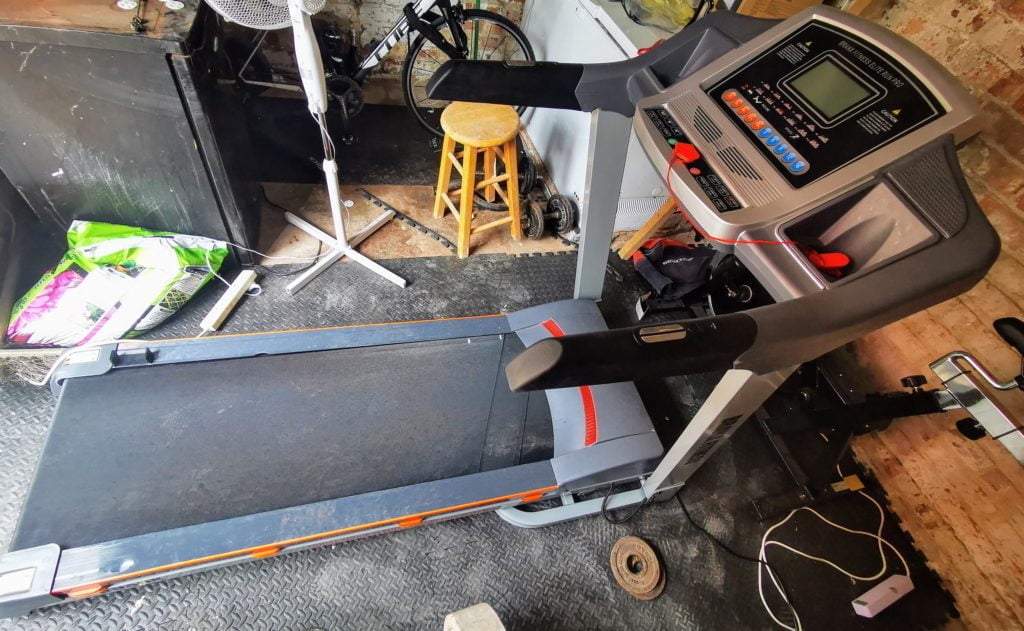 Slipping Belt and Thumping Sounds
Following the phone call regarding delivery, Branx emailed me several instructions. This includes tightening up the belt. Apparently, they leave it reasonably slack to ensure longer life, I am pretty sure they said most people don't need to tighten it much if at all, but depends on weight. At 82kg I am very much average in terms of weight, and it slipped a lot for me, I had to go through the tightening process twice till I was happy with it.
Furthermore, the email stated there may be some thumping sounds, which there were. This is the join in the belt going over the front and rear rollers, over time this sound lessens and was gone before the end of my first run.
In use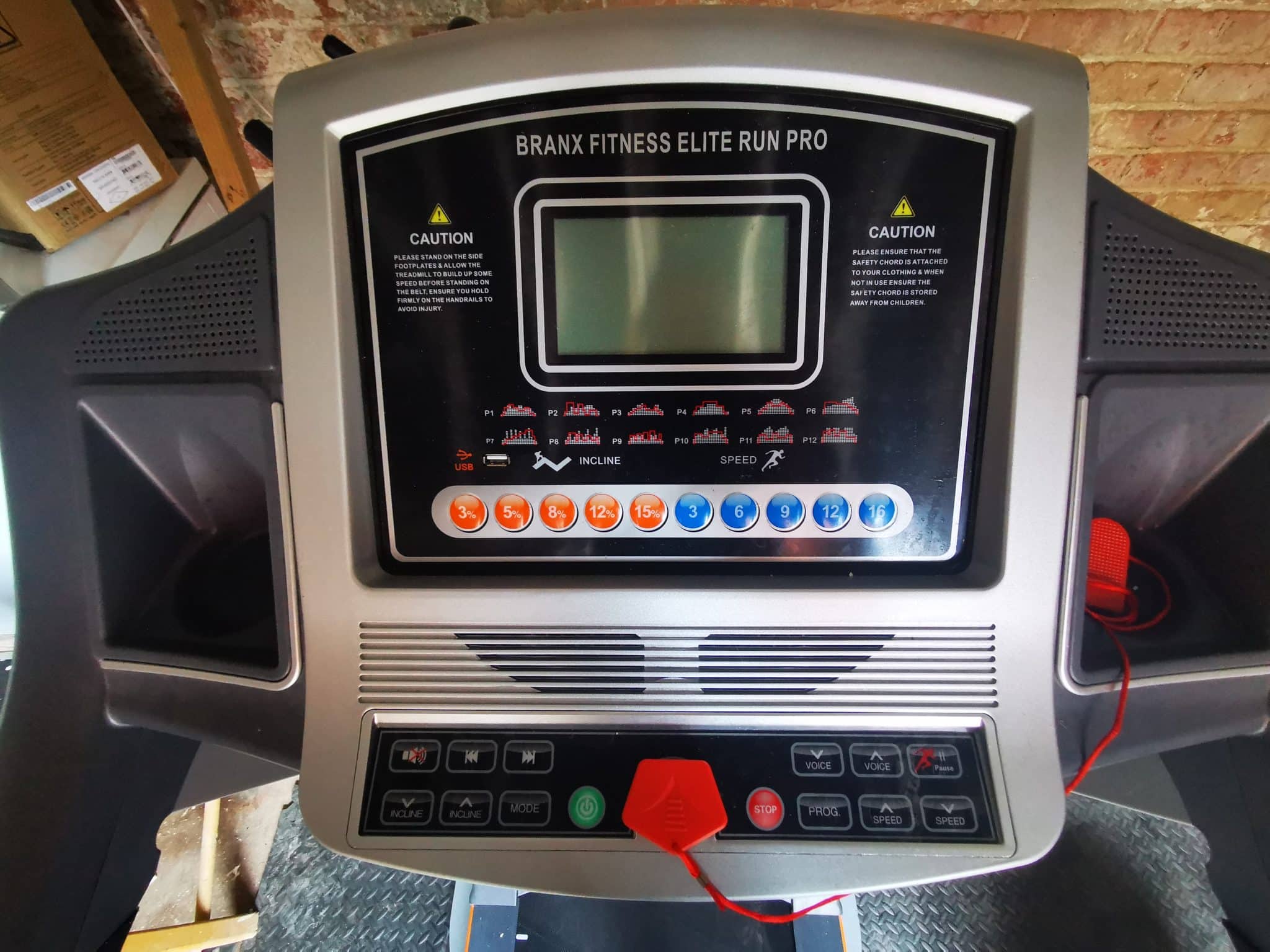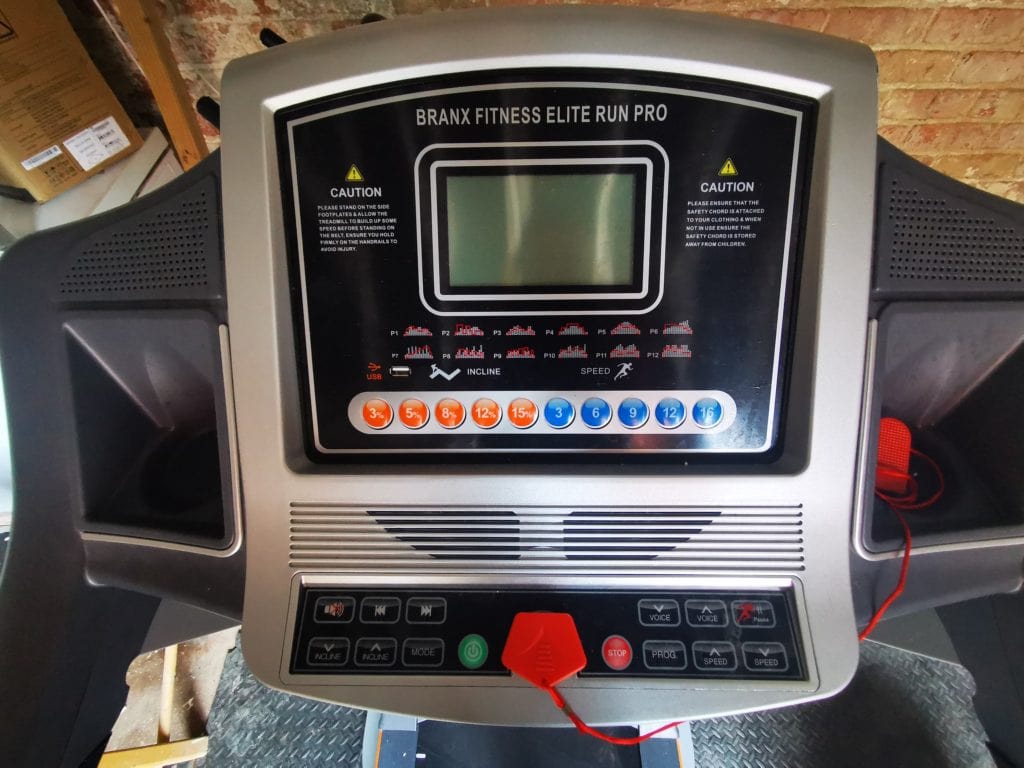 While the treadmill doesn't offer the level of incline that I would like, everything has run smoothly since I bought the treadmill. I use it about twice a week, typically for a bit over an hour each time, then my partner uses it at least once a week.
While the incline isn't very steep, the treadmill has no issues are handling me jogging at 10kph at 22-incline for extended periods of time.
I typically start off with hill walks and gradually increase my speed until I can't cope running at 22 inclines anymore, then lower it off and speed up further. So I think I have tested it for most usage scenarios. I have never tried going past 18kph on it though, and generally don't run fast for long periods of time.
There is a bit of wobble to the treadmill, not enough to put me off the run but you will notice a difference compared to commercial treadmills which weigh more than double this.
I have had no issue with the length of the treadmill, but I always run quite close to the console even at the gym, and I think I make sure I do it subconsciously more with this knowing it is shorter. This has led to my foot caught on the front plastic a few times.
Even though the width concerned me at first, I have had no problems with it at all.
One small concern is the the potential for liquid ingress on the speed and incline buttons on the handles. I sweat a lot so it is inevitable my sweat will land around there. I normally cover up the console with a towel when thing get really bad. I have had no issue so far though.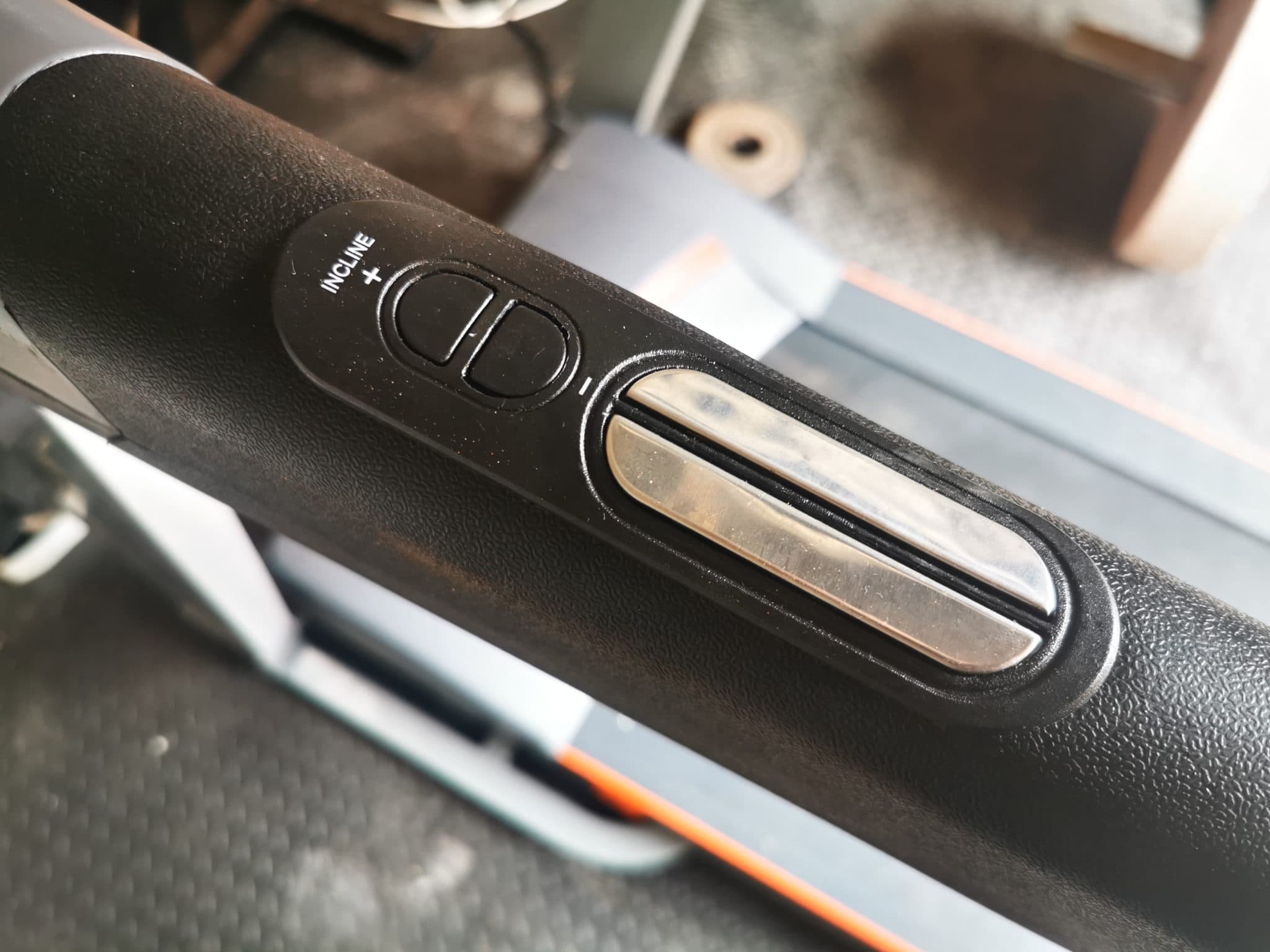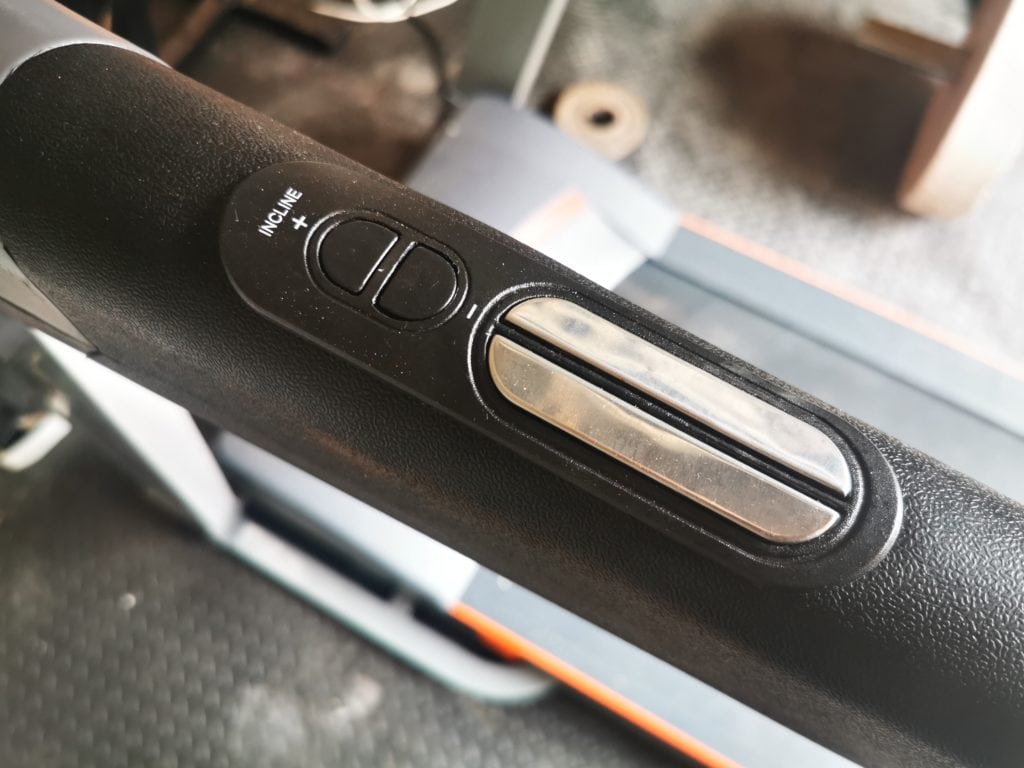 Dual Shock 10-Point Absorption System
The treadmill has four visible springs on either side, and I guess two more upfront, this does lead to more of a cushioned run than treadmills in the gym. I can't say how much this has helped with my injuries, but it is logical to assume it should help reduce some of the impact damage of regular running.
Incline
As stated earlier on, the incline is far from what I am used to. You see 0-22 levels of incline and think that will match the gym machines, but it is more like 7% or maybe 8% incline. I can walk at a full incline at my max walking speed, and it barely raises my heart above 100bpm.
This was a little disappointing because I have had persistent shin splints, so I like to do a lot of steep hills walks as an alternative to running.
Most brands state the incline % and cheaper options such as Reebok go up to 15% incline, as I have not used any other home treadmill yet, I can't confirm if other claims of inclines are anything close to what a gym machine can do.
Overall
Overall, I have been mostly happy with the Branx Elite Runner Pro, I never expected it to be gym quality and certainly isn't, but it has comfortably handled my level of fitness. Nothing has broken (yet) and it can happily go over an hour with no signs of struggling.
The more I think about it, the more disappointed I am at the poor levels of incline, but it is not a deal-breaker for me. If you need a very steep incline, this is not for you, and I suspect you may need to pay more for a reliable steep incline.
However, while I am not 100% happy with the incline, there is no other treadmill at this price point that offers over 3 HP continuous power. The NordicTrack S30 or ProForm Pro 1000 are probably the closest competitors, but they only go up to 10% and 12% incline, which is still a little low for me.
It would be interesting to see how other home treadmills compare, but for now, I think the Branx is a good buy, and I would happily recommend it to any one for almost any level of fitness.
It may not have some of the fancy frills such as smart features which other brands offer, but the build quality and powerful motor should help ensure this keeps running well for years to come.
It is also backed by a  2 years parts & labour, 5 years frame & motor warranty, though I have had no experience of aftercare customer service so can't comment on how good that warranty really is.
Last update on 2022-05-21 / Affiliate links / Images from Amazon Product Advertising API