B450 vs X470 vs X570 PCIe 4.0 for NVMe and Radeon RX 5700 XT
Perhaps the biggest question has been how PCIe 4.0 will improve things. There is not much to test with this at the moment but Overclock3d.net tested a PCIe 4.0 NVMe drive on both chipsets to see the difference. He doesn't state which drive he used but it goes up to just shy of 5GB/s so it is definitely one of the newly launched PCIe4 drives.
The two chipsets offer almost identical performance in CrystalDiskMark, and there would undoubtedly be no real-world difference. PCIe 3.0 can handle 0.985 GB/s per lane so on an x4 slot it would transfer up to 3.94 GB/s and x8 would be 7.88 GB/s.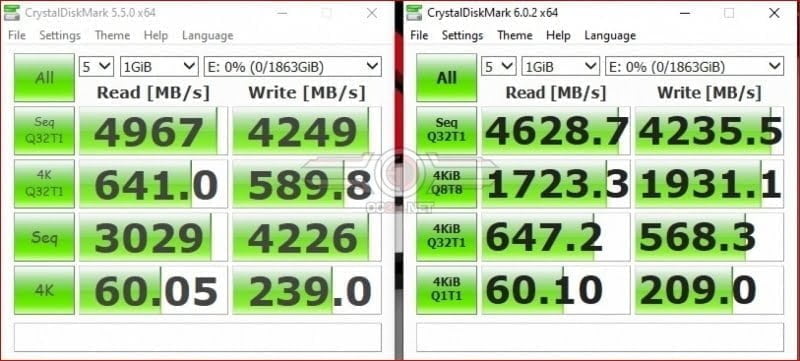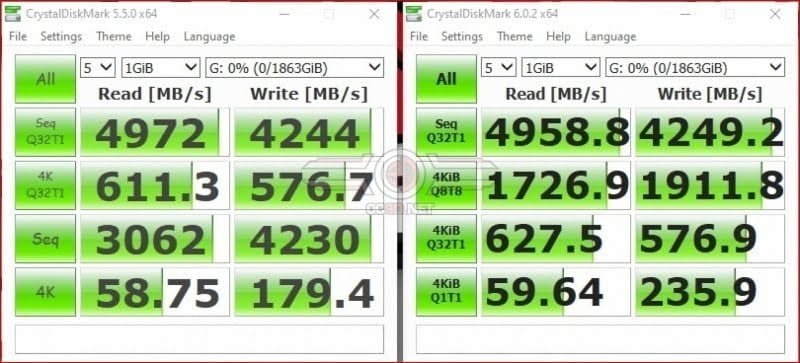 While his performance numbers were the same, one area where they may differ is for expansion slot based drives where there is a mixture of PCIe 2.0 and PCIe 3.0 where the PCIe 2.0 x1 slot will only offer 500 MB/s and an x4 bandwidth slot would offer 2 GB/s.
OC3D also tested Radeon RX 5700 XT to see if the PCIe 4.0 provided any benefit, but as expected, it did not.
With X570 using PCIe 4.0 on all lanes, it will offer superior performance on very complicated builds where you are filling up multiple slots; you are never going to have to worry about falling back to the PCIe G2 slots. There is also an argument for longevity, the AMD Navi cards that launch next year might just be able to make the most of all that bandwidth, though I am probably being over-optimistic about that. For now, I would suggest you could pick up an affordable X470, and I would say within a year, or so, a lot of these X570 boards will drop enough in price to cover upgrading it.
Last updated on 9th December 2019 9:26 pm