Build Quality and Design -

85%

Sound Quality -

70%

Price -

90%
The Anker Soundcore Flare Plus was one of the best portable Bluetooth speakers I have reviewed. However, it is reasonably large and costs over £100.
If you are looking for something a little more affordable and portable, the SoundCore could be a good option. Costing just £29.99 this petite speaker is cheaper than many earphones, let alone speakers.
[button link="https://amzn.to/2PQavYw"] Buy from Amazon[/button]
The blurb from the Amazon listing states:
Patented Sound Technology: Full-bodied stereo realized through dual full-range drivers and a unique patented spiral bass port. Carefully designed transducers keep total harmonic distortion below 1% for superior audio clarity that's unprecedented in this price range.
Groundbreaking Battery Life: 24-hour / 500-song playtime powered by a built-in high capacity Li-ion battery and Anker's innovative power management technology.
Bluetooth 4.0: Instantly pair to your smartphone, tablet or to any Bluetooth compatible device and start streaming lossless CD-quality sound from up to 66 feet away. SoundCore reconnects automatically to the last device used. Built-in mic lets you take hands-free calls at any time.
What You Get: Anker SoundCore Bluetooth Speaker, Micro USB charging cable, welcome guide, our worry-free 18-month warranty and friendly customer service.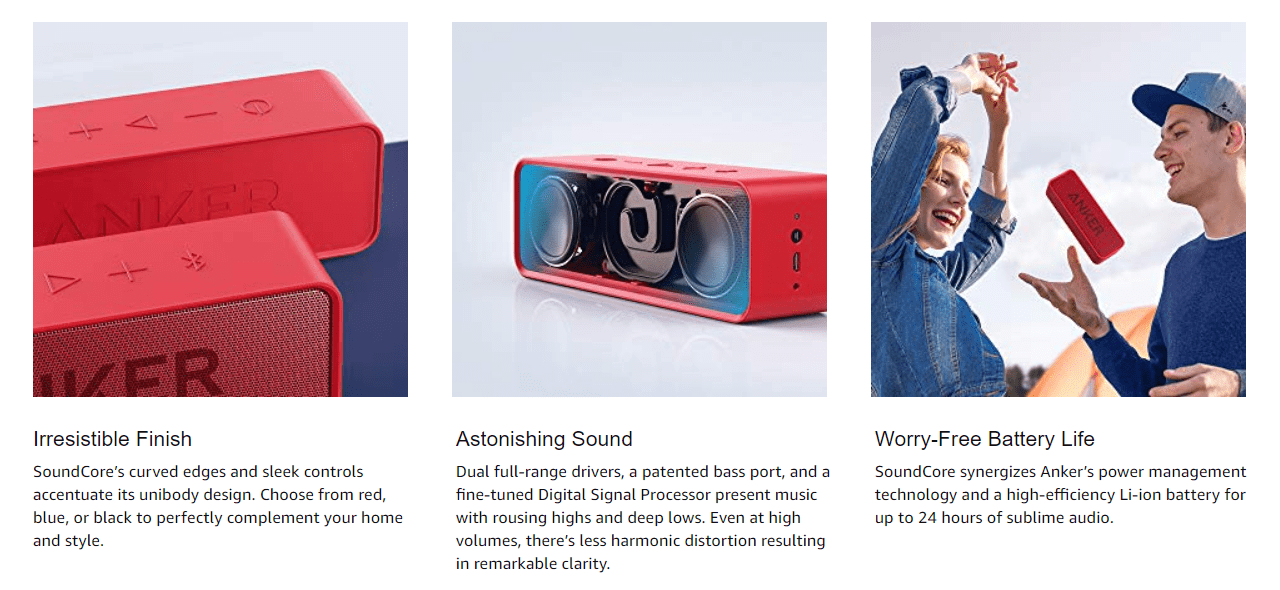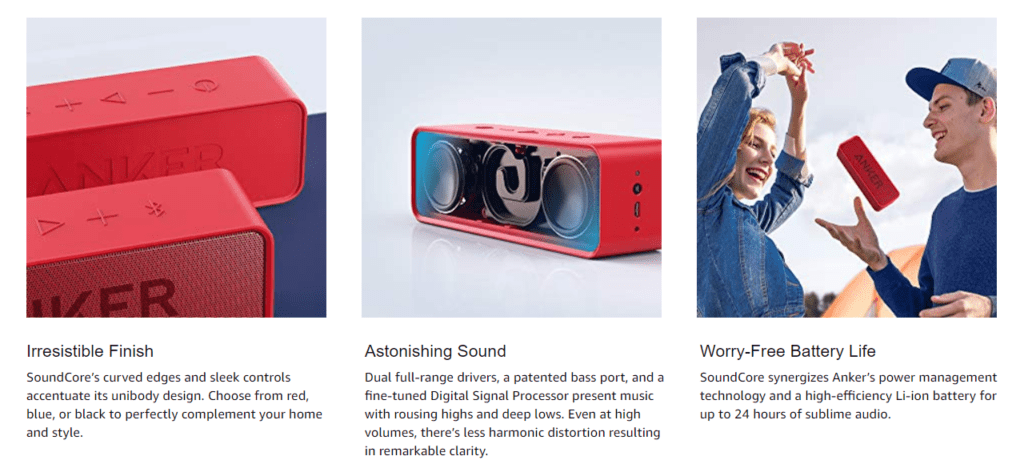 This is a tiny speaker, much smaller than the Flare Plus, it has about the same length as my Mate 20 Pro, but obviously much thicker and wider. Its dimensions make it perfect for a day out to the beach or elsewhere when you only have a small bag.
It has a robust design and is coated in a rubber type plastic that helps give it an IPX5 rating, making it resistant to most spills or a getting caught out in the rain.
The speaker uses Bluetooth 4.0, but there is a 3.5mm jack for you to use it in wired mode optionally. The battery life on the Anker SoundCore can keep going an impressive 24 hours, making this great for camping trips or holidays. It is then charged via the microUSB port on the side and there is a small cable included.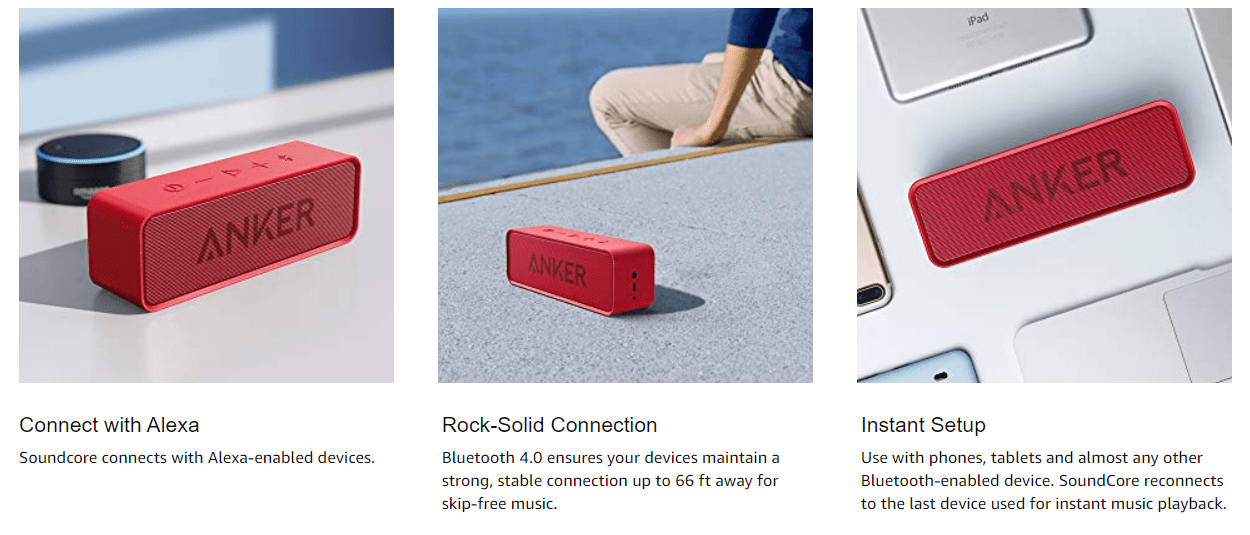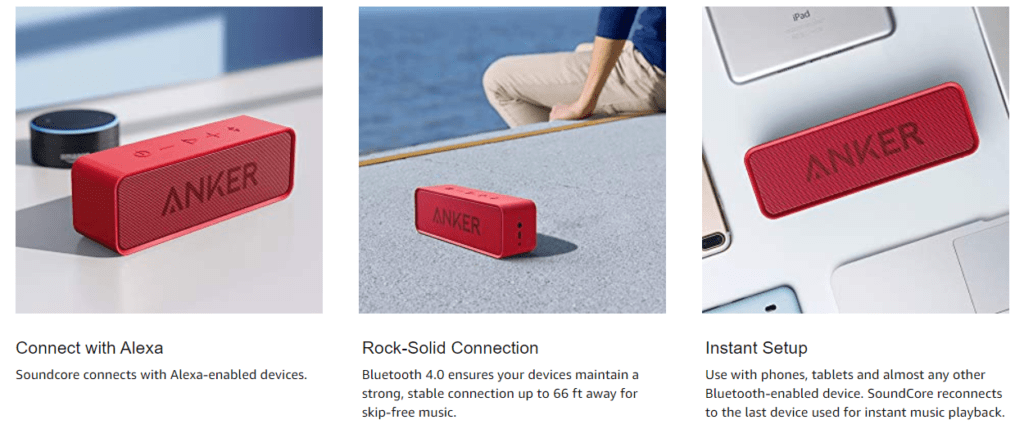 Pairing this up is as simple as most Bluetooth devices nowadays, and once paired the speaker can also work for hands-free calling via the built-in mic.
Sound quality is good for such a small speaker that only costs £29.99. To be clear, a speaker like this is never going to sound amazing, but for occasional use, it is good enough. I managed to listen to it on my desk for a few hours and had no issues with the performance. It can get quite loud for a tiny speaker, but keeping it at a moderate volume will allow you to achieve a better sound quality. At first, I thought there was no bass, but after a while, it settles in, I could be wrong, but I swear standing it up vertically improved the bass response.
Mids and highs are also good for its size, but they can start sounding a little harsh at high volume.
It currently has 6,592 customer reviews on Amazon UK with 84% of them being five stars and just 2% one star. Most of the bad reviews appear to indicate that it stops working, but this shouldn't be an issue with the superb customer service from both Amazon and Anker.
Conclusion
Overall this is a good speaker, it is not something I would use every day, but it is perfect for trips away, or as a bathroom speaker. At £29.99 it is an absolute bargain considering it is well made and looks good too. While it can't compete with the Flare Plus for sound, for such a low price, it does exceptionally well.
This would make a perfect stocking filler for Christmas.