Soundcore Frames Review Rating
Summary
The Soundcore Frames is the best implementation of Bluetooth glasses I have used or seen to date. They are priced attractively and have a massive amount of design options and customisability that competing brands can't come close to.  
Pros
By far, the best design option for Bluetooth glasses on the market
Plenty of frame options to suit all styles
The cheapest option from a reputable brand on the market
Good overall sound quality
Cons
Bluetooth glasses, in general, suffer from sound leakage in quiet environments and can get drowned out in louder situations 
Last month Anker Soundcore came out with the surprise announcement of the Soundcore Frames, a pair of Bluetooth audio glasses with interchangeable lenses.
Only a small number of companies have launched such a product, and the Soundcore Frames get off to a good start with both a simple and genius design of interchangeable front frames. This allows you to completely change the look of the Soundcore Frames for a relatively low cost. You can also switch them out from sunglasses to clear glasses, and in the event of damage, you are hopefully not on the hook for replacing £150 worth of glasses. The press release also stated it is possible to take these to an optometrist and have prescription lenses fitted.
Specification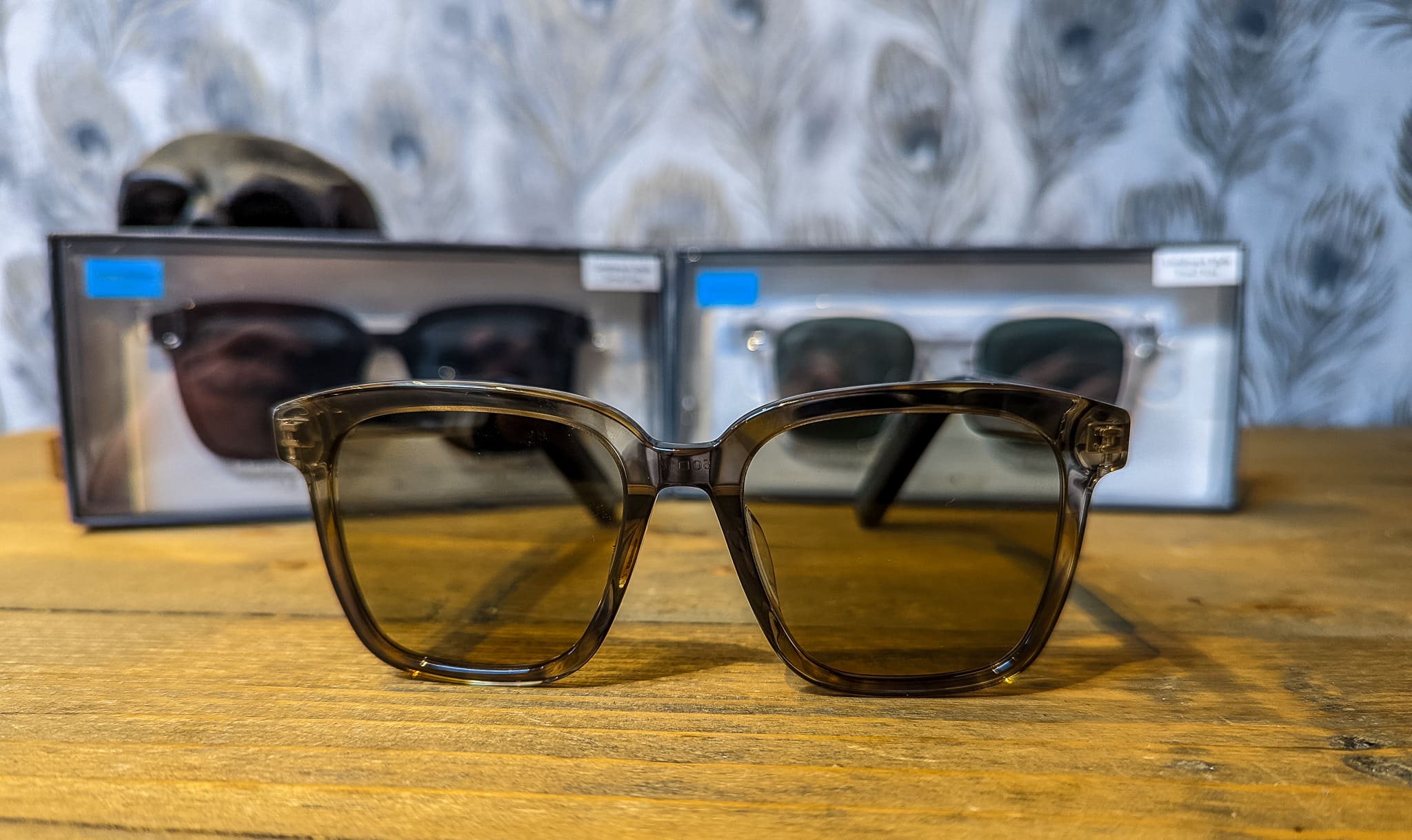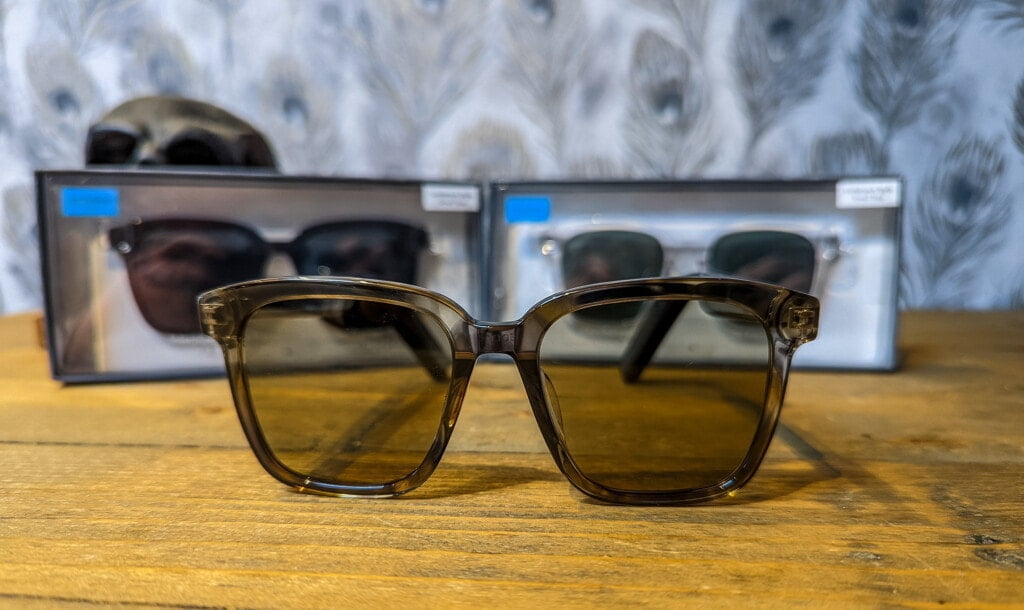 Frequency response: 20~20kHz
Qty of Drivers(speakers): 4 (2 per side)
Size of Drivers / Material: 25mm x 8mm (main); 8mm diameter (rear) / PET
Battery Type / Capacity: Lithium Polymer / 110mA (x2)
Playtime / Talk Time / (Normal mode): 5.5 hours @ 60% Volume / 5 Hours
Fast Charging Time(Soundcore Frames): 10 mins = 1.5 hours
Charging Cable Magnetic: Charging Cable
Bluetooth Version: 5.2
IP Rating: IPX4
Control Type: Touch / Swipe / Voice
Audio codecs: SBC, AAC
Compatible with voice detection
On ear detection for pausing music
Flexible hinge (8 degree bendable)
Design / Frame Options
I didn't really pay that much attention to the press release when it came through so didn't think much about how the interchangeable frame design would work.
It turns out to be quite simple and obvious. All the electronics are contained within the arms; these then just clip out of the front-facing frame.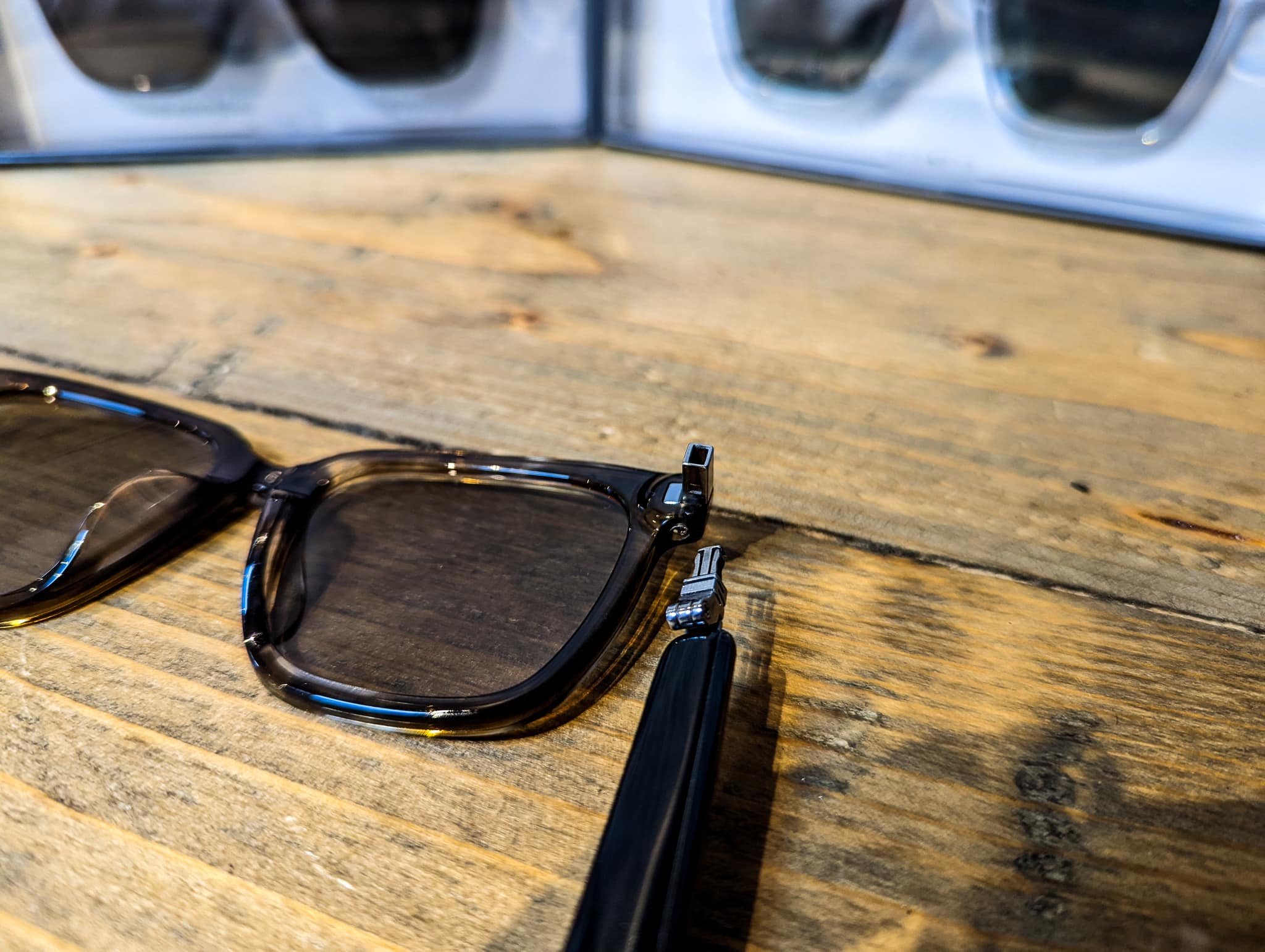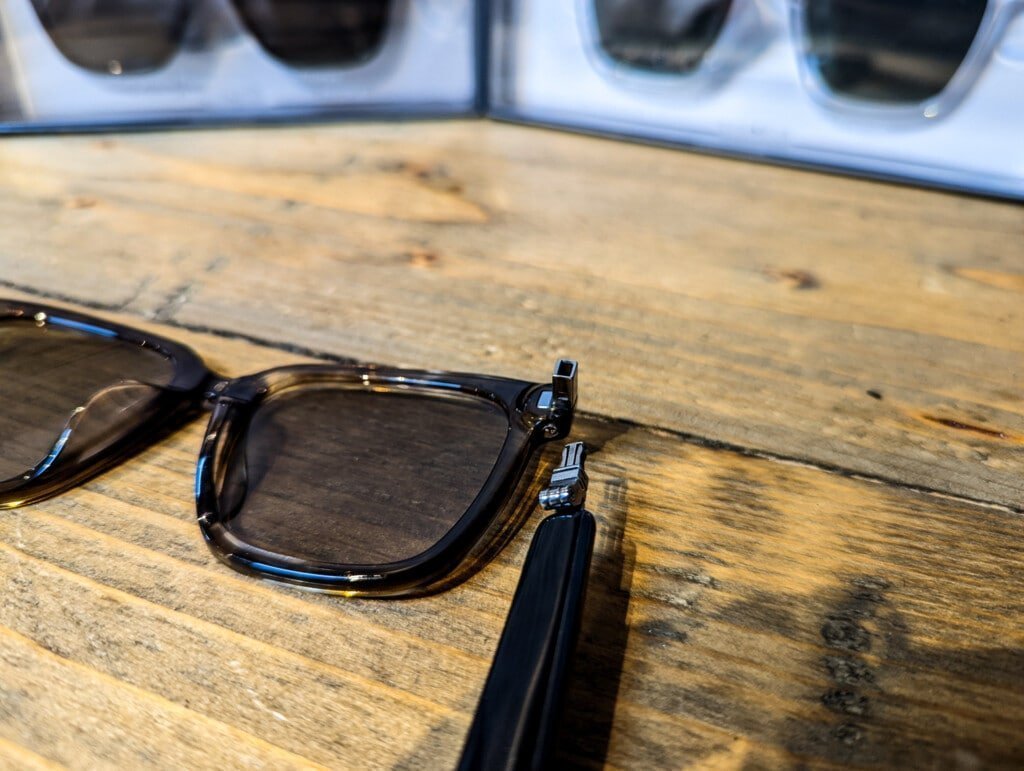 The arms of the glasses are relatively thin, bulkier than a regular pair of sunglasses, but you only really notice this when you close up the arms to put the glasses away. On your head, I doubt anyone could tell the difference.
One caveat to this design is charging. You have two separate devices that require charging, and you don't have the convenient charging case that we are all so familiar with from TWS earbuds. The solution for this is one cable but with two magnetic charging points. It is not ideal, but this is the price you pay for the design.
As for the frames, Anker sent me out 7 of the additional frames plus the one included with the pack.
I think there are size styles, but then multiple lenses and frame colour options per style. In my pack, I had three of the Landmark style but three very different looks. All the frames feel well made and look good in real life, though the festival style isn't to my particular tastes.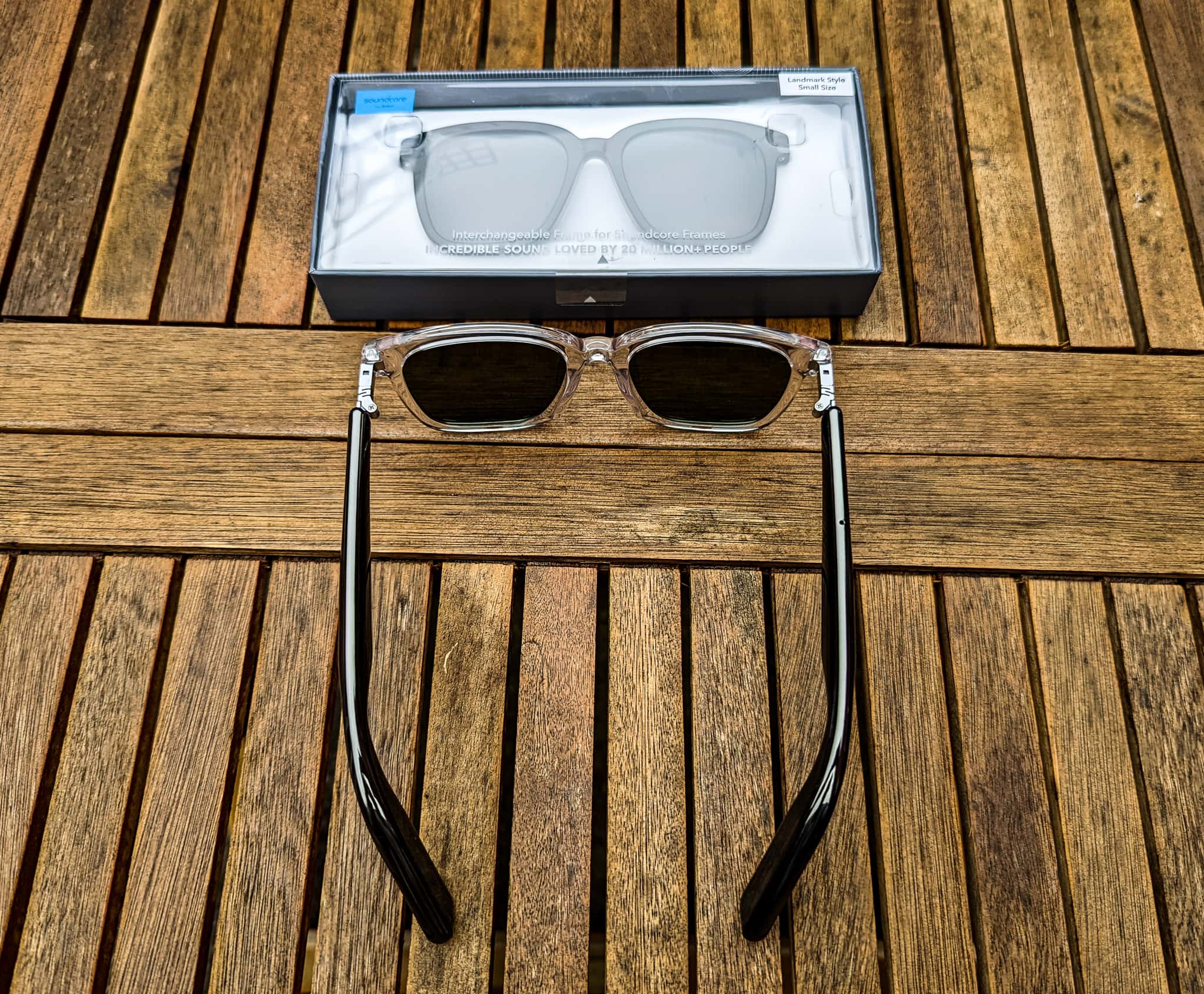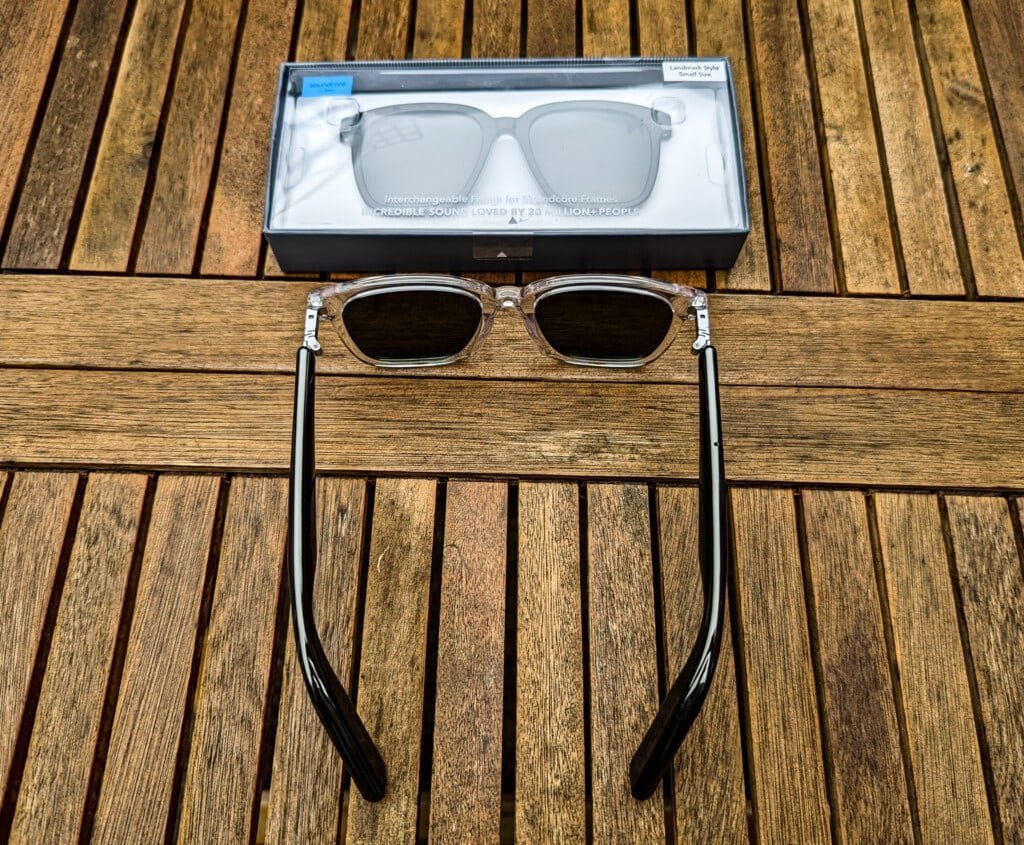 Set-Up & Charging
The charge cable has two separate magnetic mount points so it requires a bit more thought when charging these vs slotting them back into a charging case.
When you open the frames, they should auto power up, and then you can pair them up as you would any other Bluetooth headphones.
Comfort / Fit
I don't wear prescription glasses, so I am probably not as sensitive to specific fit issues that people who wear glasses might have. However, the overall comfort and fit of the Frames are good.
The Frames weigh approximately 45g depending on frame choice. The arms weigh 12.8g each so 25.6g. The frames vary in weight slightly, the Landmark frame weighs 19.4g the Tour (aviator) frame weighs 20.72g.
I have gone on long walks, done housework and sat at my desk with these and at no point had any issues with having to readjust them or feeling any sort of fatigue or annoying pains. If anything, I would say they are more comfortable than my standard sunglasses, which I have to adjust occasionally.
Sound Quality vs Bone conducting & In-Ear
Bluetooth glasses provide quite a different experience to in-ear or on-ear headphones and also bone conduction headphones.
For a start, these sound much more pleasant to listen to than bone-conducting such as those from AfterShokz. At moderate volumes, any bassy music from bone conduction has that relatively unpleasant bass vibration. These sound much more natural.
Unlike earbuds, you don't have that passive seal to help improve the bass response. Therefore, the Soundcore Frames have used two drivers allowing the Frames to produce a moderate amount of bass. You don't get the same boomyness you have with many earbuds (especially Soundcore) you just get a more pleasant natural bass.
Dialling these up to a higher volume, I did notice some sharpness come through on the highs.
At a moderate amount of volume, I think these offer a better sound than most earbuds, the two large drivers allow the glasses to produce a more accurate range of frequencies without overemphasising different aspects or sacrificing bass in the name of accuracy.
Sound Leakage / Outdoor Volume
Loudness and sound leakage are where bone-conducting headphones have excelled at for years. They can get to higher volumes with minimal sound leakage. You can wear Aftershocks for cycling and not have everything drowned out by wind & car noise.
The Soundcore Frames are much more enjoyable to wear and listen to than bone-conducting headphones, but they suffer from significantly more sound leakage and struggle with outdoor volume.
Walking with these down the main road and you will find you need to crank them up to the max to hear them over the cars.
In a quiet office, the Frames become audible off the head at around 50%. Once you get to about 75%, music is clearly audible at arm's length. At 100% I can make out the words of songs at a bit over arm's length. Walking down the street will be less of an issue, I don't make a habit of getting that close to people, and ambient noise should drown things out better.
In my quiet office, 100% is too loud to comfortably listen to, but 60-75% provided a pleasant listening experience.
Bose Frames Comparison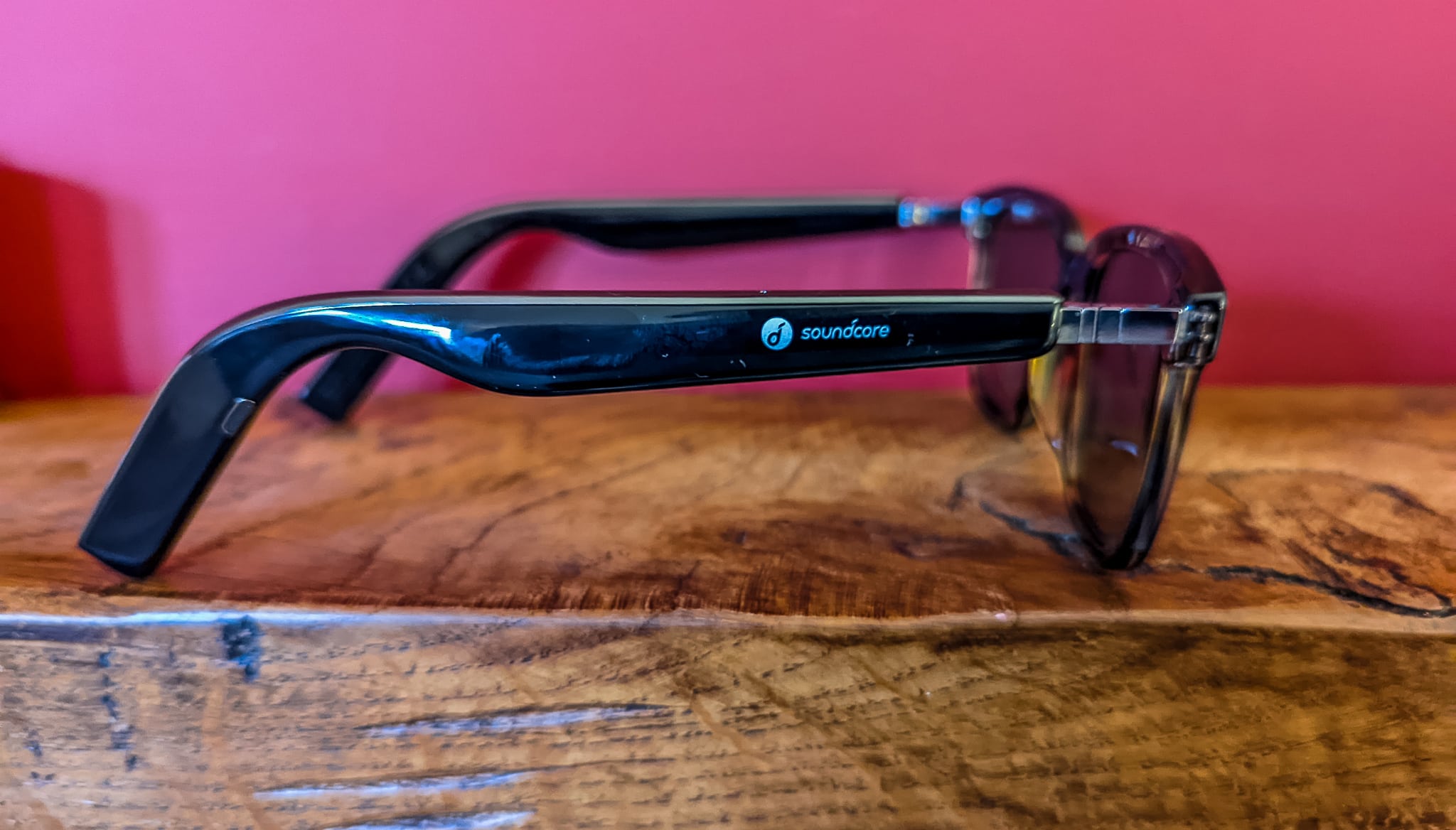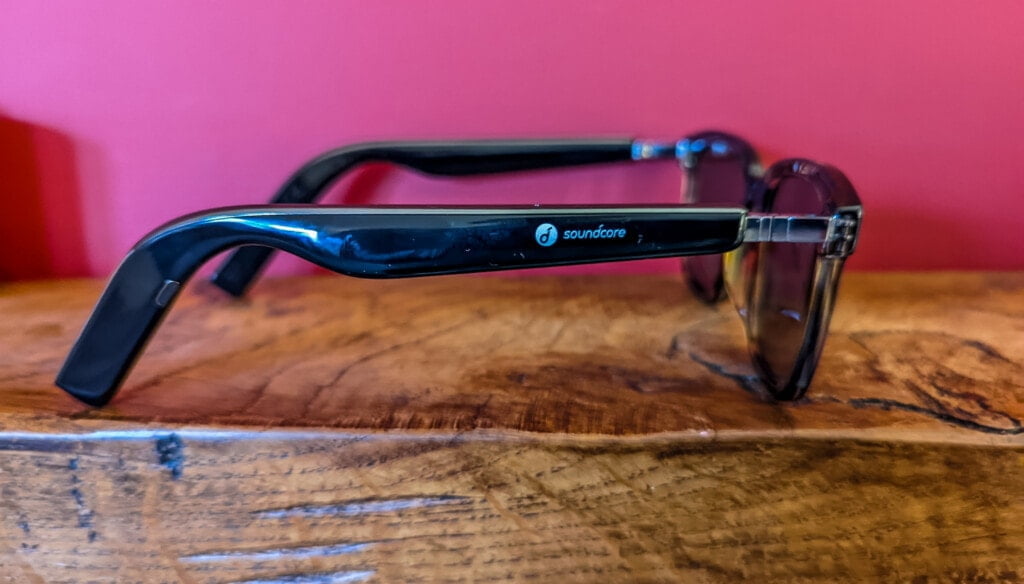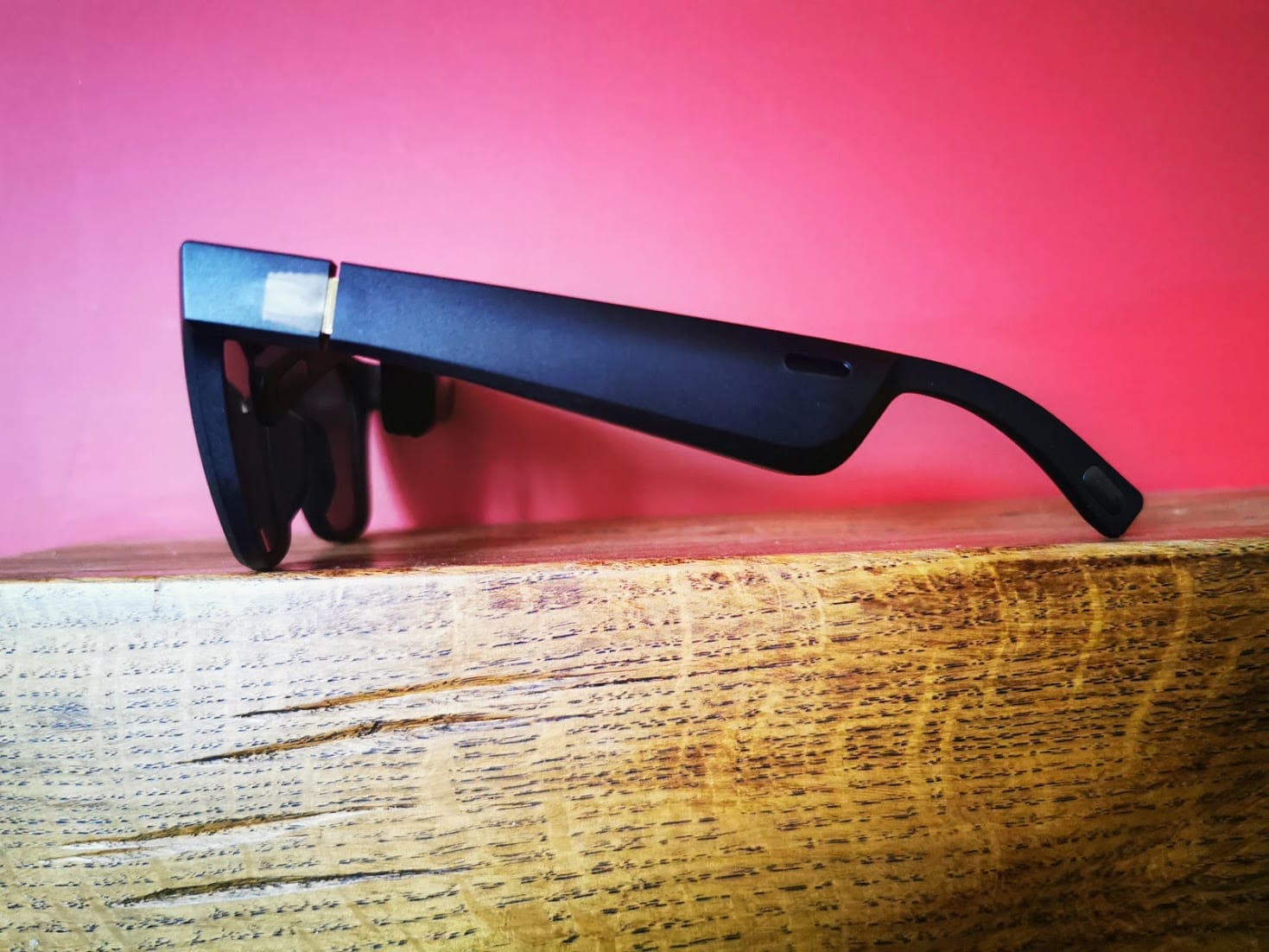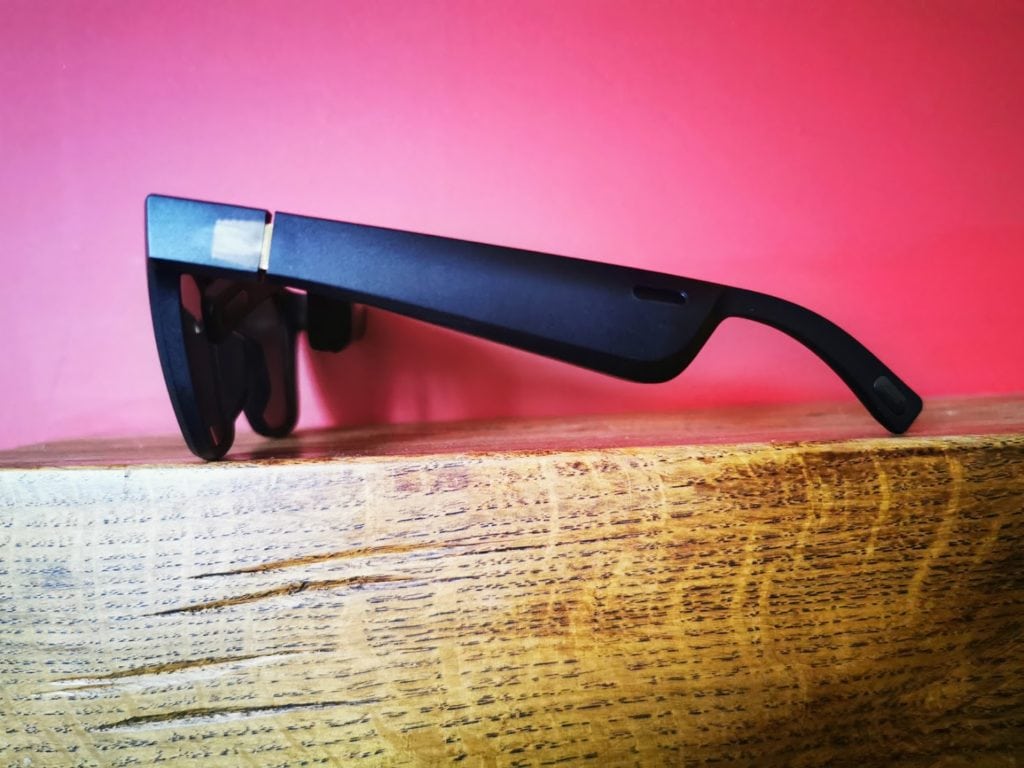 It has been over two years since I reviewed the Bose Frames, so I can't accurately say which sounds better or worse. My best guess was that the Bose did offer better sound quality, but I don't recall it being mind-blowingly good that I could recommend them over these.
With the Bose Frames, not only do you have limited design choices, but the arms of the sunglasses are massive, making them a bit ugly. The thick arms that contain the speakers are likely what gives the Bose Frames the edge when it comes to audio quality. I guess most people won't notice the massive thick arms when you wear them, but they just don't have the same aesthetic appeal as the Soundcore frames.
Battery
The battery life seems to be acceptable, with the 5-hour claim being approximately correct. I wouldn't normally wear a product like this for extended periods of time, but with the clear lens frames I quite happily sat at my desk for several hours working while using them.
Price and Alternative Options
The Soundcore Frames are launching at £149.99, and my pair arrived with an aviator style frame. Additional frames will be available for £49.99, and there will be 10 different styles available.
Bose Frames have an RRP of £239.95, you can't swap the frames, but you can replace the lens for £39. You can currently pick up the Bose Frames Alto for just £139.95, which is a reasonable price I think is worth paying for.
The Huawei X Gentle Monster have an RRP of £310 and have just two styles available with no option to replace the lenses.
Overall
I am still not 100% sold on the concept of Bluetooth glasses. For music, at least, they are not the most practical of solutions, being prone to either sound leakage or the volume being drowned out.
However, the Soundcore Frames are by far the best implementation of this technology, in my opinion. They are cheaper with massive amounts of customisation and an overall superior aesthetic vs the Bose Frames. I haven't used the Huawei X Gentle Monster, but the high price and limited design options don't make them that appealing.
The overall design of these looks completely natural. You couldn't tell that someone was wearing Bluetooth frames even with close inspection.
Sound quality is good when used in environments with moderate ambient noise. They have a more pleasant sound quality and aesthetic than bone conduction but with superior situational awareness compared to in-ear headphones.
I found Bluetooth glasses such as these are fantastic when used for a discrete connection with your phone. You can use things like Google Maps without staring at your phone or losing that situational awareness. I found this concept particularily useful on holiday, but I imagine it will be great for getting around day to day life in cities on bikes/scooters etc.
Last update on 2022-05-16 / Affiliate links / Images from Amazon Product Advertising API