The final specification of the AMD Radeon RX 5700 XT have been leaked with a large increase in base and boost clocks from the generation before. The new 7nm fabrication process will allow AMD to push things further with less heat and these clocks are a great start for Navi.
The RX 5700 XT uses the latest RDNA core architecture. According to AMD themselves, the RDNA architecture brings a revamped CU or Compute Unit design which should deliver much better gaming performance than the existing line of GCN based graphics cards.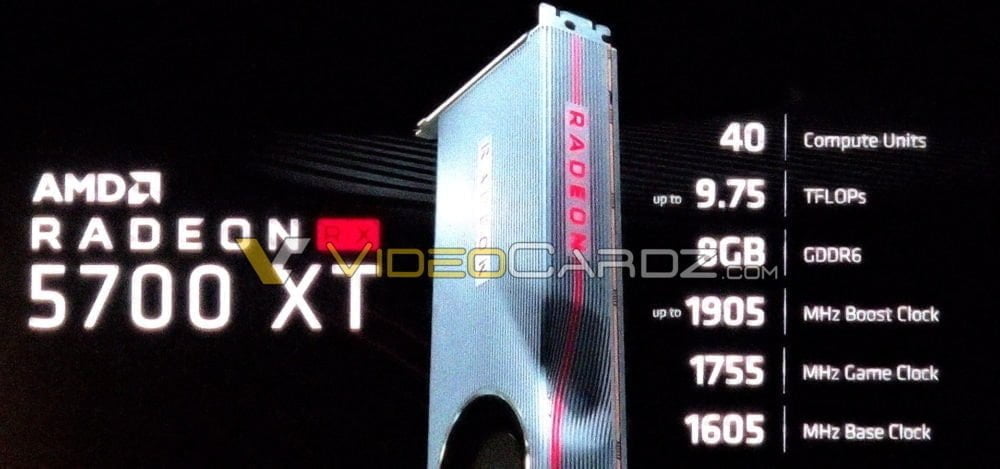 While the pure TFLOPS numbers of the RX 5700XT are lower than the RX Vega 56, it is worth remembering that AMD promises a huge boost in GPU IPC with Navi, which will deliver team Radeon with additional performance gains. 
This card has three different clock speeds, and how this works compared to the normal base and boost is unclear at the moement. It is assumed that the boost is the maximum speed the reference card would be able to hit, but the average clock speeds while gaming is the game clock itself.
The card features 8 GB of GDDR6 memory which should run across a 256-bit wide bus interface but it is unclear if it will use the 14 Gbps GDDR6 dies similar to those found in Nvidia cards.
It is believed that there will be two variants of the card, this XT model then a cut down Pro model.
The TDP of both models is said to be 180W and 150W.
The official announcement will happen ,as part of the company's Next Horizon Gaming event at E3 2019 where it is expected that we will also hear about the new Ryzen 9 3950X. The announcement is at 3 PM PT Tuesday which should be 11PM Monday here (if Google is right).
| | | | | | |
| --- | --- | --- | --- | --- | --- |
| | RX Vega 56 | RX 5700XT | RX 590 | RX 580 | RX 570 |
| Process Tech and Architecture | 14nm Vega | 7nm Navi | 12nm Polaris | 14nm Polaris | 14nm Polaris |
| Stream Processors | 3584 | 2560 | 2304 | 2304 | 2048 |
| Max FP32 Compute | 10.5 TFLOPS | 9.75 TFLOPS | 7,1 TFLOPS | 6.2 TFLOPS | 5.1 TFLOPS |
| Base Clock | 1156MHz | 1605MHz | 1469MHz | 1257MHz | 1168MHz |
| Gaming Clock | | 1755MHz | – | – | – |
| Boost Clock | 1471MHz | 1905MHz | 1545MHz | 1340MHz | 1244MHz |
| Memory | 8GB HBM2 | 8GB GDDR6 | 8GB GDDR5 | 8GB GDDR5 | 4/8GB GDDR5 |