Acer Switch 3 SW312-31 Review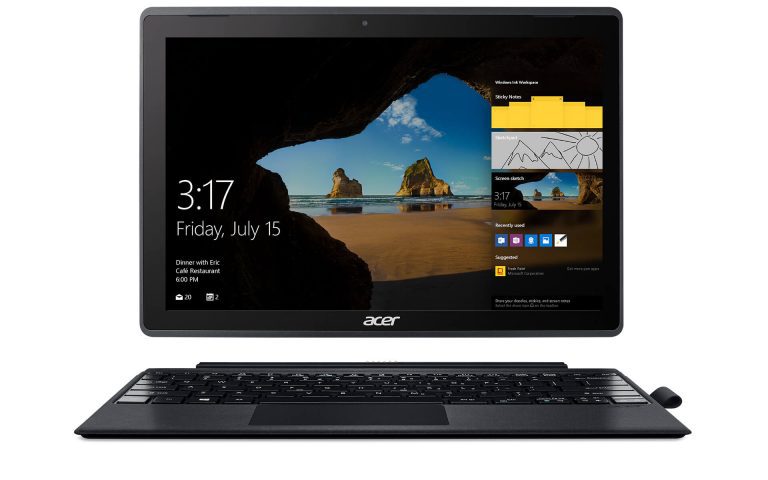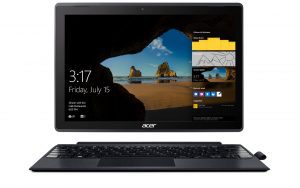 Product Name: Acer Switch 3 SW312-31
Offer price: 429
Currency: GBP
Availability: InStock
Design & Build -

90%

Performance -

80%

Price -

90%
It has been 4 years since I have reviewed any of the Acer Switch line, so I thought it was time to see what this budget 2-in-1 has to offer in 2018.
The Switch 3 is quite an attractive option from a consumer's perspective, it is a 2-in-1 with a 12.2-inch display, that resembles the Microsoft Surface Pro but costs £429 for the model I am using.
Specification

The Switch 3 is equipped with an Intel Pentium N4200, uses an Intel HD Graphics 505 iGPU and has 4096 MB of DDR3
The display specification is a glossy 12.2 inch 16:10 IPS panel running at 1920 x 1200 pixels with 186 PPI, multitouch and native pen support.
You get a full-sized USB 3.0 port avoiding the need for adaptors, as well as a USB 3.1 Gen 1 Type-C.
One of the main selling points of a laptop like this is its size and weight. With dimensions of 295 mm x 201 mm x 9.95 mm for just the tablet or 295 mm x 201 mm x 16.30 mm with the keyboard, this weighs only 0.9 kg and 1.25 kg respectively. This puts it at the same weight as the universally well reviewed Dell XPS 13 2-in-1, though you get large bezels on this but at a 1/3rd of the price.
Design and Build
For a sub £500 laptop, I think the overall build quality is exceptional. The tablet part uses a metal frame and then a metal effect plastic rear. It has a nice weighty feel to it, being considerably heavier than the likes of an Android tablet, and everything is well put together.
I am not particularly a huge fan of this style of 2-in-1, with the detachable keyboard and kick out stand. This is because I mainly use my laptop in the evening on my lap, and things can get a little wobbly. However, Acer has done a good job here, the kick out stand has a very wide range of motion, and it has nice stiff support. It is not perfect for using on your lap, but it was passable, which is better than many other laptops like this. Using it on a table is fine, and if that's your preference, you should have no issues at all.
The keyboard attaches using a magnetic attachment and this works well, I didn't have any issues with it getting detached or reattaching it after using the tablet. The keyboard has a 2nd foldable magnetic section which allows you to use the laptop with a perfectly flat keyboard or at a gentle incline.
The laptop is also passively cooled which is always a feature I love, as I loathe fan noise. This makes it much more pleasant to work in a quiet environment.
Display
The 1,920 x 1,200 IPS panel is well specced for a laptop in this price range it is extremely colourful and bright. So bright that I struggled to have the brightness beyond 25%, but that's probably just my sensitive eyes.
Having reviewed several Dell XPS laptops, the bezels on this are very noticeable, but not annoyingly so. With the keyboard in the risen position the bottom bezel almost disappears.
The main issue with the display is the glossy screen, this is personal preference, but reflections can be annoying. With it being a lightweight laptop that is designed to be carried around, it is not unlikely that it will be used outside or in bright environments, neither of which are very friendly to glossy screens.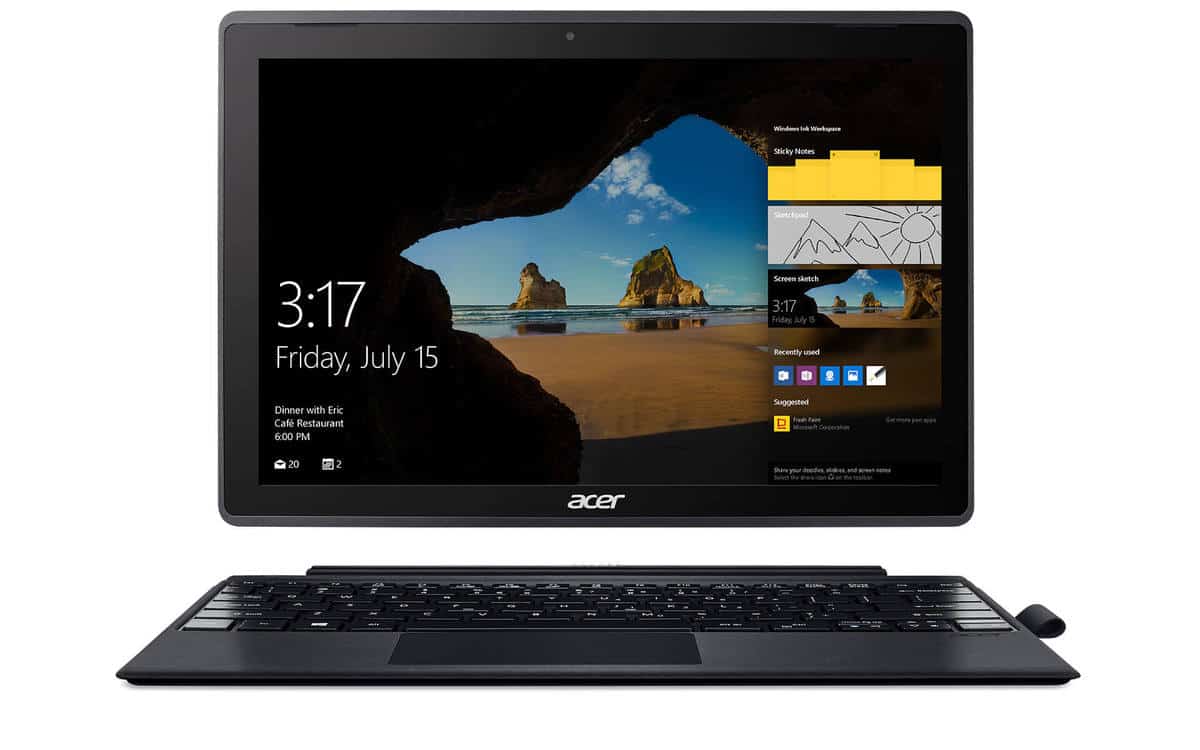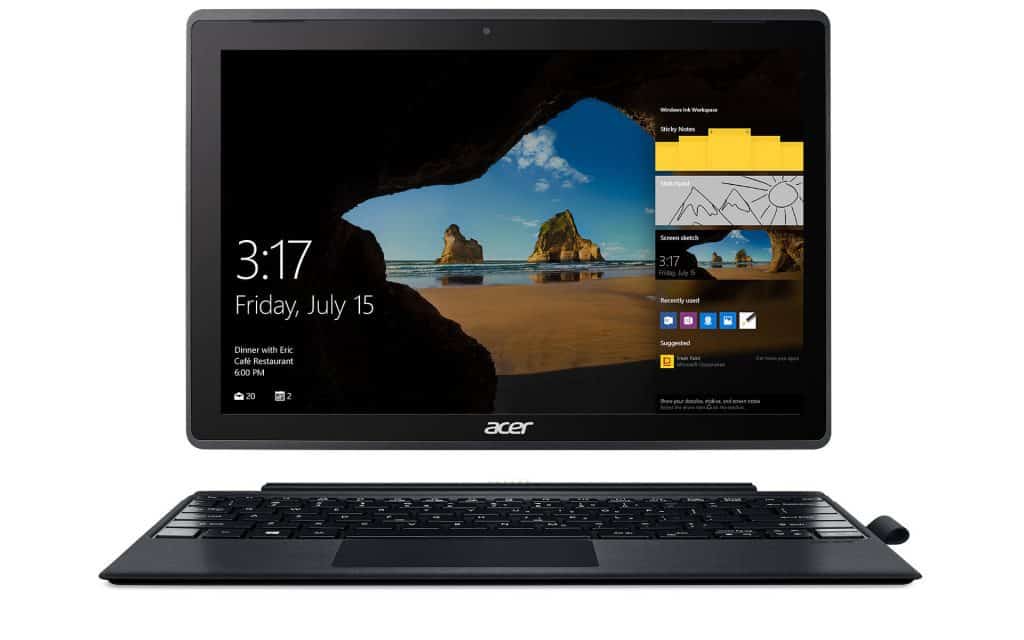 Keyboard
Detachable keyboards are not my favourite either; they can be a bit flimsy. In this case, Acer has done another good job. The cover itself is quite firm, and the keys depress properly, so you get a decent level of tactile feedback. It makes a huge difference when you are typing for extended periods of time. The key spacing is decent too, with the keys taking up the full width of the cover, I experienced no issues while typing on it for a couple of hours at a time.
I really like the incline option, it allows for a more ergonomic typing position, and while it is inclined the keyboard cover remained quite rigid, and the magnetic enclosure never showed signs of giving up no matter how aggressively I typed.
The Switch 3 also supports Acer's Active Stylus which will appeal to more artistic users, and the pen has two mouse buttons housed on the side, plus a clip to help hold it in place when you slip it into that side loop. It appears to work as intended, but I am the least artistic person ever so I am not the best to comment on its accuracy for any sort of design work.
The touchpad does reasonably well, it is a little small, but it is responsive and has a nice click feedback if you press down.
Performance
The Intel Pentium N4200 is never going to do much gaming, but it is adequate for day to day use such as browsing, watching movies and office work.
4GB of ram is probably the bare minimum you would want from a laptop that gets regular use. 8GB of ram is ideal, but you are not going to find that in a laptop at this price point.
I didn't extensively benchmark the laptop as the performance of this CPU is well documented, but it scored the following:
3DMark: Sky Diver: 2046
GeekBench: 1478 (single-core) and 4222 (multi-core)
PCMark 8 (Home Test): 1705 points
The 64GB of storage isn't particularly fast, it uses an eMMC based drive, which tends to be a bit slow. However, I still managed 206MB/s and 139MB/s read-write speeds, 4K read and write drops down to 11MB/s and 15MB/s, this should be adequate for day to day use. I would say 64GB of storage is the minimum I would require for a laptop I use on a regular basis. After the windows install, you are left with about 32GB of storage which allows you to install a few apps on there as well as some media. There is a 128GB option, which is obviously much better and this only adds £40 to the price making it £469, so it is the option I would recommend if I were buying.
Battery
This can't compete with the some of the more expensive laptops I reviewed. I wasn't able to get a full day use out of this. It did comfortably manage 4+hours, needing to be plugged in around the 5hour mark. This was for general office tasks such as browsing, email and MS Word.
It is rare that I am away from a plug socket for more than 4-hours, so this is not a huge issue for me, but it may be worth considering if work remotely a lot.
Overall
If your budget can't stretch to a Surface Pro, then this is an excellent alternative. For the price, you get exceptional build quality, and there is nothing to fault performance wise.
This is a great option for anyone that travels or commutes a lot, at 1.25KG it is very portable, and the detachable keyboard and wide positioning options of the kickstand allow it to be comfortably used in all sorts of environments.
While the CPU isn't super powerful, it helps achieve an attractive price point without being sluggish.
I would highly recommend opting for the 128GB model as it is not much more and gives you much more usable space.