Zyxel MG-108 2.5G Switch Review Rating
Summary
The Zyxel MG-108 switch works as advertised, offering speeds close to 300MB/s when transferring files over the LAN. It is fanless and the cheapest option on the market (or the MG-105 for 5-ports). This, therefore, makes it the best option for anyone looking for the most affordable way to get multi-gig Ethernet.
Pros
Cheapest 2.5G switches on the market
Fanless
Cons
Still feels expensive spending £20 per port on 2.5G
I have already reviewed a couple of the affordable multi-gig Zyxel switches that offered a combination of 10Gb SFP & 2.5Gb RJ45 ethernet. At the time, they were the cheapest way to get 2.5GbE in your home.
Since then, 2.5GbE appears to be going mainstream. QNAP were the first to launch an affordable 5-port unmanaged 2.5GbE switch, this was then followed by TRENDnet with a 5 and 8-port models.
Not to be outdone, Zyxel is back with their own 5 and 8-port unmanaged 2.5GbE switches.
Full Specification
100M/1G/2.5GEthernet (RJ-45) Ports: 8
Switching capacity: 40Gbps
Switching forwarding rate: 29.8Mpps
MAC address table: 16 K
Jumbo frame: 12 KB
Power Consumption: 12.24-watt max.
Dimensions (WxDxH): 240 x 106 x 26 mm
Fanless
Price per port vs QNAP QSW-1105-5T & TRENDnet TEG-S350
Similar to my other unmanaged switch reviews, on the assumption the switch actually works as advertised, the only important thing is the price.
The RRP for the two Zyxel switches is:
Zyxel MG-108 8-port 2.5GbE: £159.99 or £20 per port
Zyxel MG-105 5-port 2.5GbE: £99.99 or £20 per port
The only 8-port option I know of is the TRENDnet TEG-S380 which is £174.99 (£21.88pp), but it has been as low as £162.77 on Amazon.
For the 5-port models:
QNAP QSW-1105-5T is currently £103.99 (£20.8pp)
TRENDnet TEG-S350 is £124.99(£25pp)
As far as I am aware, there are no other affordable fanless switches using 2.5GbE ports exclusively.
Assuming the Zyxel models are listed at their RRP, then they are the most affordable 2.5GbE options on the market at the moment. Being an unmanaged switch, that's about all you really need to know, with the rest of the review being mostly fluff.
10GbE vs 2.5GbE Switch Prices
Out of curiosity, I also looked into the viability of upgrading to a 10GbE network. Things are getting better, but most people will find it far too expensive.
Zyxel leads the way, they recently launched the Zyxel XGS1250-12, which has three 10GbE ports plus one 10G SFP+ port then 8x gigabit ports. This is around £250.
The Zyxel XS1930-10 is £420 and has 8x 10GbE ports plus 2x 10G SFP+ ports. So, either £52.50 per port or £42 if you include the SFP+.
Design
This has a similar design to the TRENDnet I reviewed, just longer due to more ports and silver. Both switches have a similar depth and height, while the QNAP was a bit more chunky.
Unlike the previous Zyxel switches, the power port has been moved from the rear to the front, and you now had port indicator LEDs on the left.
This is a fanless switch, so you have decent sized vent holes on the side, and the switch doesn't feel like it gets too hot. Then on the base are wall mounting slots.
In Use
My system consists of:
AMD Ryzen 7 5800X
MSI MEG X570 UNIFY with 2.5GbE built-in
Kingston KC2500 1TB NVMe M.2 SSD
Zotac RTX 3080
My server is an AMD Ryzen 5 3600 with Asus X470 motherboard and a Zyxel XGN100C 10G PCIe nic (review soon) running Ubuntu using a Samsung 970 Evo NVMe
I also tested with the TerraMaster F4-422 with 10GbE, but the drives in this are in RAID5.
iPerf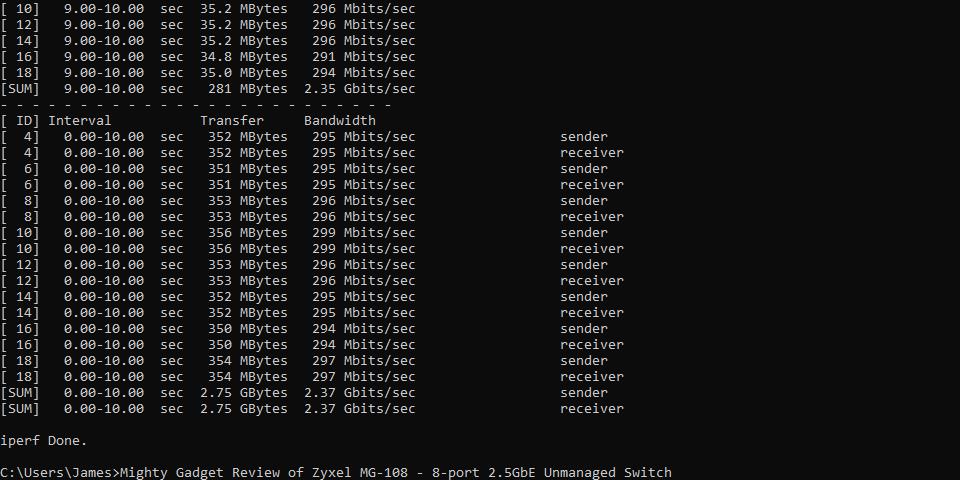 Performance is as expected, iPerf records 2.37Gbits/sec, which is almost identical to the TRENDnet and QNAP.
File Transfer & Crystal Disk Mark
File transfers showed the same result, with read and write speeds staying consistently above 275MB/s.
Crystal Disk Mark is a little more favourable, with read and write speeds being recorded at 295MB/s
Overall
The Zyxel MG-108 is one of the only 8-port 2.5GbE switches on the market, it is also the cheapest. I have been using this as the primary switch between my main PC, two servers, NAS and router for the past 4 weeks, and I have experienced no connectivity issues or any other issues.
This, therefore, makes it the best option on the market at the moment, in my opinion.
The only thing I can think of to complain about is that I am still bitter that we are paying £160 for 2.5GbE unmanaged in 2021. It feels like I have been waiting years for 10GbE to become affordable and mainstream, it looks like we are still years away from this dream.
With many motherboards implementing 2.5GbE and network adaptors available cheap, switches like this are an ideal investment for any small business or home user that frequently deals with a large amount of data over the network. That used to be a niche group of people, but in a world where everyone wants to be a creator and 4K video being the norm, gigabit is quickly starting to feel very slow.