In a few days time the Yeedi Vac Station wil be available to buy with an RRP of $499 but a $100 early-bird coupon available for anyone that subscribes to their newsletter.
I was quite excited about trying out this robotic vacuum and had planned to do a full review of it. Unfortunately, the review sample was designed for the US, with a US plug. Normally that isn't not an issue; you just used an adaptor. Unfortunately, with high power devices, the difference in voltages can cause issues. In my case, when the auto-emptying station activated, it tripped my circuit, and a subsequent attempt broke the actual station itself. The settings allow you to switch auto-empty off which I sadly didn't notice until after I broke the station.
So I managed to use the vacuum part, but sadly was unable to test the auto-emptying station
Yeedi Vac Station Review – Initial Impressions
Set-Up
I already had the Yeedi app from the K650 robot vacuum review. Setting the vacuum up is the usual process for a smart home device. With this, you scan the QR code and follow the procedure, which includes passing it your Wi-Fi credentials.
Once it is added, there is not much to do. You can manually start it cleaning, or you can set up a schedule.
In Use / Settings / App
The first few times the robot runs, it will build up a map of your property. Even without a full map, I found it navigated around my home well, it didn't get stuck, and it covered every room.
This uses vSLAM mapping, so there is a camera facing upwards from the vacuum, which will map out your property based on the various data points. This is different to LiDAR found on some competing brands; technically LiDAR is superior, the laser measurements offer quicker and more accurate mapping. However, the trend seems to be leaning towards vSLAM as it captures more data and offers the potential for future feature improvements. For me, it worked very well, and some of my rooms are not very well lit, which is one of the weaknesses of this technology.
With auto-clean you can have it return to base when it is running low on battery, then when it is charged, it will restart from where it left off (I was unable to test this bit due to my issues with the station). You can also enable quiet times, so the vacuum won't start automatically return to cleaning when you are asleep.
With a full charge, it seemed to get around most of my home without issue, I have a moderately large home, with two large living rooms and a large kitchen plus hallway and toilet, so a decent amount of space to cover.
The actual dirt container on the vacuum is very small, but this isn't too much of an issue, depending on how dirty and big your house is, it is good for one full clean, then it will auto empty.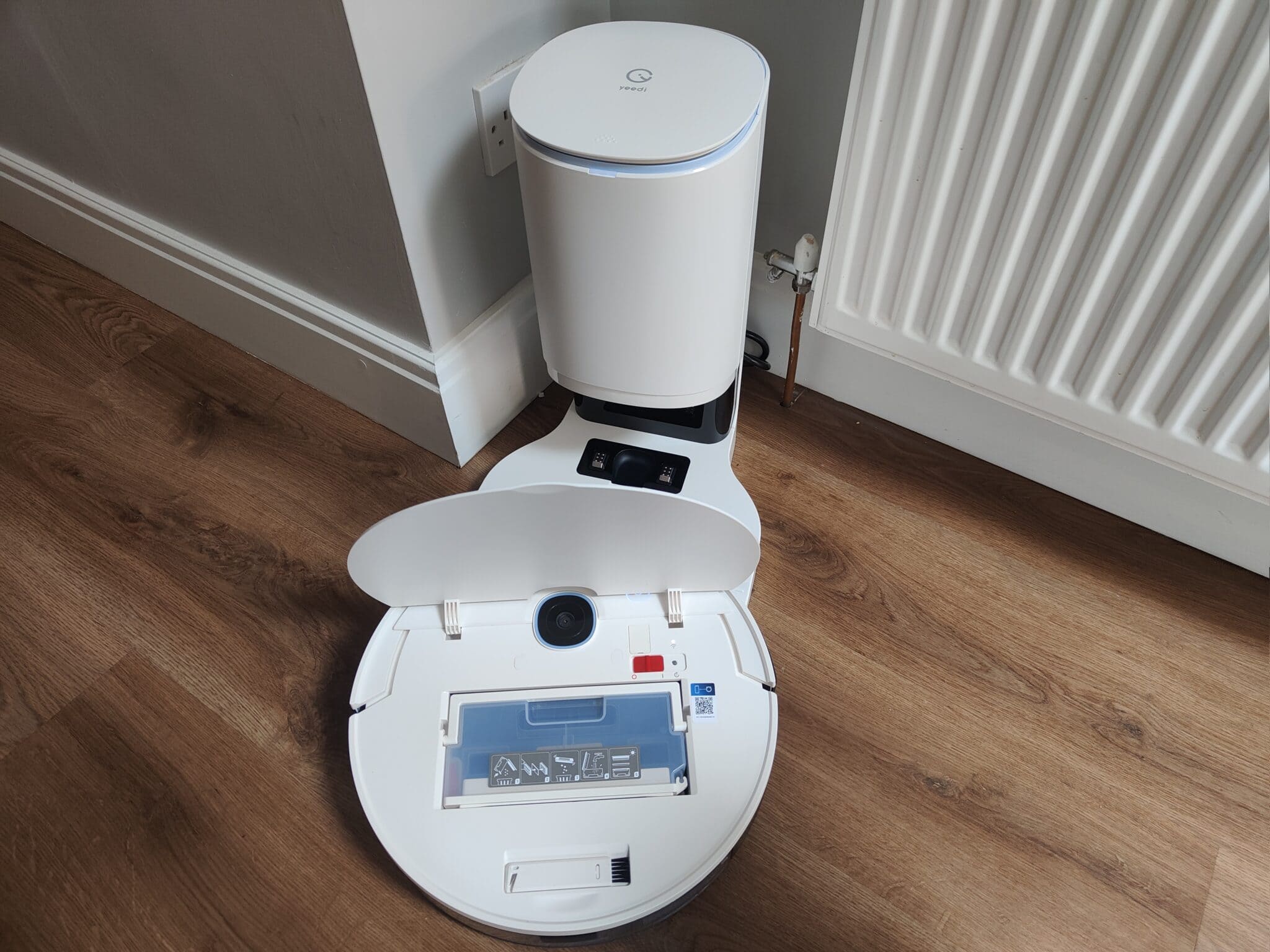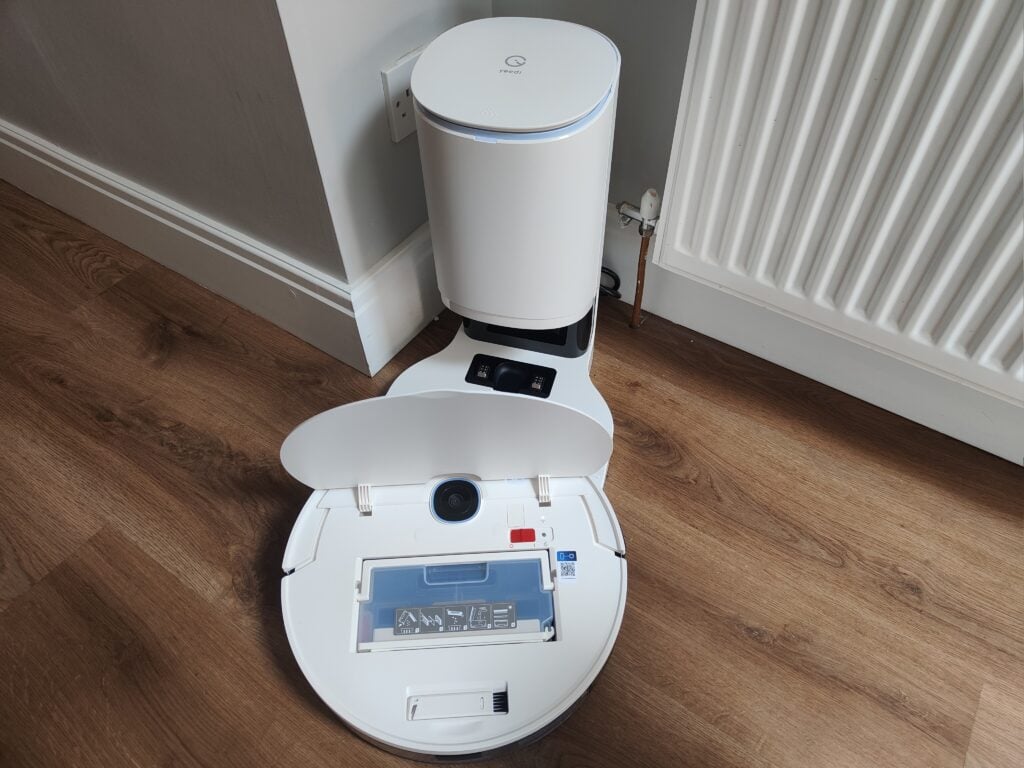 I have a mixture of carpet and hardwood. Within the settings, you can have the vacuum auto boost when it detects carpet. When boost mode is activated on carpets, it can be quite loud, but I am not too concerned about this, I'd sooner have a superior clean than a quieter robot.
You also have the option for mopping with a decent sized water container. I didn't end up testing this part, as the station died before I could test it.
Within the app, you get a usage report on all the various parts such as the brush and heap filter.
Price and Alternative Options
The Yeedi Vac Station will be on sale for $499 with a $100 early bird voucher available.
I recently did a post covering the best smart mapping robot vacuums. In that post, I identified the Proscenic M7 PRO with its optional automatic station as being the most affordable option on the market (from a semi-known brand). It is £399 for the vacuum then another £79 for the station, so £478 in total.
Ecovacs are a bit more of a reputable brand, and their Ecovacs DEEBOT N8+ is currently available on Amazon for £509.99
The cheapest iRobot Roomba with mapping and auto-emptying is the i7558 which will set you back £799
Overall
I have wanted to try a smart mapping robotic vacuum for a while now, and Yeedi Vac Station met my expectations. It successfully cleaned my entire downstairs without getting stuck or lost. During the few times I used it, it cleaned up a disturbing amount of dirt, making me realise I need to vacuum more often.
It has completely converted me to the idea of mapping a robotic vacuum it just saves a huge amount of time.
Sadly, the actual auto emptying station was a complete failure for me. This is almost certainly due to the difference in voltages. I am hoping to get a new Vac Station so I can finalise the review, though from what I have seen so far, I am sure it will be great.