The latest gaming phone from Xiaomi's gaming sub-brand Black Shark is expected to launch imminently and the new device has popped up on the Geekbench benchmark database.
So far the phone has popped up multiple times with the first appearance on Geekbench as "Blackshark Skywalker" with Snapdragon 855 chipset and 8GB of RAM.
The new "Black Shark AAA" Geekbench listing confirms the smartphone will be powered by Qualcomm's latest Snapdragon 855 chipset and this model is equipped with 12GB of RAM. With several other phones now featuring 12GB of RAM it was expected that this would also feature a 12GB option.
Beyond these specs not much is know about the phone. The most recent Black Shark Helo had a 6.01 inch 1080 x 2160 pixel display, with a dual rear camera and 4000 mAh battery so it is expected that the new model will match or better this.
Xiaomi has so far confirmed that the upcoming smartphone will feature new liquid cooling technology dubbed Liquid Cool 3.0. This appears to help with the performance, keeping the Snapdragon 855 cool and avoiding thermal throttling.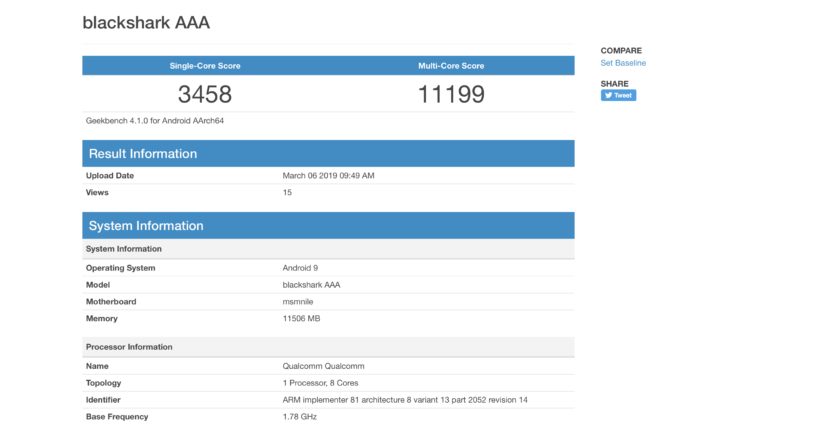 The smartphone was put through multiple tests and achieved between 3458 and 3542 points in the single-core test and between 11199 and 11413 points in the multi-core test. For reference, the 8GB RAM variant of the Black Shark 2 caught on Geekbench a few weeks back had scored 3,494 points in the single-core test and 11,149 points in the multi-core test. In terms of software, the Geekbench listing confirms the smartphone will launch with the latest Android Pie operating system.
With this being an development device it is possible that these score will improve further when it is released.
The Xiaomi Black Shark phone was first launched in China in April 2018 followed by its debut in the UK and Europe in November 2018. This was then followed up with the launch of Black Shark Helo smartphone in October 2018 with improved specifications.