Running a small business can be difficult sometimes, not only are you required to be good at your chosen profession but you need to handle all the other aspects of businesses, especially accounting. Thankfully, with the growth of cloud-based computing, a lot of these issues are made a lot easier. Accounting was always a troubling aspect of my business, raising invoices, chasing them up, keeping track of who has paid then at the end of the year providing concise reports for my accountant.
A lot of the accounting difficulties were alleviated when I signed up to Freshbooks many years ago. Everything was online, automated reminders would go out, it was easy to add payment details to each invoice and eventually they allowed my clients to pay online.
In recent years, though, I feel the system has been lagging in comparison to newer companies that have launched, or older companies that have adjusted to the cloud-based software as a service (SAAS) model.
One of those companies is Xero, who are actually one of the older and larger companies in the SAAS cloud based market. Launched based in 2006, the same year Freshbooks was technically launched, it has 1450 employees with its primary market being New Zealand and the US, however, they also have a large market presence in the UK now too.
One of the issues with Freshbooks is that it is quite limited in functionality, it does basic invoicing, takes payments online, and focuses quite heavily on time tracking. What I needed is something that improved the quality of my accounts, and this is where Xero came in.
For me the biggest selling point of Xero is the automatic bank reconciliation, you can import all you bank transactions then mark them up into categories and attach them to invoices within Xero. This massively simplifies my life, my poor accountants who have to deal with my mess of yearly reports. I also particularly liked the chart of accounts where you can get a breakdown of total cost or revenue from each category. Hopefully, it will allow me to trim some of the fat from the company bills in the coming months as I can see more clearly what I am wasting money on.
Another area I am slack on, to my own downfall, is tracking personal expenses, so many times I buy things out of my own pocket and just accept it rather than run it through the company. This is a thing of the past now with Xero, you can use their App to take photos of receipts and keep track of all your small expenses.
At the moment I don't have anyone on my payroll, but I have in the past, and Xero also accommodate this too, they have fully compliant RTI reporting to HMRC, auto-enrolment for the pension scheme of your choice, manage holidays, create P45s and P60s.
I am also not currently VAT registered, but I have been in the past, and plan to soon, and filing VAT returns was a pain. So thankfully Xero have this functionality built in, allowing you to file your returns online. With the bank reconciliation and expensive tracking, I imagine this should now be an extremely easy process.
Similar to Freshbooks, you can take payments online, this can be handled by multiple providers but the stand out ones for me are Braintree, GoCardless, Paypal and Stripe. I love how user-friendly and easy to setup strip is but Braintree has a fantastic offer on allowing you to process $50K before they start charging you.
In terms of usability, Xero doesn't have quite as nice interface as Freshbooks. I would say it is slightly more complex, but that is partly due to it offering quite a lot more functionality, and it is not enough to be off-putting in the slightest.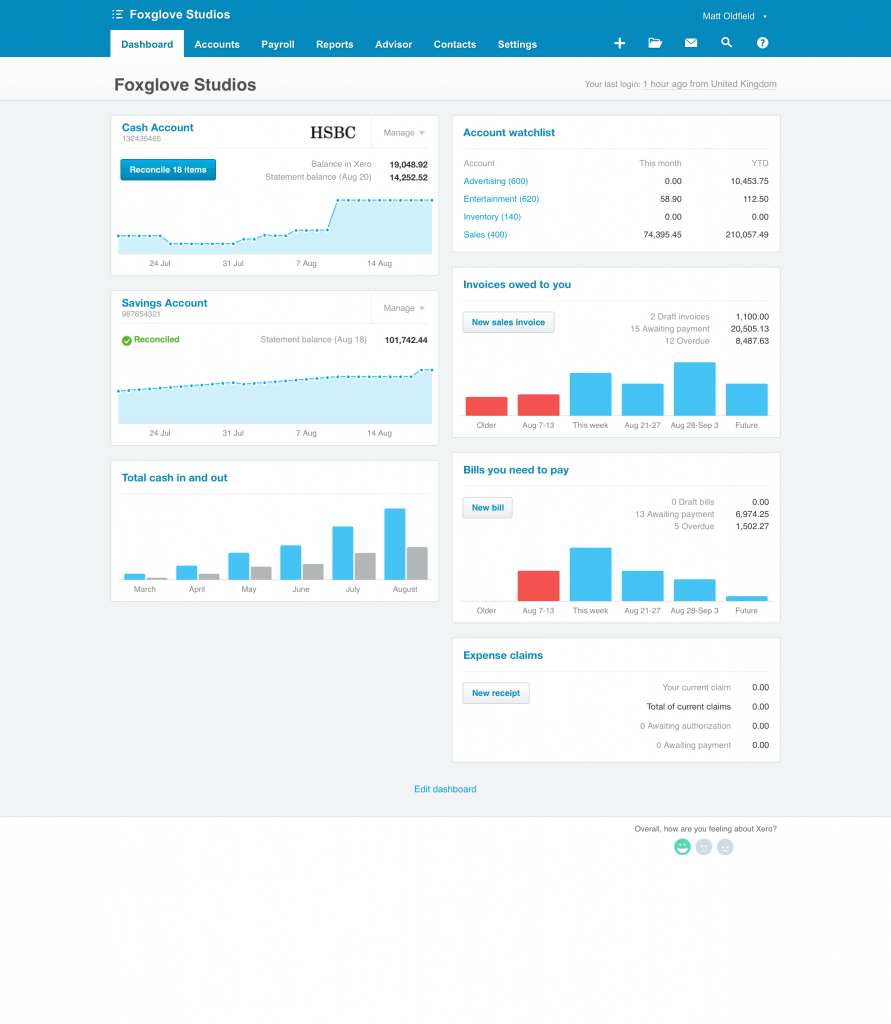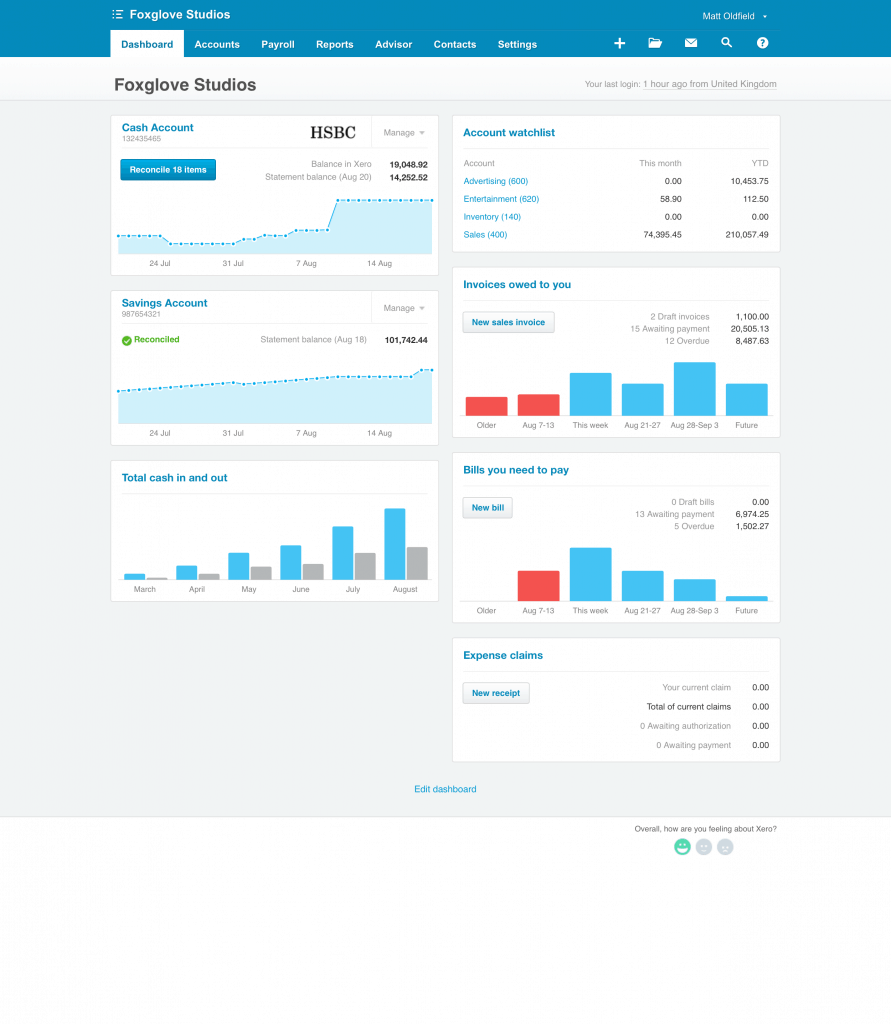 Xero provides 24/7/365 support via email, but during my time trialling it I had no need to contact them. From my research online the general opinion appears to be that support is excellent.
Freshbooks isn't the only competitor in this space, though, in fact, it is a bit of a saturated market.  During my research into accounting software, the other 2 stand out options are Free Agent and Kashflow both of which offer similar functionality too Sage but with added tax options. Kashflow works out cheapest. Free Agent is more expensive (by quite a bit) but can also handle self-assessments and corporation tax. I did try Free Agent in the past and wasn't overly fond of its usability, plus the monthly price is a bit steep.
Overall Xero is an excellent online accounting service, it is competitively priced, offers excellent features and has one of the largest user bases on the market, which provides a bit of security about its future.