In an interesting turn of events, Realme will be going all-in on 5G in China for 2020. They will not release any new phones that are 4G only.
This decision was disclosed by Realme's CEO/Founder, Sky Li, via Weibo.
While this is a feasible move in the mid to upper end of the market, by using the Qualcomm Snapdragon 735 and SD865, it will be interesting to see how they approach the problem with the more affordable end of the market.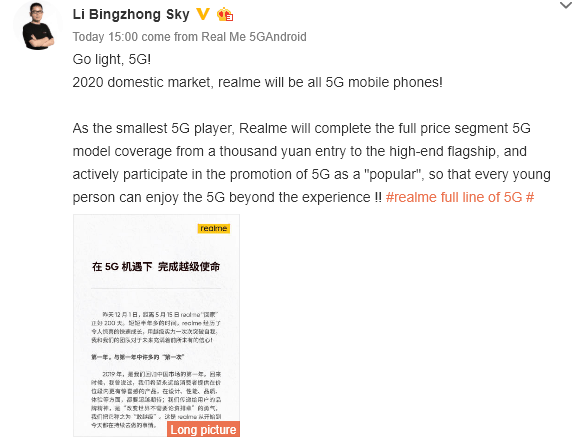 Mediatek has the MT6873 which it plans to ship to Huawei and this could end up being the de facto affordable 5G chipsets for 2020. While Mediatek has revealed details about the Dimensity 1000 5G, little is known about the MT6873.
The plan, according to the CEO, is to help make 5G phones more popular and accessible to young persons. The Realme X50 and X50 Youth Edition are due to be launched soon in China.
It is expected that Realme will continue to launch 4G devices in the rest of the world markets.