WWDC is more about software than hardware, but it often includes some new releases, last year there were several announcements with the 10.5in iPad Pro, iMac improvements and the HomePod. This year then felt a bit underwhelming as we saw no such releases, it was all about the software.
iOS12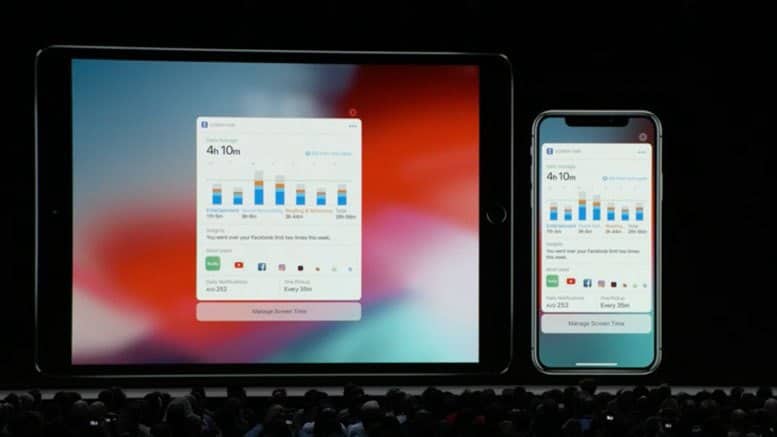 The biggest news as always is the latest version of iOS named iOS 12. Arguably the most important part of this version of iOS is the speed upgrades. Apple says iOS 12 will significantly speed up older phones. Including devices released all the way back in 2013. For example, Apple says that the camera on the iPhone 6 Plus (released in 2014) will open as much as 70 percent faster from the lock screen. Apps launch up to 40 percent faster, while the keyboard appears up to 50 percent faster. And while older phones will benefit from this, newer devices should also feel snappier.
The new buzzword of late is digital health, we all spend too much time on our phones, and we should dial it down. Google has already announced ways to optionally track and limit our use of phones, and no Apple is following suit.  Grouped notifications will hopefully be less distracting, parents can limit their kids' screen time, usage reports will show how you're wasting your time, and you can set limits for those apps so you get notifications when it's time to log off Facebook already.
FaceTime is getting its biggest upgrade in years: It will support group calls with up to 32 participants. The video-calling service is also integrated into the Messages app. From a group chat, one tap can launch a FaceTime with all participants. Naturally, group calling will also work in the FaceTime app for macOS. I can't think of anything worse than a 32 user FaceTime, but I guess I can see the appeal in MacOS for conference calls.
Siri is getting a large upgrade in iOS 12. Siri Shortcuts are a way to build custom workflows that incorporate multiple apps, letting you carry out multiple actions with a short command. For example, you can set a "driving home" action that'll text your partner, pull up directions, adjust your thermostat at home and play your favourite podcast. These shortcuts work with both first- and third-party apps.
A major improvement to CarPlay will allow 3rd party support, so you can use Waze and Google Maps. Something that probably should have been included in the first place.
WatchOS 5

Nothing radical with the new WatchOS 5, there is a new WalkieTalkie feature which allows you to add a contact then the two of you can voice chat just by tapping a "talk" button and speaking into your watch. The receiver is alerted by a vibration and audio alert, and the message comes right in.
The PodCast app has had a major upgrade allowing it to work similar to music, where you can sync and stream phone free.
It will soon be able to recognize when you've started a workout, even if you forgot to track the activity yourself. And it'll also be able to tell when you've finished and ended the workout if you're really forgetful. Users can also challenge their friends to weekly contests to see who can close their rings the most.
tvOS
Again not much noteworthy with tvOS apart from two key points. First, they are introducing a zero sign-in feature that aims to take the frustration out of logging into apps, how this works exactly is unclear just yet, but it appears to detect  your service provider based on the network it is connected to, and it'll then sign in to all TV apps that you have access to without you needing to do anything.
The set-top box will soon support Dolby Atmos audio which is great news for AV enthusiasts, and any media that you have purchased will be automatically upgraded to Atmos. These free upgrades are something Google and Amazon should take note of.