Wharfedale Exson S Review Score
Summary
An excellent portable Bluetooth speaker that is worth your consideration,
I was previously very impressed with the Wharfedale Exson M its affordable price and big sound won me over. The Exson S is its smaller brother but actually costs more, it is a more convenient size being more bag friendly and the design is a bit more appealing.
Specification
| Model: | Exson S |
| --- | --- |
| Waterproof: | IPX7 (up to 30 mins – 1 meter) |
| DSP | Maxx Bass |
| TWS: | True Wireless Stereo Connection |
| Bluetooth: | BT4.2 |
| Input: | 3.5mm Audio Cable Input |
| Power: | 20W (10W x 2) |
| Power Input: | DC5V⎓1A~3A |
| Power Output: | DC5V⎓1A |
| Battery: | 2 x 2500mAH |
| Dimensions: | 218 x 86 x 86mm |
| Weight: | 0.715kg |
Being smaller you do sacrifice a few things which includes the camping light, and reduced power output down from 25W to 20W.
The rest of the specification and features remains largely the same, which is also true for most Bluetooth speakers. The built-in 2500mAh lithium battery is charged via USB-C and can provide 8 hours of music, the speaker has a USB type A out allowing you to charge up your phone or other USB devices.
You connect to the speaker using either Bluetooth 4.2 or optionally via the 3.5 aux jack. It is also possible to pair two speakers together for improved audio over stereo.
Just like the Exson M this is IPX7 waterproof giving you full protection from dropping it in water as well as dust or sand proof.
Similar to many speakers nowadays, this has a tubular shape with the ends being dedicated to the bass drivers. The flat bottom means you can position this horizontally or vertically, though when it is stood up you will be muffling one of the bass drivers.
The appeal of this over the more affordable Exson M will be portability, it is considerably smaller and weighs just 721g vs 1.2kg of the Exson M.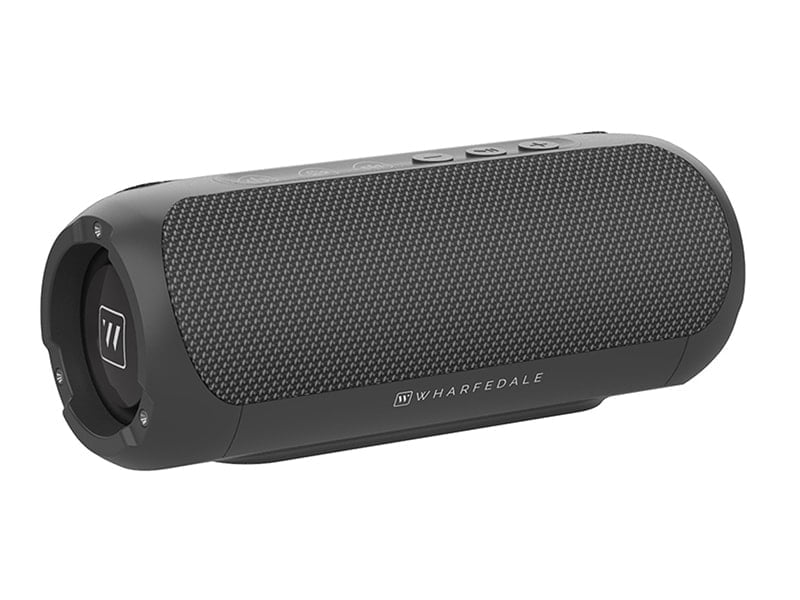 Sound Quality
The smaller size and lower power rating make this speaker better suited for use at lower volumes. It can still go loud, but like all smaller speakers it will start to struggle the louder you go.
Turning up the volume to max and I was surprised how well it handled the bass still, being quite pronounced, it obviously can't compete with a larger speaker or a sub but it is excellent. However, the high volumes tend to introduce a bit of harshness for the higher pitches.
As far as Bluetooth speakers go at this size the overall sound quality is excellent though offering comparable quality to the excellent and more expensive Anker Soundcore Flare+.
Price and Competition
At £75 this faces stiff competition against many other similar specced speakers such as:
Anker Soundcore Motion+ – £69.99
Ultimate Ears BOOM 3 – £83.69
JBL Flip 4 – £79.95
Sony SRS-XB31 – £92.49
Denon DSB-50BT – £72.02
Then there are the hundreds of other no-name brands coming in at lower price points
Overall
As you would expect from Wharfedale, this is a superb speaker, providing excellent audio quality in a small package.
While I think it is a reasonable price, the higher price point compared to the Exson M, and the saturated market makes this a little more difficult to stand out from the crowd, unlike its bigger brother.
Last update on 2022-07-24 / Affiliate links / Images from Amazon Product Advertising API