Thermaltake Toughram 16GB (2x8GB) DDR4 4000Mhz C19 Memory Review Rating
Summary
While I wasn't able to achieve the stated speeds due to limitations of my motherboards, it is hard to fault this RAM, it is affordable, looks amazing and even with my limited ability to test it offered significant performance gains over 3000Mhz RAM.
Thermaltake don't just make cases and CPU coolers, they have been making desktop memory for a while now, and in typical Thermaltake fashion, they do things a little more elaborately than the rest.
The Toughram range sits in their mainstream range of memory, though it looks anything but mainstream with the huge heavy heatsinks. You can they go a little fancier with RGB memory and then they even go as far as liquid-cooled RGB memory.
The 16GB 4000Mhz sample I have been sent is much more affordable than I was expecting costing just over £100 on Ebuyer, though they only have white in stock.
You can go all the way up to RGB 4400MHz and this only costs £127 for 16GB.
Specification
Capacity – 16GB Kit (8G x2)
Latency – 19
Voltage- 1.35 V
Speed – 4000 MHz
Compatibility – Intel X299 , Z390, AMD X570
Module Type – DIMM
Performance Profile – XMP 2.0 Ready
Colour – Black
Warranty – Limited Lifetime Warranty
Pictures
Desktop Specification
I don't exactly have a high-end gaming desktop, but it is adequate for my needs, a GPU upgrade is on the cards this year though.
My existing Corsair RAM runs at 3000Mhz
Asus X470-F Gaming
Zotac GTX 1070
32GB (2x16GB) Corsair LPX 3000Mhz DDR4 RAM
Due to the issues I had with trying to hit 4000Mhz I also tested this on my partners PC but this was also limited to 3600Mhz on the motherboard. Her specs are:
Ryzen 5 2600X
Gigabyte B450 Aurus Pro
AMD RX 580 8GB
32GB (2x16GB) Corsair LPX 3000Mhz DDR4 RAM
Install
As you can see from the pictures, the heavy metal heatsink sits quite high up from the PCB, which looks like it adds about 14mm of height to the RAM, which will likely cause clearance issues with large air fans. With a weight of just shy of 100g per stick, this is some weighty RAM, though that shouldn't affect your install.
As I a have a Thermaltake AIO on my main PC, I had no clearance issues, and therefore the physical installation was easy.
However, getting the PC to boot using the 4000Mhz profile was less successful. It turns out the Asus X470-F is only compatible up to 3600Mhz, so when I first installed the RAM I was unable to post at all.
I Updated the BIOS with the hope that would improve things, but no luck.
I dialled back the settings, getting it to work fine at 3600Mhz and slowly working my way up to 3933Mhz with the PC booting. Unfortunately, I didn't make much progress and only managed to achieve 3666Mhz in the end, I will take what I can get though.
I experimented with lowering the timings and also increasing the voltage slightly. With a lower frequency but improved timings, I got the PC to boot, but it was not stable. At higher voltages I got the PC to post by Windows went into recovery mode.
With enough experimentation, I am sure it would be possible to achieve better results than myself. Ideally, your motherboard will be compatible with 4000Mhz RAM in the first place.
The Kingston HyperX Fury I previously had two DOCP profiles, one with lower frequencies and tighter timings. This RAM does not, which is a shame as it would have made things easier, though I guess people buying 4000Mhz RAM are looking for something quite specific.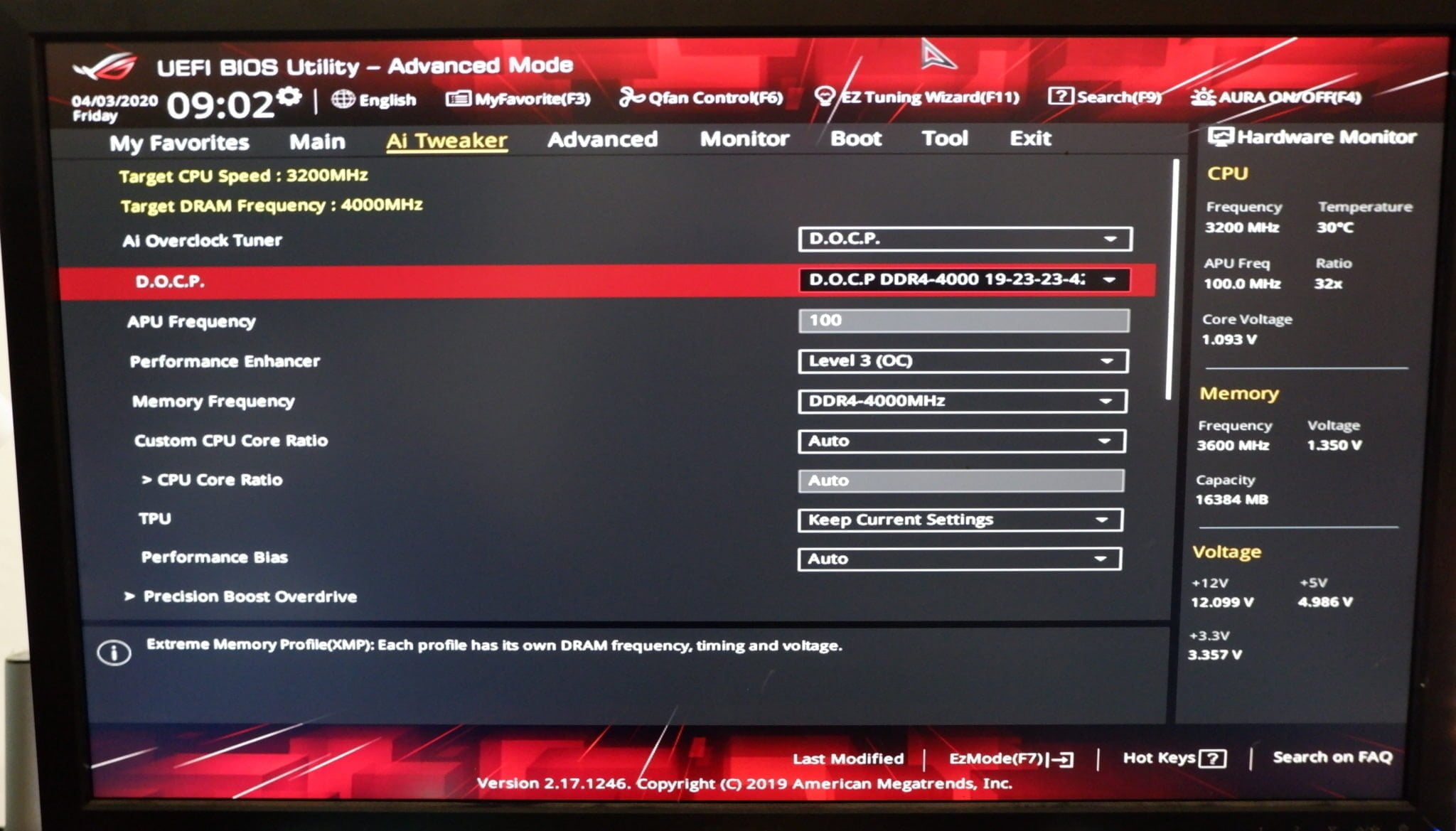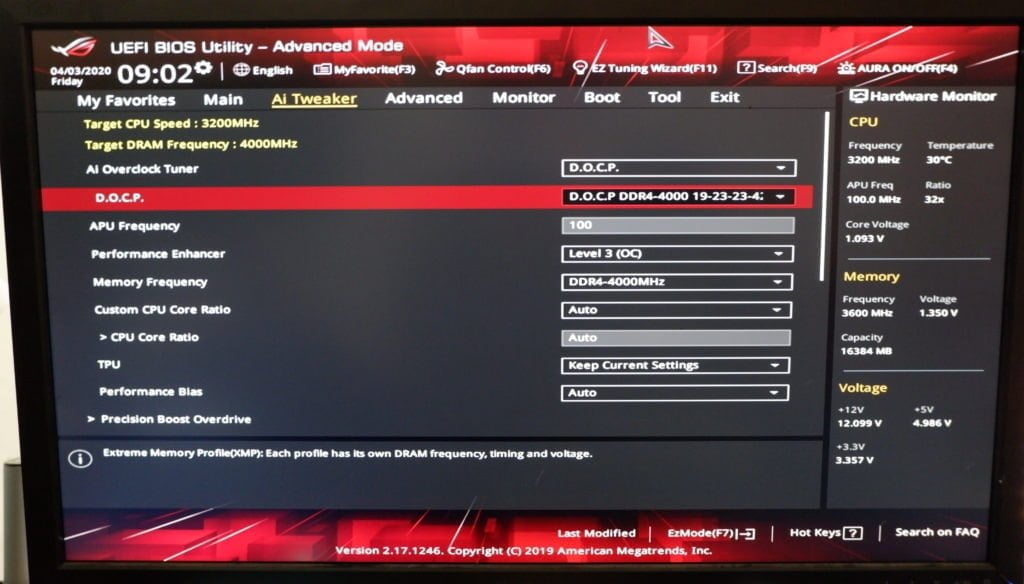 Benchmarks
Due to the issues I faced, the benchmarks will not be representative of the full performance you will achieve if you put this in a motherboard that can handle 4000Mhz.
MaxxMem shows a 7.5% improvement overall with almost 9% improvement in read speed and a 13% in copy. Latancy also dropped by 8%
Similarily there is a 4% improvement in the memory mark test.
3000Mhz
Thermaltake Toughram
Running at 3666MMhz
% Difference
Read
42302
54999
30%
Write
41176
53996
31%
Copy
39521
48403
22%
Latency
73.8
66.2
-10%
The difference is much more pronounced in the AIDA64 benchmark with the Thermaltake RAM seeing over 30% gains in read and write speeds and a 10% drop in latency.
Price and Competition
Comparing RAM prices is quite difficult, not only do you have different capacities and speeds, but the timing varies between brands, so an exact match can sometimes be impossible.
In this case, the Thermaltake Toughram 16GB (2x8GB) running at 4000Mhz with timings of 19-23-23-42 is available from Ebuyer for £100.50 – At the time of writing, I can only find the white colour option available, if you have a system that suits this colour it would look amazing.
Ebuyer has just four other 16GB kits running at 4000Mhz, and the Toughram is comfortably the most affordable of the bunch, but it does have slightly worse timings.
Going up a step in frequencies there is some Patriot Viper Steel running at 4400MHz for £130 or 8Pack Team Group 4133Mhz for £120.
Thermaltake themselves have multiple options around this price, If you can only do 3600Mhz they have RGB Toughram for just £90 and 4400Mhz kits are just £123 or £127 with RGB.
Overall
Things didn't go accordingly to plan, but this is largely my fault for not confirming the frequencies with Thermaltake.
While I only managed to get the RAM to a reasonably standard 3600Mhz, there were significant improvements in the performance compared to my corsair RAM.
Assuming your motherboard can run this RAM and you have enough clearance if you plan to run four sticks I would say it is a superb choice based on pricing. Bog standard Corsair Vengeance 3000Mhz is £75, and 3600Mhz sticks are getting close to the same price as this.
Most of the other 4000Mhz options have better timings, but there is a significant difference in price, being at least 20% more expensive.
Depending on the timings of the RGB model, it could be worth considering that over this as it is only £7.55 more. Though this depends on how you feel about RGB in the first place.
Aesthetically, I think the Toughram style is the best on the market, I love the chunky angular heatsinks giving smart clean lines.