Yesterday, Samsung announced their latest Galaxy Watch4 Series, and it is likely the most significant smartwatch launch of the year, quite likely years.
Samsung has now teamed up with Google. They are moving away from Tizen and committing to Wear OS. This appears to be more than Samsung just moving to Wear OS, it has been implied that Samsung is collaborating with Google in the development of Wear OS. Google also completed their Fitbit acquisition back in January, and future Fitbit watches will use Wear OS. More importantly, it is likely that a lot of features that Samsung and Fitbit had within their OS may now get rolled into Wear OS. So, things are finally looking up for Wear OS, which has been floundering for the past few years.
One of the benefits of Samsung moving to Wear OS is that we now have a second chipset manufacture for Wear OS devices. Samsung announced the Exynos W920, which should offer significant performance improvements from the previous generation and hopefully make Qualcomm try a little harder with their wearable chipsets.
While we don't know everything about the watch yet, it has some very impressive features that outclass the likes of the Apple Watch 6 and makes the Fitbit Sense look a bit redundant.
I know that comparing the Samsung Galaxy Watch4 to the Apple Watch is moot. If you have an iPhone you will only ever want the Apple watch. However, it is exciting to see that Android users like myself now have a good smartwatch option.
Pre-order now from Amazon
[amalinkspro type="showcase" asin="B094R7D5VP" apilink="https://www.amazon.co.uk/dp/B094R7D5VP?tag=mighgadg-21&linkCode=osi&th=1&psc=1″ new-window="true" addtocart="false" nofollow="true" sc-id="6″ img-sizes="500:500″ imgs="https://m.media-amazon.com/images/I/31YGwOa1jWL._SL500_.jpg" link-imgs="false" specs="Get to know your body – Track your fitness progress with our first smartwatch that conveniently measures body composition." btn-color="#ff9900″ btn-text="Buy on Amazon" alignment="aligncenter" hide-prime="0″ hide-image="0″ hide-price="0″ hide-button="0″ width="600″]Samsung Galaxy Watch4 Smart Watch, Health Monitoring, Fitness Tracker, Long Lasting Battery, Bluetooth, 40 mm, Silver (UK Version)[/amalinkspro]
Galaxy Watch4 vs Apple Watch 6 vs Fitbit Sense Display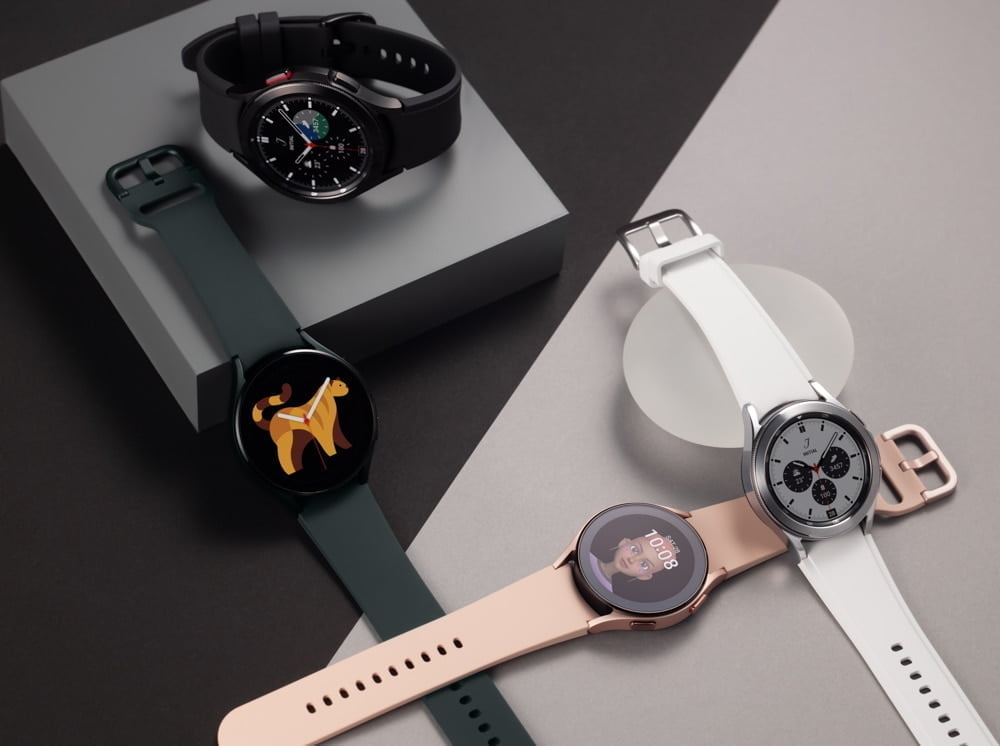 The 44mm Samsung watch has:
1.4″ (34.6mm) Circular Super AMOLED (450×450)
Full Color Always On Display
Corning® Gorilla® Glass DX+
While the 40mm has:
1.2″ (30.4mm) Circular Super AMOLED (396×396)
Full Color Always On Display
Corning® Gorilla® Glass DX+
The 44mm Apple Watch 6 has
368×448 pixels
977 sq mm display area
Always on
1000 nits brightness
While the 40mm has
324×394 pixels
759 sq mm display area
Always on
1000 nits brightness
The Fitbit sense has 1.58-inch OLED (336 x 336 pixels) display.
Apps
Apple will almost certainly be the winner as far as the availability of apps and quality of apps go.
However, Samsung will now have a vastly superior choice of apps compared to previous Tizen based watches. I have generally been quite happy with what apps are available on Wear OS, it has all the important stuff. I suspect app development may pick up now Samsung are on board with the ecosystem.
Fitbit does have some apps, but it is very limited, and to be fair to them, it is a lot more than I realised. It looks like there are around 870 apps in total. I can't find numbers for Apple or Google, but it is too many to count.
Health Features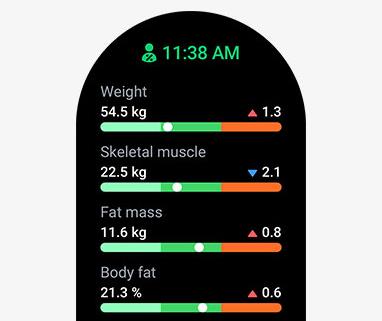 Samsung has introduced what they call a BioActive Sensor, and it sounds very impressive.
The Samsung BioActive Sensor that measures ECG and blood pressure in real-time. After initial calibration, the sensors quickly check your blood pressure. You can also check abnormal heart rate and rhythm through ECG and send data straight to your phone to be easily shared.
It can also do body composition, similar to how body fat scales work. All these features put it ahead of both Fitbit and Apple, in my opinion.
The Fitbit Sense does have some nice features, though. They have ECG, skin temperature, and an EDA Scan app that detects electrodermal activity—which may indicate your body's response to stress—and reveals a graph in the Fitbit app to illuminate it.
Apple has ECG, too. Then the other heart-related features such as SPO2, though I can't see heart rate variability on the list.
All three watches will do all the other main health tracking functions, including:
Sleep tracking (how good each watch performs is another question)
All-day heart rate
Step counting
Calories
Fitness Features
Many of the fitness tracking features between the three watches will be similar, if not the same. They all have GPS+GLONASS and wrist-based optical heart rate sensors. Both Samsung and Apple have a compass.
A lot of the fitness tracking features comes from apps, and it is likely that Samsung and Apple will be comparable, more or less.
Pairing up with sensors is when things get more complex, the watches don't natively support things like a heart rate monitor, but apps do enable this, and Apple wins for this functionality, as far as I know.
Connectivity
Both Samsung and Apple have options for Bluetooth and 4G/LTE
They also have WiFi and NFC.
The Fitbit sense has Bluetooth, WiFi and NFC. The NFC payments option will be a little more restrictive than Wear OS or Apple.
Galaxy Watch4 vs Apple Watch 6 vs Fitbit Sense Battery
Without a doubt, the biggest question I have is how good the battery is? Google has promised improved battery performance from Wear OS, and the new Samsung Exynos W920 should hopefully be more power-efficient than the Qualcomm alternative. Samsung Tizen watches historically lasted longer than Wear OS, but will this translate to the new Samsung Wear OS watches?
Samsung claims a battery life of up to 40 hours. This is not that great. The Suunto 7 claims 48 hours of smartwatch use or up to 12 hours in GPS tracking mode, but in reality, it is much shorter.
However, if Samsung meets that target under realistic normal use, then it should be OK and potentially much better than Apple.
Apple is surprisingly honest about their battery performance, they don't state the best possible performance but an actual realistic time. This is 18 hours with the following use: 90 time checks, 90 notifications, 45 minutes of app use, and a 60-minute workout with music playback from Apple Watch via Bluetooth, over the course of 18 hours. In reality, many reviewers claimed it could last up to 36 hours of light use.
The Fitbit Sense, with its more restrictive operating system, can achieve up to six days of battery life on a charge, or 12 hours with continuous GPS on. Most people can get over 2 days use with it.
For what it is worth, the Huawei Watch 3 claims 3-days battery and can achieve two days quite easily, so this looks like the best option for a (proper) smartwatch for battery performance, it just needs more apps.
Price
The Samsung Galaxy Watch4 comes in two models with options for 4G and two different sizes.
You can pre-order now and the watches are released on 27th of August 2021. The blue links are affiliate links to the Amazon page.
The Samsung Galaxy Watch4 is:
The Samsung Galaxy Watch4 Classic (with rotating bezel) is:
The Apple Watch Series 6 starts at £379 and goes up to £509. There is an affordable Apple Watch SE which starts at £269
The Fitbit Sense is £255
Overall
The Samsung Galaxy Watch4 and Galaxy Watch4 Classic are, without a doubt, going to be the best Wear OS watches for the foreseeable future. Not only will they be great Wear OS watches but they also appear to finally offer decent competition to the Apple Watch. Obviously, it is unlikely that an Apple user will switch to Android just for this but it is great to see that smartwatches for Android users are about to get much better.