Recently Realme launched their new Realme X3 SuperZoom which is the most affordable phone ever to launch with a 5x periscope zoom. During my review, I found that the camera was capable of producing some excellent shots, beating my Huawei P30 Pro in some scenarios.
However, with the phone having similar specs to last years Realme X2 Pro and the additional SuperZoom it meant the phone landed at an awkward price sitting in the middle of the X2 Pro and the flagship Realme X50 Pro.
Recently the standard Realme X3 has been spotted on the Google Play Console revealing key specs about the phone.
Realme X3 vs Realme X3 SuperZoom Specifications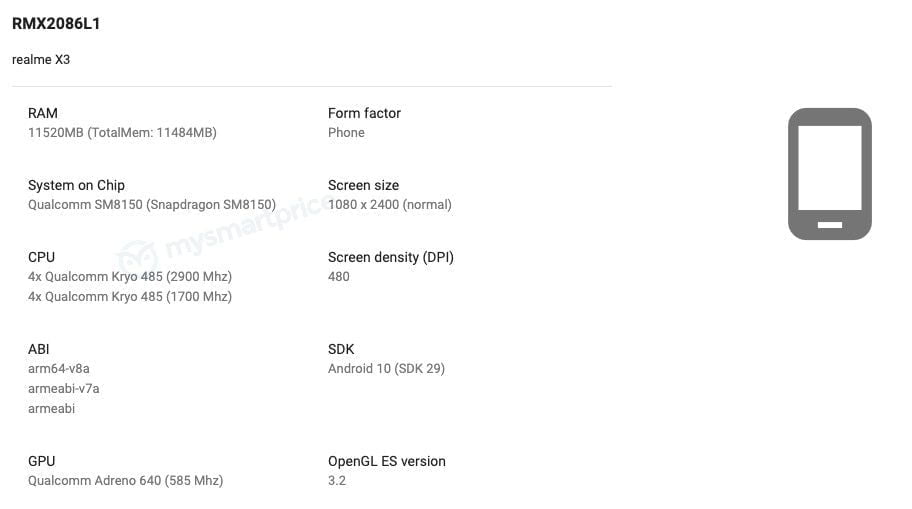 This phone will be almost identical to the SuperZoom using the same Qualcomm Snapdragon 855+ chipset and 120Hz IPS display running at 2400×1080 as well as the same 4200mAh and 30W dart flash charge.
The main differences will be the camera, the 8MP periscope lens will get swapped out to a 12MP 2x telephoto lens (likely the same as the X2 Pro) and the front camera will drop down to 16MP for its primary lens while retaining the 8MP ultrawide.
The Google Play Console listing shows the phone with 8GB of RAM but @stufflistings on Twitter states the phone will be available with options starting at 6GB/64GB.


Realme X3 vs Realme X2 Pro
The SuperZoom wasn't that different from the X2 Pro, so when you take away that zoom lens, what is different between the standard X3 and X2 Pro?
Not a great deal, that's what.
The main thing is that the display is different, swapping out the 90hz AMOLED panel for a 120Hz IPS display. You then get a dual punch-hole selfie vs a single 16MP dewdrop notch.
Battery size goes up by 200mAH to 4200mAh but the charge speed drops from 50W to 30W.
It is also worth noting that the X2 Pro had a 3.5mm headphone jack, while the X3 and SuperZoom do not.
It is likely that the base model X3 will UFS 3.0 for its storage, but the cheapest X2 Pro use UFS2.1.
Realme X3 5G
The above X3 will not have 5G but it has been widely rumoured that there will be a 5G Realme X3 and this was expected to use the Snapdragon 765G. However, it currently looks like this was not the case and the rumoured 5G phone turned out to me the Realme X50m
Realme X3 Pricing
None of the above is much of a surprise, the big question that remains unanswered is what the price might be.
The Realme X3 SuperZoom with 12GB of RAM and 256GB storage is £469 / €499
The Realme X2 Pro has suspiciously dropped off from the Amazon listings but Realme still sell it for €499 with 12GB/256GB or €399 for the base model with 6GB/64GB. The 8GB/128GB was listed on Amazon for £399 recently.
Obviously, this will be cheaper than the SuperZoom but will they price it the same as the X2 Pro or above or below? With this being the successor to the Realme X2 (and not the X2 Pro) I would like to seem them price it lower than the X2 Pro, but I that maybe wishful thinking
Last update on 2022-05-19 / Affiliate links / Images from Amazon Product Advertising API