Realme have been expanding their affordable options away from just smartphones, like the superb Realme 6, and introduced their wearables to the UK market for the first time.
At just £50, the Realme Watch is the most affordable smartwatch on the market from a major brand offering a similar feature set to many fitness bands but with the benefit of a higher resolution display.
[toc]
Design & Features
Technically a feature watch (similar to Huawei and Honor)
1.4-inch colour touch screen at 320 x 320 pixels
24/7 heart rate monitor + in sport monitoring
High heart rate warning
blood oxygen saturation level (SpO2) monitor
14 sports modes including indoor and outdoor activities and strength training

Outdoor activities use assisted GPS (from your phone) for location.

No option to track swimming
Control other Realme smart products such as earphones, TV, speakers and more.
Music control
Smart notifications

Support for Call rejections, App notifications, weather forecasts, and more.

Move and hydration notifications

IP68 water-resistant
Sleep monitoring
Find your phone
Alarm
This is clearly an Apple Watch clone, but at a fraction of the price, which in turn means the overall look and feel is cheaper. It is not bad though, being well made for a £50 devices.
The display is mostly good, you get much more data, and it is easier to navigate than cheap band-style fitness trackers. There is no automatic brightness so you may have to set it depending on your environment manually.
My biggest gripe about the design is the strap, it doesn't have a loop to hold the strap down; instead, there is a hole where you tuck the strap under. While this may give a more aesthetic look, I found it to be awkward, especially when you try and tighten it for accurate heart rate readings during exercise.
Set-Up
Like most wearables nowadays, getting things set up with your phone is easy, you download the app, register the app, and go through the basic set up which including confirming the pairing request on the watch. I was all done within a few minutes. The Realme Link app also works with the Air Buds Neo, so you have all your wearable under one app.
Within the app you can enable features, change the clock face, as well as set up basic health goals and notifications. This is a feature watch, similar to Huawei/Honor, so you can't install apps or do much customisation (which keeps costs down and performance up).
SmartWatch Functions
I found this easier to navigate and access data than the band counterparts. Some of the functions you need to enable within the app such as music playback, find my phone and remote camera.
Notifications
Notifications worked well, the big difference here compared to bands is that you can read a lot more of the notification, then scroll to read the full message if needed. This then means I just need to glance at my watch and know if it is worth pulling my phone out or not.
Within the app, you can set what notifications come through, by default this is just SMS, but you then have the option to enable any individual app on your phone, allowing push notifications to come through. So, for example, I always enable Ring, allowing me to get doorbell notifications.
There is no way to respond to messages, but this feature has never really appealed to me.
Music Playback
Similar to most smartwatches, you have the option to control the music that is played on your phone, but there is no onboard music storage.
When using this with Spotify, it works well. I go out for a walk to get some fresh air most days, and it is handy to be able to skip a song without having to pull my phone out.
Fitness Tracking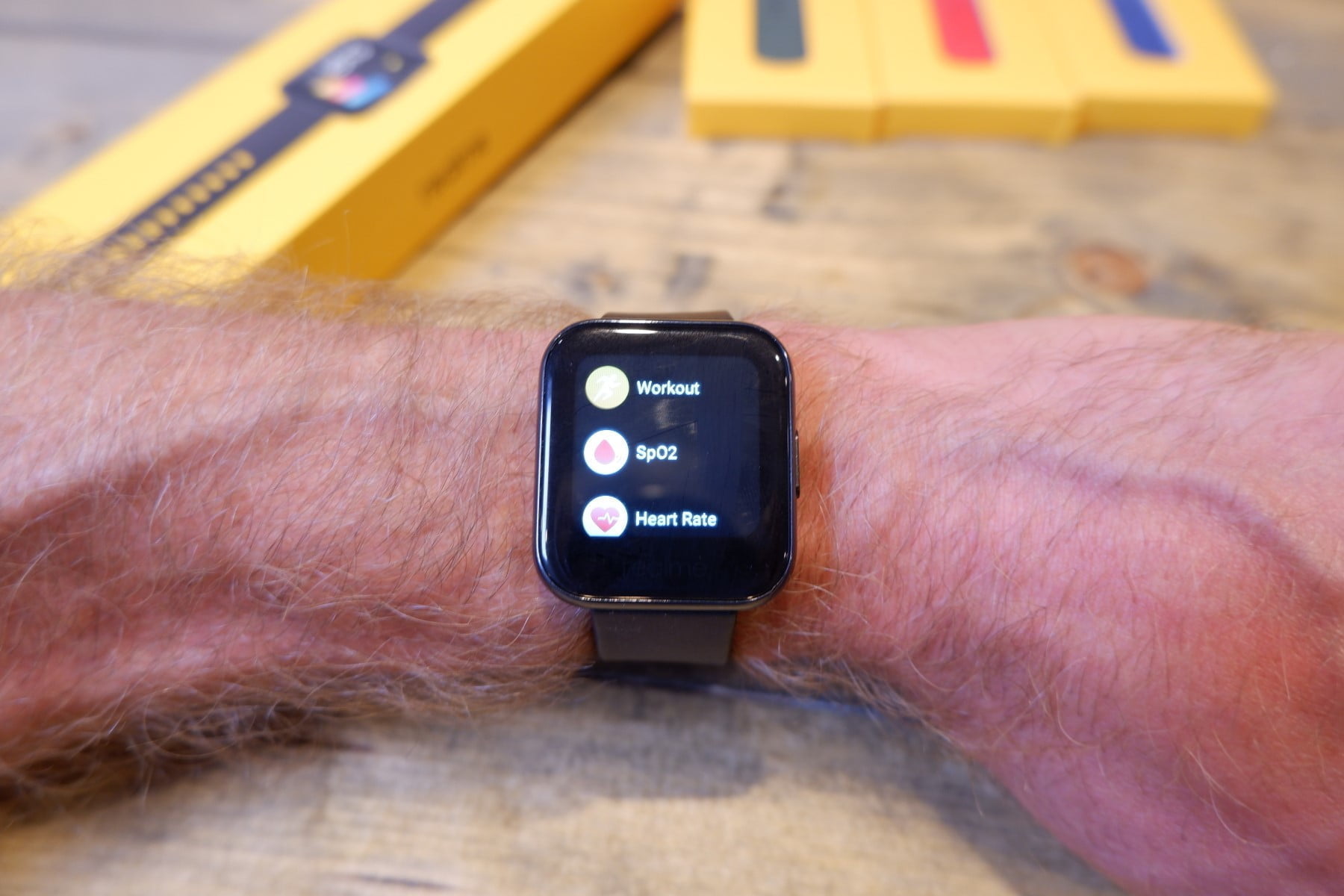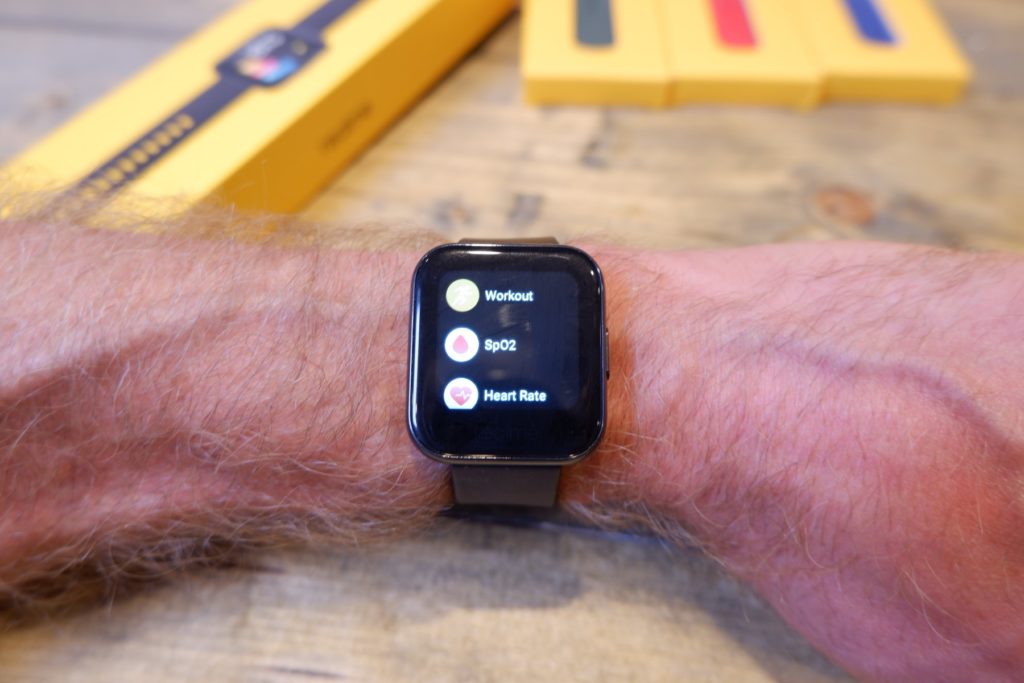 Outdoor running – Assisted GPS accuracy
When you go outdoors, the watch will use the GPS on your phone to be more accurate.
On my most recent run, tracking with the Garmin Fenix 6 Pro, I did 13.34 mi with a 8:06 min/mi pace and average heart rate of 144bpm with a max of 157bpm and a cadence of 168spm. I used the Garmin Dual chest strap for the HRM so we can assume this is the most accurate out of the two devices. Garmin also recorded 1597 calories burned
I left my Realme watch using metric so that would have worked out as about 5m/km and 21.47Km.
The Realme watch recorded 19.91km with a pace of 5m26s/km with an average heart rate of 146bpm and a calorie count of 1899 then a cadence of 175spm.
So not the most accurate and not something I would recommend for serious runners or cyclists, but for people getting into fitness it is acceptable.
Heart Rate Accuracy
For exercise it is so-so, you don't get a graph of your heart rate at the end of the activity, so it is impossible to see any spikes or troughs. Normally it is within a few beats per minute compared to my Garmin with a chest strap, and for people just getting into fitness, that is probably good enough.
Day to day tracking is about average, it will poll your HR every 5 minutes, but you can change that from 5 mins through to 30m or have it off. This will affect the battery life, but it is good enough you can leave it on 5m. You can also set up a high heart rate and low heart rate alerts. This will go off in exercise too.
Fitness Data Insights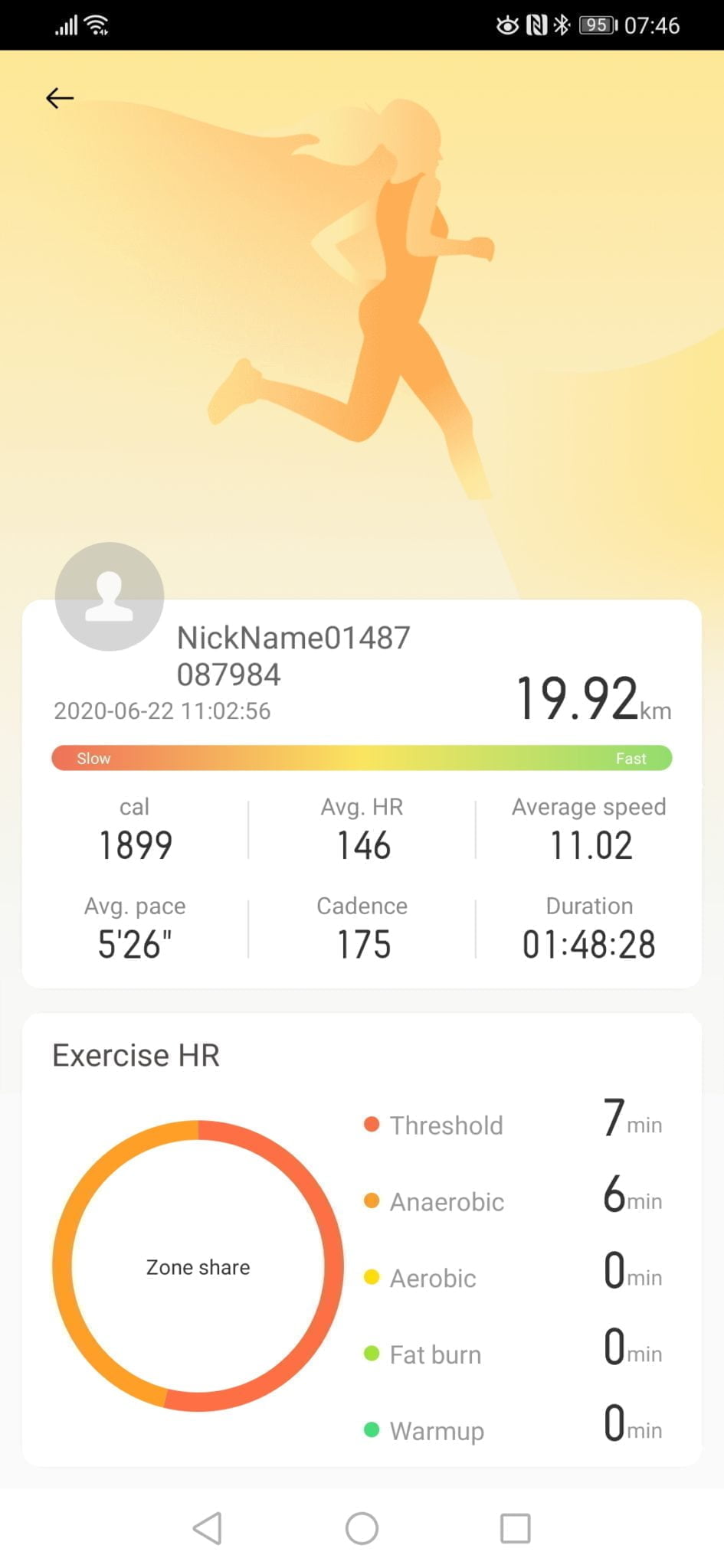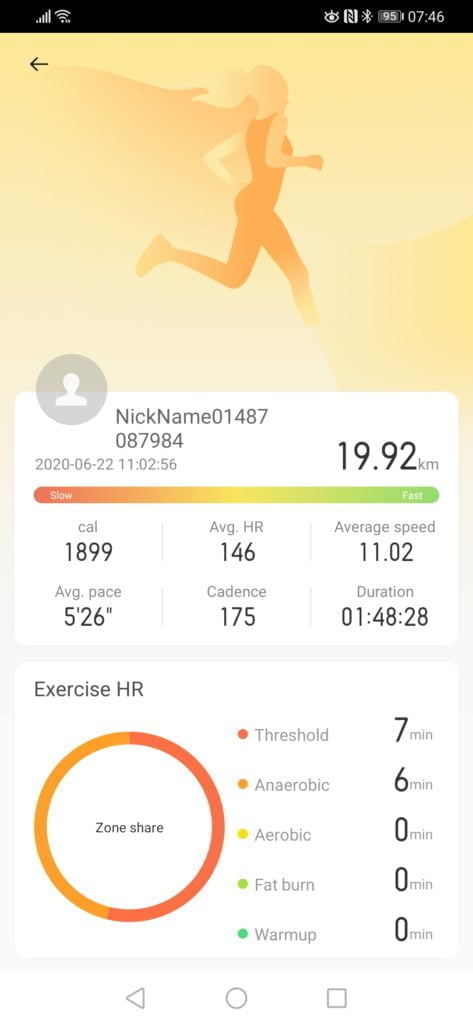 The data you get back is basic, admittedly, you might not expect much more than basic from a £50 watch, but the Honor band offers considerably better data.
There is no map, no max heart rate, or pace data. None of the data is made available in charts; you just get a static number at the end of your activity.
Data Export – Strava & Google Fit compatibility
There is none. At this price point, it is to be expected, but Realme has the opportunity to differentiate themselves from Huawei/Honor/Xiaomi by offering this sort of functionality.
Sleep Tracking
Sleep tracking data is better than the fitness tracking. It is not quite as good as Huawei, but it competes with Garmin, and I would say it is probably more accurate than Garmin too.
Similar to most sleep tracking devices, it intelligently identifies when you go to sleep when you wake up and the quality of your sleep broken down into deep, light, REM and awake times.
Unlike sports, you get a graph of you sleep heart rate, but no mention of lows, highs or averages, you just have to work it out from the graph
SpO2 Testing – A possible early COVID-19 diagnostic criteria
There has been a growing trend towards implementing SpO2 tests on fitness watches. The Garmin Fenix 6 has options for 24/7 or night time tracking, while more affordable options such as this and the Honor Band 5 have on-demand tests.
The Realme website seems to indicate 24/7 blood oxygen monitoring, giving you a long graph with parallels against professional devices. From my experience, this is on-demand only with no 24/7 option (unless I am missing something).
In the past, I have been a bit critical of it, for the vast number of people it is useless, you either have something wrong with your lungs, or you don't. Garmin's implementation of it will drain your battery, but it is useful for mountaineering, and it can be useful as a possible identifier for sleep apnea.
However, I criticised all that months ago, since then coronavirus happened, and pulse oximetry has been proven to be a useful aid in diagnosing COVID-19.
While I wouldn't put a great deal of trust in a consumer electronic device as I accurate diagnostic aid, there is potential here for you to monitor SpO2 levels if you feel ill. Some common sense would need to be applied here, getting one low reading does not mean you need to seek medical attention, but a combination of multiple low readings and symptoms of COVID-19 could justify applying for a test.
During my testing, it recorded 100% most times. Garmin with the 24/7 tracking has me at 96% and 97% most days. Realme state that above 94% is healthy.
Battery Life
Battery life is excellent, I got easily over a week of use with 24 hour HR and regular fitness tracking.
Price and Competition
This is the cheapest feature/smartwatch from a big brand on the market I can find.
There is the UMIDIGI UFit Smart Watch which at first I thought could be identical hardware, but it has a smaller and lower-resolution screen of 1.3inch running at 240×240. They will obviously have their own app, but beyond that, I doubt you could tell the difference between the two.
Cheaper with better fitness and sleep tracking but the band design is less useful for the smart watch features. Or the Realme Band is even cheaper at just £25 but will then have the sale limitations as the Watch in terms of data.
A big jump in price, but better build quality, display, has built in GPS and better data within the app. Also better looking in my opinion.
Vastly superior for fitness tracking, in particular outdoor activities such as running or cycling with a data-rich app. The black and while none touch screen display makes it less good as a smartwatch.
Overall
The Realme Watch offers very similar functionality to the more affordable Realme Band, or the Honor Band 5, but in watch format with a larger more usable display.
The Realme app needs a lot of work to compete with the data you get from Huawei and other brands, but overall it is good enough in relation to the price point of the device.
If you prefer the aesthetics of a watch over a band, there is nothing really competing at this price point, which therefore makes the Realme watch a worthwhile consideration.
The various band options from Realme, Huawei, Honor and Xiaomi all offer better value for money in a more discrete format, but at the cost of smartwatch usability. However, for fitness, I would say the other brands offer a superior solution to this.
The older Huawei Watch GT is between £85 and £95 more, which offers a nicer design, GPS, and better tracking. Admittedly, that doesn't seem like much more money to me, but it does represent a 65% price difference. Similarly, the Garmin Forerunner 30 is probably the best overall budget fitness tracking option, but that is double the price at £99.
Overall, this is a good start with wearables from Realme, at £50 it is hard to be too critical of it, and there isn't much directly competing with it from a major brand. Once they work on the app a little bit more, it could be great.
Last update on 2022-05-19 / Affiliate links / Images from Amazon Product Advertising API