[et_pb_section bb_built="1″][et_pb_row][et_pb_column type="4_4″][et_pb_text _builder_version="3.0.85″ background_layout="light"]
It appears the leaks we received hours before the announcement were quite accurate, and Razer has entered the market with a pretty impressive phone.
As predicted there is the latest Snapdragon 835 Mobile Platform, a 5.72-inch IGZO LCD 2560×1440
120Hz which Razer says is the mobile equivalent of G-Sync, 8GB of RAM, 64GB of storage upgradable with MicroUSB and for me most impressive of all a 4000 mAh lithium-ion battery.
The phone has 2 Stereo Front facing speakers powered by dual DACs which is great news for audiophiles, but then they have strangely chosen to omit the 3.5mm jack, so you will need an adaptor. We can't have it all I guess
[/et_pb_text][/et_pb_column][/et_pb_row][et_pb_row][et_pb_column type="1_4″][/et_pb_column][et_pb_column type="1_2″][et_pb_code _builder_version="3.0.85″]<script type="text/javascript"><!– [et_pb_line_break_holder] –>document.write('<scr'+'ipt type="text/javascript" src="'+document.location.protocol+'//video.unrulymedia.com/wildfire_881761611.js"></scr'+'ipt>');<!– [et_pb_line_break_holder] –></script>[/et_pb_code][/et_pb_column][et_pb_column type="1_4″][/et_pb_column][/et_pb_row][et_pb_row][et_pb_column type="4_4″][et_pb_text _builder_version="3.0.85″ background_layout="light"] </scr'+'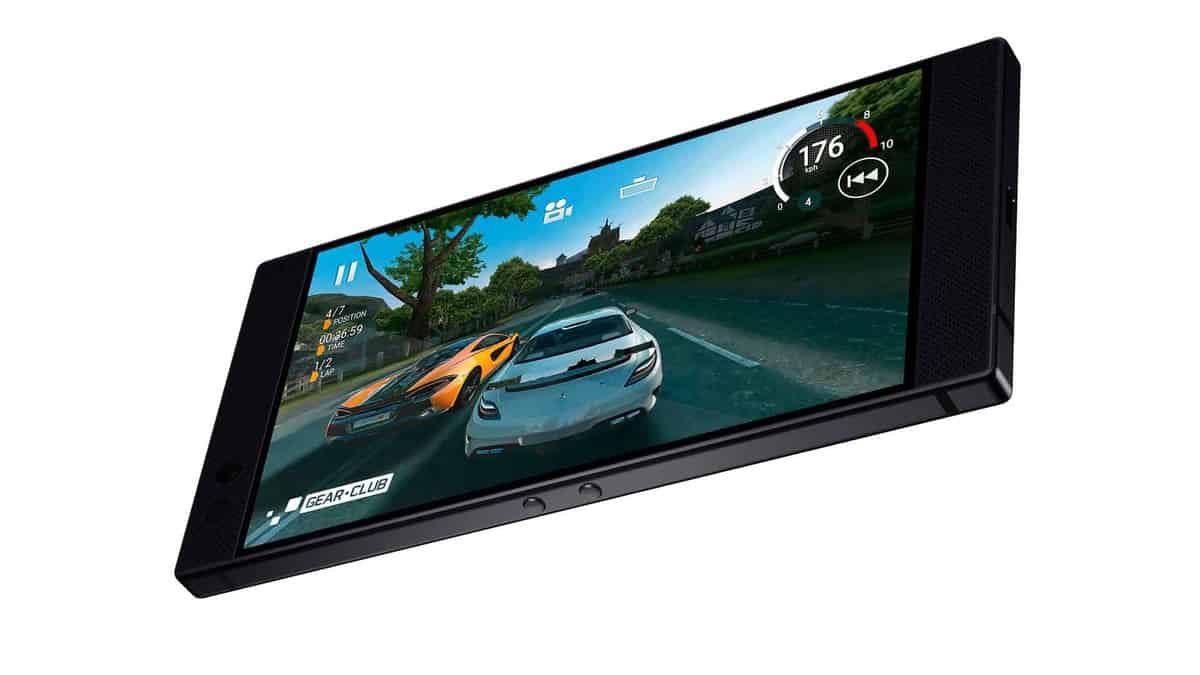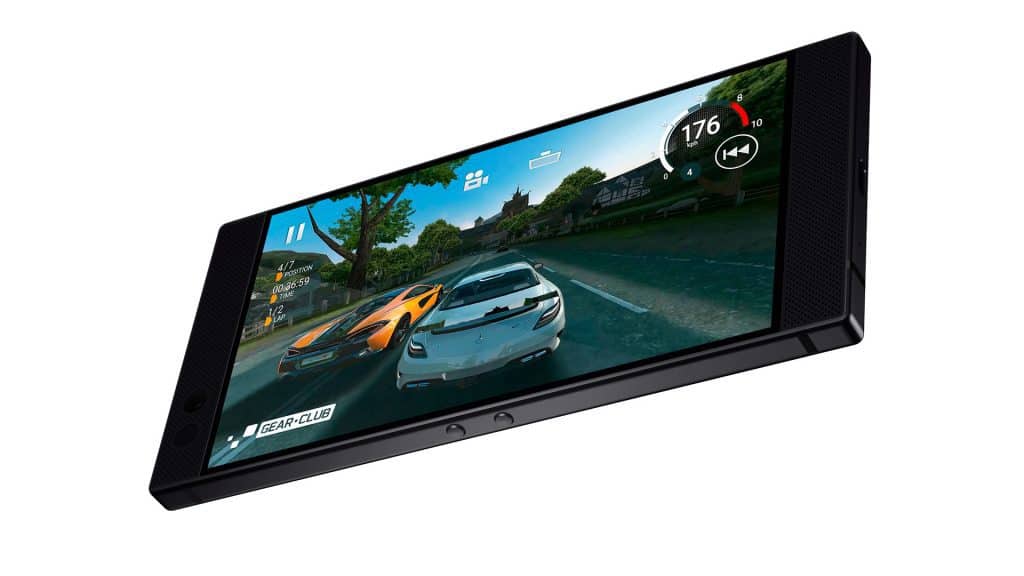 Design wise, Razer have bucked the trend of zero bezels, I guess this allows them to fit more components in and is probably more comfortable for gaming. I personally like the design, it is a very angular phone reminiscent of Sony Xperia phones that have been released over the past few years.
A key feature of the phone is the wide colour gamut display. Not only does it go up to 120Hz – a first for smartphones outside of Japan – but it features variable refresh rate technology akin to G-Sync which Razer is calling Ultra Motion, and this is a world first for mobile displays. This is enabled as a result of the Qualcomm hardware, the IGZO display with specific input from Sharp on the drivers, and proprietary work from Razer itself. The result is a screen which can drop to low refresh rates to save power and improve battery life when the display output is static but jumps up to very high ones when motion (like scrolling) is detected to make everything feel smoother. It can also synchronise the refresh rate to the fps of a game or video to make those experiences smoother too. We've had hands-on with the Razer Phone, and it certainly appears to work as you'd expect.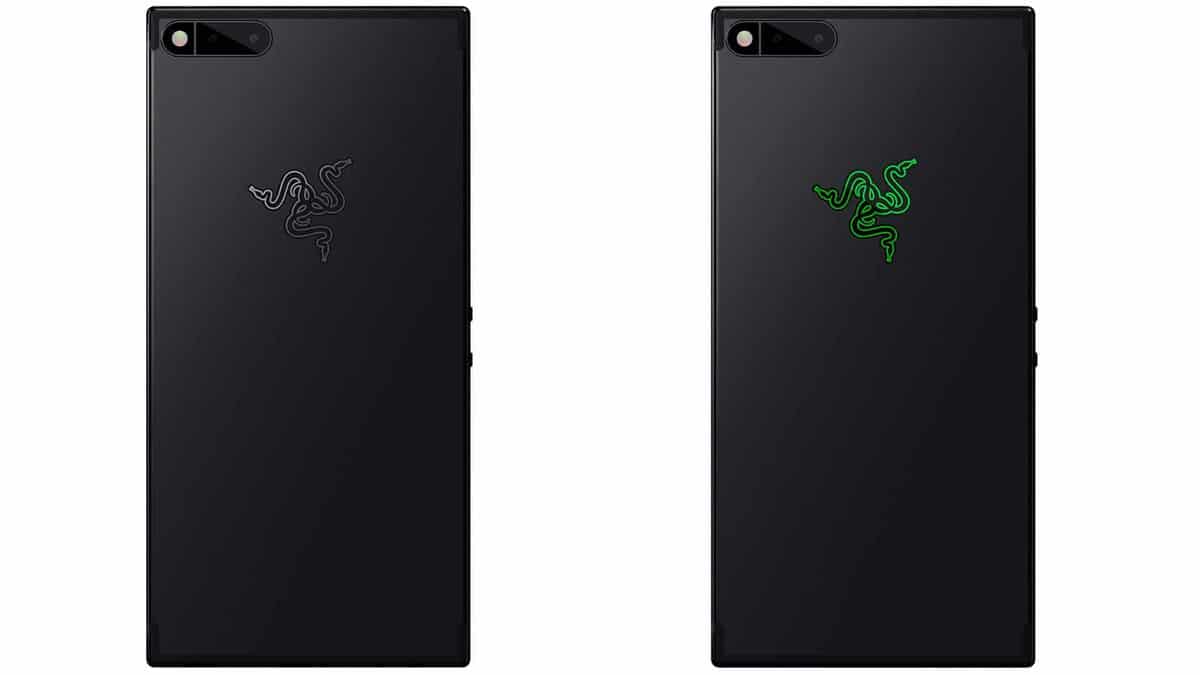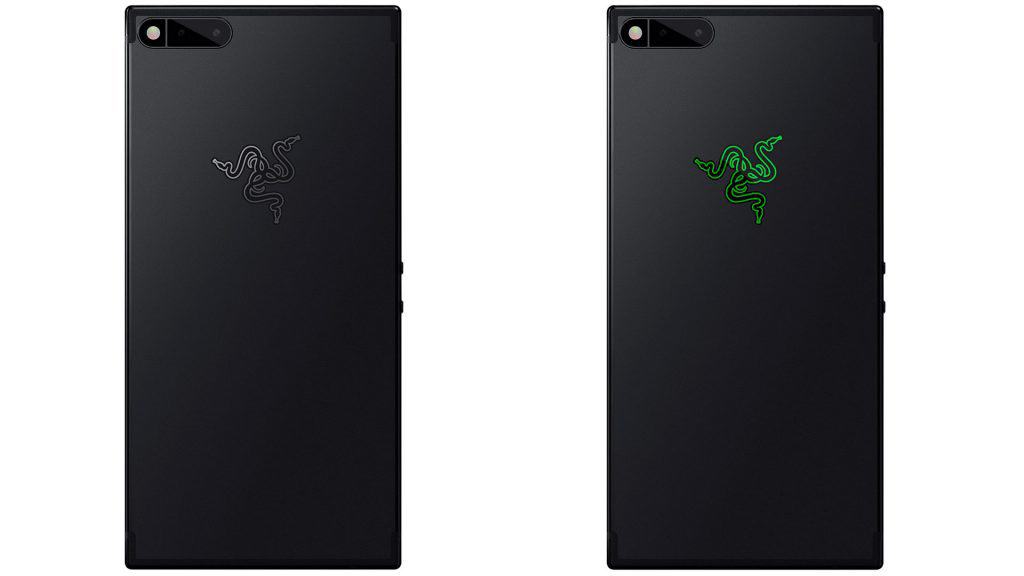 The phone will come with Android Nougat 7.1.1 installed with a custom Razer version of Nova Launcher Prime licensed and installed by default as well. There will also be a Razer Game Booster app, which can customise performance settings to optimise for power saving or performance for specific games and do other things like disable notifications while in-game. The Razer Theme Store will be available at launch and will offer game-related themes to customise the look of your Razer Phone.
Pre-orders should start on the 3rd of November and the phone is exclusive to Three in the UK. Oddly Three have taken their own Razer page down for now, but it is believed to cost £594.99 + £10 top up, which, in a world of thousand pound phones, isn't too bad.
The official Razer Phone spec sheet.
[/et_pb_text][/et_pb_column][/et_pb_row][et_pb_row][et_pb_column type="1_3″][et_pb_text _builder_version="3.0.85″ background_layout="light"]
Software
Android 7.1.1
Display
5.72-inch IGZO LCD 2560×1440
120Hz, Wide Color Gamut (WCG)
Corning Gorilla Glass 3
Processor
Qualcomm Snapdragon 835 Mobile Platform
RAM
8GB dual channel (LPDDR4, 1600MHz)
Storage
64GB UFS
Expansion
microSD class 10, up to 2TB
Battery
4000 mAh lithium-ion battery
Qualcomm QuickCharge 4.0+
Rear Cameras
12MP f/1.75 wide-angle
12MP f/2.6 telephoto
Dual PDAF
Dual tone, dual LED flash
Front Camera
8MP f/2.0, fixed focus
Sound
Stereo Front facing speakers
Dual Amplifiers
Audio Adapter with THX certified DAC
Security
One-touch fingerprint sensor
Wireless
802.11ac Wi-Fi, Bluetooth 4.2, NFC
Network
GSM: Quad-band GSM UMTS: B1/2/3/4/5/8
LTE:B1/2/3/4/5/7/8/12/17/19/20/25/26/28/29/30/66
TDD LTE: B38/39/40/41 TD-SCDMA: B34/39
Size
158.5 x 77.7 x 8 mm ( 6.24 x 3.06 x 0.31 in )
Weight
197 g
[/et_pb_text][/et_pb_column][et_pb_column type="1_3″][/et_pb_column][et_pb_column type="1_3″][/et_pb_column][/et_pb_row][/et_pb_section]