[Original Post 27-July-19][Updated 27-September-2019] Added new DietPi benchmarks
With the early launch of the Raspberry Pi 4, there is a tremendous amount of hype about the single-board computer, and pretty much every online store is sold out of stock.
The new model is a huge upgrade from the previous generation with a massive improvement across the board, including a much-improved CPU, more RAM, proper gigabit ethernet and USB 3.0. This makes the RPi4 an appealing prospect for many home networking projects such as a Plex media server, Kodi box, NAS, home automation and many more projects.
In recent years, for a home server and media projects, the RPi has lost a little bit of ground compared to the more powerful Odroid options. In particular, for Kodi builds the Odroid C2 and N2 is often recommended over the RPi due to its superior performance and 4K abilities.
So if you want to do a server or media based project is it worth waiting for the RPi 4 or will Odroid be a superior option?
Odroid XU4
I have included the Odroid XU4 on the list as it was close to the RPi pricing while offering impressive specs; however, there are some key points to consider before going down this route.
For Kodi builds, there appears to be limited support with a long thread about the XU4 not supporting Kodi 18 though this RetroElec build should support it.
The XU4 also has active cooling and depending on how close it is to you it could be audible. It is possible to upgrade it to passive though.
Finally, I can't see any GPIO headers listed on the spec sheet, so this isn't a great choice for building things, but shouldn't be an issue for Kodi and servers.
Price
The Raspberry Pi 4 has the clear advantage with pricing, the most expensive model is $55, which is cheaper than the RRP of the XU4 and considerably less expensive than the $79 of the N2.
To make matters worse, for UK buyers, the price goes up to around £83 when you factor in shipping.
[content-egg-block template=offers_list]
Performance
While I have not tested any of these devices yet, the N2 should be a clear winner by a significant margin. It has a quad-core Cortex A73 CPU clocked at 1.8Ghz combined with a dual-core A53
While it is hard to compare the GPU like for like, the N2 while no doubt have superior processing capabilities, though it only has one HDMI out.
Similarly, the storage performance is considerably higher for the N2 as it can use eMMC, though it is worth noting this also costs a lot more than microSD so the costs go up again.
In benchmarks, the N2 outperforms the XU4 considerably, which in turn should comfortably outperform the RPi4.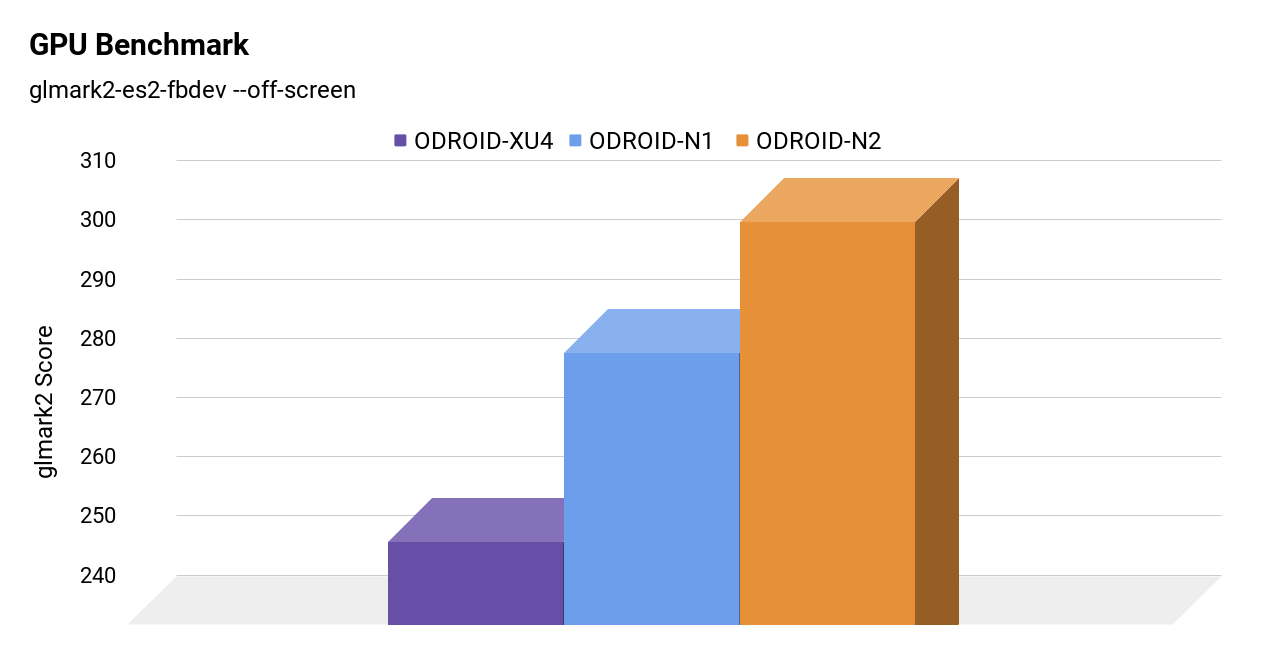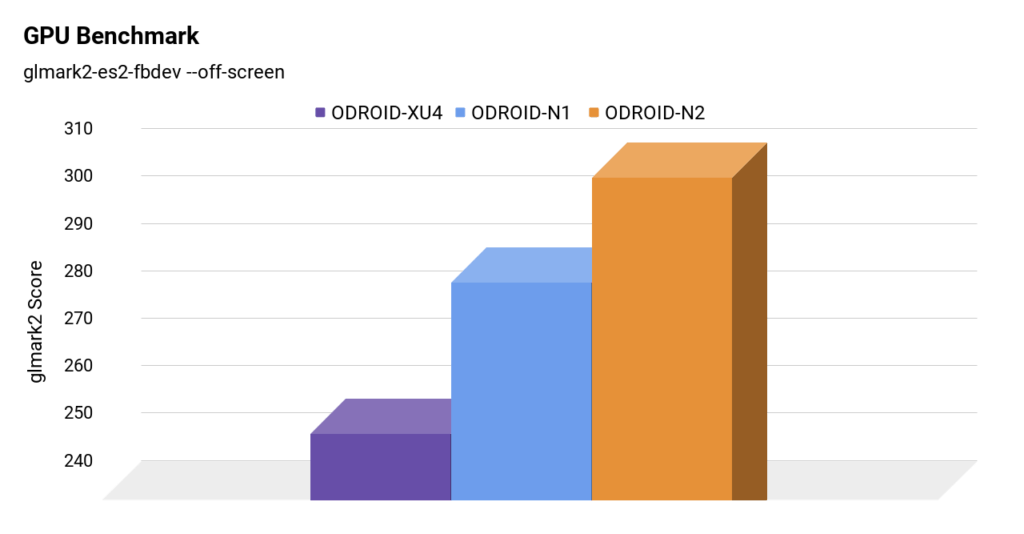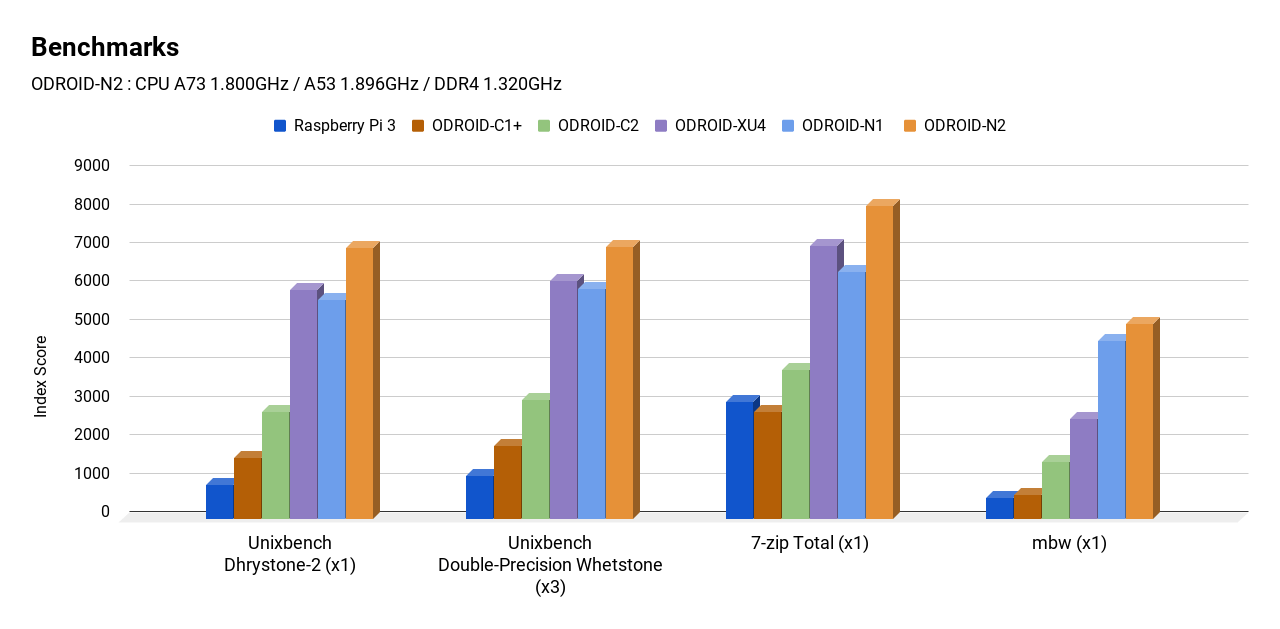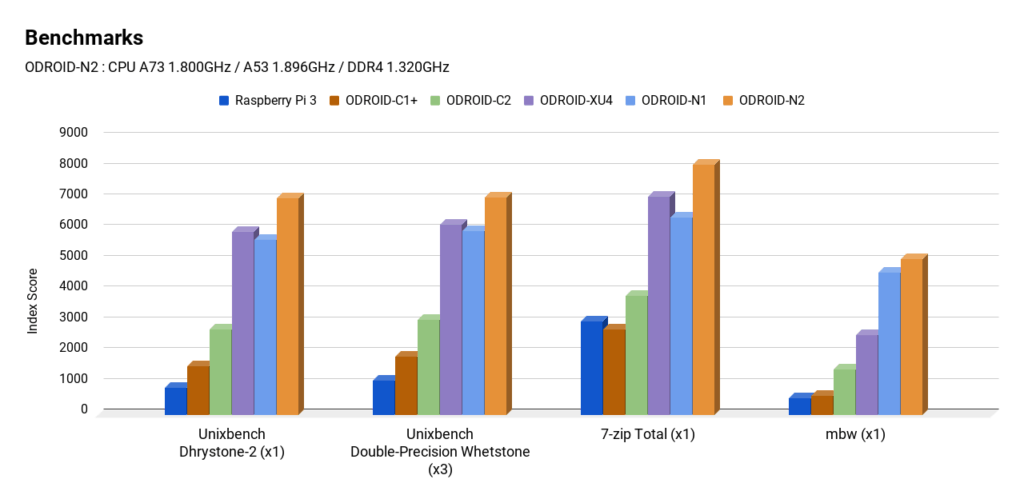 If we look at the DietPi Benchmarks there are some more interesting results including temperatures.
| | | | | | | | |
| --- | --- | --- | --- | --- | --- | --- | --- |
| Device: | CPU Time Average: | CPU Time Fastest: | CPU Time Slowest: | Idle Temp Average: | Idle Highest: | Load Average: | Load Highest: |
| | | | | | | | |
| Odroid N2 | 6.7 | 6.6 | 6.7 | 32 | 44 | 38 | 50 |
| Odroid XU3/XU4/HC1/HC2 | 12 | 8.7 | 16 | 46 | 69 | 52 | 71 |
| Raspberry Pi 4 | 11.6 | 6.3 | 46.5 | 48 | 69 | 55 | 72 |
Networking
All three devices offer gigabit ethernet so they should all perform similarly. However, neither Odroid device has Wi-Fi, and you need to use a USB adaptor to achieve this.
DietPi again had some useful benchmarks here, while the Odroid devices lack Wi-Fi they are far superior for ethernet.
Speeds in MB/s
| | | | | |
| --- | --- | --- | --- | --- |
| Device: | Count: | Average: | Fastest: | Slowest: |
| | | | | |
| Raspberry Pi 4 | 4 | 42 | 112 | 8 |
| Odroid XU3/XU4/HC1/HC2 | 6 | 61 | 114 | 4 |
| Odroid N2 | 2 | 108 | 112 | 104 |
Overall
In the end, it is not really a like for like comparison, the Odroid N2 is getting close to twice the price, but will offer significant performance advantages over the RPi 4. If budget is not a concern and you want the best Kodi experience then the Odroid N2 will be your best bet.
On the flip side, Raspberry Pi has never been about offering the best performance, its advantage over every other option has always been the vast community behind it developing and maintaining software as well as all the accessories you can buy for it allowing you to use it as the basis of hundreds of project ideas.
[content-egg-block template=offers_list]
RPi 4
ODROID-XU4
ODROID-N2 
Price
$35,$45,$55
$59/$49
$79
Chipset
Broadcom BCM2711
Samsung Exynos5422
Amlogic S922X Processor (12nm)
CPU
Quad core Cortex-A72 (ARM v8) 64-bit SoC @ 1.5GHz
ARM Cortex-A15 Quad 2.0GHz/Cortex-A7 Quad 1.4GHz
Quad-core Cortex-A73(1.8Ghz) and Dual-core Cortex-A53(1.9Ghz)
GPU
VideoCore VI 3D up to 500 MHz.
Mali-T628 MP6
Mali-G52 GPU with 6 x Execution Engines (846Mhz)
RAM
1,2,4
2Gbyte LPDDR3
DDR4 4GiB or 2GiB with 32-bit bus width
Storage
Micro-SD card
eMMC module socket : eMMC 5.0 Flash Storage (up to 64GByte)
MicroSD Card Slot (up to 128GByte)
1 x eMMC connector (8G, 16G, 32G, 64G and 128G are available)
1 x microSD slot (DS/HS modes up to UHS-I SDR104)
Ethernet
Gigabit Ethernet
1 x GbE LAN ports (RJ45, supports 10/100/1000 Mbps)
1 x GbE LAN ports (RJ45, supports 10/100/1000 Mbps)
GPIO
 40 pin GPIO header
25 x GPIO (Max)
Video Output
2 × micro-HDMI ports (
HDMI 1.4a with a Type-A connector
1 x HDMI 2.0 (up to [email protected] with HDR, CEC, EDID)
USB
2 USB 3.0 ports; 2 USB 2.0 ports.
2 USB 3.0 ports; 1 USB 2.0 ports.
4 x USB 3.0 Host ports (shares one single root hub)
1 x USB 2.0 OTG port for Host or Device mode. (No power input)