Google Pixel 6 Pro Review Rating
Summary
I have had a lot of gripes with flagship phones this year. Predominantly due to battery and throttling issues, and the same applies here. The Pixel 6 Pro is far from perfect, but in my opinion, it is the best option this year for a premium flagship phone (factoring in price).
Pros
Outstanding camera
Reasonably priced offering superb cost/performance
Cons
Annoying unlock
Tensor chipset suffers from more severe throttling than the other flagship chipsets this year
Pixel 6 offers better value for money
Google has made big changes with the new Pixel 6 series with brand new camera sensors, a custom chipset, bigger batteries, improved displays and a new striking design.
Google has wisely kept the prices relatively affordable. The Google Pixel 6 Pro is just £849, which undercuts many of the premium flagship phones that were launched this year. The Pixel 6 is just £599, which again undercuts most of the affordable flagships.
Even though the Pixel range has always received glowing reports from critics, they don't seem to have achieved much success with actual buyers. Samsung dominates the premium side of things, and you have Xiaomi or OPPO/OnePlus/Realme, who all offer more tempting propositions for price-sensitive buyers.
So, has Google made enough changes to Pixel 6 Pro and its little brother to become a mainstream success?
Specification
Google Pixel 6 Pro
Google Pixel 6
Price:
£849
£599
Colours:
Stormy Black, Cloudy White, Sorta Sunny
Stormy Black, Kinda Coral, Sorta Seafoam
Display: size (resolution):
6.7-inch (1440 x 3120, 512ppi)
6.4-inch (1080x2400 pixels, 411ppi)
Refresh rate:
Up to 120Hz
Up to 90Hz
Processor:
Google Tensor with Titan M2
Google Tensor with Titan M2
RAM:
12GB
8GB
Storage:
128GB | 256GB | 512GB
128GB | 256GB
Rear cameras:
50MP wide-angle (ƒ/1.85)
12MP ultrawide (ƒ/2.2)
48MP telephoto (ƒ/3.5)
50MP wide-angle (ƒ/1.85)
12MP ultrawide (ƒ/2.2)
Zoom:
4x optical and 20x Super Res digital
7x Super Res digital
Front camera:
11.1MP (ƒ/2.2), 94-degree field of view
8MP (ƒ/2.0), 84-degree field of view
Video:
Rear: 4K and 1080p (both up to 60fps), Front: 4K at 30fps, 1080p at up to 60fps
Rear: 4K and 1080p (both up to 60fps), Front: 1080p at 30fps
Authentication:
Fingerprint Unlock with under-display fingerprint sensor
Fingerprint Unlock with under-display fingerprint sensor
Battery:
5003 mAh
4614 mAh
Battery life:
1970-01-01 07:53:00
1970-01-01 08:13:00
Dimensions:
163.9 height x 75.9 width x 8.9 depth
158.6 height x 74.8 width x 8.9 depth
Weight:
210 g
207 g
Design and Display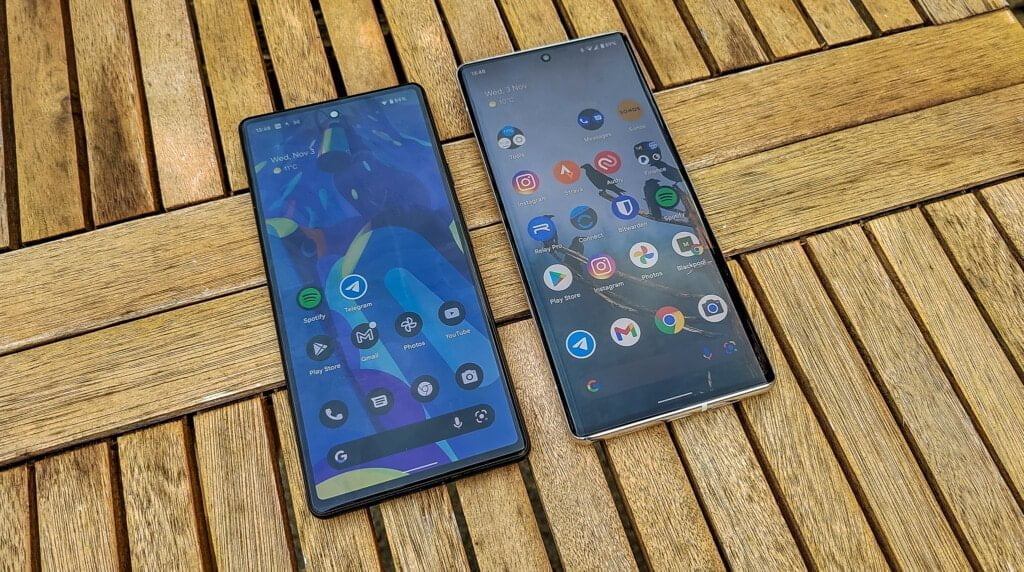 My opinion on phone design is that they are big chunks of rectangular glass. I am mostly indifferent to how a phone looks, it is going in a case regardless. To Google's credit, they have come out with quite a unique design, and I personally like the way the phone looks. Some people are less keen, but at least they haven't adopted a generic design.
The Pixel 6 Pro is a large phone with a screen and overall dimensions almost identical to the OnePlus 9 Pro. It does, however, weigh 210g which is quite hefty. Not many phones are bigger or heavier than this, the Samsung Galaxy S21 Ultra being the obvious one.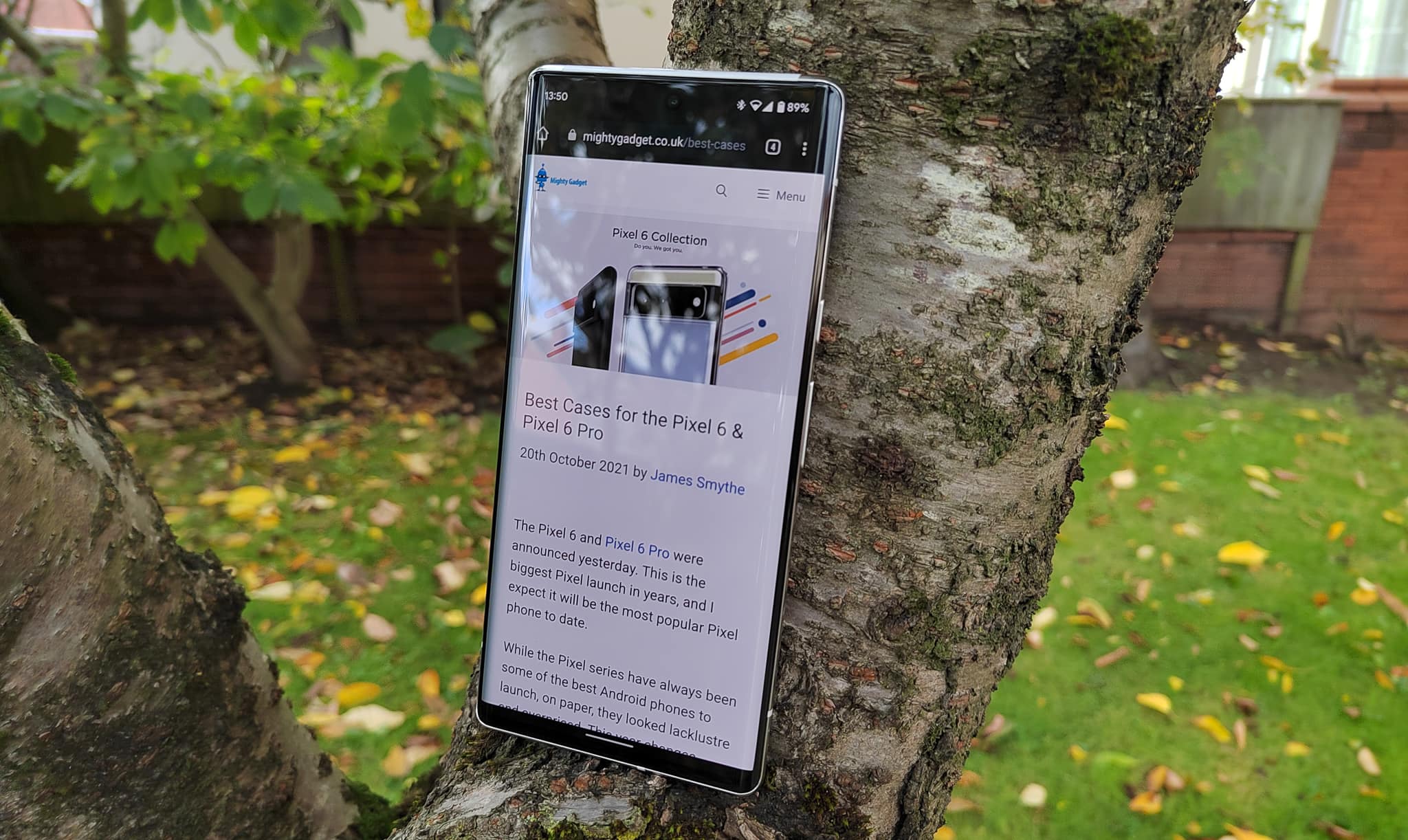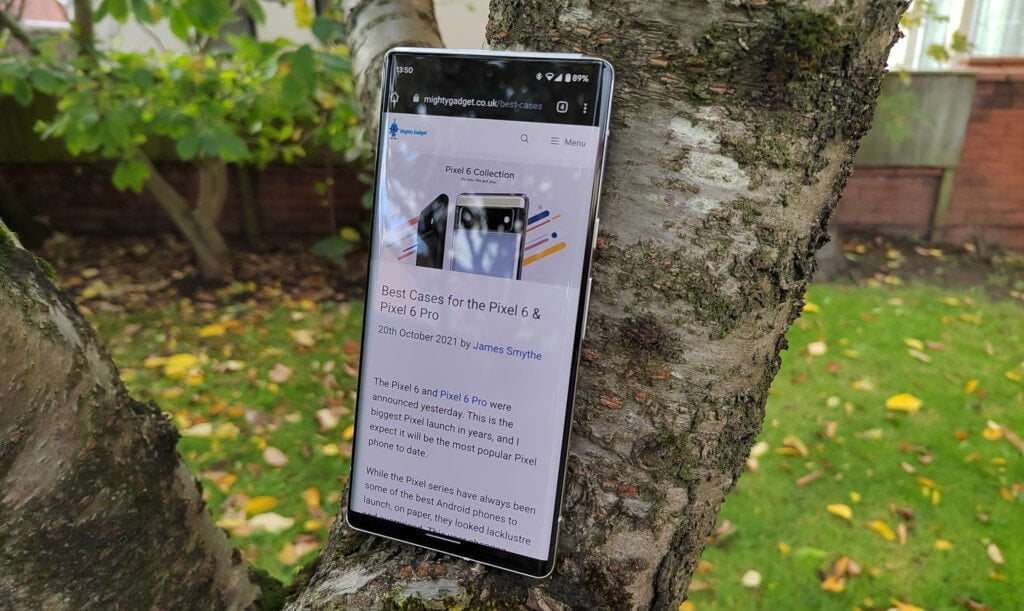 I like the aesthetics of a curved display, but I have found with a highly protective case such as the Spigen Tough Armor, it can be a little difficult to touch items right on the edge of the display.
The display isn't the brightest, but I haven't experienced any problems with it yet; however, it is hardly sunny up North at the moment, so it hasn't been used in demanding scenarios.
The camera bump is significant, but when you put it in a case, it becomes flush against the case.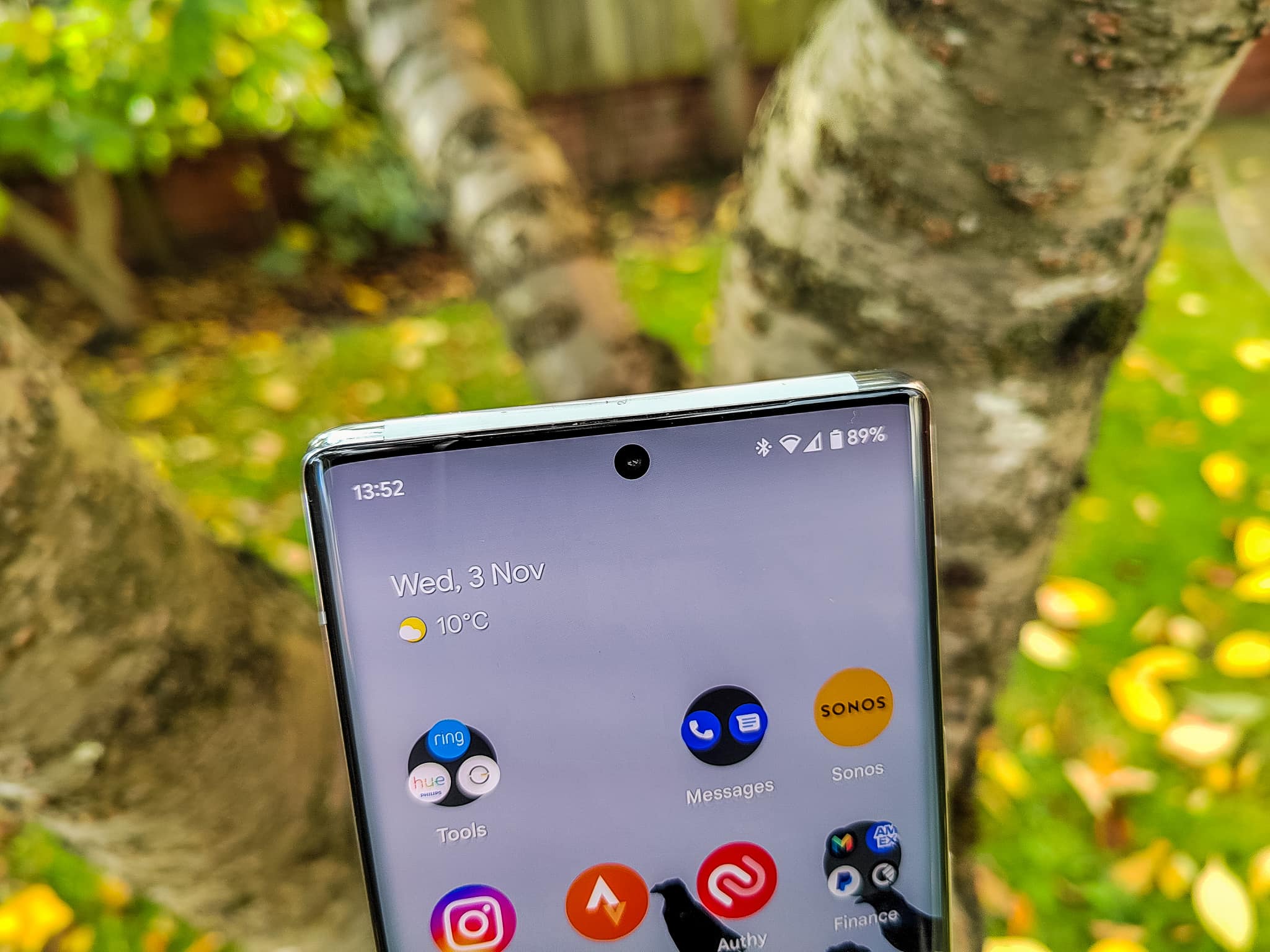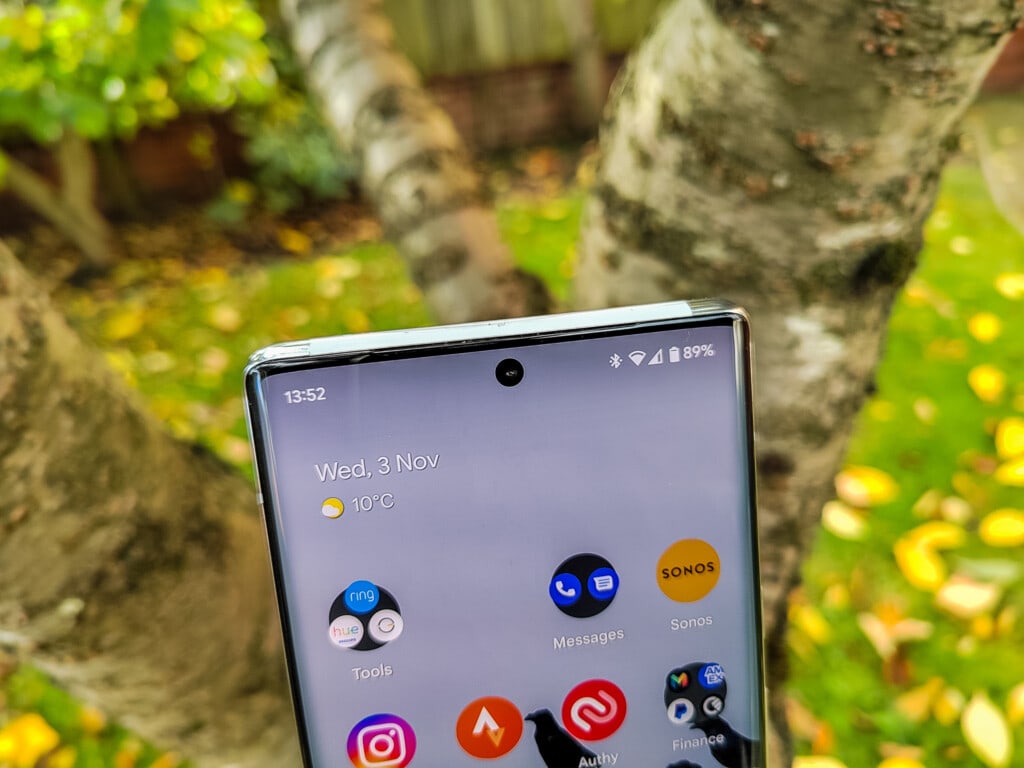 I haven't used a Pixel phone for a while, so the button arrangement wasn't to my liking. I am quite partial to the OnePlus placement with the power on the left, two-volume keys and also a notification toggle.
Biometrics – Fingerprint & lack of face unlock
The Pixel 6 devices have a pretty frustrating unlock process. Google has removed face unlock as the single selfie camera isn't capable of providing the same level of security as their previous phones with dedicated sensors.
Then you may have noticed plenty of people moaning about the fingerprint unlock. I don't find it that bad, it is certainly not the best, but I find most phones can be a little hit or miss with fingerprints, which is why I love face unlock.
Lastly, and again, this is beneficial for security but still very annoying. When you have a pin unlock, you then need to press enter rather than auto unlocking.
I guess I have just become lax with security over the years. However, I feel like the security issues with face unlock and the pin unlock are not significant issues for most users. For me, at least, my phone is always with me, if I mislay it, I will most likely notice within minutes. I can't imagine someone accessing my phone and having enough time to gain access to it before I reset/lock it remotely.
Camera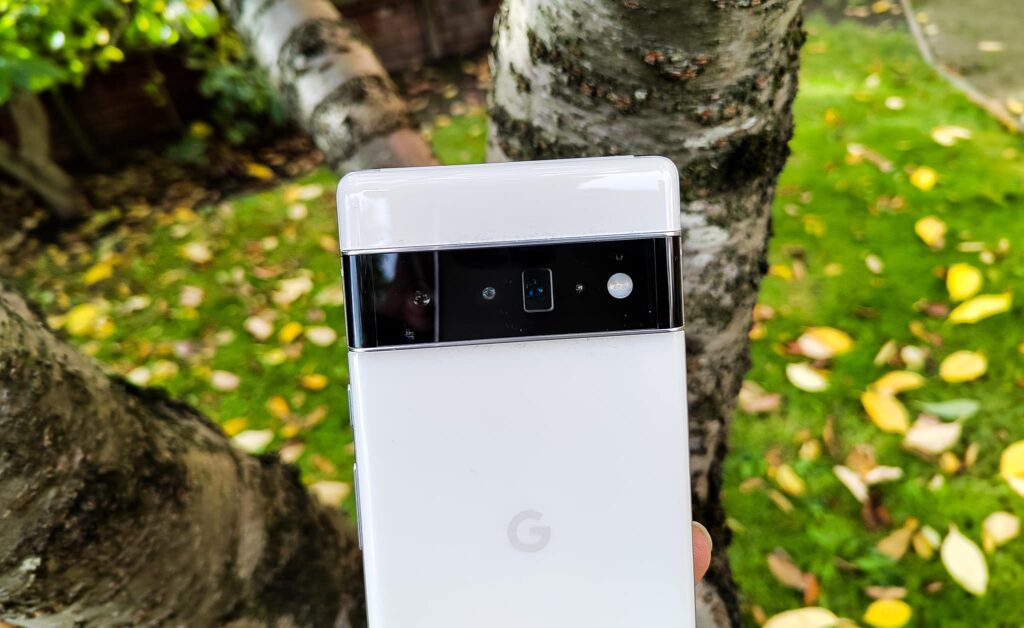 The Pixel series has always been praised for its camera performance, often being regarded as one of the best camera phones of the year even though they continued to use dated hardware.
This year sees a departure from the norm with a massive upgrade to the 50MP Samsung GN1 for the primary camera. This sensor is 1/1.31 inches, it has a 1.2μm pixel size, an f/1.85 aperture, and an 82-degree field of view. This is then paired up with a 48MP periscope, allowing for 4x optical zoom and up to 20x digital zoom.
The ultrawide lens is less impressive 12 MP, f/2.2 with a 1.25µm pixel size.On the front, you get an ultrawide 11.1 MP f/2.2, 20mm 1.22µm sensor, ideal for group shot selfies.
The end result is amazing all-around camera performance. The phone takes consistently good photos in all conditions, and I would say the overall performance is unrivalled from any phone I have used this year.
As always with Google, low light is where it excels, it just takes great natural shots. The longer exposure use with the night sight seems to take less time than competing brands, especially Huawei/Honor. This also helps avoid the inevitable blurring from not keeping the phone steady many other brands suffer from.
The 48MP periscope lens was particularly impressive too, offering far more detail than phones I have used previously. This includes the S21 Ultra, which may have much more versatility with its two zoom lenses, but I found that the 10MP sensors it used provided average quality photos at best. I'd sooner have one excellent zoom lens.
The full gallery of images is in my Pixel 6 Pro photo sample post.
Motion Shots
One feature I like with the Pixel 6 phones are the motion shots. It is not an entirely unique feature, companies like Huawei have been doing it for years, but the Pixel implementation is good.
You have two options, action pan or long exposure and they can both have impressive results. When a shot is taken, the phone will save a normal shot, then the motion shot
Magic Eraser
The magic eraser function is genuinely impressive and works well, but as you would expect, it is not perfect.
Most of the scenarios I used it in was to remove people from the photo. When you edit the photo, it will auto-suggest people to remove and then do it with almost no processing time.
As impressive as it is, it does leave noticeable edits. If you have removed a few background people, you probably won't notice them. If you have removed a significant number of people or people in the foreground, it becomes quite noticeable, especially when you view it on a big screen. You have to weigh up the pros and cons of having a natural image with people in the way or something with obvious edits.
However, it is a brilliant feature, and it is far beyond anything I would be able to achieve by manual edits.
Video
I don't record videos that much, so my ability to evaluate the performance is somewhat limited.
The performance is good, but the phone is limited compared to some other devices out there. With this phone, the primary camera maxes out at 4k 30fps, whereas the S21 Ultra can do 8K video up to 30 fps for its main lens and then 4K video at up to 60 fps for all lenses.
The motion stabilisation works well on the Pixel, the standard mode can keep the video relatively stable while I walk slowly. The active option limits your resolution but providing significant stabilisation that stays smooth on a brisk walk.
Performance
I have already covered the benchmarks of the Google Tensor chipset in a bit more detail. The overall performance of the phone is outstanding. It has easily handled all the day to day tasks I do, the advanced image editing features have barely any processing time, and the phone is more than powerful enough to play games like Genshin Impact smoothly.
Just like other flagship chipsets, the Tensor runs quite hot and suffers from significant thermal throttling.
In the 3DMark Wild Life stress test, it showed that the Pixel 6 Pro was capable of scoring the highest result of any phone this year but also suffering from the worst thermal throttling.
Perhaps, more importantly, was the graph showing the performance drop. Phones like the OnePlus 9 Pro and S21 Ultra were able to offer sustained performance for a few minutes before sharply dropping off. The Pixel drops off immediately and settles down at around the 9-minute mark.
I can't say I have noticed the effect of this in real-life scenarios. I have played games like Genshin Impact, and it performs perfectly well, albeit warm to touch. But, I am not an avid mobile gamer and certainly don't game for prolonged periods.
Overall, no, it is not a good as the Qualcomm Snapdragon 888, or Samsung Exynos 2100, but it is good enough, and the overall user experience, for me, has been identical to the other chipsets.
Battery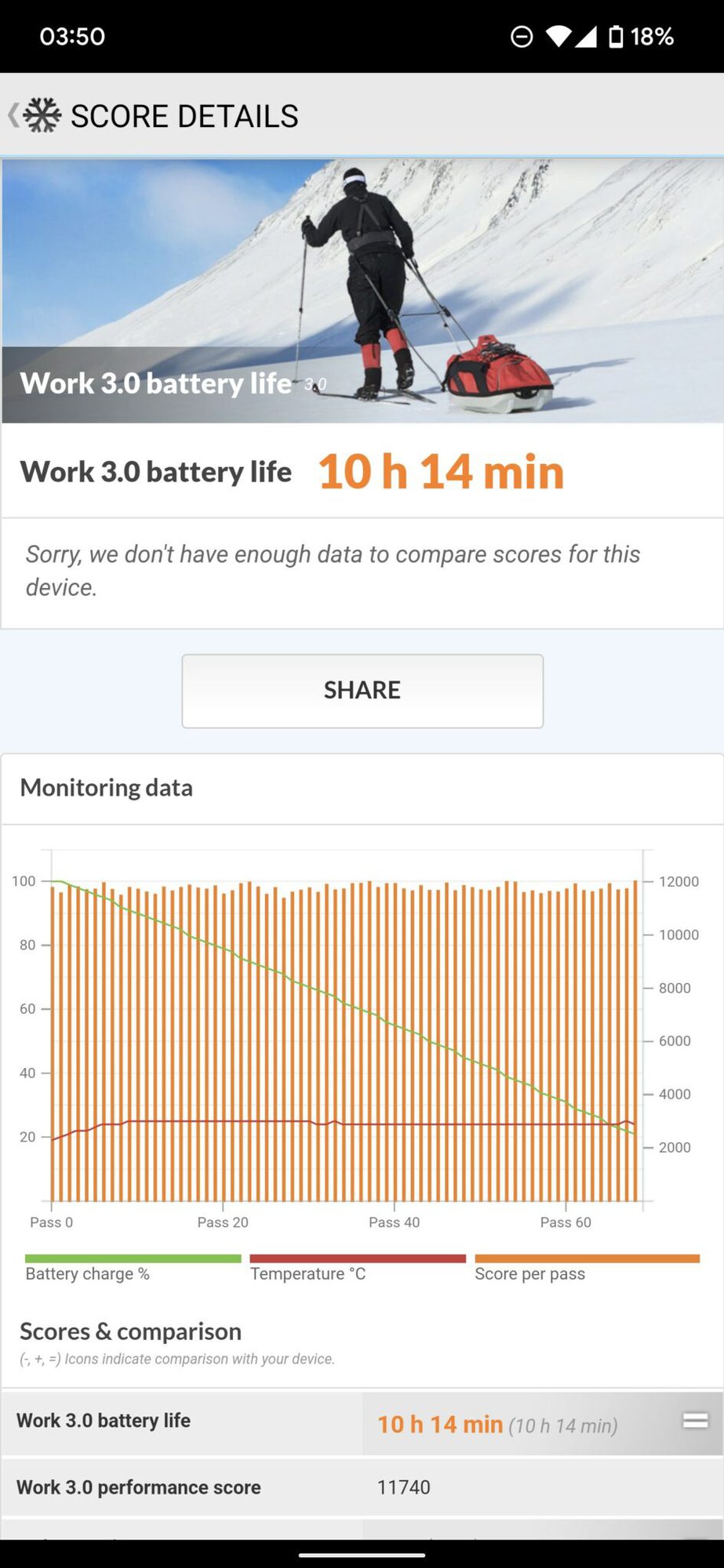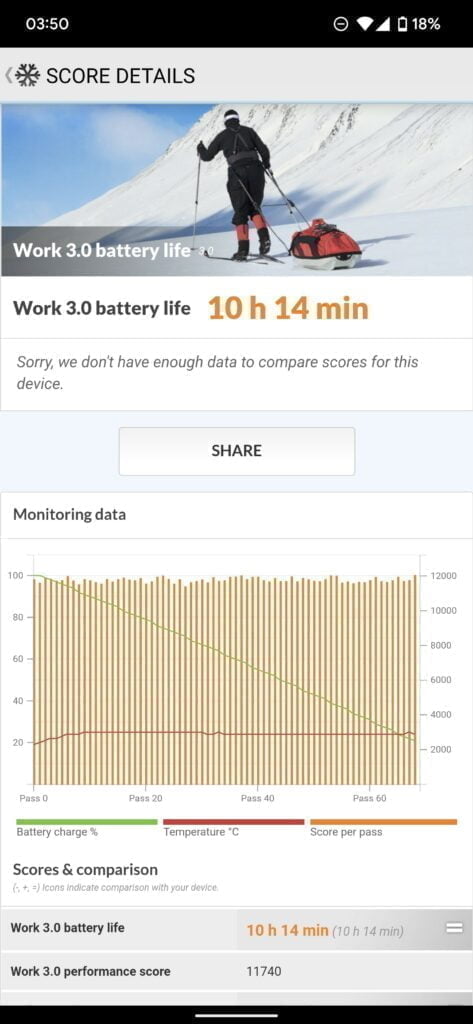 The phone seems to have received mixed opinions online about the battery. I can't say I have had any problems with it, but at the same time, it is perhaps not as outstanding as some others have made out.
I was comfortably able to get a full day out of it with moderate to heavy use.
For the PCMark battery test, it scored good results, better than the likes of the OnePlus 9 Pro, but not as good as the S21 Ultra.
There is a significant difference of four hours in the benchmarks between the Pixel 6 and Pixel 6 Pro. I can't say I have noticed that much of a difference when using them both, but it is certainly something worth considering.
The 30W charge speed is OK, the main benefit I find is that you don't have to worry about using some brand-specific charger; 30w power delivery will work. However, moving from 65W to this a frustrating experience. I rarely need super-fast charging, but when you are short on time, 65W or higher charging is such as stress reliever.
I haven't tested the 23W wireless charging, which is used on the Pixel Stand 2nd Gen, but I do like the convenience wireless charging offers.
Software / Android 12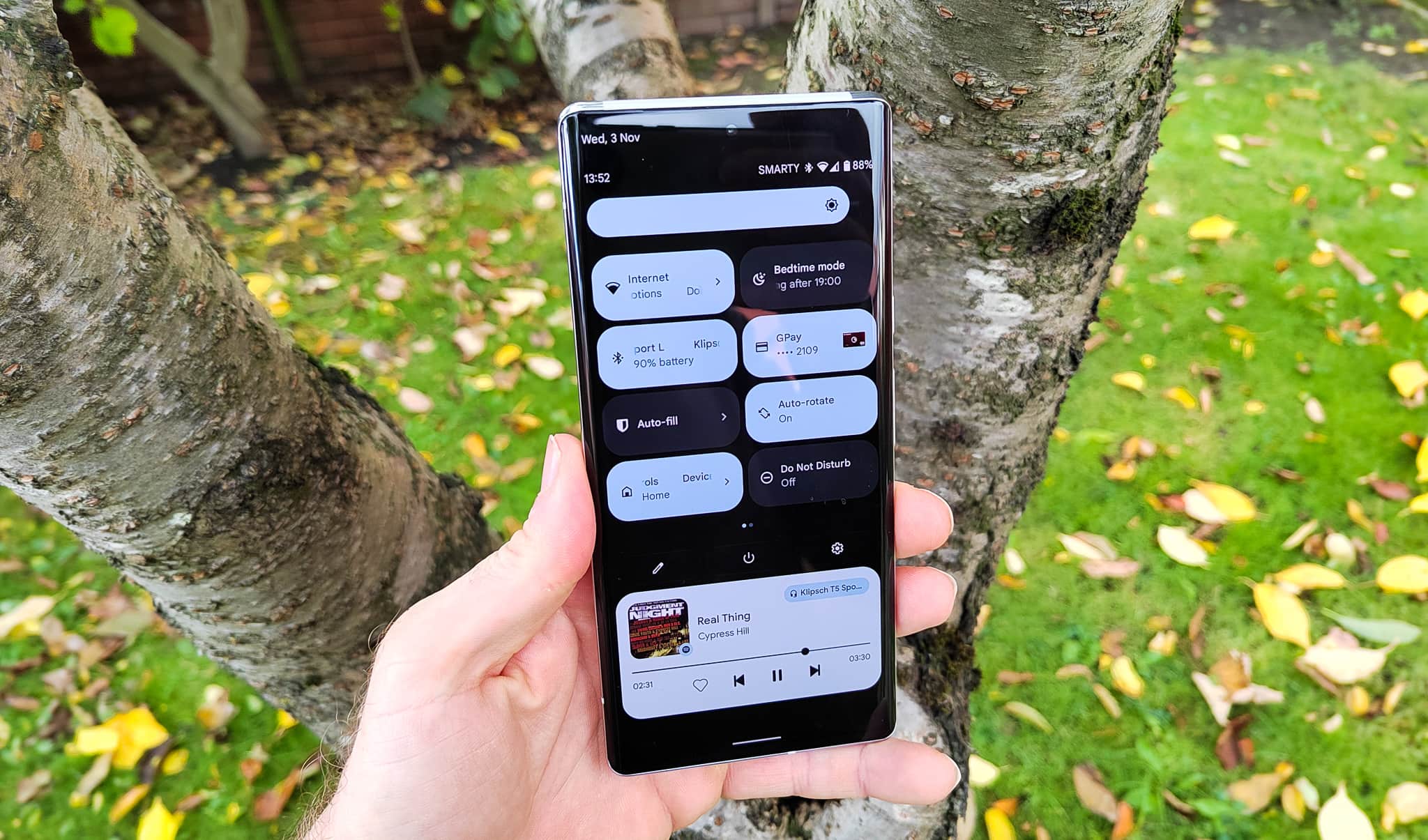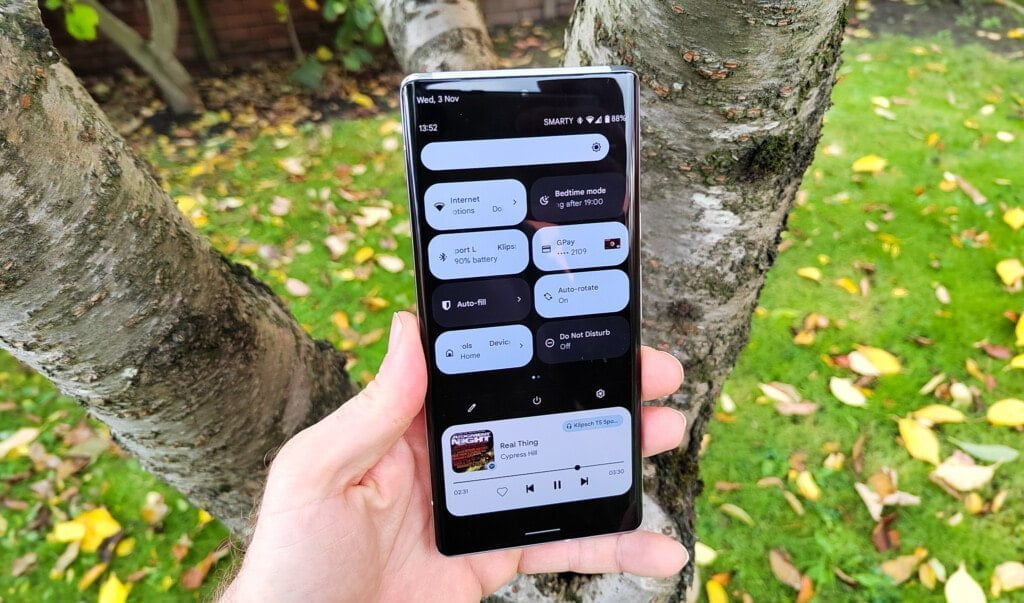 After years of using phones with a variety of customisations from various brands, I have actually found Android 12 on the Pixel difficult to adjust to.
Android 12, in general, is quite a bit different from Android 11 which all other phones are currently using. I think most of these are just things that require a little adjustment.
The a Game Dashboard is a new addition for Google, but this only competes with other brands offerings. It is useful, though and can provide a floating bubble for screenshots, screen recording, and an FPS counter.
Google has also introduced some various AI features, which is the whole point of their custom chipset with the Tensor. One includes the Now Playing feature, it is creepy and impressive at the same time. This uses the microphone and will automatically recognise when music is played and show you exactly what is being played, and keep a log of it. Apparently, it is all done on the device; nothing is sent to the Google servers; it instead relies on a database that it downloads. This means it may not always be the most reliable at detecting random songs, but you have the option to enable search for any sounds that it doesn't recognise.
Voice typing and auto-translate are two other big AI features. I can't say I have ever used voice typing much before, but using it with the Pixel 6 Pro is very impressive. I have a northern accent, and I am not the most articulate speaker, but the Pixel seems to be able to make out what I am saying accurately.
Other positives are that there is no bloatware, and you have three years of guaranteed Android updates and 5 years total of security updates. Though it is worth noting that companies like Xiaomi and Samsung now also guarantee 3 years of updates, but they both only offer 4 years of security updates, and there is no guarantee how quickly they will push these updates out. With Google no longer being constrained by Qualcomm, they would have been onto a winner by offering over 3-years of Android updates.
Price and Alternatives
The Google Pixel 6 Pro is priced at £849 SIM-free, and it is available with some favourable contract options. Vodafone has already had an offer on allowing you to buy the Pixel 6 Pro for £703 in-store.
The Pixel 6 is an obvious recommendation over this. The £250 price difference is significant, and I am not sure the Pro is £250 better. I do love the telephoto lens, so I am personally torn about which phone I will keep.
The OnePlus 9 Pro would be the most obvious choice over the Pixel 6 Pro. It is priced at £829.00 and is similar in specs. I prefer the main camera on the Pixel much more. The OP9Pro has a better ultrawide but a much worse telephoto. I wasn't happy with the battery on the OP9Pro, but it did have superior charging.
Many people have compared the Pixel 6 Pro to the Samsung Galaxy S21 Ultra, and the two phones certainly trade blows. However, the Samsung is over £200 RRP more expensive, even with some discount on Amazon, you are still looking at over £100 difference. I just don't feel like that S21 Ultra offers the same value for money as the Pixel 6 Pro.
Overall
The Google Pixel 6 Pro is far from perfect, but as far as premium flagship phones go this year, it is the best yet, in my opinion.
At £849, I think it offers a sweet spot for overall performance and price. Phones like the Galaxy S21 Ultra may offer a bit better performance here and there, but I'd want something significantly better and almost flawless to justify paying well over a grand for a phone.
I don't have the fingerprint unlock as much as others, but it is not class-leading, and the lack of face unlock and slow pin unlock make the unlocking experience the worst part of the phone. I appreciate some of this is security related, but it is annoying nonetheless.
I haven't had the same issues with the battery as others have claimed, and it is undoubtedly better than many SD888 based phones out there. The Google Tensor chipset offers all the performance I want, but it also has the same heat and throttling issues as most other flagship phones this year.
The camera performance has been outstanding. It is consistently good, both in good and low light. The added features such as motion shots and magic erasers are genuinely good and useful.
The software experience takes a little getting used to, but it is generally excellent and having quicker access to updates than any other brand is always going to be a big win for Google.
Overall the Pixel 6 Pro is superb, and I think Google has done well with making this appeal to a wider mainstream audience and can perhaps chip away a little at the Samsung dominance.
As much as I love the Pixel 6 Pro, I am still torn between sending it back and keeping the Pixel 6, and I think a lot of regular buyers will likely be better off with the Pixel 6, it is much better value for money.
Last update on 2022-05-17 / Affiliate links / Images from Amazon Product Advertising API