With Xiaomi upgrading the new Redmi 7A from the Mediatek MT6761 Helio A22 to the Snapdragon 439 it is worth looking at how these two chipsets compare and if the Redmi 7A is a big upgrade from the 6A.
Qualcomm Snapdragon 439
The Snapdragon 439 was launched in June 2018 and is a low mid-tier 64-bit ARM LTE system on a chip designed by Qualcomm. It is Fabricated on TSMC's 12 nm process, the 439 features four Cortex-A53 high-efficiency cores operating at 1.45 GHz along with four high-performance Cortex-A53 operating at 1.95 GHz. The Snapdragon 439 integrates the Adreno 505 GPU and features an X6 LTE modem supporting Cat 5 uplink and Cat 4 downlink. This chip supports up to 4 GiB of dual-channel LPDDR3 memory.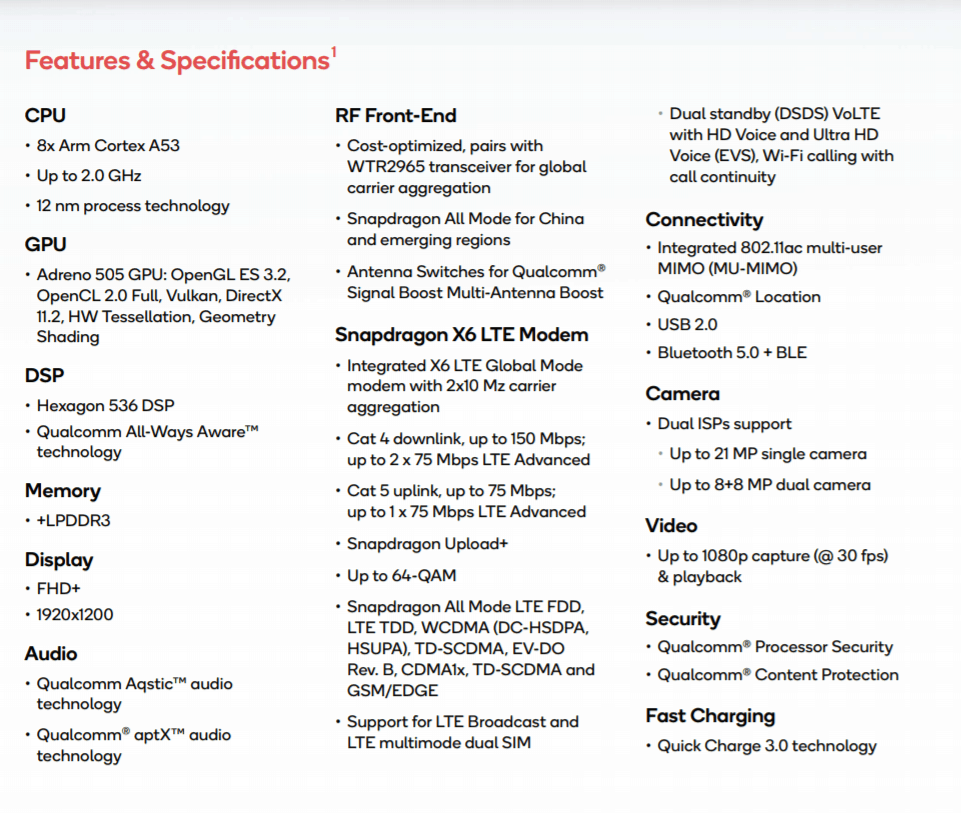 Helio A22 (MT6762M) – MediaTek
The Helio A22 (MT6762M) by MediaTek was actually launched later than the Qualcomm alternative, and this is also a 64-bit quad-core ARM LTE system on a chip.
Manufactured on TSMC's 12 nm process, this SoC integrates four Cortex-A53 cores operating at up to GHz and supports up to 6 GiB of dual-channel LPDDR4X-3200 memory. This SoC also incorporates a PowerVR GE8320 IGP. The chip has a modem supporting LTE cat 7 download and cat 13 uploads.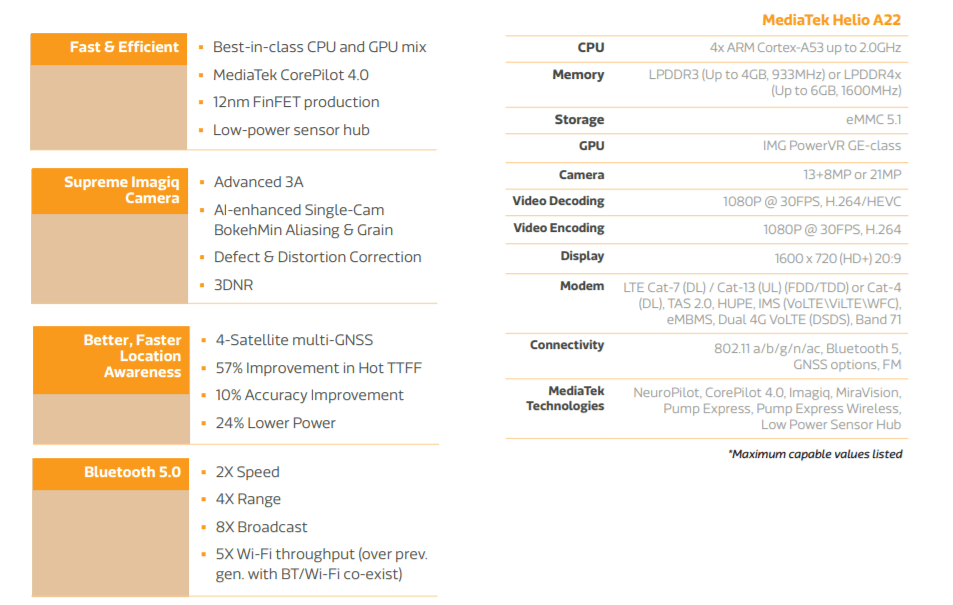 CPU differences
Qualcomm is comfortably in the lead with this one Snapdragon 439 has an octal-Core(8 x Cortex A-53) and Helio A22 has only a quad-cores(4 x Cortex A-53).
The SD439 divides the cores into two clusters with four cours upto 1.95 GHz and four at 1.45 GHz Cortex A53. Whereas the Helio only has quad-cores and all cores have an equal 2.0GHz CPU frequency.
The Qualcomm will able to use its slower cores for less intensive functions freeing up the other cores for demanding applications. It should alsop make it more energy efficient, only using the slower cores when possible.
GPU differences – Adreno 505 vs Powervr GE8320
The Qualcomm uses Adreno 505 and is generally regarded as being slightly superior to the PowerVR GE8320 found on the Helio A22.
The best way to tell how the GPU compares is through benchmarks, but at the moment there are not many benchmarks for the SD439. The Nokia 4.2 which uses the same chipset gets 821 in the 3D Mark Sling Shot test and 79436 is AnTuTu.
The Helia A22 on the Redmi 6A gets 451 in the 3D Mark Sling Shot test and 62292 is AnTuTu.
Overall
Clearly, the Qualcomm Snapdragon 439 is the superior chipset and this is why the Xiaomi Redmi 7A is upgrading to the SD439