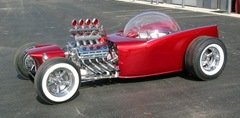 If I could drive, I would want to drive this bad boy. Up for auction at eBay is the Aaron Grote's celebrated Atomic Punk bubbletop custom hot rod. This hot rod got a lot of attention at the 2008 Detroit Autorama Extreme.
Aaron Grote says that he has built this thing from the rusty haunches of a '59 Plymouth. The motor is a 392 Hemi he front end is chrome drilled and dropped. The Ed Roth inspired hot rod has been seen in several magazines and is currently the Cover Car on the newest Rod and Custom Magazine.
At the moment the bid is just shy of $63k which is about £40k. Not bad considering the press attention it has received, the quality of the build and the fact it is completely unique. The auction ends on November 13th so the price will likely rise, and if you are a UK buyer you would have to ship it over here so yeah the price would likely start to rise a lot. Still if I was a footballer I would drive around in this, it is better than the generic BMWs, Landrovers, and Mercs you see all the footballers driving, maybe not as comfy though.
More images after the jump.
Via: Born Rich