OnePlus 7T Review Rating
Summary
One of the best phones of the year, offering a superb balance of performance and price.
Announced in September with availability in October, the OnePlus 7T promises to be one of the best phones of the year bringing with it a significant spec bump that makes the Pro model feel a bit redundant.
Specifications
Screen: 6.55in FHD+ 90Hz Fluid AMOLED (402ppi)
Processor: Qualcomm Snapdragon 855+
RAM: 8GB of RAM
Storage: 128 or 256GB (UFS 3.0)
Operating system: OxygenOS 10
Camera: 48MP + 12MP + 16MP triple rear camera, 16MP selfie camera
Battery: 3800mAh battery with Warp Charge 30T
Connectivity: USB-C (3.1) LTE, dual sim, wifi ac, NFC, Bluetooth 5 and GPS
Dimensions: 160.9 x 74.4 x 8.1mm
Weight: 190g
OnePlus 7T vs OnePlus 7T Pro vs OnePlus 7 Pro
The 7T has had a much larger upgrade than the 7T Pro, so much so that most of the specs are now inline with each other.
The two biggest differences are that the 7 Pro has a larger 6.67-inch display running at 1440 x 3120 pixels that lacks a notch thanks to the motorised pop-up compared to the 6.55 inch 1080 x 2400 display of the 7T. The 7T Pro also has a fractionally larger battery with  4085 mAh vs 3800 mAh.
OnePlus 7T
OnePlus 7T Pro
OnePlus 7 Pro
Display
6.55-inch (2400×1080 / 402 PPI) with a notch
90Hz and HDR10+

6.65-inch (3100×1440 / 516 PPI)
90Hz and HDR10+
6.67 inch 1440 x 3120 pixels 516 ppi
90Hz and HDR10+
CPU
Snapdragon 855+ (7nm)
Snapdragon 855+ (7nm)
Snapdragon 855 (7 nm)
GPU
Adreno 640
Adreno 640
Adreno 640
RAM
8GB
8GB
6GB/8GB/12GB
ROM
128GB / 256GB
256GB
128GB / 256GB
Rear Camera
Main 48MP (f/1.6) with OIS + EIS
Telephoto 12MP (f/2.2) with 2x Zoom
Ultra-Wide 16MP (f/2.2) with 120° field of view
Main 48MP (f/1.6) with OIS + EIS
Telephoto 8MP (f/2.4) with 3x Zoom
Ultra-Wide 16MP (f/2.2) with 120° field of view
Main 48MP (f/1.6) with OIS + EIS
Telephoto 8MP (f/2.4) with 3x Zoom
Ultra-Wide 16MP (f/2.2) with 120° field of view
Front Camera
16MP (f/2.2) with 120° field of view
16MP (f/2.2) with 120° field of view
16MP (f/2.2) with 120° field of view
Battery
3800mAh / WARP Charge 30T Fast Charging
4085mAh / WARP Charge 30T Fast Charging
4000 mAh 30W Warp
Design and Build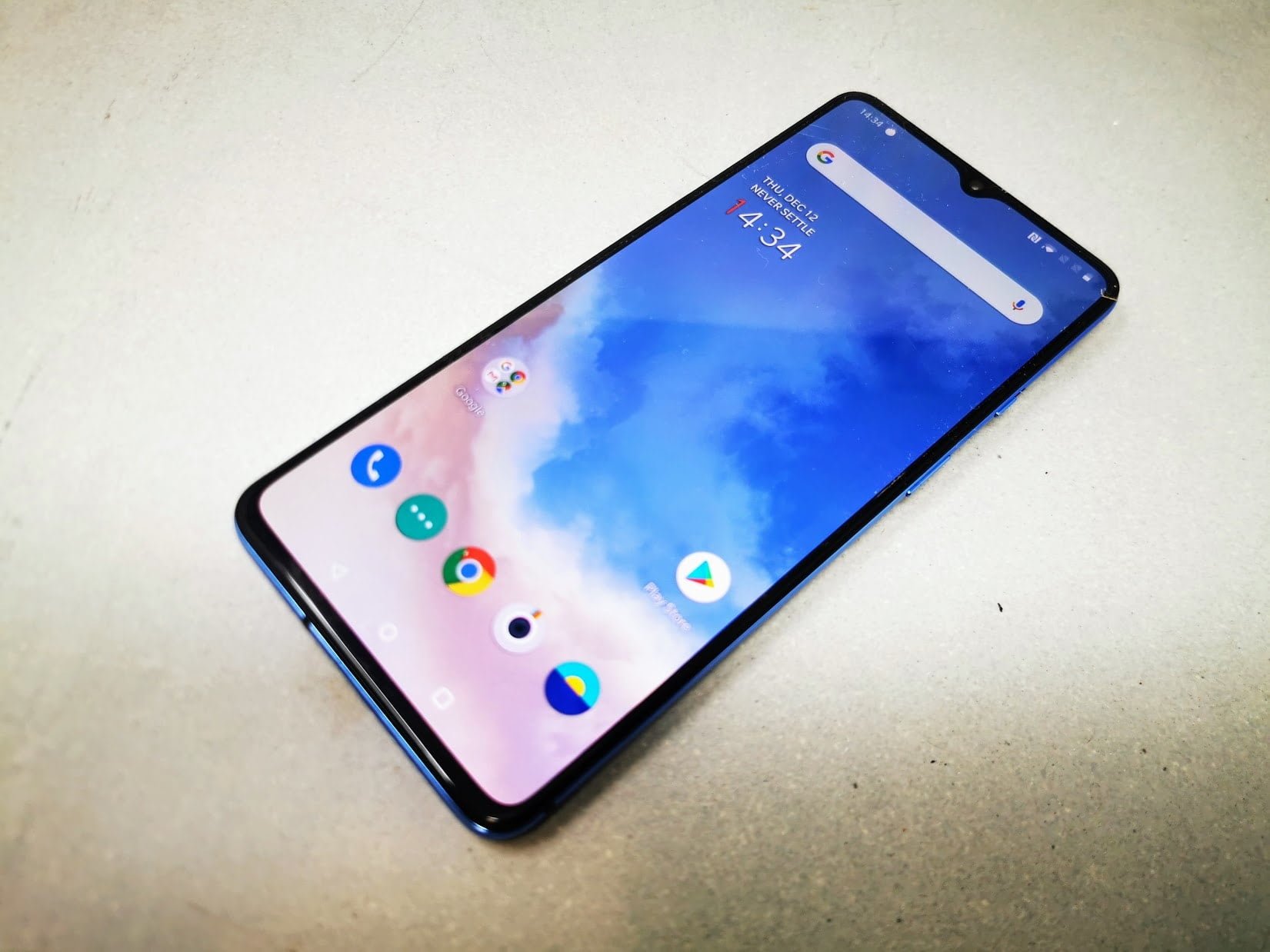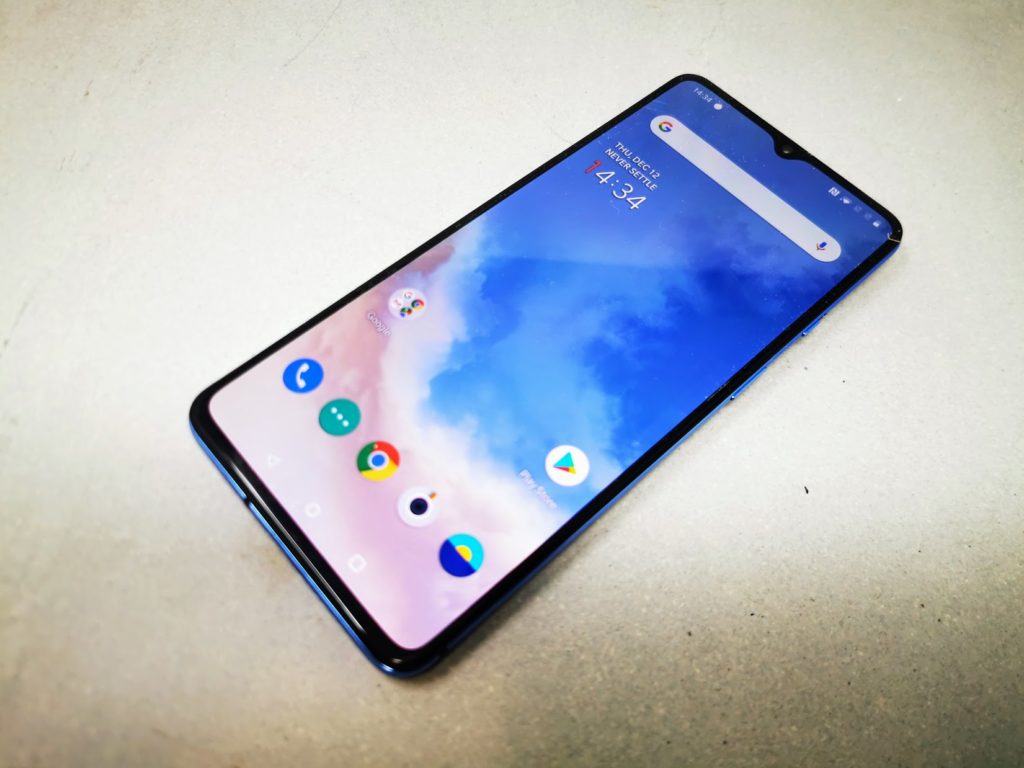 Build quality remains identical to the OnePlus 7 Pro and the OP7, and the design is very similar. Compared to the original OnePlus 7 this is marginally taller and heavier thanks to the larger screen, but it is small enough not to be immediately apparent.
The rear of the phone has seen a camera design change going from a thin column to being arranged in a circle.
The notch does ruin the clean lines and futuristic aesthetic that the Pro models have, but I think this is a small sacrifice to pay for quite a substantial difference in price.
As always with OnePlus this lacks an official IP rating and has no 3.5mm jack. The IP rating is apparently expensive to get and this is why OnePlus doesn't do it, but they claim it should handle the occasional splash of water. I have mixed feelings about this, saving money is always good, but I live up north and regularly get rained on, so the reassurance of an IP rating is nice.
Display
The display is suspiciously similar to the Realme X2 Pro being the same size, resolution and having the same refresh rate. Both are superb, and while it isn't quite the resolution of the Pro models, I personally find it hard to tell the difference.
The combination of the lightweight OxygenOS and the 90Hz display mean that the display is ultra responsive. As much as I love the 90Hz I am not quite enamoured with it as some reviewers, going back to a 60Hz panel doesn't offend me as much as other people.
Testing this in Amsterdam during December meant I didn't have to suffer from too much sunlight. OnePlus claims this hits 1,000 nits while on Auto mode, which is the same as the Realme display, and when I tested that in Rome, I had no issues with screen visibility.
Like most AMOLED display colours are beautiful, vibrant and accurate.
Camera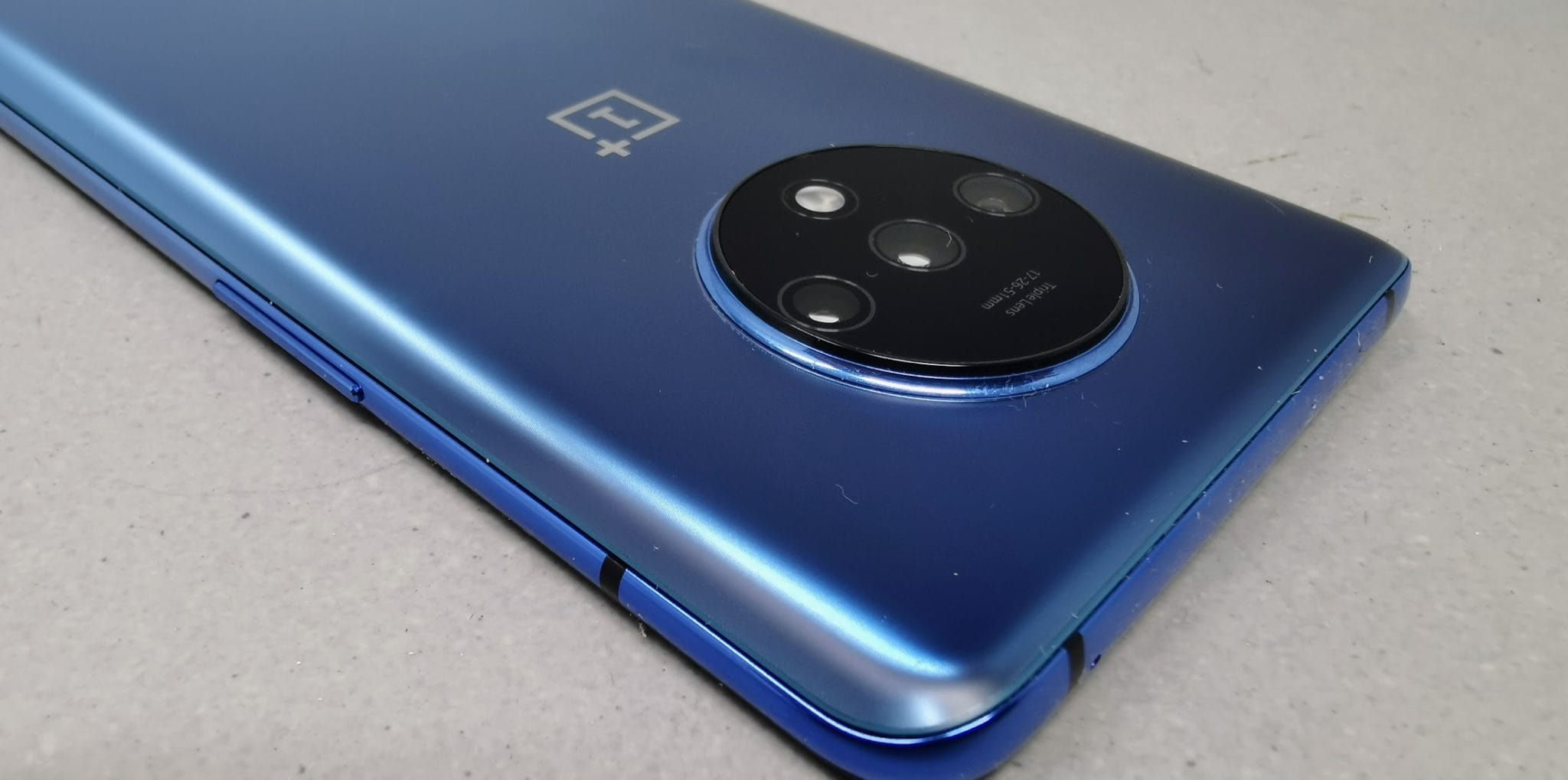 The quality of a camera on a phone has quickly become the main selling point of phones in recent years. Camera quality has improved so much, that many people, including myself, have ditched traditional point and shoot cameras for most scenarios. Camera quality is also something that appears to differentiate an affordable flagship and a premium flagship.
With this being on the low to mid-end of flagship pricing, I would say it performs about right, if not better than expected. You get a superb specification, and in most scenarios, it does a magnificent job, and it is good enough that I think is more than capable for almost every consumer.
Ultrawide
The ultrawide lens is my favourite lens on any phone, and I think it is madness Google continues to omit it on their Pixel 4 phones. The OnePlus has a 16MP ultrawide, which is larger than the 8MP you will find on the Realme. It is capable of producing some excellent shots, allowing you to capture a much wider area than the standard lens. However, like all phones, you lose quite a bit of quality when switching to ultrawide.
Zoom
The OnePlus 7T features a 2x zoom, it is almost the same as the Pro model, which technically has a 2.2x zoom but then crops it to create 3x. It is nice to have, and at this price point it is a good addition, many other more expensive phones have a similar zoom level, but it does fall behind options from Huawei and OPPO.
Night Mode
This tends to be the biggest downfall of phones. It has been what has separated the Huawei P30 Pro from the pack, and also what let down the Realme X2 Pro.
The biggest issue I found with the Realme was its tendency to have very blurry night time shots, whereas the P30 Pro seems to magically ignore motion when using a long exposure. The OP7T sits somewhere between the two in my opinion, I get much more consistently decent shots than the Realme, but not as good as the P30 Pro. It is worth noting that the Huawei P30 Pro can sometimes be too aggressive with its night mode making night shots look like it is daylight.
In the first example, both the OnePlus 7T and Realme produce excellent results, I personally think the Realme did better, but this was likely just a lucky shot.
In this example, I used all three phones I had on me and in my opinion, the OnePlus does the best of the bunch creating a natural look without causing glare from the lights. The P30 is a bit too aggrieve here making the sky look more grey, and the Realme overdoes everything producing a poor shot overall.
Example Shots
Performance and Benchmarks
Having an almost identical internal spec to the Realme X2 Pro, and featuring the Snapdragon 855+ performance is exemplary. In fact, the differences in software become apparent again here, with the OnePlus 7T comfortably outperforming the Realme X2 Pro in benchmarks, and the Realme had 12GB of RAM vs 8GB here. In terms of real-world performance, I doubt you would notice much difference but it is always good to know you have one of the fastest phones on the market.
Chipset
Total
CPU
GPU
MEM
UX
OnePlus 7T
Snapdragon 855+
487050
144155
199255
70043
73597
Realme X2 Pro
Snapdragon 855+
473329
142596
190964
799966
59803
Black Shark
Snapdragon 855
442971
Xiaomi Mi Mix 3 5G
Snapdragon 855
429859
144036
172351
56044
57428
Xiaomi Redmi K30 5G
(Leaked score)
Snapdragon 765G
302847
98651
87564
57985
58647
Xiaomi Redmi Note 8 Pro
Mediatek Helio G90T
281295
98263
79755
57285
45992
Realme X2
Snapdragon 730G
258311
98328
67574
47945
44464
Realme 5 Pro
Snapdragon 712
216501
73459
61872
42013
39157
Honor 9X
Kirin 710F
172710
64742
21250
50747
35971
Realme 5
Snapdragon 665
167866
71157
33489
36568
26652
| | Chipset | Sling Shot Extreme OpenGL | Sling Shot Extreme Vulcan |
| --- | --- | --- | --- |
| OnePlus 7T | Snapdragon 855+ | 6278 | 5504 |
| Realme X2 Pro | Snapdragon 855+ | 5761 | 4921 |
| Black Shark | Snapdragon 855 | 5791 | 5030 |
| Realme X2 | Snapdragon 730G | 2405 | 2270 |
| Realme 5 Pro | Snapdragon 712 | 2091 | 1979 |
| Xiaomi Redmi Note 8 Pro | Mediatek Helio G90T | 2377 | 2454 |
For day to day usage, like most flagship devices, everything runs absolutely perfectly, there were no issues with laggyness, no apps froze or crashed. The combination of the SD855+, 90Hz screen and superb lightweight OxygenOS makes everything feel instant
Battery
At 3800mAh this is not class-leading, but it is hardly bad and considerably better than the 2800 mAh you find on the Pixel 4. You should easily get a full day of moderate to heavy use out of this and you can probably push past a full day for a lighter load.
The 30W Warp Charge is faster than most brands, including Google and Samsung. OnePlus says that the 7T can maintain a 30-watt charge for 14 minutes, six minutes longer than OnePlus 7 Pro. That means the battery can go from dead to full in 60 minutes.
Software
I think the overwhelming consensus is that OxygenOS is one of the best software options out there, only being surpassed by Google themselves (and even that is up for debate). The OS is likely one of the biggest reasons to opt for OnePlus over other more affordable flagship options from Xiaomi and Realme.
Out of the box, you get OxygenOS 10 which uses Android 10 including the new trendy dark mode. OnePlus keep things simple with OxygenOS with no bloatware. The overall software experience is superb and this helps with the incredible performance that the SD855+ chipset and 90hz screen offer. Oneplus are also better than most for updates, so you won't be waiting around for ages for the next Android release.
Overall
The OnePlus 7T takes all the best bits of the OnePlus 7 Pro while keeping the price on the lower end of flagship phones. In my opinion, it has received such an extensive upgrade it seems almost pointless choosing the OnePlus 7T Pro over this.
For most people, I think this represents the ideal balance of price and performance. There are cheaper similar specced phones (Realme X2 Pro) and there are much better camera phones (Huawei P30 Pro), but this sits nicely between the two, the camera outperforms the Realme, and you save £200 vs the P30 Pro.
[content-egg module=Amazon template=list]
Last update on 2022-06-19 / Affiliate links / Images from Amazon Product Advertising API