I have covered quite a lot of WiFi products on this blog, and there is a good reason for it. Our lives seem to be reliant on a good internet connection. WiFi can be one of the biggest causes of frustration in my household, I have quite a large old house with very thick walls, so good reception throughout the house is hard to get.
WiFi extenders aim to solve some of these issues, you put the device somewhere in the middle of a good WiFi signal and a bad WiFi signal, and it will boost the signal for you. They generally offer the simplest way to improve WiFI and are normally cheaper than Powerline options.
The EX7300 from Netgear is the current top end model from Netgear in their extender range.
The features include:
Dual band Wi-Fi speed – up to 2200 Mbps.
High-power amplifiers and internal antenna array increase range.
Beamforming+ improves wireless range and reliability.
Access Point mode creates a Wi-Fi hotspot using a wired Ethernet connection.
MU-MIMO allows you to go faster by simultaneously streaming to multiple devices.
FastLane Technology improves performance using both Wi-Fi bands.
Gigabit port to connect to wired devices like smart TVs and game consoles to Wi-Fi.
Custom Low-Noise Amplifier improves incoming transmission quality from mobile devices.
For your average person, the main differences between this and the cheaper models are the increased speed with the WiFi It will operate at AC2200 (450 Mbps+ 1733Mbps) using 802.11a. It should hopefully provide improved coverage across your home.
Unlike some of the extenders from Netgear, the EX7300 plugs directly into your socket, this helps reduce cable clutter. It is not pass-through, though, so it will use the entire socket It is quite large too, so there is a good chance it could block the second socket too.
Design wise, it is fine, you can't make these things pretty really. Netgear has moved to white from black compared to our previous extender review. This might make the unit blend in a little easier. There is also a handy Ethernet port at the bottom of this, so you can connect 1 device directly to it. This will be useful for gamers or a TV used fro streaming where you want to maximise the bandwidth and reduce latency.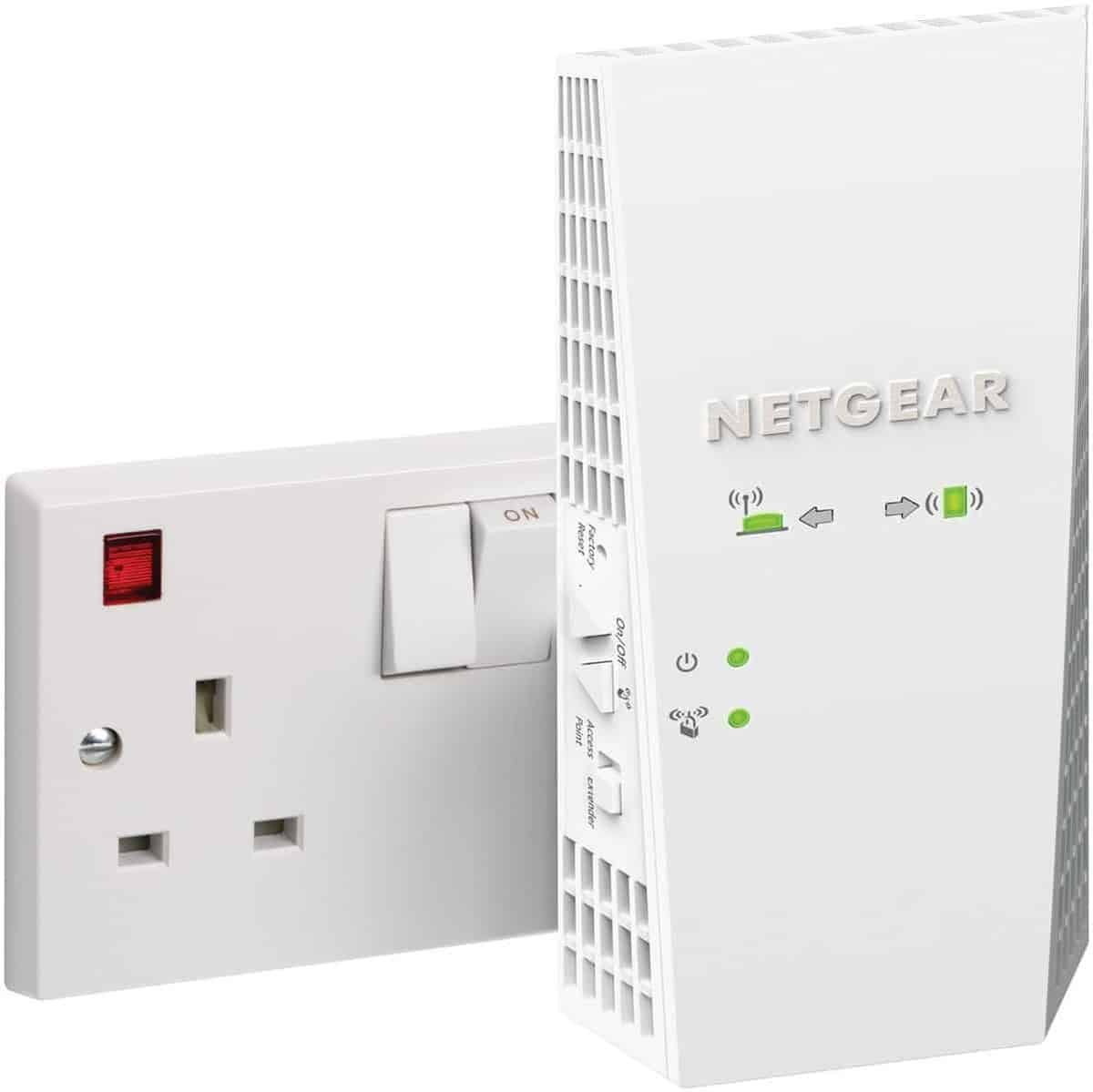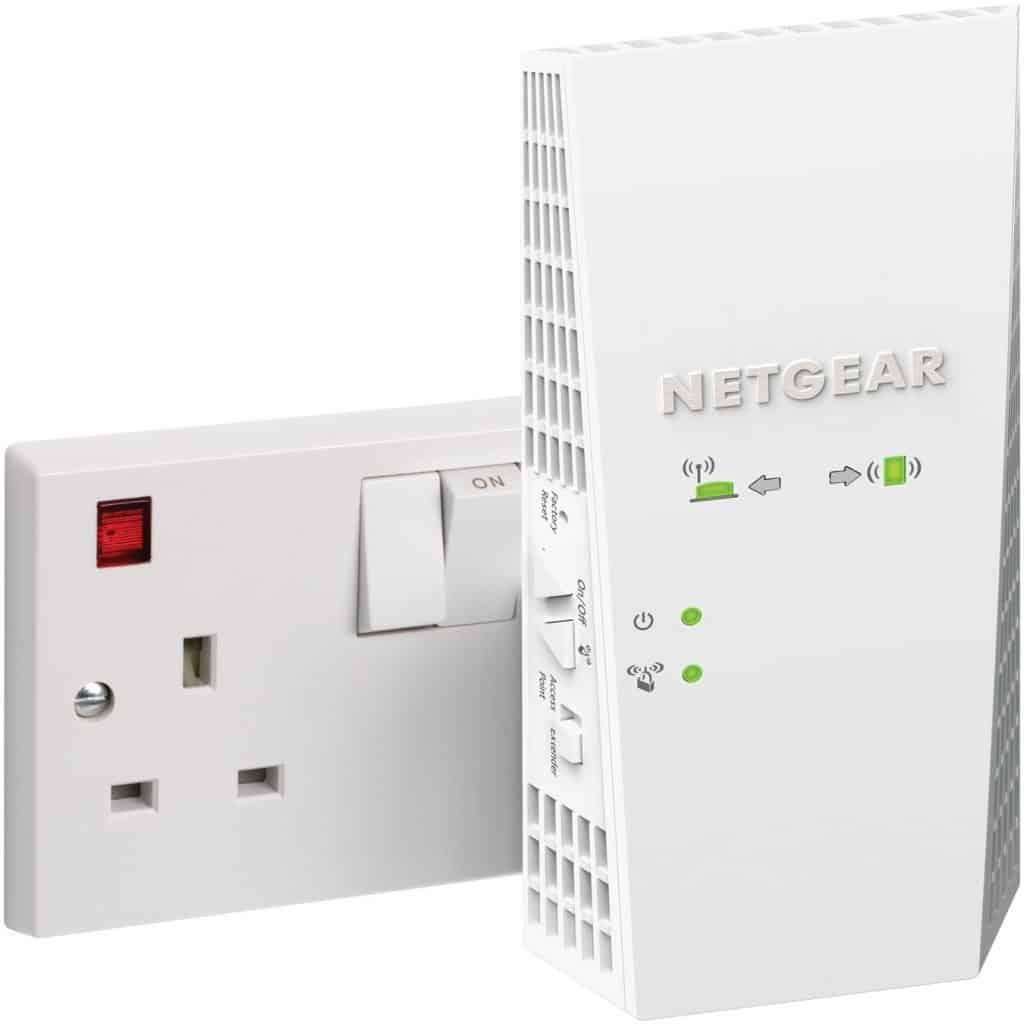 Set up is very similar to older models, and it is still very easy. You can use WPS for instant setup or you can go through the web interface. To access the extenders setup page, enter www.mywifiext.net in the address field of your browser, and click new extender set-up. Then follow the instructions. It really is easy.
Once you have done the basic setup you can tweak various other settings in the EX7300 such as limiting the band the extender uses. For most people, these can be ignored, but they will no doubt be useful to some people.
As you would expect, the EX7300 performed better than any other extender I have used in the past. When working with the excellent Netgear R7000 I achieved over 150Mbit/s across a large room, this then dropped a bit once I moved into other rooms due to the thick walls. I still managed to achieve 60-100 Mbit/s around the house, which is more than enough for general use, and far faster than my fibre connection.
For some, an even move handy feature than the extender is the access point mode. In this mode, you wire the EX7300 into your existing network and it will then work as an access point, giving you access to the full speed it is capable of. During this test, I was able to achieve speeds over 400Mbit/s and I think my laptop and its hard drive were the main limiting factors with this.
Overall, this is a great extender and to be honest you can't really go wrong with any of Netgear products. So, if you are looking for an extender any Netgear model will do a good job you just need to decide on your budget and performance requirements. The EX7300 is currently £96 on Amazon or you could save a few pounds for the EX6400 model at £69.99.