The MooSoo K17U is an affordable ultra-lightweight cordless vacuum with a telescopic shaft. Priced at around £120, it half the price as big brand names like Shark or the Halo Capsule I previously reviewed but is it any good?
MooSoo K17U vs K17 Upgraded vs K17 Specification
No products found.
| | | | |
| --- | --- | --- | --- |
| | MooSoo K17U | MooSoo K17 Upgrade | Moosoo K17 |
| Functions | 4 in 1 telescopic pole | 2 in 1 telescopic pole | Fixed pole 3 attachements |
| Motor Power | 250W | 200W | 200W |
| Suction Power | 8kPa / 24kPa | 11kPa / 23kPa | 10kPa / 17kPa |
| Dust cup Capacity | 0.32 gal / 1.2L | 0.32 gal / 1.2L | 0,13 gal / 0,5L |
| Filter | HEPA | HEPA | HEPA |
| Battery Capacity | 2200mAh | 2200mAh | 2200mAh |
| Battery Life | 30 min / 12 min | 30 min | 30 min |
| Charging Time | 4.5 hrs | 4.5 hrs | 4 hrs |
| LED Headlights | Yes | Yes | Yes |
| Working sound-level | 72dB | 72dB | 65dB |
| Weight | 5.5 lbs / 2.5 kg | 4.6 lbs / 2.1 kg | 4.6 lbs / 2.1 kg |
| Price | £120 | N/a | £140 |
The MooSoo product line up is a little confusing. There seems to be the MooSoo K17, K17 Upgraded and K17U. I thought the K17U was the K17 Upragded at first (which would have made sense).
Pricing is all over the place too; the highest spec MooSoo K17U is the cheapest.
Amazon only lists the K17U & K17, but the MooSoo site lists all three.
Assembly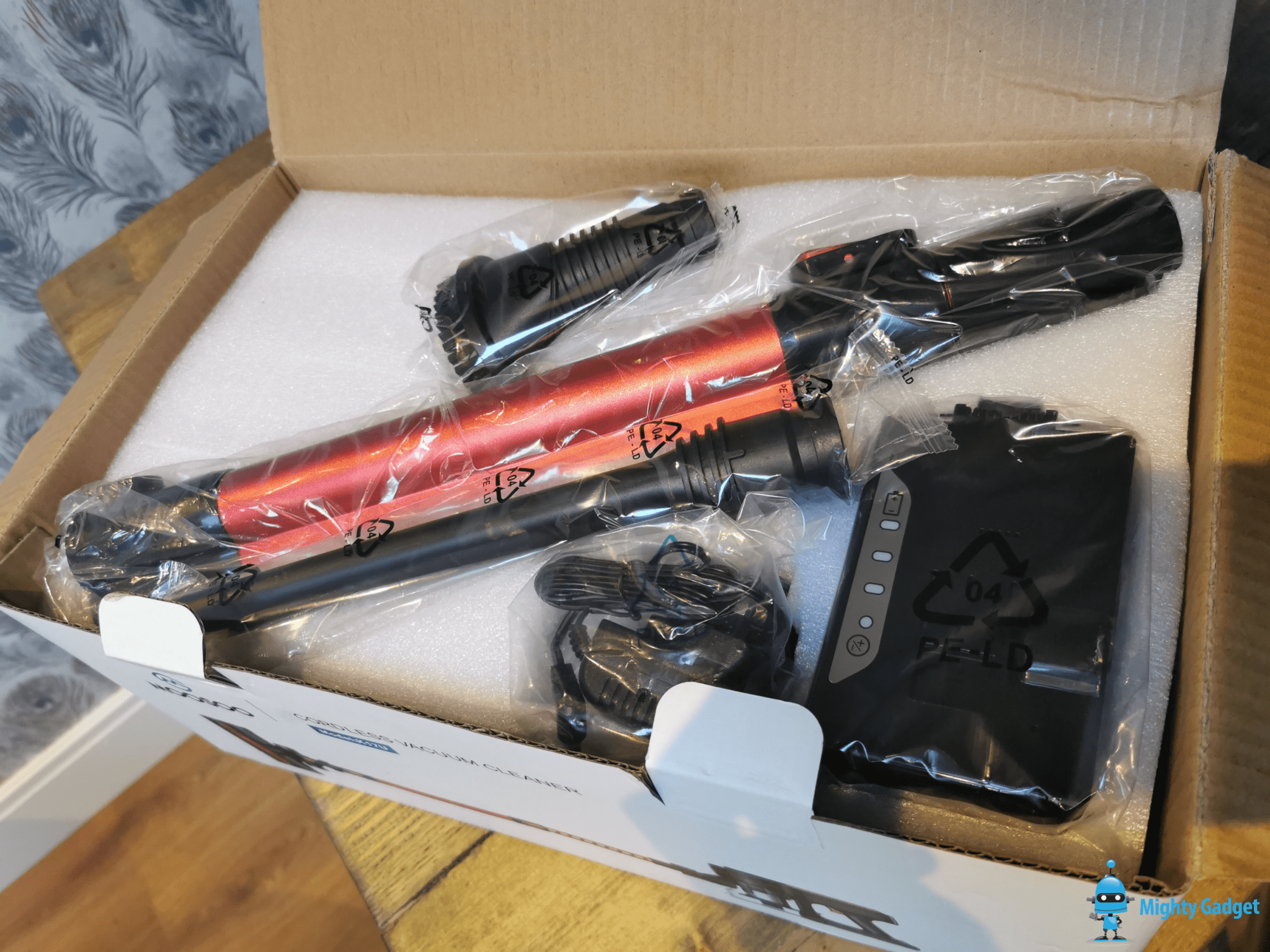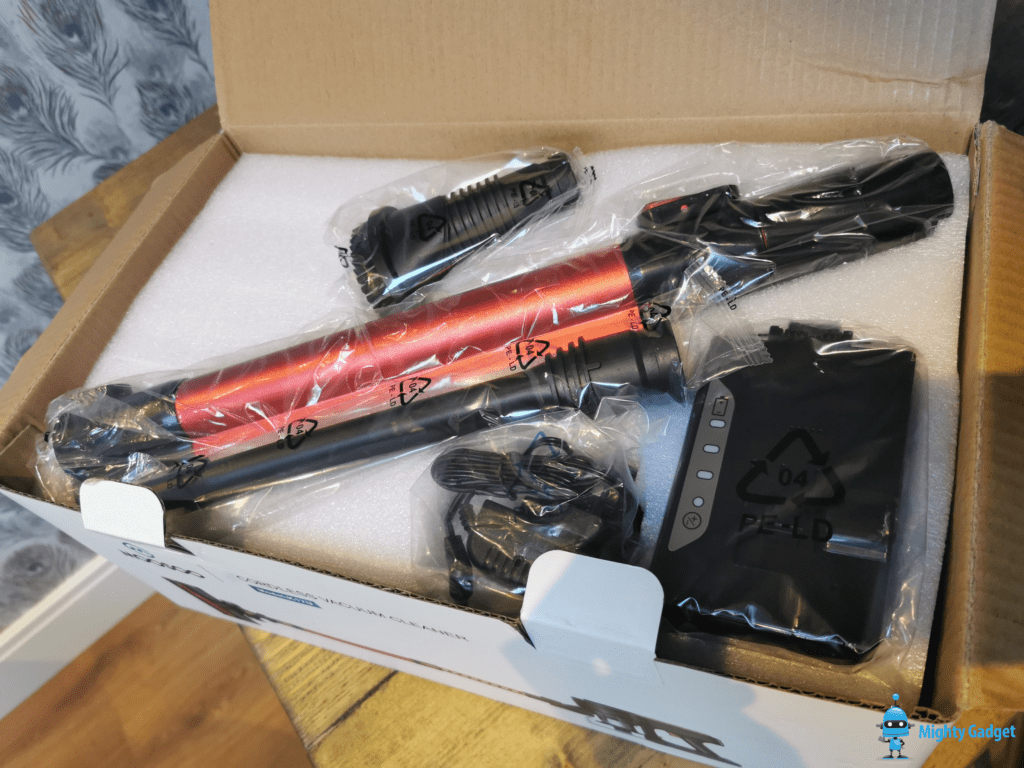 Putting everything together is super easy to do, the main vacuum part connects to the telescopic shaft, then whatever attachment you want. The battery is removable, so this also needs slotting into place. The battery can be charged while fixed in position, and the vacuum can be propped up without easily falling over (unlike the Halo).
In Use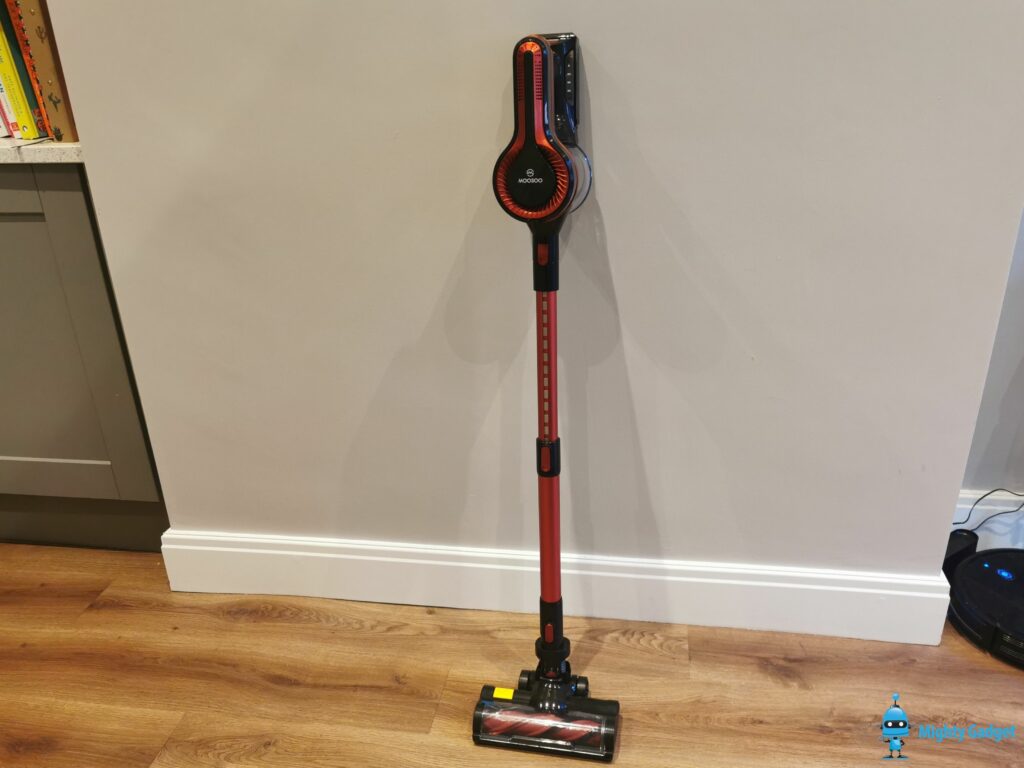 The MooSoo has a claimed suction of 8 kPa (standard mode) / 24 kPa (MAX mode).
Unfortunately, most big brand names use Air watts as a reference for power, the Halo Capsule offered 120AW, while the Dyson V7 has 100AW in max mode.
Eufy uses Pa for its RoboVacs suction power rating, and these typically offer around 2000Pa or 2kPa.
I found that the MooSoo K17 offered relatively week suction compared to the Halo Capsule or the full-sized corded Vorwerk Kobold.
On hard floors, in the standard mode, it does a perfectly fine job, the brushes sweep up dirt well, and there is enough suction for it to be driven up into the tank.
On carpets, I felt like the normal mode didn't offer enough suction, so I almost always use the max mode for this. In this mode, it works well, and it is great at quickly going over a room, it is much less hassle than dragging out the big heavy Vorwerk. While the max mode significantly reduces the battery life, it is good for over 10 mins, which is about the limit of time for my willingness to vacuum.
Price and Alternatives
Amazon lists the Moosoo K17U at £118.99, currently with an RRP of £179.99, but it looks like it has never been sold at full RRP, an obvious marketing tactic, nor is it worth £179.99.
MooSoo sells this directly for £84.34 they bill in USD, so the exact price will vary. It is shipped from the EU, so you may incur customs fees, but It falls under the £135 threshold for couriers charging you directly for VAT/Duty, so you probably won't have to pay any more.
The Halo Capsule offers significantly better performance but is well over £100 more, it is quite a big difference.
There are a lot of almost identical vacuums on Amazon at different prices. The Muzili Vacuum Cleaner was one I immediately noticed, it seems to be literally the same vacuum, just a different company. This is £139.99 but with a £10 voucher.
Overall
The MOOSOO K17 Stick Cordless Vacuum is good, it is cheap, very light, offers a good enough suction in most scenarios, and the battery is good enough to clean a small home or a couple of big rooms.
Depending on the size of your house and what flooring you use I think this works best as a supplementary vacuum to keep on top of the general muck. For larger, carpeted homes such as mine, it is perfect for things like the stairs and cleaning up all the crumbs I spill.
For smaller properties, especially those with hard floors, this should work well as the primary vacuum.
It can't compete on suction with my Halo Capsule, and certainly not against the old fashioned corded vacuums, but this is less than half the price currently, and the performance is as expected.
Last update on 2022-05-22 / Affiliate links / Images from Amazon Product Advertising API