Linner NC50 Active Noise Cancelling Wireless Headphones
Product Name: Linner NC50 Active Noise Cancelling Wireless Headphones
Offer price: 59.99
Currency: GBP
Availability: InStock
Build Quality -

85%

Sound Quality -

80%

Noise Cancellation -

75%

Price -

80%
The Linner NC50 wireless earphones tick a lot of boxes for my needs, they are Bluetooth, sweatproof using a rubber construction and have active noise cancellation all for a bargain price of £59.99. Can they get close to the Bose active noise cancellation quality or even just work as a good pair of sports earphones?
Design and Build
The trend among earphones appears to be going completely wire-free, and while I can appreciate the appeal, it is not my favourite design for any strenuous exercise due to the issues with them falling out. The Linner earphones go in the other direction, probably due to the active noise cancelling technology inside them. With these, you don't just get a wire around your neck but a large rubber neckband with two weighty units on the left and right, similar to the RHA 750. I assume one is for the noise cancellation while the other is the battery. In addition to this, there is a small remote control further up on the right-hand side.
[button link="https://amzn.to/2Lp0OuI"] Buy the Linner NC50 from Amazon[/button]
The earphones themselves slot comfortably into your ear and have some rubber anchors you can optionally use. As all the weight is kept away from the earpiece, I find them both comfortable to wear, and I found there was rarely an issue with them falling out.
Sadly, I am cursed with sweating a lot when I exercise and have broken more earphones than I care to mention from sweat, even with cheap brands that claim to be sweat proof. With these everything is coated with a rubber-like material and all the connections have tight seals with them, this gives me some confidence that they will work well long term as sports headphones.
The back of the ear tips is magnetic so they will stick together, though the magnetic connection is quite weak.
As usual with most earphones, you get three sets of tips, and then there are also three sizes of the anchor.
The packaging of the earphones is very basic, but I didn't buy them for the packaging.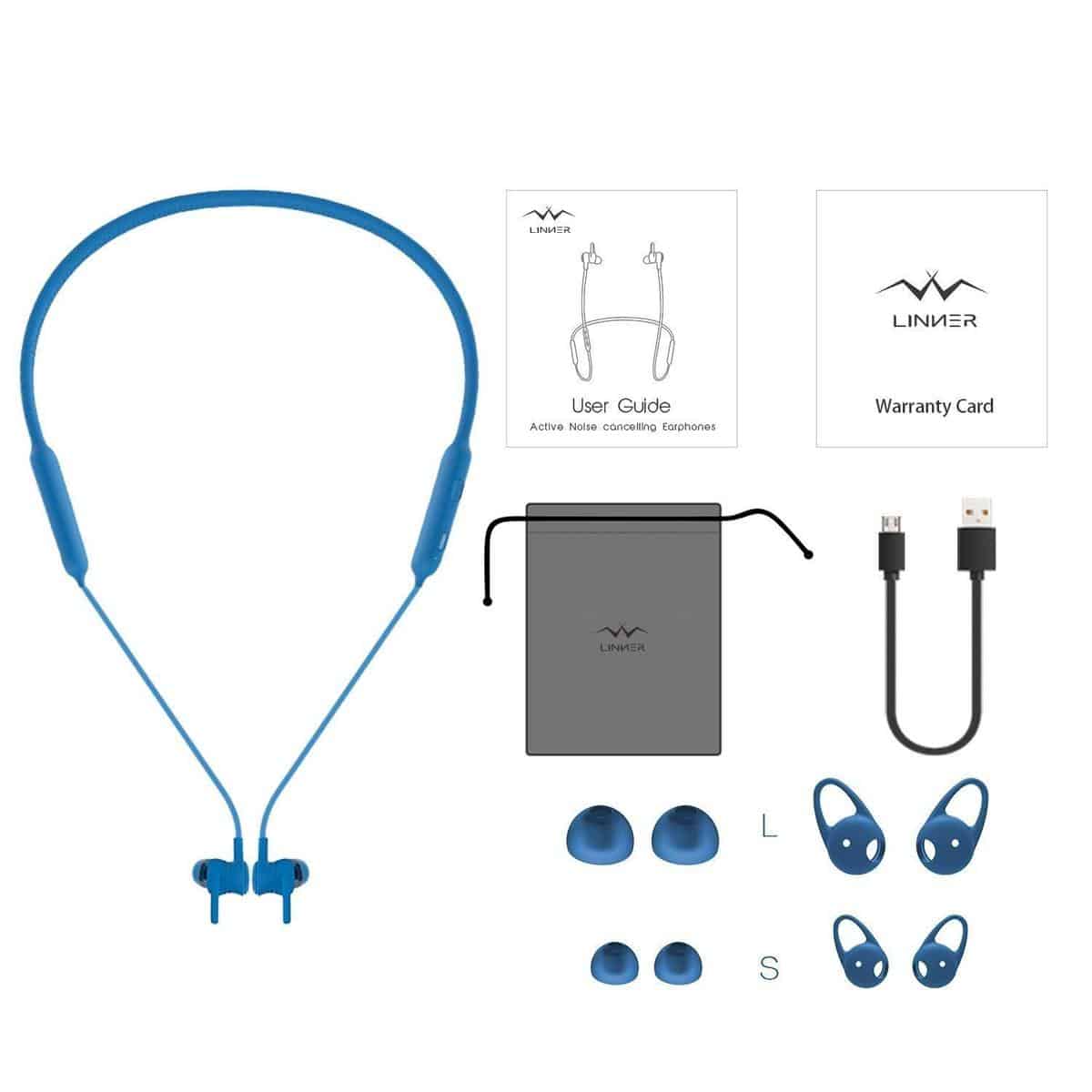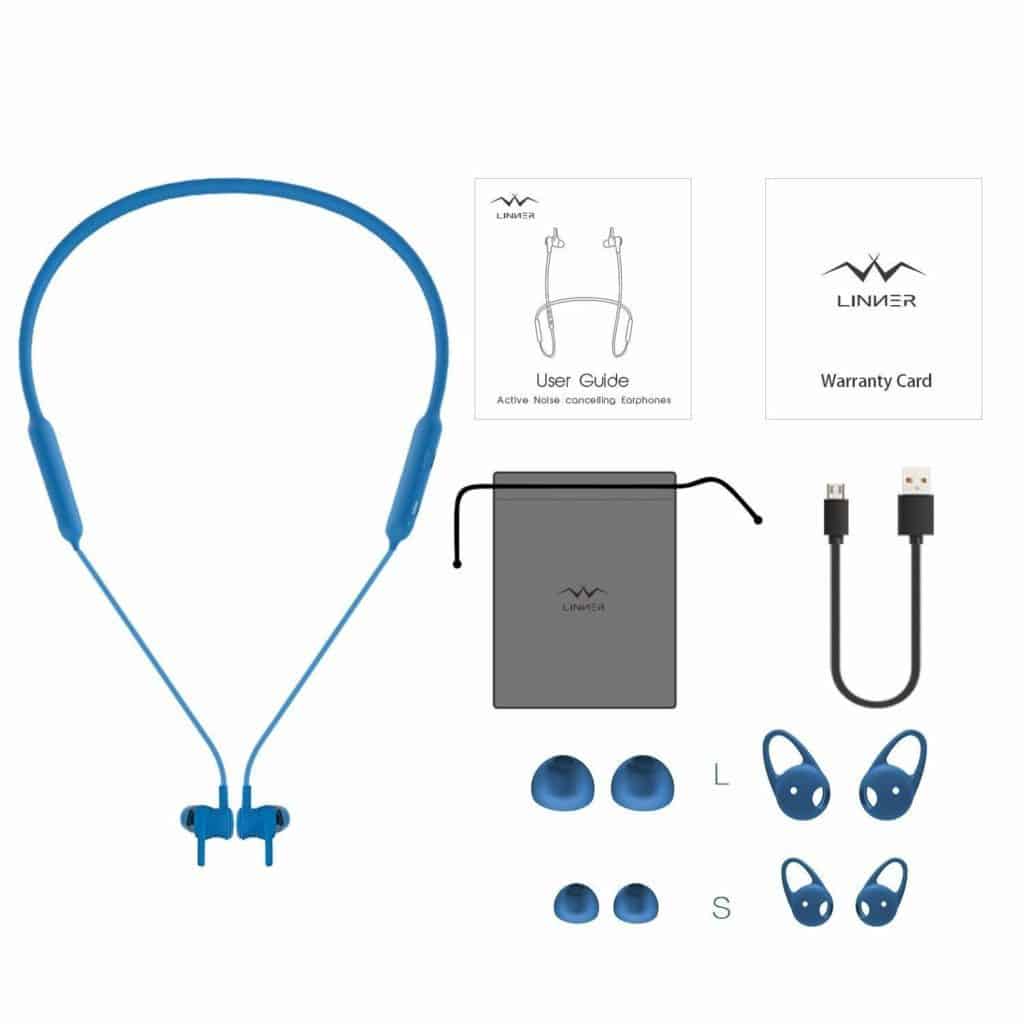 Performance
Pairing the earphones was simple as with most earphones nowadays, you just hold down the power button and waiting for the pairing notification, then pair your phone.
Sound quality is pretty good in particular they have a nice level of bass, it's not boomy or overwhelming but just a good deep level of bass while still being clean. While that may not be the audiophile preference, it is what I want for something I am wearing to the gym and one of the reasons why I love the Bose Soundsport.
Some of the high-end notes could be a little harsh on occasional at high volumes; I found myself turning the volume down a little with some tracks from bands like RATM. The mids were well presented with no distortion and complimented the bass well.
Active Noise Cancelling
Active Noise Cancelling is something you would pay £100+ for so I had a low expectation of the Linner NC50, but it appears to do a reasonable job and based on the price you could say excellent.
The first thing I noticed was that enabling ANC appears to just turn up the volume of the music, so much so I was very suspicious if it did anything at all. The added volume appeared to drown out any background noise.
In order to try and test how effective it was I turned down the volume of the music to very low, and zero then experimented with switching it off and on. I have just returned from my holidays so couldn't test it on a plane, but I did use a sound recording on YouTube to get a similar effect.
[button link="https://amzn.to/2Lp0OuI"] Buy the Linner NC50 from Amazon[/button]
With ANC on there is a noticeable reduction in noise, it is nowhere near as good as Bose, but it is quite good. The claims of 97% noise cancellation certainly appear to be exaggerated, but in the environments,  I tried it on it reduced the background noise enough to be reasonably unnoticeable while playing music. With the aeroplane engine noise track turned up quite high, I could still hear the engine, but I was able to listen to my music without having to crank up the volume too high.
Overall
Overall, I was pleasantly surprised with the Linner NC50 they appear to have better build quality, sound quality and ANC than the price would suggest.
The noise cancellation isn't as good as much more expensive models, but it better than any other cheap brand claiming to be able to do this.
The rubber build gives the impression that the earphones should last a long time. Though the weighty neckband may be annoying to some runners. For me, I would prefer the band bouncing around on my neck rather than my earphones falling out randomly.
[button link="https://amzn.to/2Lp0OuI"] Buy the Linner NC50 from Amazon[/button]