Infinix are not normally a brand I associate with being pioneers of technology, but at the start of MWC 2021, they have announced a new concept phone with the fastest charge speeds on the market.
160W wired charging and 50W wireless
The new Infinix Concept Phone 2021 is capable of 160W wired charging and 50W wireless charging. The phone has a 4000mAh battery which can be charged via cable from flat to full in 10-minutes.
Super Charge Pump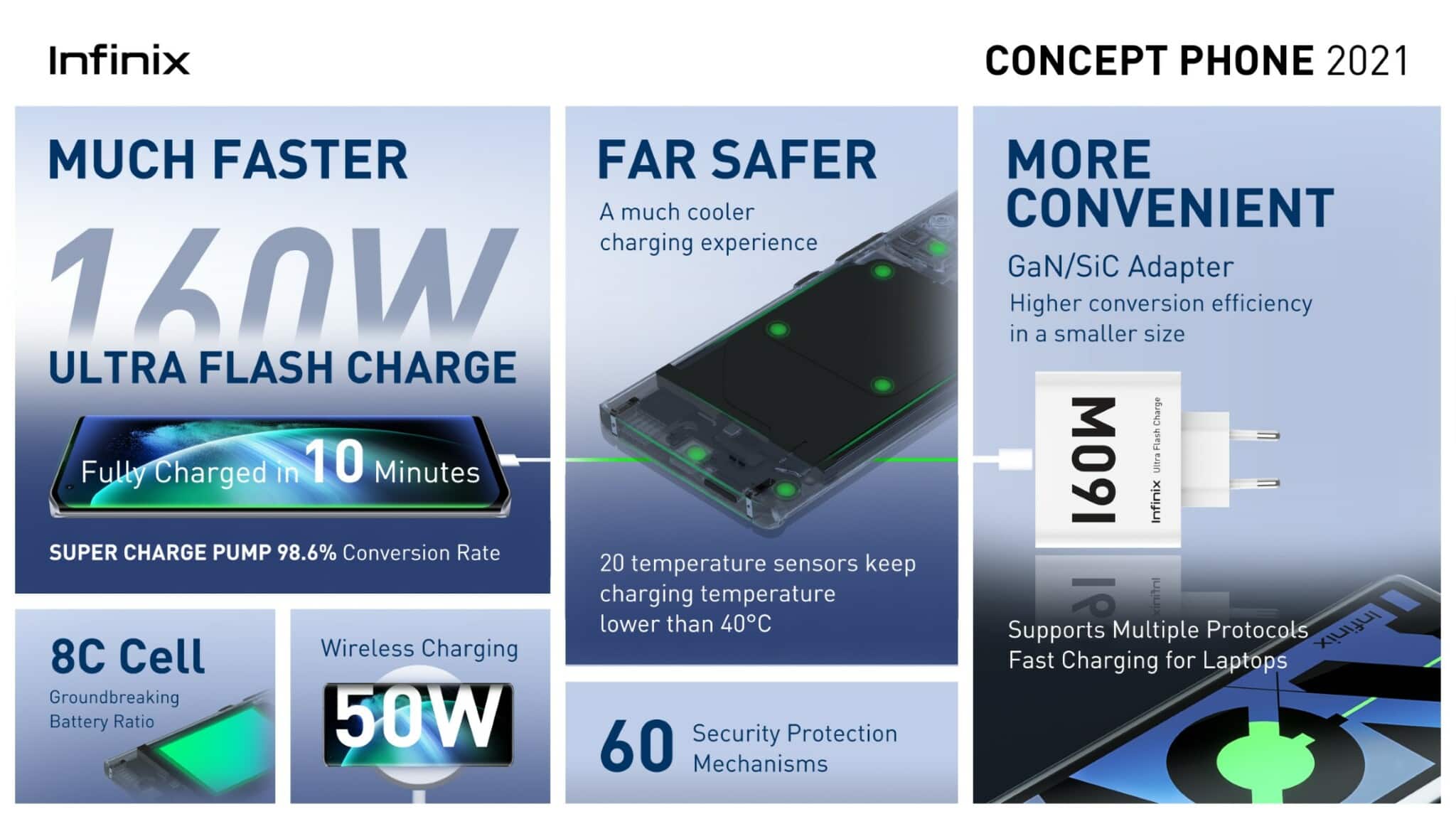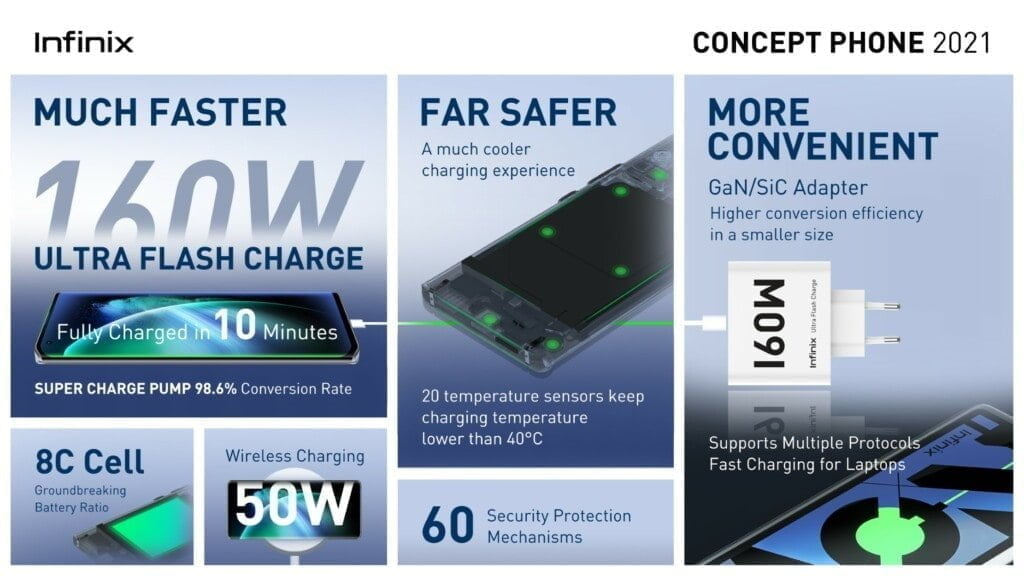 Infinix have developed what they call Innovative Super Charge Pump which is integrated with four high conversion charging chips that support high power conversion. This enables the smartphone to reach 98.6% charging conversion efficiency while avoiding overloading and overheating caused by large currents. Using 20 temperature sensors and intelligent control algorithms, The Infinix Concept Phone 2021 cleverly monitors the temperature while charging and adjusts the charging power to keep the smartphone under 40 °C/104°F. Infinix also collaborated with the world's leading battery manufacturers to develop a new 8C battery cell that reduces more than 18% of internal resistance in comparison with a 6C battery and produces less heat.
When will 160W charging come to consumer devices?
It is a bit of an unusual announcement. For a start, you never know if a concept phone will come to come to fruition or the timescales of it going from concept to production. Examples of this sort of announcement are the Xiaomi quad curved waterfall display concept phone, or even OPPO announcing 125W charging but is yet to launch a phone with it.
Mid-range specs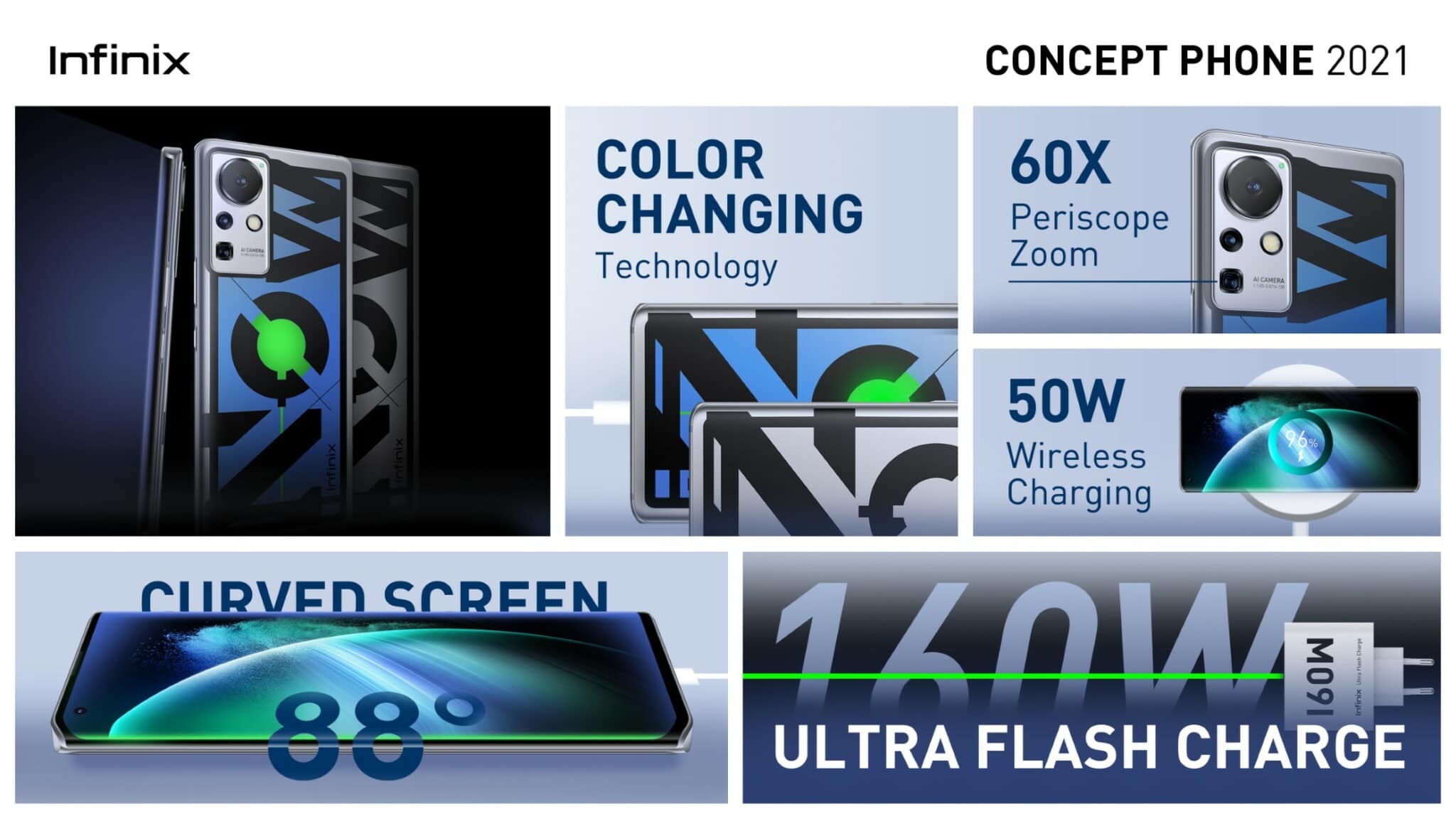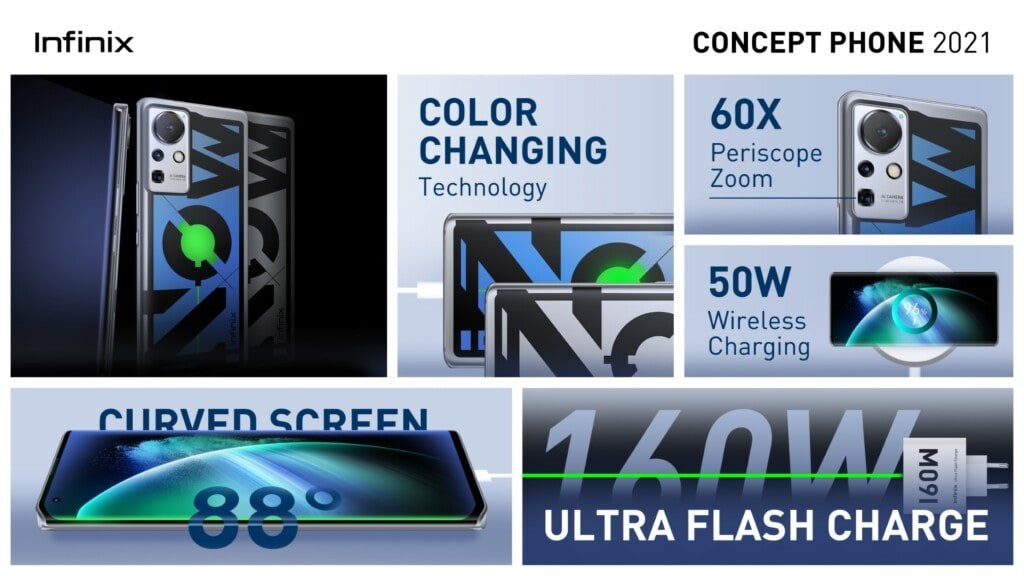 While you may not have even heard of Infinix, they are best known for their affordable but well-specced phones. I recently reviewed the Infinix Hot 10S, and it offered incredible value for money unmatched by any other phone I know of, but sadly the launch was limited to Indonesia, Russia and Latin America.
Beyond the charging, the Infinix Concept Phone 2021 sounds much the same.
The press release states it is powered by:
"A 64-bit octa-core processor with two performance core ARM Cortex-A76 and six power-efficient core Cortex-A55 CPUs clocked at 2.05GHz and 2GHz, respectively. One of the fastest GPUs, the ARM Mali-G76 MP4(-900 MHz). Memory storage of 128 GB and 8GB RAM"
I am confident that the chipset specification relates to the Mediatek Helio G95, which is good, it offers plenty of performance, but I'd regard it on the lower mid-end of the spectrum of current chipsets.
The phone is then combined with a 6.67" AMOLED display, which uses 3D glass.
The camera has a 64MP main lens, 120° ultra-wide-angle lens and a telephoto lens that can achieve up to 60x digital zoom. The smartphone is also equipped with a 32MP front-facing camera for visually appealing selfies.
Dual Colour-Changing Technology – It's like Hypercolor T-shirts, but for your phone
Another trick up their sleeve is a new colour changing back cover, which intuitively changes colours depending on how the device is being used.
Reminding me of the Hypercolor t-shirt trend back in the 80s/90s. The phone doesn't change based on heat but apparently creates a colour shift between silver grey and light blue when there is an incoming call. The EL film integrated on the back of the phone also creates a visual transmission of energy. When connected to the charging port via the USB-C cable, a green energy ball appears in the film that rhythmically flashes green dots when charging.
Overall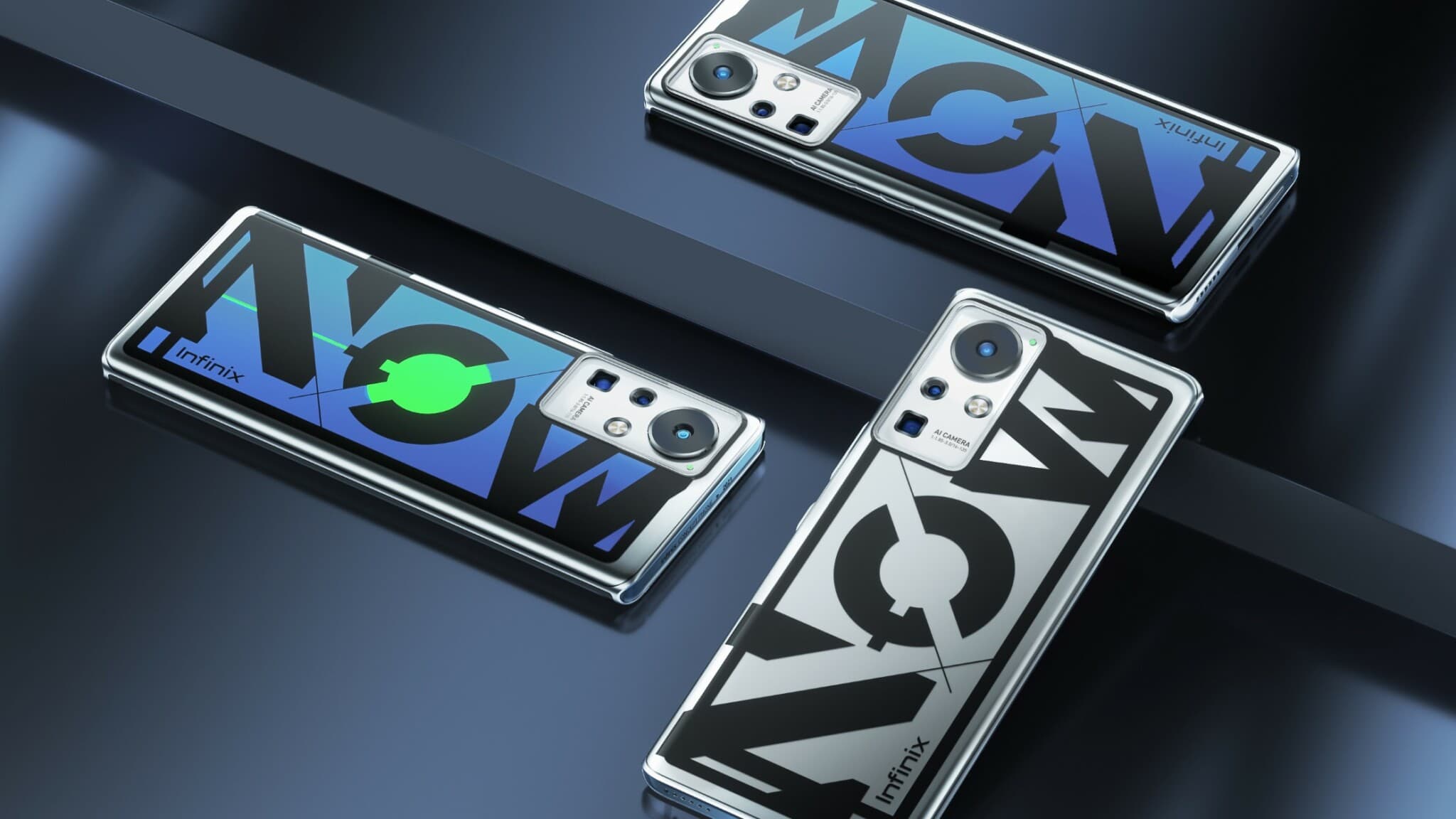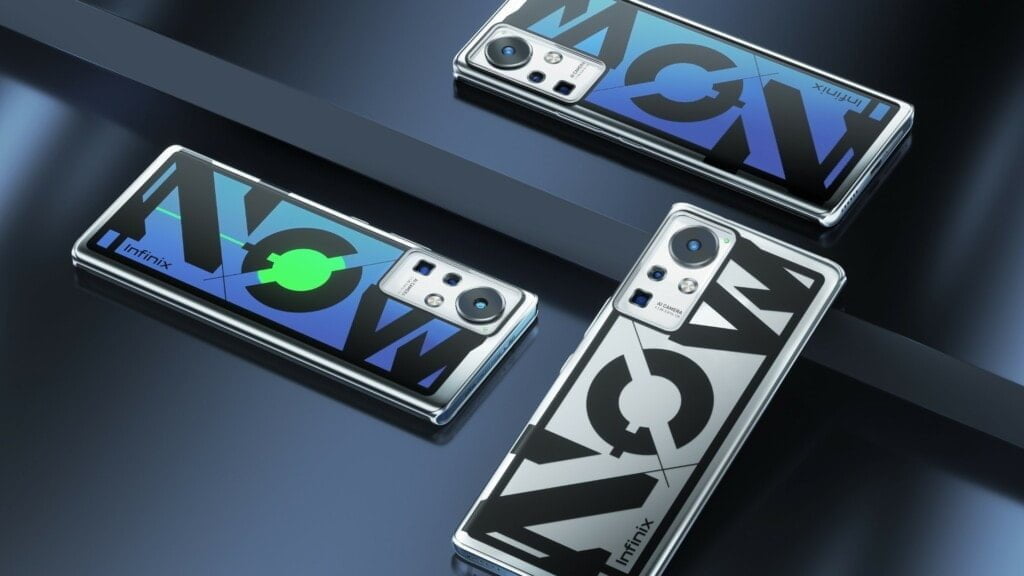 My press release included a reviewers guide, so it looks like the Infinix Concept Phone 2021 exists out in the real world. So, it is likely the new 160W charging will be implemented on a phone sooner or later.
The very mid-range specs seem at odds with the 160W charging, but it is always good to see up, and coming brands push their limits and offer something new and innovative to the market.