I recently reviewed the excellent POLAR V650 which I have continued to use as my primary bike computer, mainly because I like the mapping functions it has built it. I also own the Garmin Edge 520 which is a great mid-level option so I decided to see how they both compare to each other, as well as the popular Wahoo ELEMNT BOLT. I haven't reviewed the BOLT but it very similar to the full-sized ELEMNT and it is very popular with competitive cyclings due to its lightweight aerodynamic design.
To make my life easier in Excel I used DC Rainmakers comparison chart, then removed irrelevant data and modified any bits I thought were relevant.
From my experience, they are all great options that are priced well. The sub £200 price point makes them just about affordable for casual cyclists while at the same time offering some advanced features that will keep stat and performance-obsessed cyclists happy.
While I would happily use any of them as my main computer, I have found they all appeal to different groups of people.
[button link="https://amzn.to/2l0CUKK"] Buy the Garmin 520 from Amazon[/button] [button link="https://amzn.to/2LBdrCS"] Buy the Polar V650 from Amazon[/button] [button link="https://amzn.to/2Lzizap"] Buy the Wahoo from Amazon[/button]
Polar V650

If you look at the list of nos in the Polar column it appears that it doesn't really compete with the other two, but this is primarily due to its lack of ANT+ support, which means it may not be the best choice for cyclists that like to use a lot of sensors on their bike, it is also not compatible with Shimano DI2 shifting.  It is also considerably larger than the other two so not the most aerodynamic.
Where it does excel compared to the other two is the mapping functions. It is not perfect but I have used it for a couple of charity events now, and you can import the GPX or TCX file then sync it to your device, it will then auto start the route as you are near it. It makes doing sportives and charity rides much easier and I plan to use the function for my planned rides much more now, so I can plan a route and add a bit more variety to the roads I go down.
Because of the mapping functions, I would say the V650 is the best option for pleasure/casual cyclists. It is Bluetooth smart compatible so you cans till add some advanced functions and it will work with some smart turbo trainers so there are plenty of features for more serious riders. It is also the cheapest option of the three, which is always a bonus.
Garmin Edge 520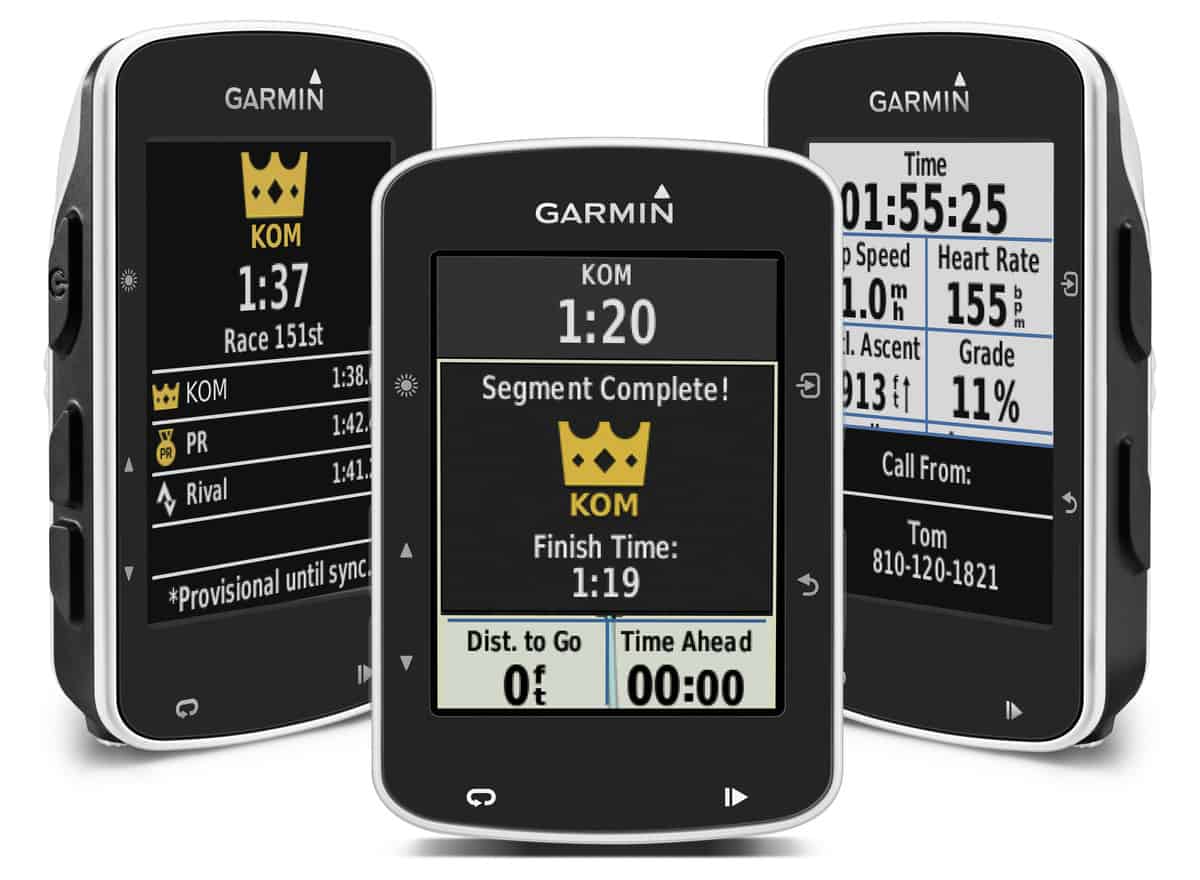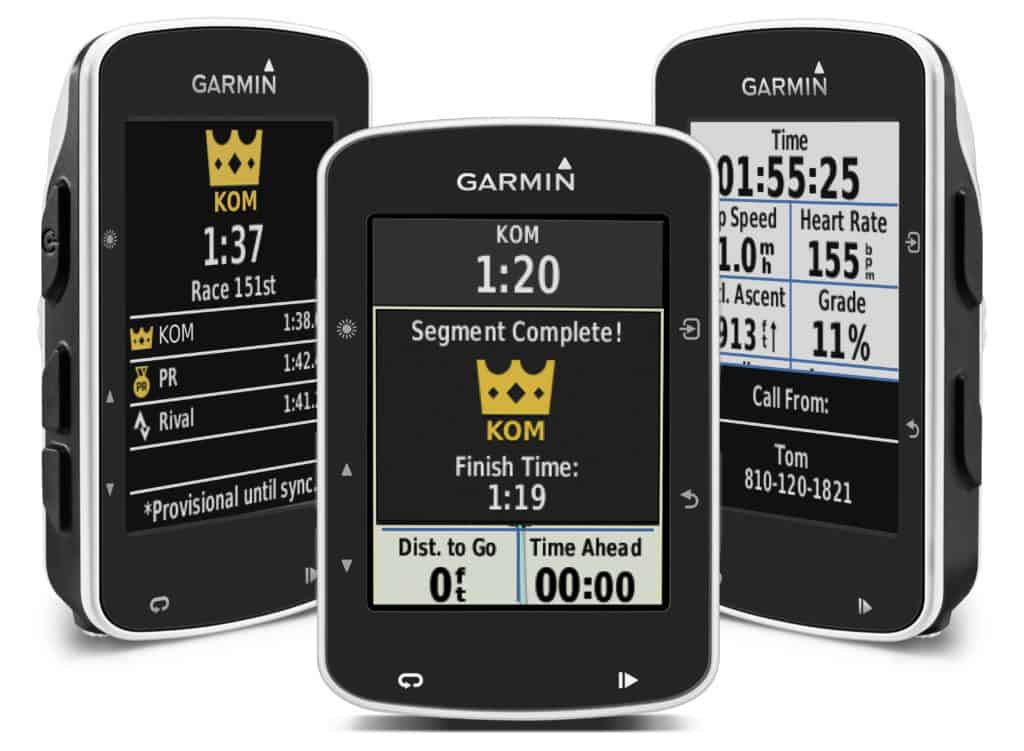 The Edge 520 is probably the one that covers the largest group of people, you get some basic mapping, and an extensive number of features as well as compatibility with ANT+. This allows the device to improve with the rider, you can use the basic functions but as you get more serious there are dozens of things it will pair with. This includes things like Ant+ gear shifting, and DI2 gear shifting, as well as any ANT+ power meters. It is smaller than the V650 so a little more aerodynamic and I found the screen much easier to read.
Garmin Connect is probably the best web app too, and due to the number of Garmin devices on offer, it is nice to have everything under one roof if you have a sports watch or smart scales.
Wahoo ELEMNT BOLT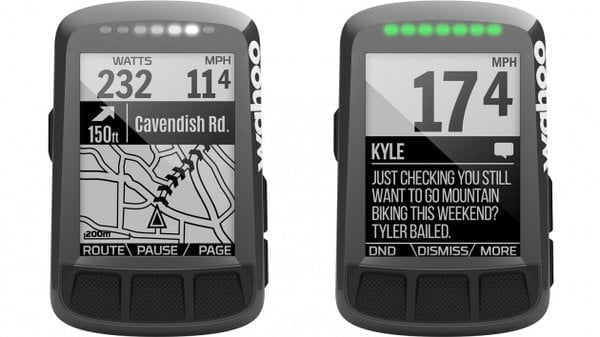 For a casual cyclist, the ELEMENT computer doesn't seem as appealing as the other two at first. There is no colour screen, it does have maps but they are basic due to the black and white display, there is no web app and it is more expensive than the other two. However, what it does do, it does well. It is tiny and there are mounts to make it work with aero bikes, using ANT+ and Smart Bluetooth it is compatible with a huge number of sensors. The black and white screen makes it the most readable on a sunny day, and even though the maps are not as detailed as the V650 they are more readable so it could be argued better. It will still be a great option for all riders, but in particular, it appeals to anyone competitive that wants to pair lots of sensors.
[button link="https://amzn.to/2l0CUKK"] Buy the Garmin 520 from Amazon[/button] [button link="https://amzn.to/2LBdrCS"] Buy the Polar V650 from Amazon[/button] [button link="https://amzn.to/2Lzizap"] Buy the Wahoo from Amazon[/button]
| FUNCTION/FEATURE | GARMIN EDGE 520 | POLAR V650 | WAHOO ELEMNT BOLT |
| --- | --- | --- | --- |
| PRICE | £179.00 | £161.90 | £199.99 |
| DATA TRANSFER | USB & BLUETOOTH SMART | USB & Bluetooth | BLUETOOTH SMART, WIFI, USB |
| WATERPROOFING | IPX7 | IPX7 | IPX7 |
| BATTERY LIFE (GPS) | 15 HOURS | 10 HOURS | 15 HOURS |
| RECORDING INTERVAL | 1-SECOND OR SMART | 1-SECOND | 1-SECOND |
| SATELLITE PRE-LOADING VIA COMPUTER | YES | YES - 3 DAYS | YES |
| QUICK SATELLITE RECEPTION | YES | YES | YES |
| ALERTS | AUDIO/VISUAL | SOUND/VISUAL | AUDIO/VISUAL + LED'S |
| BACKLIGHT GREATNESS | GREAT | OK | BEST |
| BLUETOOTH LEGACY (PRE-4.0) TO PHONE | NO | NO | NO |
| BLUETOOTH SMART (4.0+) TO PHONE UPLOADING | YES | NOT YET | YES |
| PHONE NOTIFICATIONS TO UNIT (I.E. TEXTS/CALLS/ETC...) | YES | TBA | YES |
| LIVE TRACKING (STREAMING LOCATION TO WEBSITE) | YES | NO | YES |
| GROUP TRACKING | NO | NO | YES |
| EMERGENCY/SOS MESSAGE NOTIFICATION (FROM WATCH TO CONTACTS) | YES | NO | NO |
| BUILT-IN CELLULAR CHIP (NO PHONE REQUIRED) | NO | NO | NO |
| POWER METER CAPABLE | YES | YES | YES |
| POWER METER CONFIGURATION/CALIBRATION OPTIONS | YES | YES | YES |
| POWER METER TSS/NP/IF | YES | YES | YES |
| SPEED/CADENCE SENSOR CAPABLE | YES | YES | YES |
| STRAVA SEGMENTS LIVE ON DEVICE | YES | NO | YES |
| CRASH DETECTION | YES | NO | NO |
| VO2MAX ESTIMATION | YES | N/A | N/A |
| RECOVERY ADVISOR | YES | N/A | N/A |
| CREATE/FOLLOW CUSTOM WORKOUTS | YES | YES | YES |
| ON-UNIT INTERVAL FEATURE | YES | NO | NO |
| TRAINING CALENDAR FUNCTIONALITY | YES | NO | NO |
| AUTO START/STOP | YES | YES | YES |
| VIRTUAL PARTNER FEATURE | YES | NO | NO |
| VIRTUAL RACER FEATURE | YES | NO | NO |
| RECORDS PR'S - PERSONAL RECORDS (DIFF THAN HISTORY) | YES | NO | NO |
| WEATHER DISPLAY (LIVE DATA) | YES | NO | NO |
| FOLLOW GPS TRACK (COURSES/WAYPOINTS) | YES | PLANNED | YES |
| MARKERS/WAYPOINT DIRECTION | YES | NO | NO |
| ROUTABLE/VISUAL MAPS (LIKE CAR GPS) | YES FOR MAPS (BUT NOT ROUTABLE) | YES | YES |
| BACK TO START | YES | YES | YES |
| IMPROMPTU ROUND TRIP ROUTE CREATION | NO | NO | NO (BUT CAN CREATE ONE-WAY ROUTES FROM PHONE APP) |
| DOWNLOAD COURSES/ROUTES FROM PHONE TO UNIT | YES | YES | YES |
| ALTIMETER TYPE | BAROMETRIC | BAROMETRIC | BAROMETRIC |
| COMPASS TYPE | GPS | GPS | MAGNETIC |
| HEART RATE STRAP COMPATIBLE | YES | YES | YES |
| ANT+ HEART RATE STRAP CAPABLE | YES | NO | YES |
| ANT+ SPEED/CADENCE CAPABLE | YES | NO | YES |
| ANT+ FOOTPOD CAPABLE | NO | NO | NO |
| ANT+ POWER METER CAPABLE | YES | NO | YES |
| ANT+ WEIGHT SCALE CAPABLE | YES | NO | NO |
| ANT+ FITNESS EQUIPMENT (GYM) | NO | NO | NO |
| ANT+ LIGHTING CONTROL | YES | NO | NO |
| ANT+ BIKE RADAR INTEGRATION | YES | NO | NO |
| ANT+ TRAINER CONTROL (FE-C) | YES | NO | YES |
| ANT+ REMOTE CONTROL | YES | NO | NO |
| ANT+ EBIKE COMPATIBILITY | NO | NO | NO |
| ANT+ MUSCLE OXYGEN (I.E. MOXY/BSX) | WITH APPS | NO | YES |
| ANT+ GEAR SHIFTING (I.E. SRAM ETAP) | YES | NO | YES |
| SHIMANO DI2 SHIFTING | YES | NO | YES |
| BLUETOOTH SMART HR STRAP CAPABLE | NO | YES | YES |
| BLUETOOTH SMART SPEED/CADENCE CAPABLE | NO | YES | YES |
| BLUETOOTH SMART POWER METER CAPABLE | NO | YES | YES |
| TEMP RECORDING (INTERNAL SENSOR) | YES | YES | YES |
| TEMP RECORDING (EXTERNAL SENSOR) | NO | NO | NO |
| COMPATIBLE WITH FIRSTBEAT HR TOOLS | NO | TBA | - |
| PC APPLICATION | GARMIN EXPRESS | POLAR FLOWSYNC | N/A |
| WEB APPLICATION | GARMIN CONNECT | POLAR FLOW | N/A |
| PHONE APP | IOS/ANDROID/WINDOWS PHONE | - | IOS/ANDROID |
| ABILITY TO EXPORT SETTINGS | NO | NO | NO |