Cleer Flow II Active Noise Cancelling Headphones Review Rating
Summary
The Cleer Flow II offer excellent value for money, sound quality is excellent, and the active noise cancelling is close to what you achieve from much more expensive headphones.
Pros
Well price
Competitive ANC performance vs much higher priced headphones 
Cleer has been around for a few years now and specialising in portable audio including true wireless earphones, over-ear headphones and portable speakers.
The Cleer Flow II appear to be the same as the existing, well-reviewed Flow headphones. However, this new model integrates Google Assistant which gives you one-touch access to voice functions and the ability to have voice notifications.
Specifications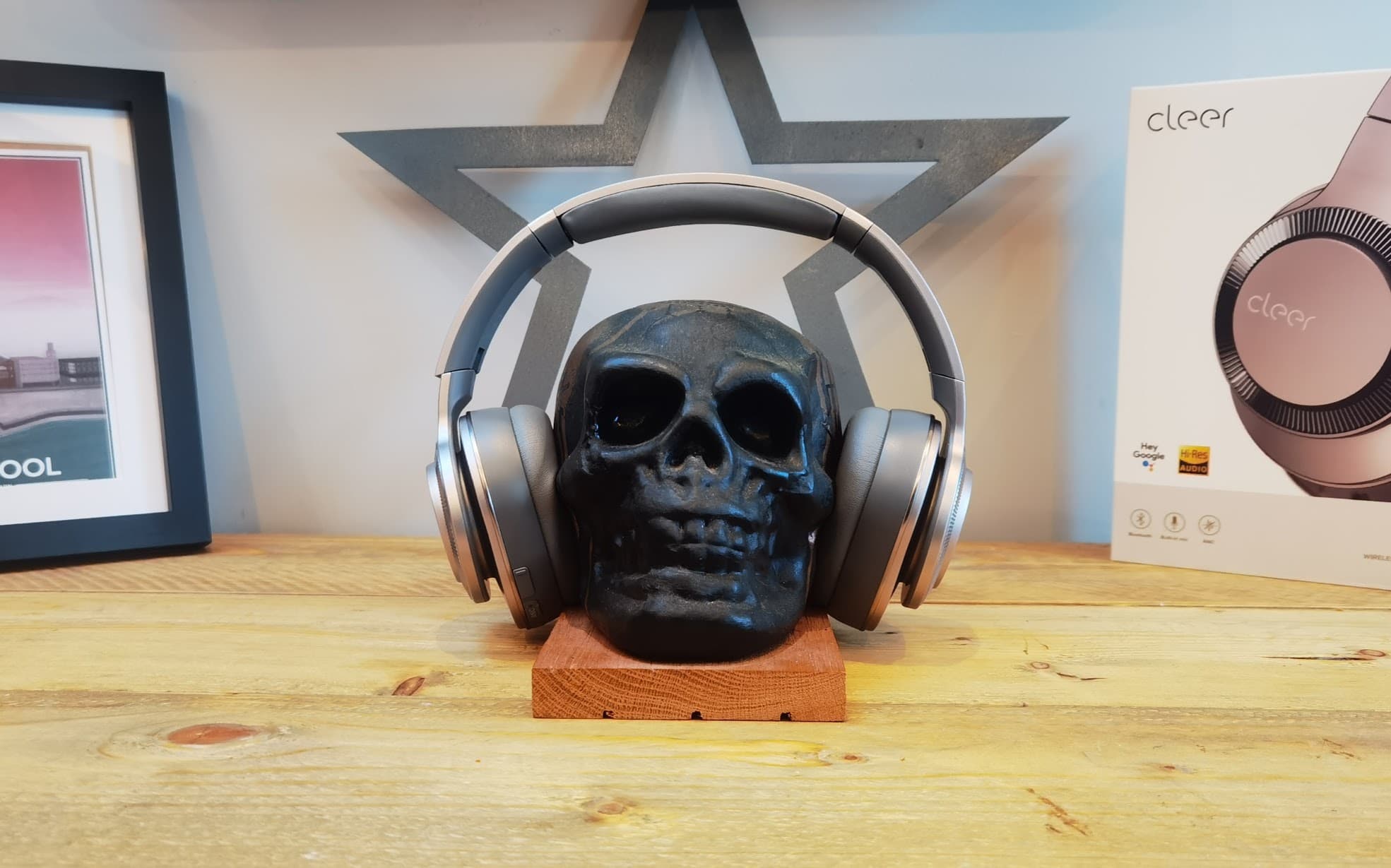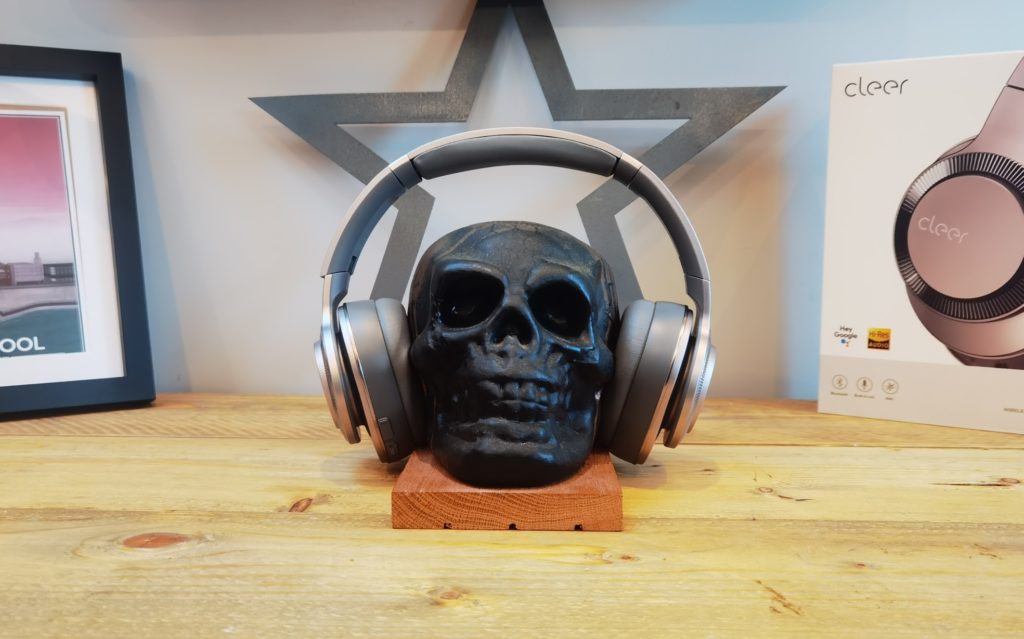 Driver: 40mm Ironless Audio Drive
Audio Codec Suppot: SBC, AAC, aptX HD, LDAC
Frequency response range: 20Hz – 40kHz (Bluetooth)
Connections: USB-C to USB-A cable for charging; 3.5mm cable for audio
Support: BT4.2, SPP v1.0, HFP v1.6, A2DP v1.3.1, AVRCP v1.6
Playback Time (BT+ANC): Up to 20 hours
Quick Charging: 10 minute charge = 2 hours playback
Standard Charging: 2 hours to full
Bluetooth Transmission Range: 2.402 – 2.480GHz
Bluetooth Transmission Power: <4dBm
Battery: Rechargeable lithium ion rectangle cell (3.7V)
Voice Service: Google Assistant
Weight: 327g
Set Up
Unlike some advanced ANC headphones, there is no app to download; you pair these up as you would any Bluetooth headphone. These are also NFC compatible, but I am so used to going into the Bluetooth menu to pair it didn't even occur to me to use this.
The one difference is that when I paired up with my Android Xiaomi Mi 10T lite, Google popped up to set up Google assistant. For it to fully work, you will have to provide various notification and read access.
Google Assistant & Controls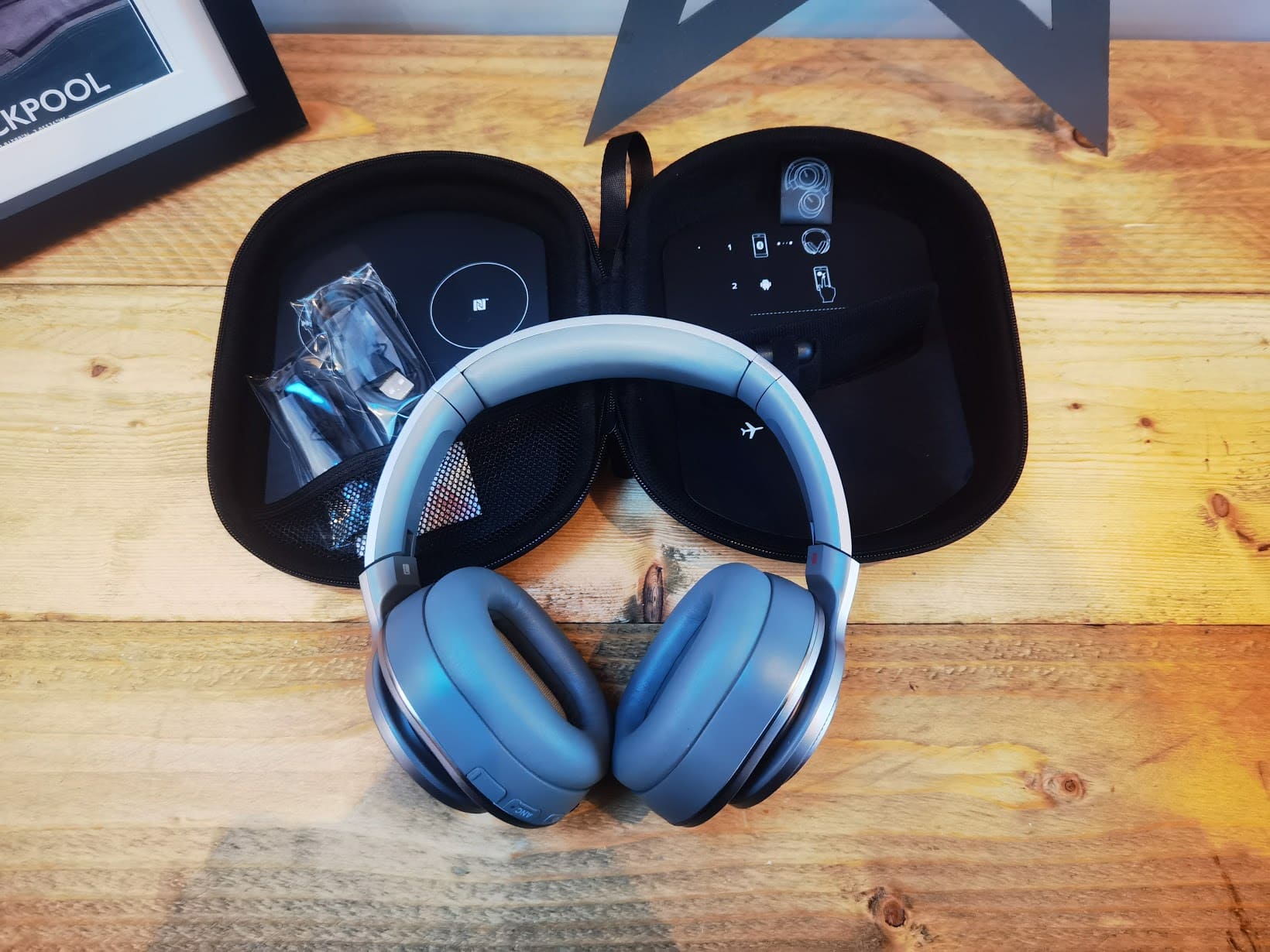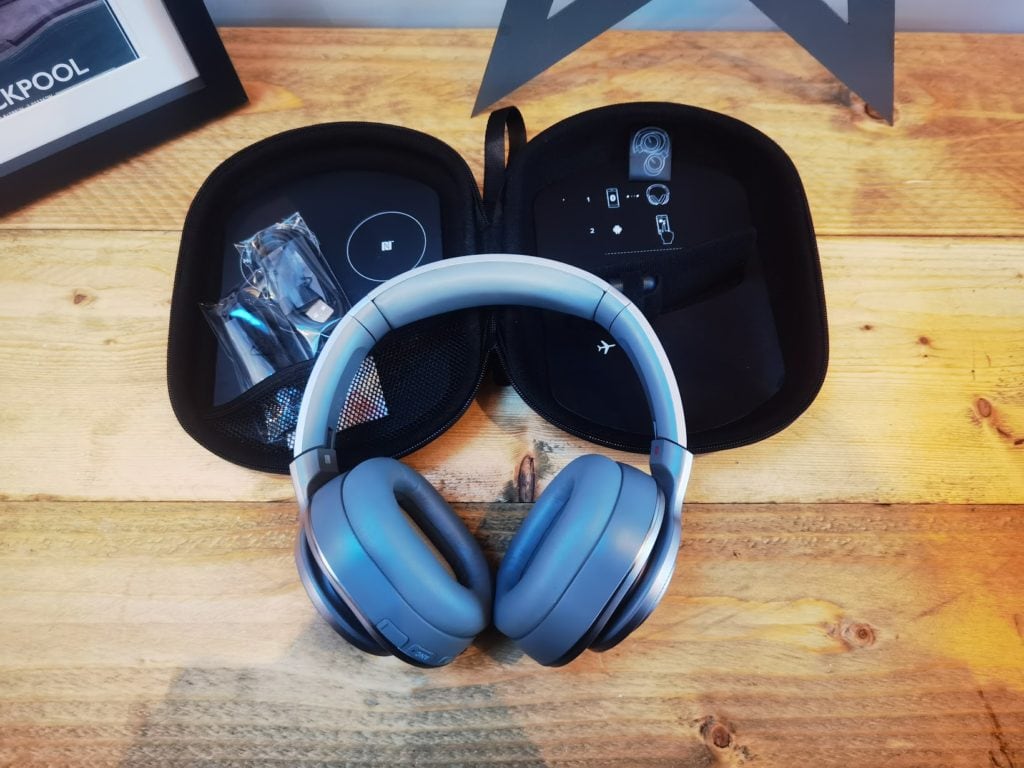 I am not a massive fan of touch control, more often than not, I find headphones take a little proactive to lean the controls, which is anything other than intuitive like they all advertise.
I feel like they missed an opportunity to make the deco-ring rotating to adjust the volume.
I will give it to them, holding the hand over the left earcup to enable conversation mode is effective. I still take the headphones off if my partner wants to speak to me, and the headphones auto-pause, so I find this a superior solution all round.
Nonetheless, once you have used the headphones for a short period of time, the controls are fine.
These also have the added benefit of Google Assistant. The works well even though I found in my current work from home situation I didn't use it much. With a single tap, you can get your pending notifications, to talk to google you need to hold the Google button.
The button itself sits out further than the ANC controls and has a little raised piece on the short edge that makes it easy to identify when wearing.
Using this button, you can control your music, find songs, control your smart home and generally do all the stuff Google does.
Sound Quality
These can connect via aptX HD or LDAC, giving them a significant advantage over many competing brands. In comparison, the £350 Sony WH-1000XM4 only support LDAC, if your phone does not support that then you will have to use a lower quality connection.
Sound quality is excellent overall. The ironless drivers claim to offer low distortion and deep bass for hours of musical bliss.
They are perhaps not as boomy as some options on the market, but there is still plenty of low end if that's your thing. In particular, these handle all of the bass-heavy Run the Jewels tracks with ease, switching between these and the Mu6 Space 2, I would say these offer improved low-end performance.
I can't say I noticed the lack of distortion that much, but it's true that I didn't suffer the same fatigue as I may with other headphones.
Mid-range is well-tuned and clean; vocals remain nice and clear, and I found the headphones transitioned between all the genres I tried well.
For more screamy guitar tracks from the likes of At the Drive-In, I never found the highs too grating that I needed to dial down the volume.
While I don't often watch TV or movies with in-ear headphones, I will do with over the head options (when travelling). These again perform well; the bass is deep enough for action sequences while not overwhelming the mids and dialogue remains clear without me regularly having to adjust the volume.
Active Noise Cancelation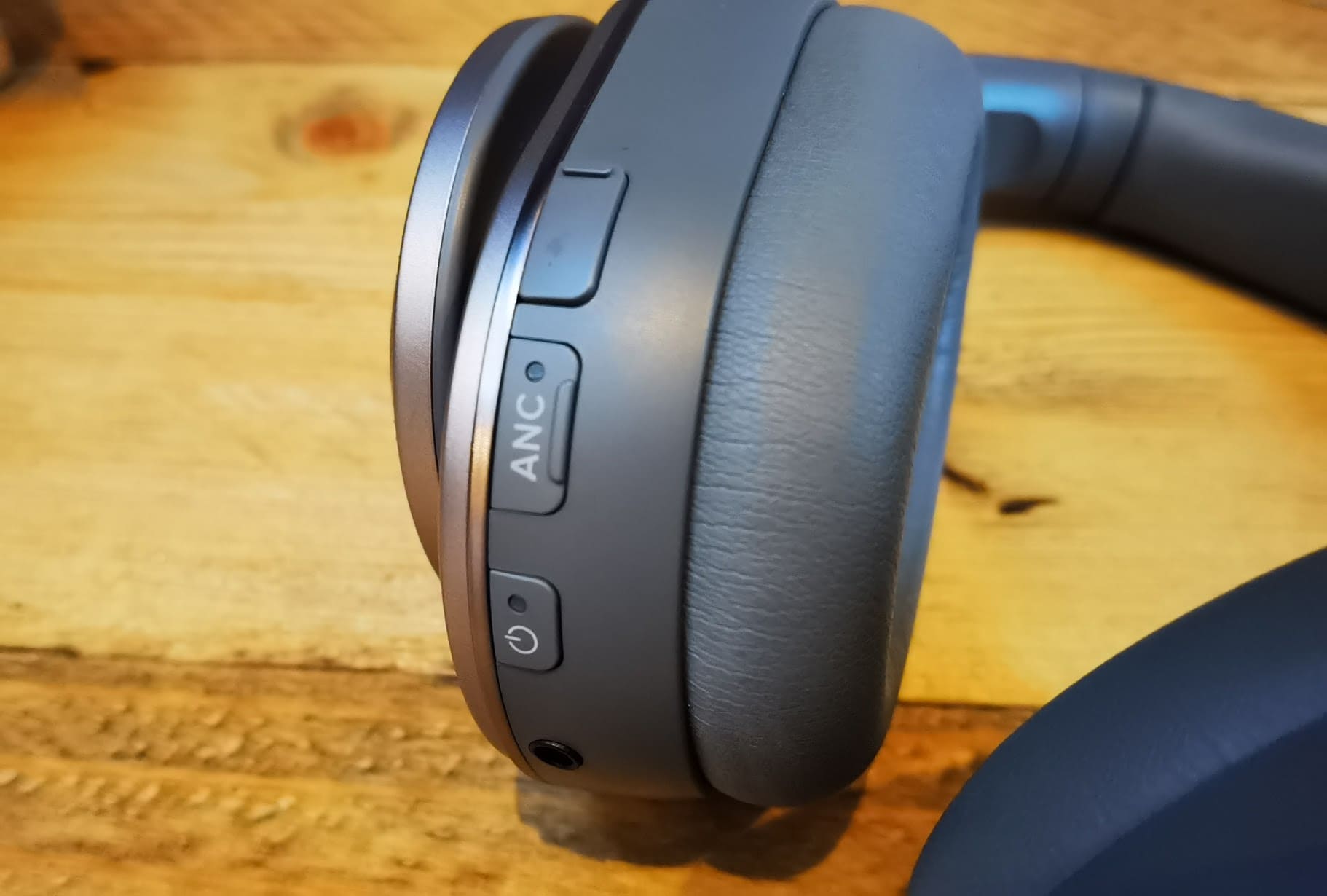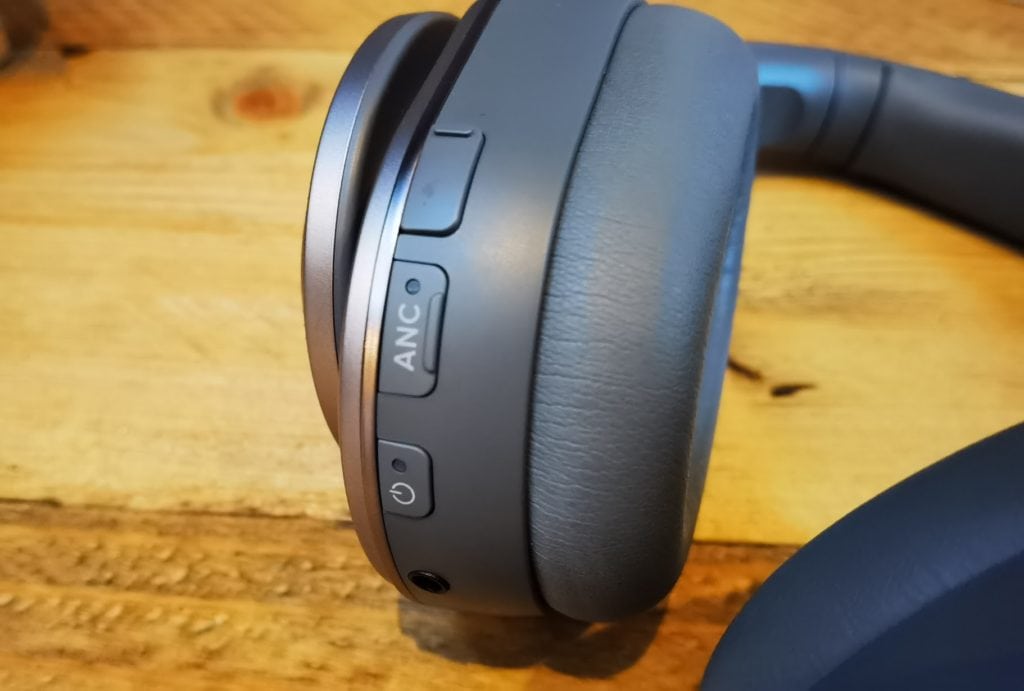 Like all recent ANC testing, I have been somewhat limited with real world scenarios. So my go-to test is airplane cabin noises on YouTube.
These performed considerably better than expected, offering a similar level of performance as the superb Mu6. The one difference I found with the two headphones is the way they fit, I have quite large ears, and the Cleer don't quite cover my ears as much as the Mu6. This causes lower performance at first, but adjusting them a little to achieve a better seal around my ears brings their performance back up to the Mu6 level.
What that means is that these headphones can eliminate the vast majority of the cabin noise. Even when I turned it up to the point of being uncomfortably loud in my office, the headphones only let in a slight engine rumble. This allowed me to listen to music on my phone at a moderate volume without any of it being drowned out.
Battery
These are rated at 20 hours of playback, that's the same as the flagship Bose Headphones 700, around the same as the recently launched Huawei FreeBuds Studio, but 10 hours less than the Sony WH-1000XM4, and 4 under the Mu6.
There hasn't been a scenario where I have drained the battery fully yet, I charge them every few days, just out of habit, like I do most devices I use regularly.
Twenty hours is more than enough for me, that's enough to get you through the longest day of travelling that you will likely ever do.
Price and Alternatives
These are priced at £199 RRP, however, as I write this, it is Black Friday week, and you can pick these up from Selfridges for £179.99 or Hifieadphones for £149.99.
At £150 these are an absolute bargain.
It is a competitive marketplace out there, but most of the alternative options I would choose all cost quite a bit more.
I have not used them, but by all accounts the Cleer Flow are almost the same, just no Google, these are currently £129 on Amazon.
The Sony WH-1000XM4 are perhaps the gold standard for ANC headphones, but at around £350 not really comparable.
The Sony WH-1000XM3 are just £219, and I would say these are the best alternative, offering similar performance to the newer model at a much more attractive price.
The lesser-known Mu6 Space 2 are £219, but you can currently get them with a 25% off voucher on Amazon taking them to £164, making them a competitively priced alternative. I found these are a little more comfortable to wear on my big ears, and they have 24 hours of battery life. However, I'd say the Clear Flow II sound a little better, have a superior look, build quality and have the advantage of a voice assistant.
The Huawei Freebuds Studio are £299 normally but £229 currently. They claim a 40dB ANC performance, I haven't used these yet, but I expect them to be excellent.
Bose 700 are £269, or the older Alexa enabled Bose QuietComfort 35 are £229.
Overall
The Cleer Flow II headphones are feature-rich with excellent all-round performance for relatively affordable headphones.
Noise cancellation from airplane cabin noise was particularly impressive, certainly the best I have used for headphones costing under £200.
While they may not offer industry-leading performance all around, I doubt you will find many other ANC headphones that perform this well at this price point.
Last update on 2022-05-21 / Affiliate links / Images from Amazon Product Advertising API