Yesterday, Arm unveiled the next generation of its chipsets, which will likely roll out to phones in 2022.
Most of the announcement is, as you would expect, the yearly cycle where the product numbers go up, and they offer more of this and less of that. All the numbers and percentages look impressive, but it is often difficult to visualise what that means to the end-user.
Arm Cortex-X2 has more power, will still eat your battery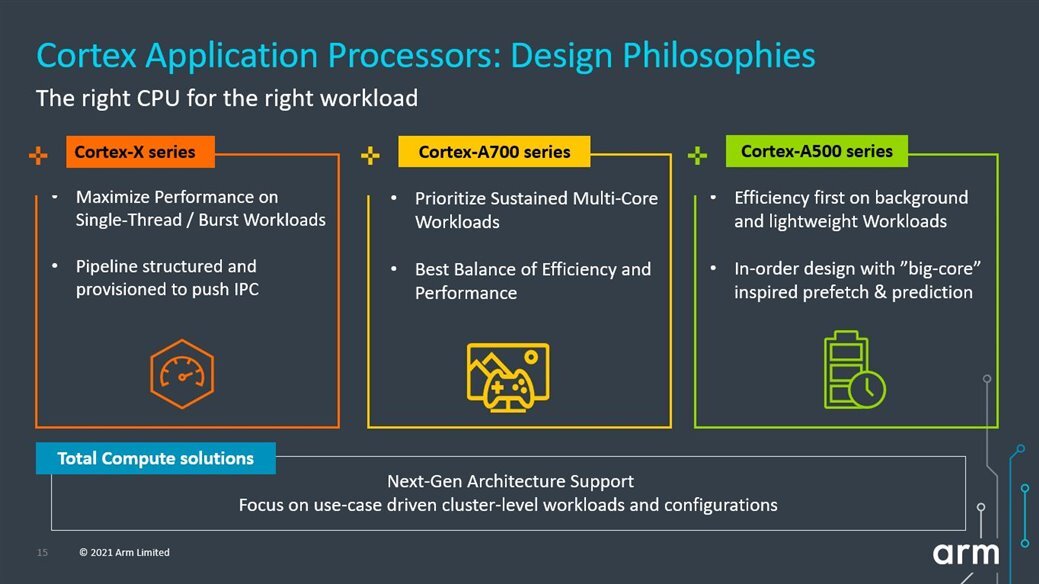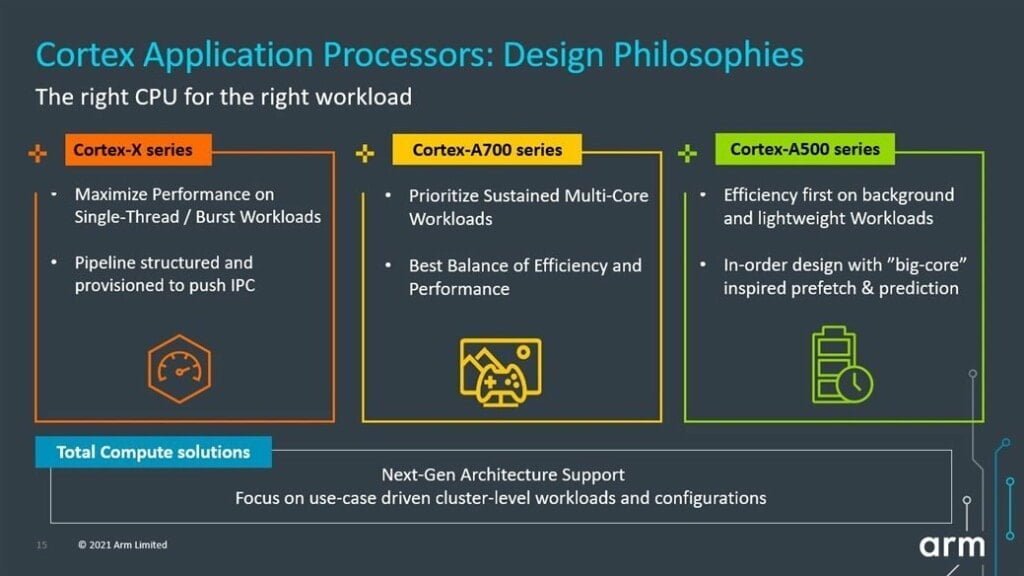 The Cortex-X1 promised big things, which was later used on the Snapdragon 888. But, the reality is that it is excessively powerful, offering poor power efficiency leading to less-than-optimal battery life on current flagship Android phones.
The second iteration of the new X range may not fix some of these issues. The Cortex-X2 promises a 16% speed boost over an X1 core built on the same node and running on the same frequency. It makes no mention of power efficiency at all. The shift to the 3nm fabrication processes will likely offer some power efficiency benefits, but the X2 looks like it will continue to be power-hungry.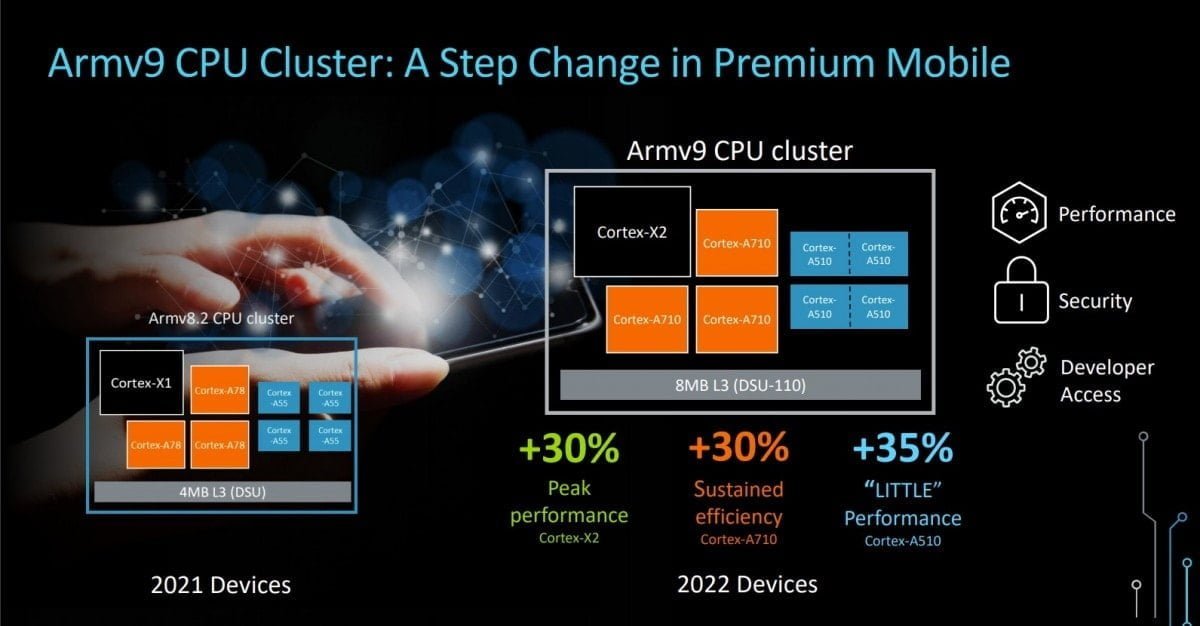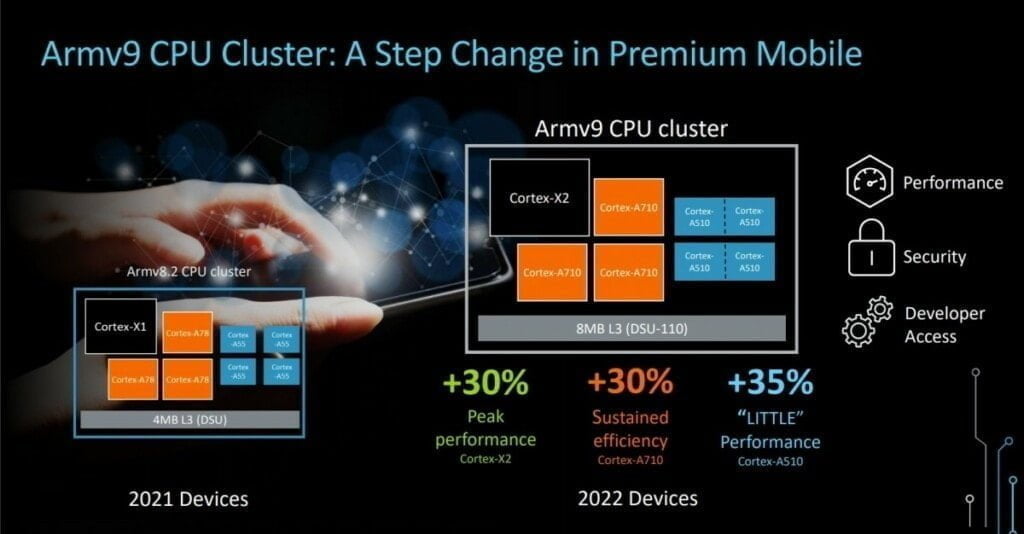 Arm Cortex A710 offers impressive efficiency gains vs A78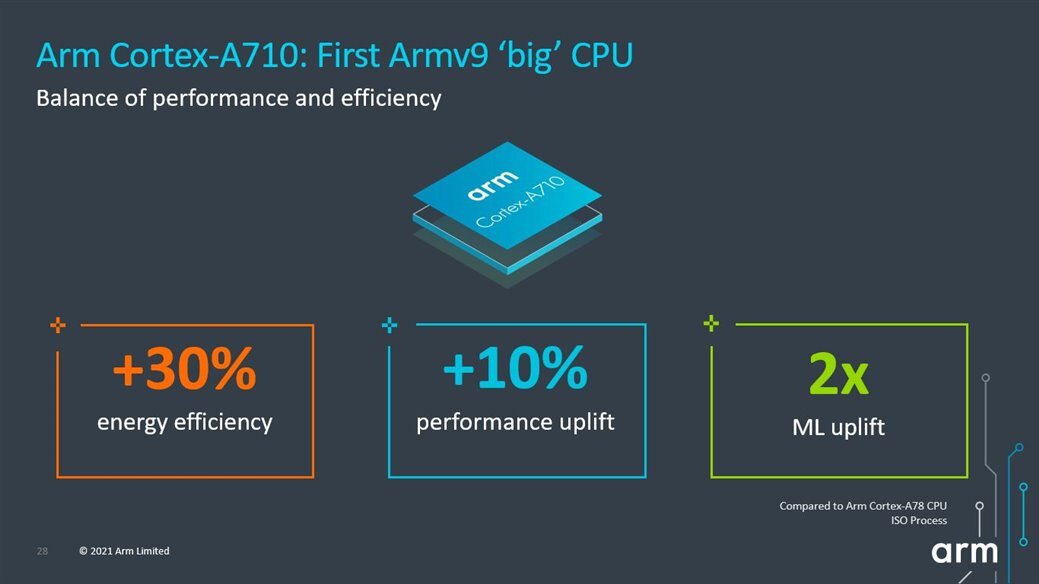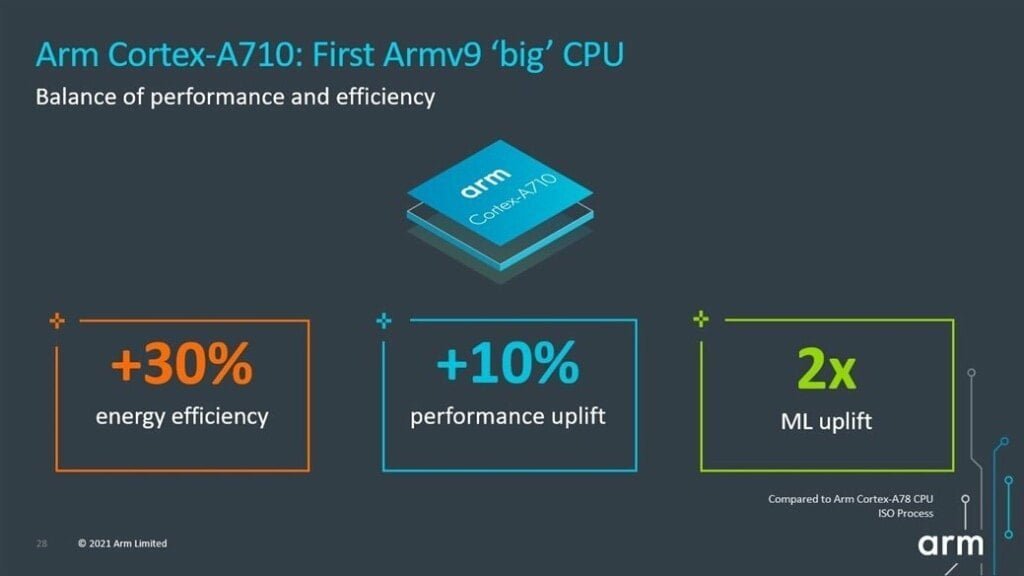 However, the next iteration of the Cortex A78 gets much more focus on power efficiency. The new Cortex A710 is only 10% faster than an A78 (using the same node and frequency), but energy efficiency has gone up 30%.
The combination of the new A710 CPU and Mali-G710 GPU will see a 33% increase in CPU performance, 20% in GPU performance while being 15% more efficient compared to a current A78/G78 design.
So, I am more excited about the Cortex A78 successor than the Cortex X1.
Arm Cortex-A510 has big Cortex performance in a LITTLE package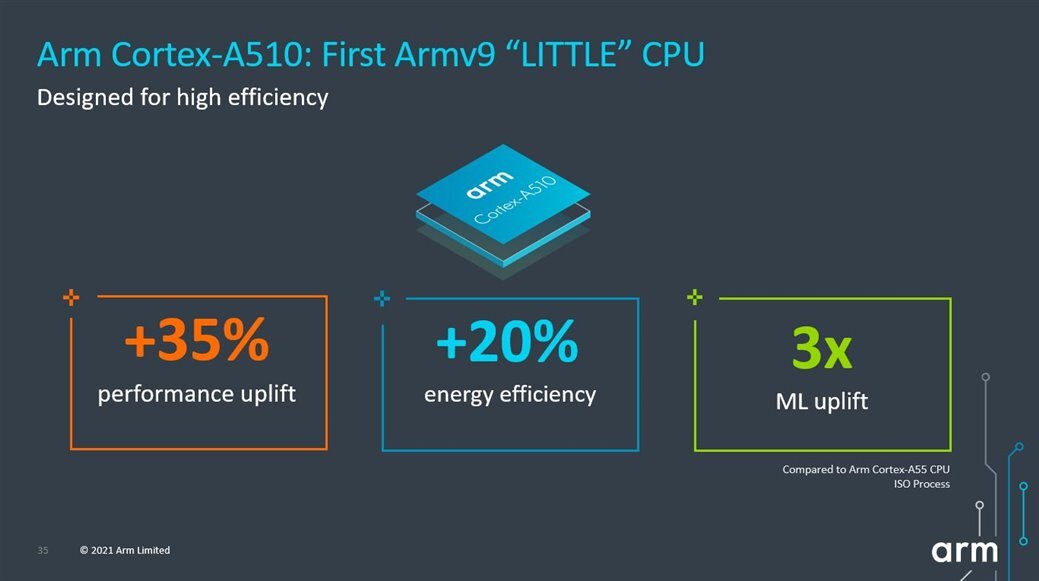 The highlight of the announcement is that Arm are finally upgrading the ageing A55 which was announced back in 2017 which itself replaced the A53 announced in 2012.
The new Cortex-A510 35% faster than the old A55, 20% more energy-efficient and with 3x the machine learning capabilities.
Arm claims the A510 should offer a similar level of performance to some of the older big Cortex-A73 cores. This should have a significant benefit for low and mid-range chipsets and the devices using them.
Arm has adopted a new merged-core approach where two core pairs share hardware such as the L2 cache system, which allows Arm to offer higher performance in a smaller footprint
The A510 will be used in a wider range of devices too; this will eventually be adopted for use in smart home technology and wearable devices.
Arm Mali upgrades
Arm also introduced four new GPUs, which will likely be used on chipsets by Mediatek and Samsung but not Qualcomm:
Arm Mali-G710 GPU with the highest performance designed for premium smartphones and Chromebooks. It is said to deliver 20% performance improvements for AAA high-fidelity games and a 35% machine learning uplift for tasks such as image enhancements compared to Mali-G78.
Arm Mali-G610 is a "sub-premium GPU" with all the same features as Mali-G710 but at a lower price point. This is an update for Mali-G68 GPU
Arm Mali-G510 mid-range GPU offers 100% performance improvements, 22% energy savings for longer battery life, and 100% ML uplift for mid-range smartphones, premium smart TVs, and set-top boxes compared to Arm Mali-G57. That means gaming performance should improve on mid-range devices for larger screens.
Arm Mali-G310 entry-level GPU with the highest performance at the smallest area & cost. It will be found in entry-level smartphones, AR devices, and wearables.