Several leaks have been coming out regarding the next generation of AMD's Ryzen 4000 'Renoir' APUs, which is the line-up of CPUs with an integrated GPU on the chip.
While Intel has offered this functionality as default on many of their CPUs, AMD has traditional only used it on their affordable G-series chips.
The current generation includes the 4-core 4-thread Ryzen 3 3200G which costs just £80 and tops out with the 4-core 8-thread Ryzen 5 3400G Processor which costs less than £140.
These have therefore made superb CPUs for budget-focused systems, you can easily get a  B450 motherboard for well under £100, 16GB of DDR4 RAM is now just £70, and a 250GB SSD can be had for £30. Then the Thermaltake V200 RGB with a 500W PSU is just £80. So you can easily build Ryzen 5 3400G for around £400-450.
The latest leaks indicate that the AMD's Ryzen 4000 'Renoir' APUs will go all the way up to Ryzen 7 4700G which will offer 8-cores and 16 threads with a base clock of 3.6 GHz and a boost of 4.45 GHz combined with a Vega 8 / 512 SPs.
This would, therefore, put it up against the £300 AMD Ryzen 7 3700X so it is safe to assume the 4700G will be launched at a higher price point than this.
By the looks of things the 4700G is almost identical for everything apart from iGPU, they both use 7nm Zen 2 and they both have a TDP of 65W.
The one big thing that is missing on the up and coming APU range will be PCIe 4.0 support, apparently AMD have done this to reduce power requirments
As a tech enthusiast this does seem contradictory, why spend all that money on a high-end CPU that is then hobbled by an integrated GPU.
However, not everyone is a gamer, anyone that needs a computer for none gaming tasks may appreciate that the extra processing power hat an 8-core CPU offers. These could also be of some use for self-build servers and HTPCs, but these are quite niche.
The AMD Ryzen 7 4700G isn't the only CPU that has been leaked, it looks like AMD are going to significantly expand that APU range going from 2 in the current generation to 8 options with the 4000-series.
It is reported that we can expect launch for Ryzen 4000 APUs around July this year. The processors will be fully compatible with budget platforms such as the B550 and A520.
AMD Ryzen 4000 'Renoir' Desktop APU Lineup
APU Name
Technology
Cores
Threads
Base Clock
Boost
Memory
Graphics
Graphics Clock
TDP
Price
Ryzen 7
4700G
7nm Zen 2
8/16
3.6 GHz
4.45 GHz
DDR4-3200
Vega 8 / 512 SPs
2100 MHz
65W
TBA
Ryzen 5
4400G
7nm Zen 2
6/12
TBD
TBD
DDR4-3200
Vega 7 / 448 SPs
TBD
65W
TBA
Ryzen 7
4700GE
7nm Zen 2
8/16
3.1 GHz
4.35 GHz
DDR4-3200
Vega 8 / 512 SPs
2000 MHz
35W
TBA
Ryzen 5
4400GE
7nm Zen 2
6/12
3.3 GHz
4.25 GHz
DDR4-3200
Vega 7 / 448 SPs
1900 MHz
35W
TBA
Ryzen 3
4200GE
7nm Zen 2
4/8
3.5 GHz
3.80 GHz
DDR4-3200
Vega 6 / 384 SPs
1700 MHz
35W
TBA
Ryzen 7
PRO 4700G
7nm Zen 2
8/16
3.6 GHz
4.45 GHz
DDR4-3200
Vega 8 / 512 SPs
2100 MHz
65W
TBA
Ryzen 5
PRO 4400G
7nm Zen 2
6/12
3.7 GHz
4.30 GHz
DDR4-3200
Vega 7 / 448 SPs
1900 MHz
65W
TBA
Ryzen 3
PRO 4200G
7nm Zen 2
4/8
3.8 GHz
4.10 GHz
DDR4-3200
Vega 6 / 384 SPs
1700 MHz
65W
TBA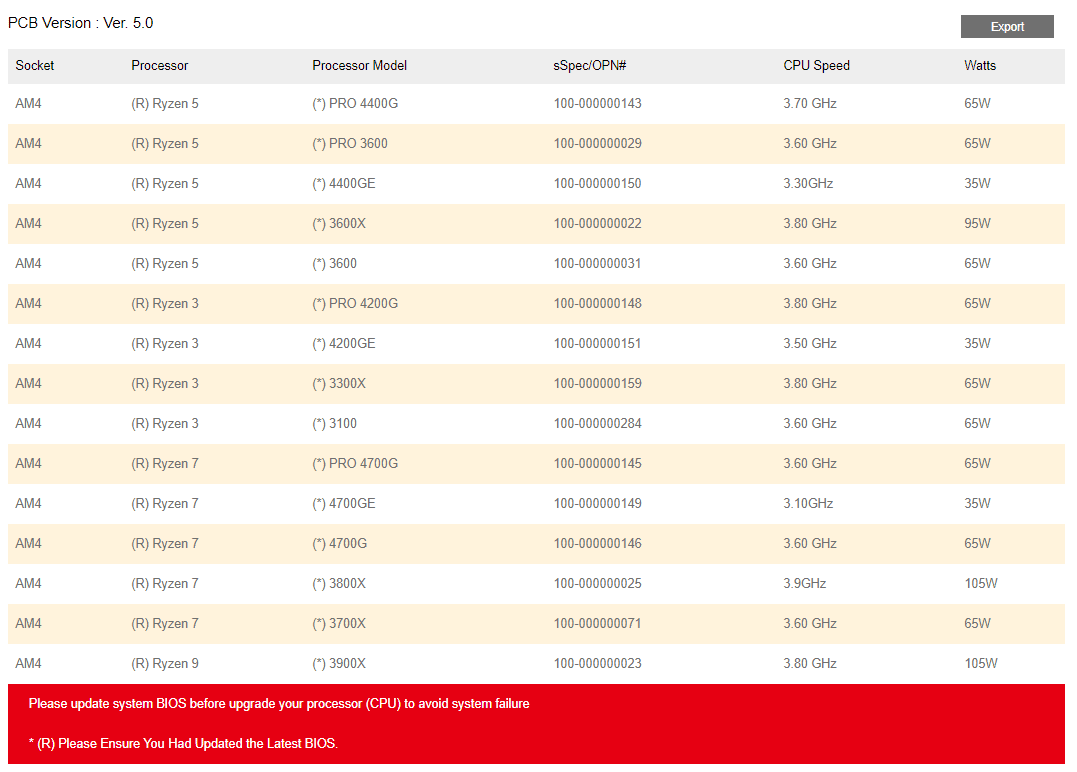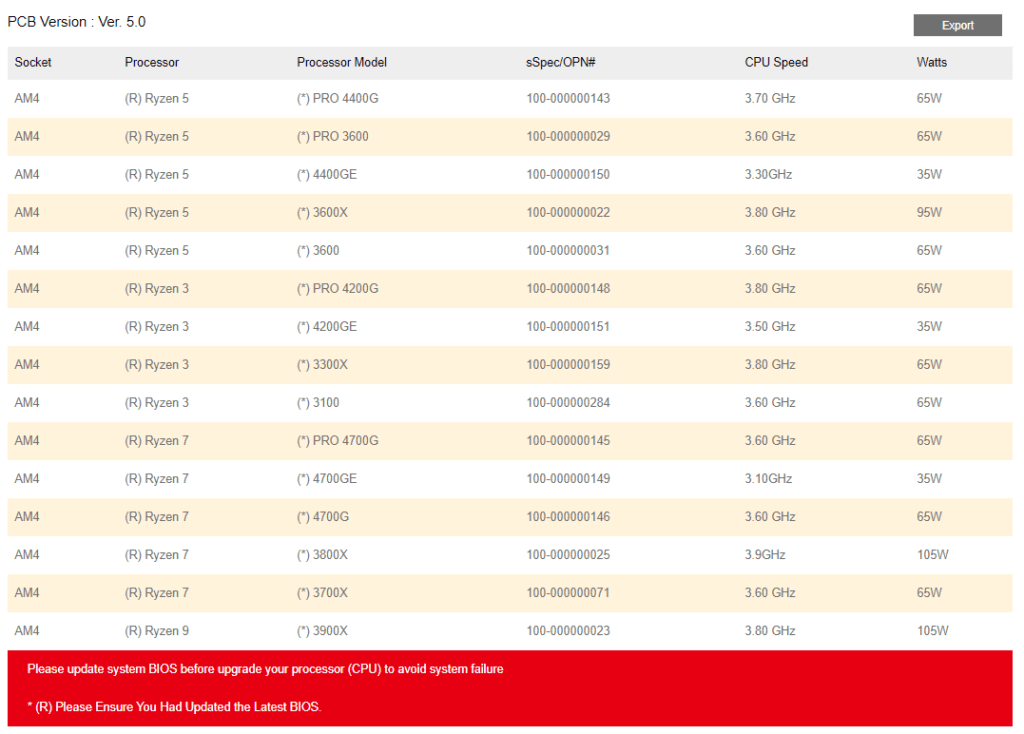 Last update on 2022-05-22 / Affiliate links / Images from Amazon Product Advertising API